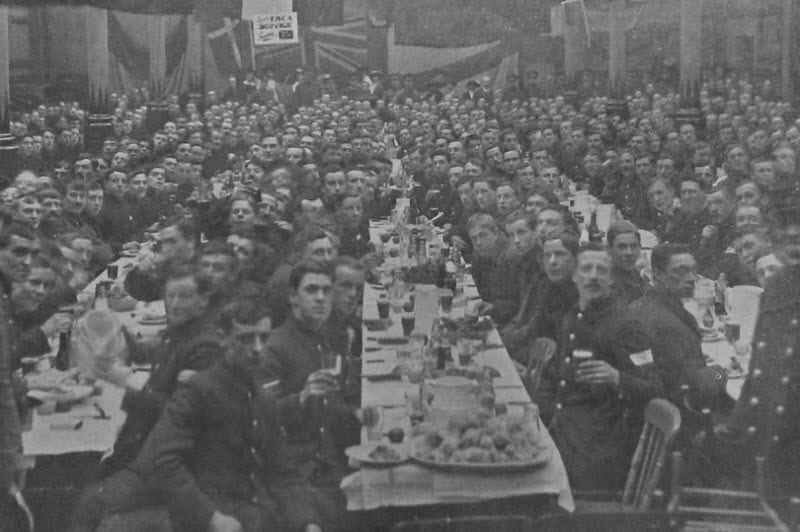 The society has published a fully searchable CD containing images from all 39 parts of Berkshire and the War, first produced in 1923 by the Reading Standard.
Extensively indexed, this new CD contains nearly 12,000 names, over 700 civilian organisations and a new section on the organisation of the Army and its many regiments during the First World War.
'Berkshire and the War' contains
Individually named photographs of Berkshire men fighting at that time
Patriotic Families
Brothers in Arms
Battalion photographs
Illustrations of Reading during the war years and of its patriotic activities in support of the war effort
Eye witness reports of actions involving

 Royal Berkshire Regiment
Territorials
Berkshire Yeomanry
View the Indexes here
Discover whether the CD contains images of interest to you using the sortable/searchable/filterable indexes below.
Military Units
| Unit | Page(s) |
| --- | --- |
| 1/14th (County of London) Battalion (London Scottish), London Regiment | 573 |
| 1/1st Battalion, Berkshire Yeomanry | 937 |
| 1/1st Berkshire Battery, Royal Horse Artillery, Territorial Force | 953 |
| 1/1st Berkshire Royal Horse Artillery, Territorial Force | Part1/adverts, Part2/adverts |
| 1/1st Berkshire Yeomanry, Territorial Force | Part2/adverts |
| 1/1st, Berkshire Yeomanry, Territorial Force | Part1/adverts |
| 1/2nd South Midland Mounted Brigade, Army Service Corps, Territorial Force | Part2/adverts |
| 1/2nd South Midland Mounted Brigade, Army Service Corps, Territorial Force | Part1/adverts |
| 1/4th Battalion Royal Berkshire Regiment, Territorial Force | Part2/adverts |
| 1/4th Battalion, Royal Berkshire Regiment | 698, 726, 843, 863, 873, 889, 914, 921, 922, 925, 926, 927, 929 |
| 1/4th Battalion, Royal Berkshire Regiment, 48th Division | 922 |
| 1/4th Battalion, Royal Berkshire Regiment, Territorial Force | Part1/adverts |
| 1/5th Battalion, Gloucestershire Regiment | 887 |
| 1/6th Battalion, Black Watch (Royal Highlanders) | 887 |
| 109th Infantry, Indian Army | 954 |
| 10th Battalion, London Regiment | 956 |
| 10th Canadian[?] Field Artillery[?] Brigade[?] | 962 |
| 11th Battalion, London Regiment | 956 |
| 126th Baluchistan Infantry | 954 |
| 14th Hussars | 35 |
| 15th Battalion (Civil Service Rifles), London Regiment | 848 |
| 15th Hussars | 219 |
| 177th Company, M. T., Army Service Corps | 99 |
| 178th Company, M. T., Army Service Corps | 99 |
| 17th Battalion, Manchester Regiment | 787 |
| 17th Battalion, Royal Fusiliers | 919 |
| 19th Division | 881 |
| 1st Battalion, Berkshire Volunteers | 761 |
| 1st Battalion, Berkshire Yeomanry | 939 |
| 1st Battalion, East Lancashire Regiment | 992 |
| 1st Battalion, King's Royal Rifle Corps | 919 |
| 1st Battalion, King's Royal Rifle Corps, 99th Brigade | 919 |
| 1st Battalion, National Reserve | 212 |
| 1st Battalion, Royal Berkshire Regiment | 196, 197, 248, 266, 27, 30, 302, 36, 390, 461, 466, 700, 778, 809, 914, 919, 921, 926, 929, 985, 997 |
| 1st Battalion, Royal Berkshire Regiment, 2nd Division | 919 |
| 1st Battalion, Royal Berkshire Regiment, 6th Brigade, 2nd Division | 926 |
| 1st Battalion, Royal Berkshire Regiment, 99th Brigade | 919 |
| 1st Battalion, Royal Berkshire Regiment, British Expeditionary Force | 868 |
| 1st Battalion, Royal West Surrey Regt (The Queen's) | 350 |
| 1st Brigade, Royal Naval Division | 497 |
| 1st Cadet Battalion, Reading, 4th Battalion, Royal Berkshire Regiment | 885 |
| 1st Dragoon Guards | 157 |
| 1st Life Guards | 219 |
| 1st Naval Brigade | 424 |
| 2/14 Battalion (London Scottish), London Regiment | 969 |
| 2/1st Battery, Royal Horse Artillery | 963 |
| 2/1st Berkshire Royal Horse Artillery, Territorial Force | Part1/adverts, Part2/adverts |
| 2/1st Berkshire Yeomanry, Territorial Force | Part2/adverts |
| 2/1st, Berkshire Yeomanry, Territorial Force | Part1/adverts |
| 2/2nd South Midland Mounted Brigade, Army Service Corps, Territorial Force | Part2/adverts |
| 2/2nd South Midland Mounted Brigade, Army Service Corps, Territorial Force | Part1/adverts |
| 2/4th Battalion Royal Berkshire Regiment, Territorial Force | Part2/adverts |
| 2/4th Battalion, Royal Berkshire Regiment | 2, 58, 896, 914 |
| 2/4th Battalion, Royal Berkshire Regiment, Territorial Force | Part1/adverts |
| 20th Brigade | 961 |
| 22nd Battalion, Royal Fusiliers, 99th Brigade | 919 |
| 22nd Brigade | 960 |
| 22nd Mounted Brigade, Yeomanry Mounted Division | 958 |
| 23rd Battalion, Royal Fusiliers, 99th Brigade | 919 |
| 263rd Company, Motor Transport, Royal Army Service Corps | 230 |
| 263rd Company, Royal Army Service Corps | 243 |
| 264th Company, Motor Transport, Royal Army Service Corps | 230 |
| 264th Company, Royal Army Service Corps | 243 |
| 29th Division | 179 |
| 2nd Battalion, Lincolnshire Regiment | 165 |
| 2nd Battalion, Royal Berkshire Regiment | 340, 36, 490, 775, 856, 874, 914, 915, 921, 924, 937, 938, 939, 942, 994 |
| 2nd Battalion, Royal West Surrey Regt (The Queen's) | 350 |
| 2nd Division | 778 |
| 2nd Garrison Battalion, Essex Regiment | 345 |
| 2nd Guard Division, German Forces | 913 |
| 2nd Life Guards | 367 |
| 2nd South Midland Mounted Brigade, Army Service Corps, Territorial Force | Part1/adverts, Part2/adverts |
| 3/1st Berkshire Royal Horse Artillery, Territorial Force | Part1/adverts, Part2/adverts |
| 3/1st Berkshire Yeomanry, Territorial Force | Part1/adverts, Part2/adverts |
| 3/1st, Berkshire Royal Horse Artillery | 141 |
| 3/1st, Berkshire Yeomanry | 141 |
| 3/1st, Berkshire Yeomanry, Territorial Force | Part1/adverts |
| 3/2nd South Midland Mounted Brigade Army Service Corps, Territorial Force | Part1/adverts |
| 3/2nd South Midland Mounted Brigade, Army Service Corps, Territorial Force | Part2/adverts |
| 3/2nd South Midland Mounted Brigade, Army Service Corps, Territorial Force | Part1/adverts |
| 3/2nd, South Midland Mounted Brigade, Army Service Corps | 141 |
| 3/4th Battalion Royal Berkshire Regiment, Territorial Force | Part1/adverts, Part2/adverts |
| 3/4th Battalion, Royal Berkshire Regiment | 141, 2, 298, 447, 572 |
| 3/4th Battalion, Royal Berkshire Regiment, Berkshire Territorial Force | 298 |
| 3/4th Battalion, Royal Berkshire Regiment, Territorial Force | Part1/adverts |
| 30th Battalion (Labour Company), Middlesec Regiment | 967 |
| 30th Battalion, Middlesex Regiment | 676, 837 |
| 32nd Divisional Signal Company, Royal Engineers | 243 |
| 35th Divisional Signal Company (Reading), Royal Engineers | 93 |
| 35th Divisional Signal Company, Royal Engineers | 243 |
| 35th Divisional Signal Company, Royal Engineers | 117 |
| 3rd Battalion, Royal Berkshire Regiment | 487 |
| 41st Divisional Signal Company, Royal Engineers | 308 |
| 47th Division | 919 |
| 48th Division | 873 |
| 4th Battalion Royal Berkshire Regiment, Territorial Force | Part2/adverts |
| 4th Battalion, Royal Berkshire Regiment | 158, 2, 243, 326, 472, 474, 91, 923 |
| 4th Battalion, Royal Berkshire Regiment, Territorial Force | Part1/adverts |
| 4th Battalion, Wiltshire Regiment | 812 |
| 51st Sikhs, 28th Brigade, Suez Canal Defence Force | 954 |
| 52nd Division | 956 |
| 53rd Division | 956 |
| 53rd Sikhs, 28th Brigade, Suez Canal Defence Force | 954 |
| 54th Division | 956 |
| 56th Division | 796 |
| 56th Rifles, 28th Brigade, Suez Canal Defence Force | 954 |
| 59th Division, Expeditionary Force | 994 |
| 5th Battalion (60th Rifles), King's Royal Rifle Corps | 18 |
| 5th Battalion, Royal Berkshire Regiment | 329, 796, 845, 914, 965 |
| 5th Battalion, Royal Berkshire Regiment, 12th Division | 913 |
| 5th Lancers | 325 |
| 60th Punjabis | 954 |
| 62nd Punjabis, 28th Brigade, Suez Canal Defence Force | 954 |
| 63rd (Naval) Division | 966 |
| 6th Battalion Officer cadets, Home Forces | 769 |
| 6th Battalion, Royal Berkshire Regiment | 312, 845, 889, 914, 920 |
| 6th Battalions, Dorset Regiment | 804 |
| 6th Brigade | 919 |
| 74th Infantry Division (probably) | 960 |
| 7th Battalion, Gloucestershire Regiment | 339 |
| 7th Battalion, Royal Berkshire Regiment | 106, 107, 109, 54, 60, 81, 887, 89 |
| 7th Hussars | 180 |
| 86th Trench Mortar Battery | 974 |
| 87th Brigade | 179 |
| 89th Punjabis | 954 |
| 8th Batallion, Royal Berkshire Regiment | 467 |
| 8th Battalion, Irish Regiment | 525 |
| 8th Battalion, Royal Berkshire Regiment | 101, 106, 107, 109, 298, 393, 54, 573, 58, 60, 776, 793, 81, 868, 889, 89, 914 |
| 8th Battalion, Royal Berkshire Regiment, 18th Division | 913 |
| 8th Mounted Brigade, Yeomanry Mounted Division | 958 |
| 90th Brigade | 969 |
| 99th Brigade | 919 |
| 9th Battalion, Royal Berkshire Regiment | 158 |
| A Battery, Honourable Artillery Company | 958 |
| A Battery, Royal Armoured Corps | 958 |
| A Company, 1st Battalion, Berkshire Volunteer Regiment | 147 |
| A Company, 1st Volunteer Battalion, Royal Berkshire Regiment | 775 |
| A Subsection, Ammunition Column | 960 |
| Abingdon Territorials | 90 |
| Air Service | 884 |
| Ammunition Column | 961, 962, 963 |
| Ammunition Column | 961 |
| Army of Occupation | 1003 |
| Army Ordnance Department | 847 |
| Army Service Corps | 54 |
| Artillery Brigade | 963 |
| Australian Division | 961, 962 |
| Australian Forces | 799, 958 |
| Australian Forces | 739, 958 |
| Australian Light Horse | 739, 740 |
| B Battery, Honourable Artillery Company | 954 |
| B Battery, Honourable Artillery Company, Suez Canal Defence Force | 954 |
| B Company, 1st Battalion, Berkshire Volunteer Regiment | 147 |
| B Company, 1st Volunteer Battalion, Royal Berkshire Regiment | 775 |
| B Squadron, Berkshire Yeomanry | 325, 946 |
| B Squadron, Berkshire Yeomanry | 679 |
| Battery Ammunition Column, Royal Horse Artillery | 960 |
| Berkshire Battery, Royal Horse Artillery | 958, 960, 961, 962 |
| Berkshire Battery, Royal Horse Artillery, 20th Brigade | 958 |
| Berkshire Battery, Royal Horse Artillery, 303rd Brigade, 60th Division | 958 |
| Berkshire Battery, Royal Horse Artillery, 4th Cavalry Division | 961 |
| Berkshire Battery, Royal Horse Artillery, 6th Mounted Brigade | 956 |
| Berkshire Battery, Royal Horse Artillery, Imperial Mounted Division | 956 |
| Berkshire Battery, Royal Horse Artillery, Suez Canal Defence Force | 954 |
| Berkshire Imperial Yeomanry | 191 |
| Berkshire Militia | 553 |
| Berkshire Royal Horse Artillery | 49 |
| Berkshire Royal Horse Artillery, 2nd Mounted Division | 953 |
| Berkshire Royal Horse Artillery, 2nd South Midland Mounted Brigade | 953 |
| Berkshire Royal Horse Artillery, Territorial Force | Part1/adverts, Part2/adverts |
| Berkshire Territorial Assocaition | 141 |
| Berkshire Territorial Force | 140, 16, 915 |
| Berkshire Volunteer Defence Regiment | 243 |
| Berkshire Volunteers | 761, 926 |
| Berkshire Yeomanry | 16, 17, 243, 387, 49, 5, 538, 568, 643, 674, 725, 727, 732, 739, 746, 748, 826, 836, 839, 843, 880, 886, 938, 953, 956, 958, 960 |
| Berkshire Yeomanry, 2nd South Midland Mounted Brigade | 179, 953 |
| Berkshire Yeomanry, 6th Brigade, Yeomanry Mounted Division | 958 |
| Berkshire Yeomanry, 6th Mounted Brigade | 956 |
| Berkshire Yeomanry, Territorial Force | Part2/adverts |
| Berkshire Yeomanry, Territorial Force | Part1/adverts |
| Berkshire, Royal Horse Artillery | 16, 563, 827 |
| Border Regiment | 633 |
| Brecknockshire Battery Territorial Force, South Wales Borderers | 954 |
| Brigade Ammunition Column | 960, 962 |
| British Army | 30, 71 |
| British Expeditionary Force | 344, 491, 949 |
| British Forces | 873 |
| Buckinghamshire Hussars, 2nd South Midland Mounted Brigade | 953 |
| Buckinghamshire Yeomanry, 2nd South Midland Mounted Brigade | 179 |
| Buckinghamshire Yeomanry, 6th Brigade, Yeomanry Mounted Division | 958 |
| Buckinghamshire Yeomanry, 6th Mounted Brigade | 956 |
| Bucks Yeomanry | 739 |
| C Company, 1st Battalion, Berkshire Volunteer Regiment | 147 |
| C Company, 1st Volunteer Battalion, Royal Berkshire Regiment | 775 |
| C Company, 3/4th Battalion, Royal Berkshire Regiment | 298 |
| C Squadron, Berkshire Yeomanry | 946 |
| Canadian Army Medical Corps, Canadian Forces | 805 |
| Canadian Contingent | 485 |
| College Troop, Berkshire Yeomanry | 93 |
| D Company, 1st Battalion, Berkshire Volunteer Regiment | 147 |
| D Company, 1st Battalion, Royal Berkshire Regiment | 46 |
| D Company, 1st Volunteer Battalion, Royal Berkshire Regiment | 775 |
| D Section, 1st Volunteer Battalion, Royal Berkshire Regiment | 775 |
| D Section, Berkshire Battery, Royal Horse Artillery | 960 |
| Depot Band, Royal Berkshire Regiment | 885 |
| Depot, Royal Berkshire Regiment | 837 |
| Devon Regiment | 822 |
| Divisional Artilley Collumn, Royal Field Artillery | 958 |
| Dorset Regiment | 931 |
| Dorset Yeomanry | 739, 963 |
| Dorset Yeomanry, 2nd South Midland Mounted Brigade | 179, 953 |
| Dorset Yeomanry, 6th Brigade, Yeomanry Mounted Division | 958 |
| Dorset Yeomanry, 6th Mounted Brigade | 956 |
| Dorsetshire Regiment | 640 |
| Dragoon Guards | 520 |
| Duke of Cornwall's Light Infantry | 879 |
| Durban Light Infantry | 325 |
| Early Company, 1st Battalion, Berkshire Volunteer Regiment | 258 |
| East Kent Regiment (The Buffs) | 652 |
| East Yorkshire Regiment | 840 |
| Essex Regiment | 407 |
| Expeditionary Force | 36 |
| Expeditionary Forces | 766 |
| Field Squadron, Royal Engineers | 960 |
| Forage Department, Army Service Corps | 838 |
| Fourth Army Corps | 126 |
| French Forces | 465, 873, 881 |
| G Company, 4th Battalion, Royal Berkshire Regiment | 622 |
| Garrison Battalion, Royal Warwickshire Regiment | 492 |
| General Reserve | 93 |
| German Forces | 961 |
| Gloucester Regiment | 1003 |
| Gloucestershire Hussars | 573 |
| Gloucestershire Regiment | 738, 970 |
| Gordon Highlanders | 748 |
| Greif, German Navy | 424 |
| Grenadier Guards | 662 |
| Guards | 927 |
| Hampshire Battery, Royal Horse Artillery | 960 |
| Hampshire Battery, Royal Horse Artillery, 20th Brigade | 958 |
| Hampshire Regiment | 193 |
| Hampshire Royal Horse Artillery | 955 |
| Hertfordshire Regiment | 156, 738 |
| His Majesty's Army | 933 |
| His Majesty's Navy | 933 |
| HMS Aboukir, Royal Navy | 694 |
| HMS Alcantara, Royal Navy | 424 |
| HMS Aragon | 947 |
| HMS Ardent, Royal Navy | 417 |
| HMS Askold, Royal Navy, Russian Allied Naval Brigade | 977 |
| HMS Askold, Russian Navy | 971 |
| HMS Audacious, Royal Marine Light Infantry | 626 |
| HMS Black Prince, Royal Navy | 417 |
| HMS Bristol | 977 |
| HMS Crescent, Royal Navy | 469 |
| HMS Defence, Royal Navy | 417 |
| HMS Fife, Royal Navy | 425 |
| HMS Fortune, Royal Navy | 417 |
| HMS Galatia, Royal Navy | 560 |
| HMS Indefatigable, Royal Navy | 417 |
| HMS Invincible, Royal Navy | 417 |
| HMS Lapwing, Royal Navy | 539 |
| HMS Lizard, Royal Navy | 912 |
| HMS Manitou, Royal Navy | 129 |
| HMS Nestor, Royal Navy | 417 |
| HMS Nomad, Royal Navy | 417 |
| HMS Queen Elizabeth, Royal Navy | 694 |
| HMS Royal Edward, Royal Navy | 440 |
| HMS Shark, Royal Navy | 417 |
| HMS Sparrowhawk, Royal Navy | 417 |
| HMS Turbulent, Royal Navy | 417 |
| HMS Warrior, Royal Navy | 417 |
| HMS Warspite, Royal Navy | 539 |
| HMS Warwick, Royal Navy | 852 |
| HMT Arcadia | 631 |
| HMT Royal Edward | 980 |
| Honourable Artillery Company | 91, 958, 961 |
| Huntingdonshire and Nottinghamshire Yeomanry | 6 |
| Imperial Camel Corps | 826 |
| Imperial Light Horse | 325 |
| Imperial Mounted Division | 956, 958 |
| Imperial Yeomanry | 296 |
| Indian Cavalry, 1st Mounted Division | 960 |
| Indian Forces | 126, 962 |
| Inns of Court Officer Training Corps | 969 |
| Italian Forces | 873 |
| Königsberg, German Navy | 539 |
| King Edward's Horse | 817 |
| King's Dragoon Guards | 639 |
| King's Royal Rifle Corps | 794 |
| King's Royal Rifles | 99 |
| King's Royal Rifles Corps | 931 |
| Kitchener's Army | 250 |
| Labour Corps | 843 |
| Lancashire Regiment | 881 |
| Land Army | 838 |
| Leicestershire Battery, Royal Horse Artillery | 960 |
| Leicestershire Battery, Royal Horse Artillery, 20th Brigade | 958 |
| Light Trench Mortar Battery | 743 |
| Lincolnshire Regiment | 126, 574, 653, 878 |
| Lincolnshire Yeomanry | 960 |
| Loyal North Lancashire Regiment | 438 |
| Machine Gun Corps | 652, 726, 966 |
| Machine Gun Section, 1st Battalion, Royal Berkshire Regiment | 459 |
| Machine Gun Troop, Berkshire Yeomanry | 937 |
| Malay States Guides | 954 |
| Middlesex Regiment | 630 |
| Middlesex Yeomanry | 961 |
| ML 254, Royal Navy | 852 |
| Mounted Military Police | 832 |
| Natal Rifles | 296 |
| National Reserve | 291 |
| New Army | 68 |
| New Army Battalions | 312 |
| New Zealand Forces | 739 |
| Newbury Battalion, Berkshire National Reserve | 44 |
| No. 1 Park, Women's Royal Air Force | 931 |
| No. 2 Park, Women's Royal Air Force | 931 |
| No. 3 Park, Women's Royal Air Force | 931 |
| No. 6 Stokes Trench Mortar Battery | 626 |
| Norfolk Regiment | 956 |
| Northamptonshire Regiment | 794 |
| Nottinghamshire Battery | 961 |
| Nurnberg, German Navy | 135 |
| Officer Training Corps | 411 |
| Oxford & Buckinghamshire Light Infantry | 403 |
| Oxford & Bucks Light Infantry | 465, 737 |
| Oxford and Buckinghamshire Light Infantry | 873, 927 |
| Oxford and Bucks Light Infantry | 345, 556, 874 |
| Oxford Officers' Cadet Battalion | 749 |
| Oxford Volunteer Regiment, Home Forces | 769 |
| Pioneer Battalion, West Yorkshire Regiment | 791 |
| Pioneer Depot, Home Forces | 837 |
| Portuguese Forces | 966 |
| Postal Section, Royal Engineers | 47 |
| Princess Patricia's Canadian Light Infantry, Canadian Forces | 805 |
| Queen Mary's Army Auxiliary Corps | 838, 985 |
| Queen's Own Oxfordshire Hussars | 5, 656, 880, 890, 953 |
| Queen's Own Oxfordshire Hussars, 2nd South Midland Mounted Brigade | 953 |
| Queen's Royal West Surrey Regiment | 790 |
| Reading Battalion, Berkshire National Reserve | 44 |
| Reading Cadet Battalion, Royal Berkshire Regiment | 929 |
| Reading Companies | 729 |
| Reading Company, 1st Volunteer Battalion, Royal Berkshire Regiment | 777 |
| Reading University College Officers Training Corps, Senior Division | 93 |
| Regular Force | 5 |
| Rifle Brigade | 126 |
| RMS Leinster | 874 |
| Royal Air Force | 863, 884 |
| Royal Army Medical Corps | 284, 504, 960, 987 |
| Royal Army Service Corps | 225, 682, 732, 746, 905 |
| Royal Army Service Corps, 2nd South Midland Mounted Brigade | 243 |
| Royal Berkshire Hussars | 960 |
| Royal Berkshire Regiment | 116, 156, 230, 24, 289, 404, 405, 426, 445, 456, 470, 507, 634, 638, 660, 679, 723, 757, 770, 799, 821, 835, 843, 845, 867, 873, 881, 882, 914, 915, 931, 953 |
| Royal Berkshire Regiment, 8th Division | 881 |
| Royal Berkshire Regiment, First Army Corps | 46 |
| Royal Buckinghamshire Hussars | 960 |
| Royal Edward, Merchant Navy | 267 |
| Royal Engineers | 582, 611, 817, 882 |
| Royal Field Artillery | 411, 744, 792, 804, 853, 888, 943, 969 |
| Royal Flying Corps | 435, 573, 589, 652, 676, 709 |
| Royal Horse Artillery | 17, 243, 266 |
| Royal Horse Artillery, 19th Brigade | 961 |
| Royal Irish Regiment | 445, 93 |
| Royal Irish Rifles | 126 |
| Royal Marine Light Infantry | 407 |
| Royal Naval Air Service | 361 |
| Royal Navy | 437, 884 |
| Royal Scots Fusiliers | 720 |
| Royal Sussex Regiment | 469 |
| Royal Welsh Fusiliers | 222 |
| Royal West Surey Regiment | 702 |
| Salonika Force | 663 |
| Scottish Rifles | 348, 707 |
| Scottish Territorials | 739 |
| Serbian Army | 465 |
| Seydlitz, German Navy | 417 |
| Signal Corps | 561 |
| Signal Section, 1/4th Battalion, Royal Berkshire Regiment | 544 |
| SMS Breslau, German Navy | 912 |
| SMS Goebon, German Navy | 912 |
| South Wales Borderers | 238 |
| Special Reserve | 93 |
| Special Reserve, Royal Berkshire Regiment | 874 |
| Squadron No. 2, School of Military Aeronautics, Royal Flying Corps | 769 |
| St Florentine, French Navy | 560 |
| Staffordshire Yeomanry | 963 |
| Submarine D 7, Royal Navy | 916 |
| Suez Canal Defence Force | 954 |
| Suffolk Regiment | 225 |
| Sussex Regiment | 956 |
| Territorial Force | 93 |
| Territorial Force | 2, 5, 908 |
| Transport and Supply Column | 16 |
| Trench Mortar Battery | 698, 781, 968 |
| Universities and Public Schools Battalion, Royal Fusiliers | 927 |
| Volunteers, Royal Berkshire Regiment | 929 |
| Wantage Battalion, Berkshire National Reserve | 44 |
| Warwick Infantry Brigade | 308 |
| Warwick Yeomanry | 739 |
| Wiltshire Regiment | 826, 882 |
| Windsor Battalion, Berkshire National Reserve | 44 |
| Windsor Squadron, Berkshire Yeomanry | 180 |
| Women's Royal Air Force | 926, 929, 985 |
| Worcester Yeomanry | 739 |
| Worcestershire Regiment | 131, 648, 727, 809 |
| Worcestershire Yeomanry | 947 |
| Yorkshire Regiment | 666 |
Civilian Organisations
| Organisation | Page(s) |
| --- | --- |
| 13th Berkshire Voluntary Aid Detachment | 212 |
| 1st Berkshire Drum and Bugle Band and Scouts | 212 |
| 3rd Southern General Hospital | 917 |
| 52nd Voluntary Aid Detachment Red Cross (Berkshire) | 212 |
| 7th Reading Company Boys' Brigade | 212 |
| Abingdon Council School | 633 |
| Admiralty | 971 |
| Agnostic | 9 |
| Agricultural Production Department | 875 |
| Agricultural Relief of Allies Fund | 356, 591 |
| Albion House Hospital | 917 |
| All Saints' Church | 999 |
| Alsatian Colony | 681 |
| American Air Office | 934 |
| Ancient Order of Druids | 212 |
| Ancient Order of Foresters | 212 |
| Anglo-French Commission | 705 |
| Antediluvian Order of Buffaloes | 212 |
| Archer's | 411 |
| Army and Navy Canteens' Board | 764 |
| Army Canteens | 933 |
| Army Council | 655, 775 |
| Army Forage Committee | 225 |
| Athenaeum Club | 697 |
| Balmore Hall Working Party | 933 |
| Bancroft Dramatic Company | 405 |
| Battle Hospital | 121 |
| Battle School | 995 |
| Bear Wood Hospital | 681 |
| Belgian Refugees Fund | 21 |
| Belgian Relief Fund | 51 |
| Berks 44 Voluntary Aid Detachment | 951 |
| Berks and Bucks Junior County | 662 |
| Berks and Bucks Senior County | 662 |
| Berks etc Joint Vagrancy Committee | 643 |
| Berkshire Assizes | 705 |
| Berkshire Association | 662 |
| Berkshire Automobile Club | 125 |
| Berkshire Club | 697 |
| Berkshire Committee on Women and Farm Labour | 449 |
| Berkshire Constabulary | 395 |
| Berkshire Corps of Women Volunteers | 316 |
| Berkshire County Association | 15, 19 |
| Berkshire County Police | 289 |
| Berkshire Red Cross Society | 97, 950 |
| Berkshire Territorial Force Association | 186, 921 |
| Berkshire Voluntary Aid Detachment | 97, 243, 987 |
| Berkshire Voluntary Aid Transport Service | 125 |
| Berkshire Women Volunteers | 212 |
| Berkshire Women's Volunteer Corps | 449 |
| Blue Cross Fund | 42 |
| Board of Agriculture | 449, 627, 665 |
| Board of Conservators | 301 |
| Board of Education | 711, 951 |
| Board of Guardians | 121 |
| Board of Management | 169 |
| Board of Trade | 449 |
| Board of Trade and Agriculture | 449 |
| Bohemian Club | 450 |
| Borough Magistrates | 212 |
| Borough Officials | 212 |
| Borough Police Force | 691, 832 |
| Botly & Lewis | 834 |
| Botly and Lewis | 411, 621 |
| Boy Scouts | 667, 754, 761, 926, 937 |
| Bradfield (Southend) School | 679 |
| Bradfield College | 184, 900 |
| Bradfield Rural District Council | 803 |
| Brain and Brain | 980 |
| Bread Bureau | 914, 915 |
| Brinjes & Goodwin | 884 |
| Bristol City Football Club | 397 |
| Britannia | 697, 875 |
| British Automobile Traction Co Ltd | 593 |
| British Embassy | 971 |
| British Empire | 662, 991 |
| British Mission | 705 |
| British Prisoners of War Func | 667 |
| British Red Cross Society | 111, 316, 360, 753, 882, 987 |
| Broad Street Congregational Church | 211 |
| Broadmoor | 341 |
| Broadmoor Asylum | 390 |
| Cadet School | 679 |
| Cambridge University Officer Training Corps | 861 |
| Care and Comforts Committee | 284, 451, 933, 942, 951 |
| Care Committee | 915 |
| Caversham and Reading Veterans' Association Band | 175 |
| Caversham and Reading Veterans' Band | 58 |
| Caversham Council School | 996 |
| Central Prisoners of War Care Committee | 914 |
| Central Prisoners of War Committee | 766, 915, 949 |
| Central School | 701, 995 |
| Chamber of Commerce | 970 |
| Charity Commission | 915 |
| Charity Commissioners | 915 |
| Chlorine | 826 |
| Christ Church School | 996 |
| Church Army | 766, 933 |
| Church Lads' Brigade | 212 |
| Church Lads Brigade Burgh Band | 999 |
| Churchman | 9 |
| Cinema Picture Theatre | 870 |
| City financiers | 705 |
| Clergy | 212 |
| Coley School | 995 |
| Committee of Reading Hospital Parade | 14 |
| Comrades of the Great War | 929, 985 |
| Conservative | 9 |
| Convalescent Home | 951 |
| Convoy Service | 951 |
| Co-operative Bakery | 836 |
| Corporation of Oxford | 737 |
| Corporation Tramways | 622 |
| County Borough of Reading | 925 |
| County Club | 994 |
| County Committees | 449 |
| County Nursing Association | 753 |
| Crowmarsh Ironworks | 369 |
| Cumberland Road Primitive Methodist Church | 207 |
| Decoration Committee | 999 |
| Demobilisation Committee | 951 |
| Detachment Belgians' Workshop | 212 |
| Education Committee | 121, 305, 996 |
| Electric Light Company | 992 |
| Emmer Green Schools | 996 |
| Englefield Auxiliary Hospital | 645 |
| Englefield House Hospital | 753 |
| F. J. Gant | 637 |
| Federation of Discharged and Demobilised Sailors and Soldiers | 985 |
| Firemen | 662 |
| Food Control Committee | 591 |
| Ford | 36 |
| Ford Motor Company | 36 |
| Freemasons | 645 |
| Freemason's War Hospital | 891 |
| French Medical Servce | 93 |
| French Red Cross | 479 |
| G.P.O. Sorting Office | 601 |
| Gadd's | 591 |
| Gas Works | 606 |
| Gazetted | 934 |
| General Council of the Reading Liberal Association | 705 |
| General Post Office | 329, 836, 905 |
| George Palmer Senior School | 996 |
| German Government | 914 |
| Girl Guides | 753 |
| Grand Trunk Railway | 817 |
| Great Western | 885 |
| Great Western Goods and Cartage Departments | 697 |
| Great Western Hotel | 926 |
| Great Western Passenger Staff | 697 |
| Great Western Railway | 26, 301, 523, 932, 965 |
| Great Western Railway Temperance Union | 212 |
| Great Western Signal and Stores Department | 697 |
| Greyfriars School | 995 |
| Grovelands School | 995 |
| H.M. Prison Reading | 360 |
| Handley-Page | 955 |
| Hemdean House Upper School | 617 |
| Home Supplies Depot | 987 |
| Hospital Ship Anglia | 294 |
| Hospital Ship Britannic | 663 |
| Hospital Ship Salta | 663 |
| House of Commons | 662 |
| Hungerford Brass Band | 775 |
| Huntley and Palmers | 948, 949 |
| Huntley and Palmers' | 600 |
| Huntley and Palmers Ltd | 411, 842 |
| Huntley, Boorne and Stevens | 622 |
| Huntley, Boorne and Stevens Ltd | 933 |
| Independent Order of Oddfellows, M.U. | 212 |
| Independent Order of Rechabites | 212 |
| John G. Murdoch & Co. Ltd | 0 |
| Joint War Committee of the British Red Cross Society | 882 |
| Katesgrove School | 995 |
| Kendrick Girls' School | 617 |
| Kendrick School | 424, 446, 531, 550, 608, 783, 842 |
| Kew Gardens | 997 |
| Kindred Societies | 949 |
| King Alfred Training Brig Detachment | 212 |
| King's Road Baptist Church | 573 |
| Ladies' Linen League | 753 |
| Ladies' Temporary Force | 601 |
| Lambourn Magpies | 591 |
| League of Mercy | 753 |
| League of Nations | 991 |
| Lest we Forget Club | 917 |
| Liberal | 9 |
| Liberal Party | 662 |
| Local Tribunal for Reading | 667 |
| Local War Pensions Committee | 662 |
| Local War Pensions Committee of Berkshire | 915 |
| London and Provincial Yearly Dividing Friendly Society | 212 |
| London and South Western Railway | 172 |
| London County and Westminster Bank | 781 |
| Lord Mayor's Show | 731 |
| Masons | 764 |
| Massed Military Bands | 982 |
| Maynard's | 452 |
| Meat and Allied Trades Red Cross Fund | 356, 591 |
| Mechanical Warfare Department | 884 |
| Men's Detachment, Berks I. | 111 |
| Mercantile Marine | 933 |
| Merry Medicos | 901 |
| Messrs A. H. Bull Ltd | 697 |
| Messrs Allen and Simmonds | 885 |
| Messrs Bond | 836 |
| Messrs Gilkes and Sons | 906 |
| Messrs H. and G. Simonds | 927 |
| Messrs H. and G. Simonds' | 701 |
| Messrs Heelas, Sons & Co | 994 |
| Messrs Herbert and Elliotts | 885 |
| Messrs Huntley & Palmers | 622 |
| Messrs Huntley and Palmers | 833, 885, 933 |
| Messrs Huntley and Palmers Ltd | 870 |
| Messrs McIlroy | 955 |
| Messrs McIlroy's | 700 |
| Messrs Milwards | 536 |
| Messrs Salmon | 761 |
| Messrs Simmons & Sons | 591 |
| Messrs Skurray | 36 |
| Messrs Spalding and Hodge | 934 |
| Messrs Sutton & Sons | 63 |
| Messrs Sutton and Sons | 761, 875 |
| Messrs Suttons | 885 |
| Messrs Vincent's | 926 |
| Messrs W. Vincent Ltd | 627 |
| Messrs White and Son | 897 |
| Military Hospitals | 949 |
| Ministers of Religion | 212 |
| Ministry of Food | 591, 711, 951 |
| Ministry of Medical Treatment | 951 |
| Ministry of Munitions | 767 |
| Mortimer Hospital | 917 |
| National British Women's Temperence Association | 212 |
| National Physical Laboratory | 884 |
| National Relief Fund | 14, 51, 783 |
| National Union of Railwaymen Band | 212 |
| National YMCA Council of South Africa | 898 |
| Naval League | 662 |
| Navy and Army Canteen Board | 766 |
| Navy Canteens | 933 |
| Navy League | 662 |
| Newbury Bugle Band | 775 |
| Newtown and Redlands Boys School | 996 |
| Nichols & Son | 436 |
| No 1 War Hospital | 987 |
| No. 1 War Hospital | 917 |
| Nonconformist | 9 |
| Northern General Hospital | 731 |
| Officer Training Corps | 761 |
| Order of St John of Jerusalem | 360 |
| Order of St John of Jerusalem in England | 882 |
| Order of the Sons of Temperance | 212 |
| Our Dumb Friends' League | 42 |
| Oxford City Football Club | 854 |
| Oxford Diocesan Guild of Church Bell Ringers | 543 |
| Oxford Journal Illustrated | 847 |
| Oxford Road School | 995 |
| Palace Theatre | 645 |
| Palace Theatre of Varieties | 593 |
| Palmer School | 878, 996 |
| Parliament | 705 |
| Parochial School | 996 |
| Pavlova Leather Syndicate Ltd | 593 |
| Pensions Ministry | 662 |
| Phyllis Court Club | 697 |
| Police | 689 |
| Police Force | 556, 761 |
| Police Special Reserve | 130 |
| Police, G Division | 662 |
| Police, N Division | 662 |
| Police, Y Division | 662 |
| Poor Law Institution | 95, 121 |
| Portway | 711 |
| Post Office | 593, 791, 935 |
| Primitive Methodist Church | 685 |
| Prisoners of War Fund | 885 |
| Public Library | 906 |
| Pulsometer | 885 |
| Pulsometer Engineering Co. Ltd | 884 |
| Pulsometer Engineering Company | 698 |
| Pulsometer Engineering Company Ltd | 186 |
| Queen Alexandra's Field Force Fund | 933 |
| Queen Victoria Institute | 212 |
| R.A.C. Sports | 681 |
| RAC | 656 |
| Reading Amateur Regatta | 91, 128 |
| Reading Amateur Sports Association | 212 |
| Reading and District B.P. Boy Scout Association | 212 |
| Reading and District Butchers' Association | 697 |
| Reading and District Church of England Men's Society Federation Committee | 212 |
| Reading and District Devon and Cornish Association | 212 |
| Reading and District Newsagents Association | 697 |
| Reading and District Teachers' Association | 212 |
| Reading Athletic Club[?] | 26 |
| Reading Biscuit Factory Recreation Club | 212 |
| Reading Blue Coat School | 934 |
| Reading Blue Cross Day | 783 |
| Reading Board of Guardians | 212, 643 |
| Reading Borough | 885, 906 |
| Reading Borough Council | 711 |
| Reading Borough Police | 289 |
| Reading Borough Police Force | 610 |
| Reading Bowling Club | 697 |
| Reading Business Men's Week | 765 |
| Reading Care and Comforts Committee | 230, 753 |
| Reading Chamber of Commerce | 212, 662 |
| Reading College | 934 |
| Reading Cooperative Society | 842 |
| Reading Co-operative Stores | 697 |
| Reading Corporation | 301 |
| Reading Corporation Tramways | 911 |
| Reading District Commercial Travellers | 697 |
| Reading Education Committee | 305, 411, 711 |
| Reading F.C. | 555 |
| Reading Fife and Bugle Band | 775 |
| Reading Fire Brigade | 212 |
| Reading Footbal Club | 390 |
| Reading Football Club | 319, 397, 854 |
| Reading Gasworks | 448 |
| Reading Girls' Club | 212 |
| Reading Grocers, Tea Dealers and Provision Merchants | 212 |
| Reading Literary and Scientific Society | 212 |
| Reading Natural History Society | 212 |
| Reading Philanthropic Institution | 212, 697 |
| Reading Philharmonic Society | 212 |
| Reading Recruiting Committee | 117 |
| Reading Reserves | 507, 662 |
| Reading School | 761, 783, 845 |
| Reading Special Constables | 697 |
| Reading Spring Gardens Silver prize band | 212 |
| Reading Standard | 358, 391, 505, 574, 608, 671, 896, 935 |
| Reading Standard Hospital Fund | 788 |
| Reading Standard Hospital Shilling Fund | 783 |
| Reading Standard Shilling Fund | 730 |
| Reading Sunday School Union | 212 |
| Reading Teachers' Association | 360 |
| Reading Temperance Band | 667 |
| Reading Temperance League | 945 |
| Reading Temperance Prize Band | 992, 997 |
| Reading Town Council | 81, 938 |
| Reading Trades and Labour Council and Trades Unions | 212 |
| Reading Tradesmen's Rowing Club | 212 |
| Reading United Lodge | 212 |
| Reading Volunteer Defence Force | 212 |
| Reading War Hospital | 97, 121, 125, 230, 301, 307, 393, 713, 917, 987 |
| Reading War Hospital Care and Comforts Committee | 987 |
| Reading War Hospital Care and Comforts Fund | 137 |
| Reading War Hospital Supplies Depot | 305 |
| Reading War Hospitals | 372, 837, 875, 933, 969 |
| Reading War Hospitals Care and Comforts Committee | 783 |
| Reading Women's Liberal Association | 449 |
| Reading Workhouse and Infirmary | 987 |
| Reading Working Men's Regatta | 212 |
| Red Cross | 14, 41, 42, 213, 243, 573, 591, 667, 765, 844, 917 |
| Red Cross Society | 51, 121, 137, 172 |
| Redlands Girls' School | 996 |
| Redlands Hospital | 121, 601 |
| Redlands War Hospital | 169 |
| Repton School | 749 |
| Retail Grocers' Association | 834 |
| Robert Nelson & Co. | 0 |
| Roman Catholic | 9 |
| Roman Catholic School | 996 |
| Royal Berks Hospital | 591 |
| Royal Berkshire Hospital | 121, 169, 356, 451, 601, 730, 753, 875 |
| Royal Berkshire Prisoner of War Care Committee | 915 |
| Royal Berkshire Regiment Comforts Fund | 51 |
| Royal Horticultural Society | 268 |
| Royal Humane Society | 406, 817 |
| Royal Military College | 18, 93, 937 |
| Royal Oak Benefit Society | 212 |
| Royal Society for the Prevention of Cruelty to Animals | 212 |
| Russian Flag Day Movement | 233 |
| Russian General Staff | 423 |
| Salvation Army | 933 |
| Salvation Army Brass Band No. 1 | 212 |
| Salvation Army No 1 Band | 1004 |
| School of Military Aeronautics | 709 |
| School of Musketry | 222 |
| School of Technical Training | 709 |
| Serbian Relief Fund | 783 |
| Small Holdings and Allotments Committee | 665 |
| Soldiers' and Sailors' Free Buffet | 747 |
| South African Constabulary | 325 |
| South Eastern and Chatham Railway | 172 |
| South Eastern Passenger Staff | 697 |
| South Eastern Railway | 937 |
| Southampton F.C. | 662 |
| Special Constables | 662 |
| Special Constabulary | 761 |
| Spring Gardens Band | 42, 996 |
| SS Arabic | 696 |
| SS Citta di Palermo | 331 |
| SS Ivernia | 696 |
| SS Persia | 667 |
| St Andew's School | 749 |
| St Dunstans | 673 |
| St Dunstan's Hostel for Blinded Soldiers | 929 |
| St George's Church | 942 |
| St Giles' Church | 942 |
| St Giles' School | 996 |
| St James' School | 996 |
| St John Ambulance Society | 987 |
| St John's School | 996 |
| St Laurence's Church | 211, 942 |
| St Laurence's School | 17, 996 |
| St Luke's Parish | 951 |
| St Mary's Castle Street | 942 |
| St Mary's Church | 942 |
| St Mary's School | 995 |
| St Saviour's Church | 911 |
| St Stephen's Choir | 790 |
| St Stephen's School | 842, 996 |
| Star Tea Co. | 606 |
| Started | 933 |
| Strand Engraving Company Ltd | 838 |
| Supply Depot | 951 |
| Sutherlands Auxiliary Hospital | 951 |
| Suttons' Recreation Club | 212 |
| Sutton's Recreation Club | 63 |
| Swansea Road School | 78, 995 |
| Syd's | 981 |
| T. C. Williams and Sons | 662 |
| Thame Football Club | 854 |
| Thames Conservancy | 301 |
| The Joblots | 284 |
| The Morning Post | 919 |
| The Reading Temperance Prize band | 212 |
| Tilehurst Constitutional Club | 557 |
| Tilehurst Norcot School | 995 |
| Tilehurst Park Lane School | 995 |
| Timber Controller | 949 |
| Times of India | 622 |
| Tit-Bits | 697 |
| Town Council | 705 |
| Trades and Labour Council of Reading | 766 |
| Training Centre | 662 |
| Transport Invernia [SS Ivernia] | 589 |
| Treasury | 705 |
| Trinity School | 995 |
| Trustees of Church House | 951 |
| Trustees of the Grand Stand | 951 |
| Trustees of Woodclyffe Hostel and Hall | 951 |
| Unionist Party | 75 |
| United Patriots' Benefit Society | 212 |
| University College | 186, 212, 447 |
| University College Officer Training Corps | 117 |
| Vehicle Workers Association | 926 |
| Vehicle Workers' Union | 42 |
| Vickers, Goldsmith & Lunn | 360 |
| Voluntary Aid Detachment | 713, 765, 766, 882, 985, 1004 |
| Voluntary Aid Detachment Nurses | 212 |
| Volunteer Cadet Drum and Fife Band | 497 |
| W B Bailey and Co | 593 |
| W. Vincent | 121 |
| Wallingford Volunteer band | 497 |
| War Hospitals Supplies Depot | 311 |
| War Hospitals Supply Depot | 933, 970 |
| War Office | 36, 43, 75, 838, 933, 934, 949 |
| Wellington Club | 36, 697, 727 |
| Wellington College | 18, 184, 595 |
| Wesley F.C. | 662 |
| West End Free Library | 987 |
| West of England Munitions Committee | 884 |
| Whitley (Lower) School | 996 |
| Wilson Council Schools | 121 |
| Wilson School | 995 |
| Wixenford | 18 |
| Wokingham Athletic F.C. | 555 |
| Wokingham Military Band | 999 |
| Wokingham Road Intermediate School | 996 |
| Wokingham Road School | 842, 996 |
| Wokingham Town Band | 999 |
| Women's Mission | 449 |
| Women's National Land Service Corps | 449 |
| Women's War Agricultural Committee | 731 |
| Wright's | 711 |
| Y. M. C. | 949 |
| Y.M.C.A | 446 |
| Y.M.C.A. | 367, 405, 667, 754, 870, 933, 949, 955 |
| YMCA | 81 |
| Young Mens' Christian Association | 240 |
| Young Men's Christian Association | 107, 141, 766 |
| Young Men's Institute | 685 |
Locations
| Location | Page(s) |
| --- | --- |
| [No Country], American Forces | 873 |
| [No Country], Convalescent camp | 496 |
| [No Country], Hospital Ship Dongola | 446 |
| [No Country], Italian Headquarters | 873 |
| [No Country], London House | 948 |
| [No Country], Queen Elizabeth | 971 |
| [No Country], Red Sea | 954 |
| [No Country], RMS Leinster | 874 |
| [No Country], Swiden[?] | 894 |
| [No Country], The Crow's Nest | 114 |
| Abroad, Somewhere | 632 |
| Aden | 932, 954, 955, 958 |
| Aden, Hinterland | 955 |
| Aden, Perim | 954 |
| Aegean Sea | 663 |
| Afghanistan | 225, 71, 931 |
| Afghanistan, Kandahar | 939 |
| Afghanistan, Maiwand | 62, 926, 938, 939, 940 |
| Africa | 325 |
| Angola, Benguella | 476 |
| Australia | 75, 800, 890 |
| Australia, New South Wales, Sydney | 555 |
| Austria | 289, 873, 948 |
| Baltic Sea | 1003 |
| Belgian Congo, Lake Tanganyika | 425 |
| Belgium | 159, 21, 36, 794, 839, 842, 902, 906, 948, 95 |
| Belgium, Antwerp | 36, 424, 57, 906 |
| Belgium, Brussels | 978 |
| Belgium, Coast | 539, 57 |
| Belgium, Conde | 966 |
| Belgium, Flanders | 101, 283, 540, 936, 963, 970 |
| Belgium, Flanders | 817 |
| Belgium, Flanders, Poelcappelle | 976 |
| Belgium, Gheuvelt | 131 |
| Belgium, Langemarch, Langemarch Church | 906 |
| Belgium, Lombardzide | 685 |
| Belgium, Lombartzyde | 794 |
| Belgium, Mons | 119, 131, 147, 218, 339, 378, 385, 480, 521, 529, 638, 689, 745, 808, 904, 926, 966, 978 |
| Belgium, Nieuport | 978 |
| Belgium, Ostend | 36, 797, 852, 906 |
| Belgium, Paschendaele, Paschendaele Church | 931 |
| Belgium, Pasechendale-Becelaere road | 46 |
| Belgium, Passchendaele | 742, 910, 940, 978 |
| Belgium, Roulers | 906 |
| Belgium, St Eloi | 699 |
| Belgium, Waterloo | 131, 71 |
| Belgium, Ypres | 131, 350, 385, 405, 46, 465, 486, 568, 684, 692, 744, 745, 759, 922, 926, 978 |
| Belgium, Ypres, Cathedral | 292 |
| Belgium, Ypres, Cloth Hall | 39 |
| Belgium, Ypres, Mentioned | 468 |
| Belgium, Ypres, Passchendaele Ridge | 873 |
| Belgium, Ypres, Passchindaele-Becelaire Road | 35 |
| Belgium, Ypres, St Julien | 899 |
| Belgium, Yser Canal | 685, 794 |
| Belgium, Zeebrugge | 797, 828 |
| Belgium, Zonnebeke | 46, 692 |
| Britain - Great | 417, 662, 775 |
| Bulgaria | 948, 980 |
| Burma | 411 |
| Canada | 581, 584, 639, 732, 805, 817 |
| Canada, British Columbia | 841 |
| Canada, Manitoba, Brandon | 444 |
| Canada, Manitoba, Winnipeg | 639 |
| Canada, Ontario, Barrie | 444 |
| Canada, Ontario, Belleview | 92 |
| Canada, Ontario, London | 639 |
| Canada, Ontario, Toronto | 569, 754 |
| Canada, Ontario, Toronto, Carlton Terrace | 639 |
| Canada, Quebec, Quebec City, Abraham's Heights | 180 |
| Canada, Quebec, Saint-Gabriel-de-Valcartier | 115 |
| Chile, Coronal | 916 |
| Crete | 291 |
| Cuba | 934 |
| Denmark | 914 |
| Denmark, Copenhagen | 914, 915 |
| Denmark, Jutland | 425, 560, 949 |
| Denmark, Jutland | 423 |
| Denmark, Jutland, North Sea | 417 |
| East Africa | 539, 905, 910, 948, 985 |
| Egypt | 1003, 177, 178, 179, 181, 291, 30, 332, 340, 376, 387, 391, 392, 414, 458, 465, 492, 504, 510, 533, 538, 542, 561, 563, 606, 607, 608, 634, 635, 646, 657, 667, 675, 679, 691, 720, 735, 759, 760, 771, 781, 800, 826, 833, 842, 877, 888, 890, 892, 931, 938, 945, 948, 953, 979, 980, 984 |
| Egypt & Palestine | 649 |
| Egypt, Abu Gandir | 955 |
| Egypt, Alexandria | 177, 179, 258, 538, 843, 844, 953 |
| Egypt, Alexandria, Chatby | 954 |
| Egypt, Alexandria, General Headquarters | 608 |
| Egypt, Alexandria, Military Cemetery | 947 |
| Egypt, Alexandria, Sidi Bishr | 984 |
| Egypt, Ayun Musa | 956 |
| Egypt, Bir El Essam | 657 |
| Egypt, Bir-el-Abd | 956 |
| Egypt, Cairo | 177, 178, 180, 657, 731, 955, 963 |
| Egypt, Cairo, Kasr-rl-Nil Barracks | 280 |
| Egypt, Cairo, Railway Station | 657 |
| Egypt, El Arish | 956 |
| Egypt, El Azzab | 955 |
| Egypt, El Kubri | 956 |
| Egypt, Ferry Post | 956 |
| Egypt, Fokker | 960 |
| Egypt, Gilban | 956 |
| Egypt, Giza | 177, 178, 504, 649, 734 |
| Egypt, Higginstown | 955 |
| Egypt, Hill 40 | 956 |
| Egypt, Ismailia | 955, 956 |
| Egypt, Kantara | 740, 956, 958 |
| Egypt, Lone Tree Outpost | 657 |
| Egypt, Matruh | 391 |
| Egypt, Mazar | 956 |
| Egypt, Mersa Matruh | 281 |
| Egypt, Moascar | 956 |
| Egypt, Port Suez, SS Mashobra | 954 |
| Egypt, Ramani | 956 |
| Egypt, Romani | 958 |
| Egypt, Sheikh Zoweid | 956 |
| Egypt, Sinai Peninsula | 956 |
| Egypt, Somewhere | 691 |
| Egypt, Suez | 954, 955 |
| Egypt, Suez, Suez Canal | 954 |
| Egypt, Tahta | 958, 960 |
| Egypt, The Fayoum | 955, 956 |
| Egypt, Western Egypt | 281 |
| Egypt, Western frontier | 392 |
| England | 191, 213, 305, 622, 662, 880, 906, 934, 939, 958, 960, 961, 977 |
| England, Berkshire | 11, 143, 158, 175, 181, 271, 291, 331, 356, 387, 493, 553, 601, 627, 643, 645, 662, 685, 731, 737, 745, 746, 753, 756, 77, 777, 788, 793, 800, 801, 808, 813, 821, 826, 836, 837, 838, 84, 843, 847, 875, 886, 908, 915, 934, 95, 950, 952, 97, Part2/ads |
| England, Berkshire, Abbey Hall | 301 |
| England, Berkshire, Abingdon | 128, 133, 206, 219, 224, 254, 295, 306, 328, 335, 35, 361, 369, 388, 395, 400, 411, 435, 460, 461, 477, 487, 501, 502, 507, 533, 539, 555, 593, 604, 633, 668, 686, 692, 754, 775, 786, 889, 90, 938, 950 |
| England, Berkshire, Abingdon, Abbey | 323 |
| England, Berkshire, Abingdon, Abbey Place | 413 |
| England, Berkshire, Abingdon, Appleford | 65 |
| England, Berkshire, Abingdon, Bath Street | 882 |
| England, Berkshire, Abingdon, Bostock Avenue | 184, 426 |
| England, Berkshire, Abingdon, Bridge Street | 616 |
| England, Berkshire, Abingdon, Broad Street | 534, 90 |
| England, Berkshire, Abingdon, Burcot | 665 |
| England, Berkshire, Abingdon, Cemetery Road | 205, 410 |
| England, Berkshire, Abingdon, Corn Exchange | 1001 |
| England, Berkshire, Abingdon, Cothill Pitts | 883 |
| England, Berkshire, Abingdon, Culham | 556 |
| England, Berkshire, Abingdon, East St Helen's Street | 555, 773 |
| England, Berkshire, Abingdon, Edward Street | 189, 472, 486, 523, 604, 62 |
| England, Berkshire, Abingdon, Exbourne Road | 338, 416, 483, 525 |
| England, Berkshire, Abingdon, Frilford | 122, 88 |
| England, Berkshire, Abingdon, Gozzard's Ford | 188, 290 |
| England, Berkshire, Abingdon, Helen Street | 359 |
| England, Berkshire, Abingdon, Kennington | 160 |
| England, Berkshire, Abingdon, Ladygrove | 710 |
| England, Berkshire, Abingdon, Market Place | 189 |
| England, Berkshire, Abingdon, Northcourt | 276, 308, 379 |
| England, Berkshire, Abingdon, Oak Street | 30 |
| England, Berkshire, Abingdon, Ock Street | 127, 164, 290, 335, 420, 446, 495, 510, 523, 527, 528, 555, 564, 602, 647, 652, 66, 666, 847, 860, 90, 94 |
| England, Berkshire, Abingdon, Ody Road | 381 |
| England, Berkshire, Abingdon, Queen Street | 491, 613 |
| England, Berkshire, Abingdon, Southmoor | 104, 216, 241 |
| England, Berkshire, Abingdon, Spring Road | 293, 578, 581, 877, 94 |
| England, Berkshire, Abingdon, St Helen Street | 294 |
| England, Berkshire, Abingdon, St Helen's | 213 |
| England, Berkshire, Abingdon, Stert Street | 261, 400, 67 |
| England, Berkshire, Abingdon, Sutton Wick | 611 |
| England, Berkshire, Abingdon, Swinburne Road | 511 |
| England, Berkshire, Abingdon, Thames Street | 424, 716 |
| England, Berkshire, Abingdon, The Abbey | 136, 480 |
| England, Berkshire, Abingdon, The Bridge | 133, 493, 730, 799 |
| England, Berkshire, Abingdon, The Vineyard | 33 |
| England, Berkshire, Abingdon, Victoria Road | 216 |
| England, Berkshire, Abingdon, Vineyard | 394, 654 |
| England, Berkshire, Abingdon, West St Helen Street | 382, 401 |
| England, Berkshire, Abingdon, West St Helens | 282, 32 |
| England, Berkshire, Abingdon, West St. Helen | 671 |
| England, Berkshire, Abingdon, West Street | 22 |
| England, Berkshire, Abingdon, Windsor Cottages | 427 |
| England, Berkshire, Abingdon, Winsmore Lane | 351 |
| England, Berkshire, Abingdon, Winterbourne Rd | 49 |
| England, Berkshire, Abingdon, Winterbourne Road | 336, 96 |
| England, Berkshire, Aldermaston | 140, 141, 217, 251, 254, 259, 264, 334, 335, 440, 605, 623, 717, 772, 803, Part1/ads, Part2/ads |
| England, Berkshire, Aldermaston Court | Part1/ads, Part2/ads |
| England, Berkshire, Aldermaston, Aldermaston Camp | 298 |
| England, Berkshire, Aldermaston, Barn Ground | 1001 |
| England, Berkshire, Aldermaston, Fisherman's Lane | 264, 912 |
| England, Berkshire, Aldermaston, Parish Church | 141 |
| England, Berkshire, Aldermaston, Parish Hall | 141 |
| England, Berkshire, Aldermaston, Park Cottages | 724 |
| England, Berkshire, Aldermaston, Wasing Hill | 290 |
| England, Berkshire, Aldworth | 148, 176, 256, 467, 524, 672, 719, 742, 760 |
| England, Berkshire, Aldworth, Bower | 122 |
| England, Berkshire, Aldworth, Church House | 526 |
| England, Berkshire, Aldworth, Woodrows | 529, 787 |
| England, Berkshire, Appleford | 507 |
| England, Berkshire, Arborfield | 156, 213, 220, 338 |
| England, Berkshire, Arborfield Cross | 293, 554, 630, 854, 859, 972 |
| England, Berkshire, Arborfield Cross, Hazelwood | 502 |
| England, Berkshire, Arborfield Cross, Swan Inn | 84 |
| England, Berkshire, Arborfield, Bartlett's Farm | 333 |
| England, Berkshire, Arborfield, Carter's Hill | 547 |
| England, Berkshire, Arborfield, Mill Cottage | 324 |
| England, Berkshire, Arborfield, Newlands | 1001 |
| England, Berkshire, Arborfield, The Poplars | 827 |
| England, Berkshire, Ardington | 283, 329, 354, 604, 664, 951 |
| England, Berkshire, Ardington, Mill Farm | 287 |
| England, Berkshire, Ascot | 541, 638, 889, 950, 951 |
| England, Berkshire, Ascot, Ascot Heath House Lodge | 455 |
| England, Berkshire, Ascot, Ascot Place | 580 |
| England, Berkshire, Ascot, Brookside | 678 |
| England, Berkshire, Ascot, Buckhurst Hill | 822 |
| England, Berkshire, Ascot, Course Road | 580 |
| England, Berkshire, Ascot, Holmwood Lodge | 924 |
| England, Berkshire, Ascot, Kemmel Ride | 806 |
| England, Berkshire, Ascot, King Edward's Road | 439, 694 |
| England, Berkshire, Ascot, Military Hospital | 882 |
| England, Berkshire, Ascot, New Road | 253, 256, 453, 454, 781, 798 |
| England, Berkshire, Ascot, Racecourse | 1001 |
| England, Berkshire, Ascot, Sunningdale Lodge | 852 |
| England, Berkshire, Ascot, Swinley | 118, 151, 722 |
| England, Berkshire, Ascot, Swinley Road | 129, 508, 566, 638 |
| England, Berkshire, Ascot, Tennyson Villas | 371 |
| England, Berkshire, Ascot, Woodbury | 782 |
| England, Berkshire, Ashampstead | 218, 487, 656, 693, 843 |
| England, Berkshire, Ashampstead Common | 403 |
| England, Berkshire, Ashampstead, Leyfields Cottage | 845 |
| England, Berkshire, Ashampstead, Lower Farm | 196, 467 |
| England, Berkshire, Aston Tirrold | 318, 468 |
| England, Berkshire, Aston Tirrold, The Chequers | 615 |
| England, Berkshire, Banavie | 180 |
| England, Berkshire, Barkham | 810 |
| England, Berkshire, Basildon | 268, 980 |
| England, Berkshire, Basildon Park | 813 |
| England, Berkshire, Basildon, Basildon Park | 1001 |
| England, Berkshire, Basingstoke | 461 |
| England, Berkshire, Baulking, Collier's Farm | 826 |
| England, Berkshire, Bear Wood | 17, 404, 422, 531, 609, 681, 713, 744, 855, 87, 889, 978 |
| England, Berkshire, Bear Wood, Canadian Convalescent Hospital | 405, 609 |
| England, Berkshire, Bear Wood, Convalescent Hospital | 805 |
| England, Berkshire, Bear Wood, Sandy Bottom | 96 |
| England, Berkshire, Bear Wood, The Cottage | 396 |
| England, Berkshire, Beech Hill | 170, 262, 447, 487, 725, 746, 888 |
| England, Berkshire, Beech Hill, Clapper's Farm | 174 |
| England, Berkshire, Beech Hill, Trunkwell House | 485 |
| England, Berkshire, Beech Hill, Vernon Lodge | 309 |
| England, Berkshire, Beedon | 616, 724 |
| England, Berkshire, Beedon, Beedon Farm | 468 |
| England, Berkshire, Beedon, Stanmore | 658, 690 |
| England, Berkshire, Beedon, World's End | 430, 467, 500 |
| England, Berkshire, Beenham | 1001, 143, 165, 340, 457, 508, 510, 635, 725, 779 |
| England, Berkshire, Beenham, Beenham Green | 546 |
| England, Berkshire, Beenham, Beenham House | 18 |
| England, Berkshire, Beenham, Beenham Stud | 792 |
| England, Berkshire, Beenham, Beenham Vicarage | 882 |
| England, Berkshire, Beenham, Brynteg | 260 |
| England, Berkshire, Beenham, Mount Pleasant | 250, 318, 370 |
| England, Berkshire, Binfield | 1001, 103, 104, 116, 124, 236, 287, 339, 422, 46, 514, 571, 582, 602, 615, 829, 950, 96, 98 |
| England, Berkshire, Binfield Heath | 104, 154, 390, 857 |
| England, Berkshire, Binfield Heath, Gravel Road | 742 |
| England, Berkshire, Binfield, Albert Cottage | 503 |
| England, Berkshire, Binfield, Albert Cottages | 310, 724 |
| England, Berkshire, Binfield, Amen Corner | 114, 32, 402, 417, 456, 613 |
| England, Berkshire, Binfield, Billingbear Lane | 611 |
| England, Berkshire, Binfield, Binfield Park | 277, 557, 582 |
| England, Berkshire, Binfield, Cedar Cottage | 623, 630 |
| England, Berkshire, Binfield, Chapel Terrace | 364 |
| England, Berkshire, Binfield, Dunley Villas | 445 |
| England, Berkshire, Binfield, Emmet's Nest | 244, 96 |
| England, Berkshire, Binfield, Forest Road | 100 |
| England, Berkshire, Binfield, Honeysuckle Cottage | 640 |
| England, Berkshire, Binfield, London Road | 460, 516 |
| England, Berkshire, Binfield, Murrell Hill | 171, 862 |
| England, Berkshire, Binfield, Parish Room | 1001 |
| England, Berkshire, Binfield, Picket Point | 403 |
| England, Berkshire, Binfield, Popeswood | 22, 493 |
| England, Berkshire, Binfield, Popeswood Cottages | 59 |
| England, Berkshire, Binfield, Red Rose Hill | 126, 151 |
| England, Berkshire, Binfield, Rose | 540 |
| England, Berkshire, Binfield, Rose Hill | 113, 236, 272, 319, 322, 400, 459, 472, 507, 552, 671, 721 |
| England, Berkshire, Binfield, Rosehill | 488 |
| England, Berkshire, Binfield, Rounds Hill | 151, 725 |
| England, Berkshire, Binfield, School | 236 |
| England, Berkshire, Binfield, Spinning Wheel Lane | 454 |
| England, Berkshire, Binfield, St Mark's Rd | 663 |
| England, Berkshire, Binfield, St Mark's Road | 267, 275 |
| England, Berkshire, Binfield, Terrace Road | 250, 389, 455, 658, 848 |
| England, Berkshire, Binfield, The Beehive | 471 |
| England, Berkshire, Binfield, The Grange | 195 |
| England, Berkshire, Binfield, The Hollies | 699, 858 |
| England, Berkshire, Binfield, Wesley Mill | 868 |
| England, Berkshire, Binfield, Westley Mills | 255 |
| England, Berkshire, Binfield, Wixes Green | 206, 453 |
| England, Berkshire, Blewbury | 176, 210, 290, 311, 374, 653 |
| England, Berkshire, Blewbury, London Road | 642 |
| England, Berkshire, Blewbury, Sheen Croft | 333 |
| England, Berkshire, Boxford | 247, 39, 442, 639 |
| England, Berkshire, Boyne Hill, Avondale Cottages | 335 |
| England, Berkshire, Bracknell | 1003, 124, 144, 170, 18, 187, 190, 198, 22, 224, 264, 272, 307, 323, 334, 340, 378, 392, 416, 425, 461, 511, 520, 538, 549, 56, 572, 576, 582, 631, 644, 679, 810, 815, 868, 950, 98 |
| England, Berkshire, Bracknell, Albert Road | 306, 580, 614 |
| England, Berkshire, Bracknell, Bagshot Road | 411, 464, 511, 736, 840, 877, 923 |
| England, Berkshire, Bracknell, Bancroft | 611 |
| England, Berkshire, Bracknell, Barton Villa | 377 |
| England, Berkshire, Bracknell, Bay Road | 138, 162 |
| England, Berkshire, Bracknell, Beulah | 610 |
| England, Berkshire, Bracknell, Binfield Road | 115, 122, 342, 576, 581, 613, 853, 872, 893, 898, 96 |
| England, Berkshire, Bracknell, Broad Lane | 512, 589 |
| England, Berkshire, Bracknell, Brock Hill | 389 |
| England, Berkshire, Bracknell, Brockhill | 364, 80, 94 |
| England, Berkshire, Bracknell, Bull Lane | 259 |
| England, Berkshire, Bracknell, Bullbrook | 613, 865, 866 |
| England, Berkshire, Bracknell, Chavey Down | 224, 503 |
| England, Berkshire, Bracknell, Chavey Down Road | 578 |
| England, Berkshire, Bracknell, Chaveydown | 551 |
| England, Berkshire, Bracknell, Chaveydown Road | 329, 330 |
| England, Berkshire, Bracknell, Cooper's Hill | 180 |
| England, Berkshire, Bracknell, Easthampstead Road | 144, 40, 515, 790, 872, 972 |
| England, Berkshire, Bracknell, Englemere, Easthampstead Road | 286 |
| England, Berkshire, Bracknell, Green Lane | 435 |
| England, Berkshire, Bracknell, High Street | 187, 755, 895 |
| England, Berkshire, Bracknell, Holly Bank | 754 |
| England, Berkshire, Bracknell, Holly Banks | 348 |
| England, Berkshire, Bracknell, Holy Trinity | 1001 |
| England, Berkshire, Bracknell, Ivy Cottage | 184 |
| England, Berkshire, Bracknell, Lily Hill Woods | 271 |
| England, Berkshire, Bracknell, London Road | 131, 253, 323, 403, 578, 595, 607, 739, 743, 854 |
| England, Berkshire, Bracknell, Martin's Lane | 114 |
| England, Berkshire, Bracknell, Mount Pleasant | 455, 772 |
| England, Berkshire, Bracknell, Myrtle Villa | 833 |
| England, Berkshire, Bracknell, New Road | 384, 54, 552, 883 |
| England, Berkshire, Bracknell, Oaklea Red Cross Hospital | 217 |
| England, Berkshire, Bracknell, Park Road | 579 |
| England, Berkshire, Bracknell, Police Station | 752 |
| England, Berkshire, Bracknell, Serle Street | 224 |
| England, Berkshire, Bracknell, Shepherd's Lane | 131, 210, 295 |
| England, Berkshire, Bracknell, South Hill Park | 429 |
| England, Berkshire, Bracknell, Southill Park | 506 |
| England, Berkshire, Bracknell, St Ronan's Stables | 472 |
| England, Berkshire, Bracknell, Stanley Road | 336, 350, 80, 842 |
| England, Berkshire, Bracknell, Station House | 481, 565 |
| England, Berkshire, Bracknell, Station Road | 271, 317, 395, 427, 820 |
| England, Berkshire, Bracknell, The Orchards | 37, 652 |
| England, Berkshire, Bracknell, The Square | 113 |
| England, Berkshire, Bracknell, Winchfield Row | 514 |
| England, Berkshire, Bracknell, Winkfield Row | 133, 309, 541, 603, 639, 702 |
| England, Berkshire, Bracknell, Wokingham Road | 274, 410, 482, 746, 770, 842 |
| England, Berkshire, Bradfield | 1001, 118, 119, 143, 154, 184, 20, 26, 262, 278, 28, 362, 411, 464, 492, 498, 520, 554, 596, 676, 679, 803, 851, 865, 900, 920, 932, 934, 950 |
| England, Berkshire, Bradfield, Bradfield College | 896 |
| England, Berkshire, Bradfield, Bridge Cottage | 985 |
| England, Berkshire, Bradfield, Burnt Hill | 481 |
| England, Berkshire, Bradfield, Heath Road | 879 |
| England, Berkshire, Bradfield, Horseleas | 529 |
| England, Berkshire, Bradfield, Hungerford Lane | 359 |
| England, Berkshire, Bradfield, Hungerford Lane, Southend | 263, 274 |
| England, Berkshire, Bradfield, Jennett's Hill | 706, 749 |
| England, Berkshire, Bradfield, Oakfield Cottage | 663 |
| England, Berkshire, Bradfield, Southend Road | 792 |
| England, Berkshire, Bradfield, Stanford Road | 366 |
| England, Berkshire, Bradfield, The Village | 584 |
| England, Berkshire, Bradfield, Union Road | 148, 293, 324, 566 |
| England, Berkshire, Bradfield, West End | 489, 610, 751, 789 |
| England, Berkshire, Bradfield, Westend | 385 |
| England, Berkshire, Bray, Bray Lawn | 437 |
| England, Berkshire, Braywood | 98 |
| England, Berkshire, Brightwalton | 191, 216, 351, 624, 754, 815 |
| England, Berkshire, Brightwalton, Brightwalton Rectory | 447 |
| England, Berkshire, Brightwell | 315, 324, 380, 534, 600, 944 |
| England, Berkshire, Brimpton | 218, 247, 451 |
| England, Berkshire, Brimpton, Wasing Lodge | 238 |
| England, Berkshire, Broadmoor | 103, 368, 415, 526, 560, 589, 602, 668, 682, 719 |
| England, Berkshire, Broadmoor Gas Works | 138 |
| England, Berkshire, Brooklands Cottages | 276 |
| England, Berkshire, Bucklebury | 133, 254, 268, 283, 708, 855 |
| England, Berkshire, Bucklebury, Chapel Row | 530 |
| England, Berkshire, Bucklebury, Lower Common | 218 |
| England, Berkshire, Bucklebury, Old Manor ground | 1001 |
| England, Berkshire, Bucklebury, Parish Church | 1001 |
| England, Berkshire, Bucklebury, Scotlands | 678 |
| England, Berkshire, Bucklesbury, Rushdene Cottages | 294 |
| England, Berkshire, Burghfield | 165, 307, 311, 461, 491, 519, 52, 587, 640, 695, 718, 786, 790, 932 |
| England, Berkshire, Burghfield Common | 368, 422, 524, 636, 867 |
| England, Berkshire, Burghfield Common, Clay Hill | 370 |
| England, Berkshire, Burghfield Common, Fir woods | 147 |
| England, Berkshire, Burghfield Common, Laurel Cottage | 642 |
| England, Berkshire, Burghfield Common, Pine Cottage | 309 |
| England, Berkshire, Burghfield, Clay Hill | 308 |
| England, Berkshire, Burghfield, Culverlands Farm | 363 |
| England, Berkshire, Burghfield, Field Farm | 363 |
| England, Berkshire, Burghfield, Folly Lane | 578 |
| England, Berkshire, Burghfield, Love's Farm | 776 |
| England, Berkshire, Burghfield, Mill Cottages | 988 |
| England, Berkshire, Burghfield, Penge Wood | 562, 806 |
| England, Berkshire, Burghfield, Pilgrim's Farm | 215 |
| England, Berkshire, Burghfield, Pleasant View | 498 |
| England, Berkshire, Burghfield, School Road | 481 |
| England, Berkshire, Burghfield, Simpson's Farm | 850 |
| England, Berkshire, Burghfield, Sulhamstead Road | 173 |
| England, Berkshire, Burghfield, The Hatch | 945 |
| England, Berkshire, Calcot | 339, 819 |
| England, Berkshire, Calcot, Bath Road | 846 |
| England, Berkshire, Calcot, Calcot Mill | 468 |
| England, Berkshire, Calcot, Calcot Park | 668, 729 |
| England, Berkshire, Calcot, Calcot Row | 420, 812 |
| England, Berkshire, Calcot, Orchard Cottage | 288 |
| England, Berkshire, Calcot, The City | 976 |
| England, Berkshire, Catford, Brownhill Road | 365 |
| England, Berkshire, Catmore | 325 |
| England, Berkshire, Caversham | 106, 132, 195, 21, 229, 274, 301, 360, 422, 426, 435, 456, 474, 476, 514, 542, 606, 617, 632, 665, 674, 685, 686, 708, 731, 782, 786, 854, 878, 947, 955 |
| England, Berkshire, Caversham, Albert Road | 216, 26, 687 |
| England, Berkshire, Caversham, Balmore | 782 |
| England, Berkshire, Caversham, Balmore Hall | 933 |
| England, Berkshire, Caversham, Blenheim Road | 180, 446, 632, 722 |
| England, Berkshire, Caversham, Briant's Avenue | 112, 136, 145, 312, 535, 536, 544, 610, 678, 748, 798, 857, 86, 911 |
| England, Berkshire, Caversham, Calderwood | 806 |
| England, Berkshire, Caversham, Cane End | 545 |
| England, Berkshire, Caversham, Caversham Free Church | 933 |
| England, Berkshire, Caversham, Caversham Heights | 311 |
| England, Berkshire, Caversham, Caversham House | 245 |
| England, Berkshire, Caversham, Caversham Park Gardens | 321 |
| England, Berkshire, Caversham, Champion Road | 945 |
| England, Berkshire, Caversham, Chazey Hill | 787 |
| England, Berkshire, Caversham, Chester Street | 138, 419, 666 |
| England, Berkshire, Caversham, Church Street | 722 |
| England, Berkshire, Caversham, Cliff House | 891 |
| England, Berkshire, Caversham, Cliff House Hospital | 332 |
| England, Berkshire, Caversham, Clifton Park Road | 477 |
| England, Berkshire, Caversham, Coldicutt Street | 79, 826 |
| England, Berkshire, Caversham, Cromwell Road | 224, 523, 751 |
| England, Berkshire, Caversham, Derby Road | 184 |
| England, Berkshire, Caversham, Elm Villas | 272 |
| England, Berkshire, Caversham, Emmer Green | 116, 149 |
| England, Berkshire, Caversham, George Street | 27, 656, 889 |
| England, Berkshire, Caversham, Gosbrook Road | 131, 133, 234, 324, 493, 53, 624, 693, 80, 831, 843, 878, 881 |
| England, Berkshire, Caversham, Gosbrook Street | 330, 491, 520, 666, 710, 787, 887 |
| England, Berkshire, Caversham, Grosvenor Road | 80, 902 |
| England, Berkshire, Caversham, Harrogate Road | 798 |
| England, Berkshire, Caversham, Hemdean Hill | 444 |
| England, Berkshire, Caversham, Hemdean House Upper School | 617 |
| England, Berkshire, Caversham, Hemdean Rd | 737 |
| England, Berkshire, Caversham, Hemdean Rise | 648, 730, 897 |
| England, Berkshire, Caversham, Hemdean Road | 132, 157, 216, 245, 267, 380, 554, 57, 735, 74, 754, 780, 811, 812, 897 |
| England, Berkshire, Caversham, Henley Road | 943 |
| England, Berkshire, Caversham, Highmoor Road | 878 |
| England, Berkshire, Caversham, Kidmore Road | 427, 436, 472 |
| England, Berkshire, Caversham, Kiln House | 470 |
| England, Berkshire, Caversham, Kings Road | 786 |
| England, Berkshire, Caversham, King's Road | 110, 139, 174, 205, 206, 209, 245, 274, 317, 475, 482, 65, 674, 693, 786, 799, 839, 893 |
| England, Berkshire, Caversham, Little Hill | 924 |
| England, Berkshire, Caversham, Marsack Road | 146, 314 |
| England, Berkshire, Caversham, Marsack Street | 656 |
| England, Berkshire, Caversham, Matlock Road | 643 |
| England, Berkshire, Caversham, Mill Road | 167, 515, 67, 683 |
| England, Berkshire, Caversham, Montague Street | 314 |
| England, Berkshire, Caversham, North Street | 112, 165, 220, 336, 418, 468, 522, 694, 725, 74, 779, 972 |
| England, Berkshire, Caversham, Oxford Road | 730 |
| England, Berkshire, Caversham, Oxford Street | 115, 132, 503, 694 |
| England, Berkshire, Caversham, Patrick Road | 604 |
| England, Berkshire, Caversham, Peppard Rd | 665 |
| England, Berkshire, Caversham, Peppard Road | 245, 64 |
| England, Berkshire, Caversham, Piggott's Rd | 695 |
| England, Berkshire, Caversham, Piggott's Road | 342 |
| England, Berkshire, Caversham, Priest Hill | 280, 443 |
| England, Berkshire, Caversham, Prospect Street | 171, 241, 276, 770, 90 |
| England, Berkshire, Caversham, Queen Street | 354, 462, 500, 563, 863 |
| England, Berkshire, Caversham, Queens Road | 515 |
| England, Berkshire, Caversham, Queen's Road | 102, 138, 228, 277, 361, 420, 610, 635, 639, 64, 725, 804, 820, 856, 894, 976, 977 |
| England, Berkshire, Caversham, Queen's Street | 770 |
| England, Berkshire, Caversham, Rectory Road | 656 |
| England, Berkshire, Caversham, River View Cottages | 887 |
| England, Berkshire, Caversham, Short Street | 517 |
| England, Berkshire, Caversham, South Street | 236, 324, 391, 491, 522, 540, 559, 587, 79 |
| England, Berkshire, Caversham, South View Avenue | 134, 65, 857, 872 |
| England, Berkshire, Caversham, Southill | 215 |
| England, Berkshire, Caversham, St Anne's School | 543 |
| England, Berkshire, Caversham, St Anne's VAD Hospital | 979 |
| England, Berkshire, Caversham, St Briant's Avenue | 750 |
| England, Berkshire, Caversham, St John's Road | 188, 383, 680 |
| England, Berkshire, Caversham, St Peter's Church | 933 |
| England, Berkshire, Caversham, Star Road | 238, 315, 331, 911 |
| England, Berkshire, Caversham, Surley Row | 863 |
| England, Berkshire, Caversham, The Elms | 568 |
| England, Berkshire, Caversham, The Grove | 136, 760, 86 |
| England, Berkshire, Caversham, The Knoll | 543 |
| England, Berkshire, Caversham, The Mount | 643 |
| England, Berkshire, Caversham, The Slopes | 476 |
| England, Berkshire, Caversham, Uplands Road | 649 |
| England, Berkshire, Caversham, Upper Warren Avenue | 396, 543 |
| England, Berkshire, Caversham, Washington Road | 827 |
| England, Berkshire, Caversham, West View Terrace | 698 |
| England, Berkshire, Caversham, Westfield Road | 173, 383, 495, 677, 820, 863, 864, 887, 901 |
| England, Berkshire, Caversham, Woodcote Road | 271, 517, 699 |
| England, Berkshire, Chaddleworth | 804 |
| England, Berkshire, Chaddleworth, Tower Hill | 664 |
| England, Berkshire, Chaddleworth, Upper Road | 455 |
| England, Berkshire, Challow | 605 |
| England, Berkshire, Charlton | 294, 392, 514, 562 |
| England, Berkshire, Charney | 506 |
| England, Berkshire, Chavey Down | 129, 154, 190, 295, 342, 359, 365, 424, 485, 659, 758 |
| England, Berkshire, Chavey Down, Church Road | 687 |
| England, Berkshire, Chavey Down, Rosslyn Cottage | 500 |
| England, Berkshire, Chavey Down, Woodbine Cottage | 50 |
| England, Berkshire, Chieveley | 292, 654, 742, 853 |
| England, Berkshire, Chieveley, Green Lane | 654 |
| England, Berkshire, Chieveley, Hillside Cottage | 654 |
| England, Berkshire, Chieveley, Horsemoore | 303 |
| England, Berkshire, Chieveley, North Heath | 792 |
| England, Berkshire, Childrey | 127, 134, 142, 146, 149, 198, 269, 313, 326, 328, 331, 470, 548 |
| England, Berkshire, Childrey, Lodge Farm | 118 |
| England, Berkshire, Childrey, Petwick | 133 |
| England, Berkshire, Chilton | 628, 708 |
| England, Berkshire, Chilton Foliat | 595, 618 |
| England, Berkshire, Cholsey | 286, 473, 606 |
| England, Berkshire, Cholsey, Honey Lane | 272, 377, 500, 614 |
| England, Berkshire, Cholsey, Meadow View | 488 |
| England, Berkshire, Cholsey, St George's Road | 575 |
| England, Berkshire, Cholsey, Starwell Farm | 562 |
| England, Berkshire, Cholsey, Thames View | 471 |
| England, Berkshire, Cholsey, The Hazels | 447 |
| England, Berkshire, Cholsey, Westfield | 440 |
| England, Berkshire, Cholsey, Westfields | 273 |
| England, Berkshire, Churn | 12, 16 |
| England, Berkshire, Churn Camp | 5 |
| England, Berkshire, Churn Downs | 953 |
| England, Berkshire, Churn, Camp | 265 |
| England, Berkshire, Churn, Churn Camp | 11, 240, 241, 8 |
| England, Berkshire, Churn, Fair Mile | 16 |
| England, Berkshire, Clewer | 274 |
| England, Berkshire, Clewer, Gardner's Cottages | 322 |
| England, Berkshire, Clewer, St Catherine's Cottage | 312 |
| England, Berkshire, Cold Ash | 811, 827 |
| England, Berkshire, Cold Ash, Fencewood Cottage | 482 |
| England, Berkshire, Colehill | 604 |
| England, Berkshire, Coley, Box Court | 760 |
| England, Berkshire, Coley, Commercial Hall | 796 |
| England, Berkshire, Coley, Marshall Place | 628 |
| England, Berkshire, Compton | 481, 584 |
| England, Berkshire, Compton, Rookery Cottages | 376 |
| England, Berkshire, Compton, The Bungalow | 310 |
| England, Berkshire, Cookham | 225, 899 |
| England, Berkshire, Cookham Rise, Dell Cottage | 696 |
| England, Berkshire, Corwthorne | 341 |
| England, Berkshire, Cravenhurst | 973 |
| England, Berkshire, Crazies Hill | 256, 260, 292 |
| England, Berkshire, Crookham | 259, 323, 858 |
| England, Berkshire, Crookham Common, Head's Hill | 748 |
| England, Berkshire, Crookham, Crookham Common | 362 |
| England, Berkshire, Crosford St | 333 |
| England, Berkshire, Crowmarsh, Crowmarsh Ironworks | 369 |
| England, Berkshire, Crowthorne | 100, 1001, 114, 135, 138, 146, 161, 18, 184, 224, 236, 286, 374, 407, 410, 426, 456, 483, 595, 619, 64, 644, 663, 725, 760, 80, 846, 874, 893, 950, 98 |
| England, Berkshire, Crowthorne, Addiscombe Road | 529 |
| England, Berkshire, Crowthorne, Broadmoor | 105, 167, 59, 786, 86 |
| England, Berkshire, Crowthorne, Broadmoor Road | 100, 133, 235, 319, 485, 893 |
| England, Berkshire, Crowthorne, Broadmoor Terrace | 483 |
| England, Berkshire, Crowthorne, Church Street | 458, 615, 832 |
| England, Berkshire, Crowthorne, Circle Hill Road | 903 |
| England, Berkshire, Crowthorne, Ellis Road | 628, 724 |
| England, Berkshire, Crowthorne, Forest Road | 590 |
| England, Berkshire, Crowthorne, Hatch Ride | 118, 260, 286, 334, 435, 551, 570, 704, 746, 781, 831, 919, 971 |
| England, Berkshire, Crowthorne, Heath Hill Cottages | 638 |
| England, Berkshire, Crowthorne, Heath Hill Road | 779 |
| England, Berkshire, Crowthorne, Heatherside | 41 |
| England, Berkshire, Crowthorne, High Street | 276, 478, 595, 644, 690, 807, 874, 898 |
| England, Berkshire, Crowthorne, King's Road | 878 |
| England, Berkshire, Crowthorne, Lower Broadmoor | 904 |
| England, Berkshire, Crowthorne, Nine Mile Ride | 733 |
| England, Berkshire, Crowthorne, Owlsmoor | 206 |
| England, Berkshire, Crowthorne, Pinewood Avenue | 193, 267, 400, 608, 710, 752 |
| England, Berkshire, Crowthorne, The Corner | 871 |
| England, Berkshire, Crowthorne, The Towers | 1001 |
| England, Berkshire, Crowthorne, Waterloo Place | 107, 558, 781, 886 |
| England, Berkshire, Crowthorne, Wellington College | 542 |
| England, Berkshire, Crowthorne, Wellington Road | 483 |
| England, Berkshire, Crowthorne, Woodside Villa | 207 |
| England, Berkshire, Culham | 461 |
| England, Berkshire, Curridge | 281 |
| England, Berkshire, Curridge, Curridge | 295 |
| England, Berkshire, Curridge, Pond Cottage | 256 |
| England, Berkshire, Denchworth | 659, 695 |
| England, Berkshire, Devonshire House | 951 |
| England, Berkshire, Didcot | 1002, 149, 189, 190, 345, 346, 347, 514, 515, 62, 790, 847, 899, 910, 944, 950, 951 |
| England, Berkshire, Didcot, Army Ordnance Depot | 882 |
| England, Berkshire, Didcot, Carey Cottage | 362 |
| England, Berkshire, Didcot, Church Lane | 286 |
| England, Berkshire, Didcot, Fox Hall | 806, 861 |
| England, Berkshire, Didcot, Harwell Road | 308 |
| England, Berkshire, Didcot, Newtown | 682 |
| England, Berkshire, Didcot, Northbourne | 256, 707, 847 |
| England, Berkshire, Didcot, Old Didcot | 680 |
| England, Berkshire, Didcot, Queen Street | 244, 255, 277 |
| England, Berkshire, Didcot, Station Hill | 283 |
| England, Berkshire, Didcot, Station Road | 832 |
| England, Berkshire, Didcot, Wallingford Road | 139, 251, 333, 564, 76 |
| England, Berkshire, Donnington | 525, 950 |
| England, Berkshire, Donnington, Honey Bottom | 546 |
| England, Berkshire, Drayton | 110, 494, 551, 556, 557, 633 |
| England, Berkshire, Drayton St Leonard | 494, 904 |
| England, Berkshire, Drayton, Church Lane | 546 |
| England, Berkshire, Droxford | 435 |
| England, Berkshire, Dry Sandford | 294 |
| England, Berkshire, Dunsden | 314, 457 |
| England, Berkshire, Dunsden, Bint's Farm | 196 |
| England, Berkshire, Dunsden, Bishop's Lands | 522 |
| England, Berkshire, Dunsden, Tagg Lane | 781 |
| England, Berkshire, Earley | 26, 85, 932 |
| England, Berkshire, Earley, Belle Avenue | 809 |
| England, Berkshire, Earley, Bulmershe Cottage | 547, 589 |
| England, Berkshire, Earley, Church Field | 258 |
| England, Berkshire, Earley, Clarendon Road | 308, 801 |
| England, Berkshire, Earley, Earley Church | 665 |
| England, Berkshire, Earley, Erlimount | 348 |
| England, Berkshire, Earley, Maisonette | 714 |
| England, Berkshire, Earley, St Peter's | 797 |
| England, Berkshire, Earley, Station Cottages | 401, 778 |
| England, Berkshire, Earley, The Three Tuns | 887 |
| England, Berkshire, Earley, Westdene | 828 |
| England, Berkshire, Earley, Wykeham Rd | 660 |
| England, Berkshire, Earley, Wykeham Road | 167 |
| England, Berkshire, East Challow | 516, 660, 692 |
| England, Berkshire, East Challow, Howlett's Hill | 526 |
| England, Berkshire, East Challow, Park Terrace | 234 |
| England, Berkshire, East Challow, Post Office | 280 |
| England, Berkshire, East Garston | 470, 472, 481, 489, 629, 684 |
| England, Berkshire, East Hendred | 428, 467, 478, 714, 718, 725, 953 |
| England, Berkshire, East Hendred, Plough Inn | 484 |
| England, Berkshire, East Ilsley | 581, 784 |
| England, Berkshire, East Lockinge | 457, 499, 502, 527, 544, 556, 599, 659, 718, 970 |
| England, Berkshire, East Woodhay, Heath End | 494 |
| England, Berkshire, Eastbury | 416 |
| England, Berkshire, Eastbury, Poffley Cottages | 531 |
| England, Berkshire, Easthampstead | 170, 37, 422, 545, 587, 839, 95 |
| England, Berkshire, Easthampstead, Easthampstead Park | 1002 |
| England, Berkshire, Easthampstead, Fair Villa | 781 |
| England, Berkshire, Easthampstead, Manor Farm | 187 |
| England, Berkshire, Easthampstead, Mill Lane | 245 |
| England, Berkshire, Easthampstead, Nine Mile Ride | 483 |
| England, Berkshire, Easthampstead, Peacock Cottage | 971 |
| England, Berkshire, Easthampstead, Peacock Farm | 296 |
| England, Berkshire, Elcot | 359, 365 |
| England, Berkshire, Embrook | 250, 290, 330, 352, 492, 660, 679 |
| England, Berkshire, Embrook, Pear Tree Cottage | 470 |
| England, Berkshire, Embrook, Rose Villas | 502, 503 |
| England, Berkshire, Emmer Green | 759, 988 |
| England, Berkshire, Emmer Green, Blenheim House | 155 |
| England, Berkshire, Emmer Green, Fisher's Row | 519 |
| England, Berkshire, Emmer Green, Park Place | 170 |
| England, Berkshire, Emmer Green, Peppard Road | 160 |
| England, Berkshire, Emmer Green, Pottinger's Cottages | 154 |
| England, Berkshire, Enbourne | 292 |
| England, Berkshire, Englefield | 143, 168, 191, 192, 273, 276, 482, 673, 729, 887 |
| England, Berkshire, Englefield, Auxiliary Hospital | 673 |
| England, Berkshire, Englefield, Auxiliary War Hospital | 513 |
| England, Berkshire, Englefield, Chalk Pit | 880 |
| England, Berkshire, Englefield, Englefield House | 111, 393, 645, 753 |
| England, Berkshire, Englefield, Englefield Lodge | 275 |
| England, Berkshire, Englefield, Englefield Street | 654 |
| England, Berkshire, Englefield, Lone Barn | 527 |
| England, Berkshire, Englefield, Mayridge Hill | 787 |
| England, Berkshire, Fair Mile | 953 |
| England, Berkshire, Faringdon | 191, 294, 523, 564, 575, 792, 860 |
| England, Berkshire, Faringdon, Hatford | 557 |
| England, Berkshire, Faringdon, Knighton | 714 |
| England, Berkshire, Faringdon, Little Coxwell | 188 |
| England, Berkshire, Faringdon, London Street | 796 |
| England, Berkshire, Faringdon, Longworth | 66 |
| England, Berkshire, Farley Hill | 231, 86, 883 |
| England, Berkshire, Farnborough | 280, 501, 592 |
| England, Berkshire, Fernham | 515, 586, 707 |
| England, Berkshire, Fifield | 647 |
| England, Berkshire, Finchampstead | 122, 327, 348, 368, 422, 432, 546, 620 |
| England, Berkshire, Finchampstead, Cricket Hill | 168 |
| England, Berkshire, Finchampstead, Finchampstead Place | 513 |
| England, Berkshire, Finchampstead, Finchampstead Rectory | 447 |
| England, Berkshire, Finchampstead, Nile Mile Ride | 254 |
| England, Berkshire, Finchampstead, Northcourt Cottage | 628 |
| England, Berkshire, Finchampstead, Oak Cottage | 534 |
| England, Berkshire, Finchampstead, Primrose Cottage | 122 |
| England, Berkshire, Finchampstead, Ride End | 819 |
| England, Berkshire, Finchampstead, Ridge Farm | 808 |
| England, Berkshire, Finchampstead, The Barracks | 352 |
| England, Berkshire, Finchampstead, Warren Lodge Cottage | 434 |
| England, Berkshire, Finchampstead, West Court | 18 |
| England, Berkshire, Finchampstead, Wyse Hill | 371 |
| England, Berkshire, Frilford | 470, 543 |
| England, Berkshire, Frilsham | 250 |
| England, Berkshire, Frilsham, Frilsham Manor Cottage | 845 |
| England, Berkshire, Frilsham, Manor Cottage | 261, 489 |
| England, Berkshire, Furze Platt | 478 |
| England, Berkshire, Furze Platt, Elm Villa | 567 |
| England, Berkshire, Furze Platt, The Stores | 380 |
| England, Berkshire, Furze Platt, Weall's Cottages | 503 |
| England, Berkshire, Fyfield, Virginia Cottages | 400 |
| England, Berkshire, Goosey | 268 |
| England, Berkshire, Goring Heath | 870 |
| England, Berkshire, Grazeley | 1002, 200, 220, 259, 389, 421, 424, 448, 469, 602, 613, 689, 771, 80, 934, 936, 983 |
| England, Berkshire, Grazeley, Clapper's Farm | 541 |
| England, Berkshire, Grazeley, Fair View Cottages | 57 |
| England, Berkshire, Grazeley, Gravelly Bridge Cottages | 972 |
| England, Berkshire, Grazeley, Pound Green Farm | 574 |
| England, Berkshire, Grazeley, The Beeches | 848 |
| England, Berkshire, Great Shefford | 604 |
| England, Berkshire, Greenham | 624 |
| England, Berkshire, Greenham Common, Oak Cottages | 898 |
| England, Berkshire, Greenham, Greenham Common | 366 |
| England, Berkshire, Greenham, Junction Terrace | 787 |
| England, Berkshire, Greenham, Lower Farm | 278 |
| England, Berkshire, Greenham, Manor View | 52 |
| England, Berkshire, Greenham, Smith's Buildings | 415 |
| England, Berkshire, Grove | 439, 570, 669 |
| England, Berkshire, Hagbourne - East | 358, 46 |
| England, Berkshire, Hampstead Marshall | 431 |
| England, Berkshire, Hampstead Marshall, Holt Wood | 518 |
| England, Berkshire, Hampstead Norris | 268, 370, 371, 464, 670, 878, 932 |
| England, Berkshire, Hanney - East | 193, 262, 279, 318, 349, 385, 506, 611, 782 |
| England, Berkshire, Hare Hatch | 446, 518, 546, 626 |
| England, Berkshire, Hartley Court | 673 |
| England, Berkshire, Harwell | 318, 320 |
| England, Berkshire, Headley | 682 |
| England, Berkshire, Hendred - East | 133, 144, 209, 290, 302, 335, 359, 376, 392 |
| England, Berkshire, Hendred - East, Horn Lane | 407 |
| England, Berkshire, Hendred - East, The Plough | 182 |
| England, Berkshire, Henley | 797 |
| England, Berkshire, Hermitage | 818 |
| England, Berkshire, Hermitage, Oare View Villa | 829 |
| England, Berkshire, Highbury | 494 |
| England, Berkshire, Highmoor | 423 |
| England, Berkshire, Highmoor, Satwell | 731 |
| England, Berkshire, Hinton Manor | 816 |
| England, Berkshire, Hinton Waldrist | 145, 171 |
| England, Berkshire, Hoddesdon | 428 |
| England, Berkshire, Holyport, Gays Lodge | 354 |
| England, Berkshire, Hungerford | 1003, 222, 264, 516, 950 |
| England, Berkshire, Hungerford, Bridge Street | 388, 88 |
| England, Berkshire, Hungerford, Charnham Street | 183 |
| England, Berkshire, Hungerford, Chilton Foliat | 516, 802 |
| England, Berkshire, Hungerford, Eddington | 274 |
| England, Berkshire, Hungerford, High Street | 181, 841 |
| England, Berkshire, Hungerford, Inglewood Farm | 264 |
| England, Berkshire, Hungerford, Marsh View | 858 |
| England, Berkshire, Hungerford, Oxenwood | 532 |
| England, Berkshire, Hungerford, Park Street | 598 |
| England, Berkshire, Hungerford, Prospect Street | 582 |
| England, Berkshire, Hungerford, Shefford Woodlands | 382 |
| England, Berkshire, Hungerford, Upper High Street | 182 |
| England, Berkshire, Hungerford, Wharf Side | 510 |
| England, Berkshire, Hungerford, Yew Tree Terrace | 832 |
| England, Berkshire, Hurst | 1002, 103, 171, 195, 290, 35, 388, 396, 506, 574, 608, 659, 66, 687, 748, 751, 800, 998 |
| England, Berkshire, Hurst, Arbour Dairy | 859 |
| England, Berkshire, Hurst, Caronation[sic] Terrace | 889 |
| England, Berkshire, Hurst, Chain Cottages | 349 |
| England, Berkshire, Hurst, Claremont Villa | 195 |
| England, Berkshire, Hurst, Coronation Terrace | 715 |
| England, Berkshire, Hurst, Davis Street | 204, 227, 234, 603, 760 |
| England, Berkshire, Hurst, Dunt Lane | 693 |
| England, Berkshire, Hurst, Gloucester Cottage | 229 |
| England, Berkshire, Hurst, Haines Hill | 122 |
| England, Berkshire, Hurst, Haines Hill Estate | 384 |
| England, Berkshire, Hurst, Hatchgate Farm | 592 |
| England, Berkshire, Hurst, Montrose Villas | 868 |
| England, Berkshire, Hurst, Mungell's Cottage | 213 |
| England, Berkshire, Hurst, Park View | 397 |
| England, Berkshire, Hurst, Rhodesia Villa | 382, 402, 501, 528 |
| England, Berkshire, Hurst, Rose Cottage | 413, 628, 651 |
| England, Berkshire, Hurst, The Mount | 297 |
| England, Berkshire, Hurst, Ward's Cross | 512 |
| England, Berkshire, Hurst, Whistley Green | 252 |
| England, Berkshire, Inkpen, Upper Green | 478 |
| England, Berkshire, Inkpen, Willows | 790 |
| England, Berkshire, Junction Road | 968 |
| England, Berkshire, Kidmore | 607 |
| England, Berkshire, Kidmore End, St John's Church | 661 |
| England, Berkshire, Kingston, Coombe Lane | 442 |
| England, Berkshire, Kingstone Lisle | 469 |
| England, Berkshire, Kingstone Lisle, Fawler Farm | 372 |
| England, Berkshire, Kintbury | 180, 183, 327, 618, 680 |
| England, Berkshire, Kintbury, High Street | 362 |
| England, Berkshire, Kintbury, Horse Shoe Cottage | 678 |
| England, Berkshire, Kintbury, Newbury Street | 303, 410, 778 |
| England, Berkshire, Kintbury, The Green | 382, 608 |
| England, Berkshire, Kintbury, The Hill | 608 |
| England, Berkshire, Kintbury, Walcot Kennels | 739 |
| England, Berkshire, Knighton's meadow | 665 |
| England, Berkshire, Knowl Hill | 250, 263, 278, 303, 329, 422, 437, 530, 631, 636, 654, 660, 670, 707, 72, 723 |
| England, Berkshire, Knowl Hill, Fernlea | 636 |
| England, Berkshire, Knowl Hill, Hazeldene | 196 |
| England, Berkshire, Knowl Hill, St Peter's Church | 424 |
| England, Berkshire, Knowl Hill, The Terrace | 772 |
| England, Berkshire, Lambourn | 1002, 112, 591, 733, 950 |
| England, Berkshire, Lambourn, Agnes Terrace | 188 |
| England, Berkshire, Lambourn, Colinridge Farm | 1002 |
| England, Berkshire, Lambourn, Market Place | 1002 |
| England, Berkshire, Lambourn, Newbury Street | 184 |
| England, Berkshire, Letcombe Bassett | 539, 568, 592 |
| England, Berkshire, Letcombe Regis | 296, 492, 515, 618, 706 |
| England, Berkshire, Lilley | 693 |
| England, Berkshire, Little Sandhurst | 343, 683 |
| England, Berkshire, Little Sandhurst, Coronation Cottages | 238 |
| England, Berkshire, Little Sandhurst, Holly Cottages | 218 |
| England, Berkshire, Little Sandhurst, Oak Cottage | 319 |
| England, Berkshire, Little Sandhurst, Victoria Cottages | 483 |
| England, Berkshire, Little Sandhurst, Victoria Villas | 742 |
| England, Berkshire, Littlewick Green | 718 |
| England, Berkshire, Lockinge | 183, 345, 403, 524, 685 |
| England, Berkshire, Lockinge, Pinmarsh Farm | 323 |
| England, Berkshire, Longcott | 348, 511 |
| England, Berkshire, Longcott, Fernham Road | 772 |
| England, Berkshire, Longworth | 400 |
| England, Berkshire, Lowbury Hill | 16 |
| England, Berkshire, Lower Basildon | 358, 619, 839 |
| England, Berkshire, Lower Basildon, Basildon Park | 246, 247, 662 |
| England, Berkshire, Lower Basildon, Park Lodge | 162 |
| England, Berkshire, Lower Basildon, Upper House | 433 |
| England, Berkshire, Lower Basildon, Upper House Cottages | 384 |
| England, Berkshire, Lower Basildon, Upper House Villas | 580 |
| England, Berkshire, Lower Basildon, White House | 813 |
| England, Berkshire, Lower Basildon, White House Hospital | 813 |
| England, Berkshire, Lower Broadmoor, Broadmoor Farm | 770 |
| England, Berkshire, Lower Caversham, Queen's Road | 630 |
| England, Berkshire, Lower Earley, Radstock Farm | 597 |
| England, Berkshire, Lower Earley, Upperwood Cottage | 879 |
| England, Berkshire, Maiden Erlegh | 450 |
| England, Berkshire, Maidenhea | 129 |
| England, Berkshire, Maidenhead | 13, 208, 250, 324, 361, 399, 438, 461, 497, 532, 689, 699, 717, 775, 889 |
| England, Berkshire, Maidenhead, Alexandra Road | 262 |
| England, Berkshire, Maidenhead, Auxiliary Hospital | 950 |
| England, Berkshire, Maidenhead, Bath Road | 408 |
| England, Berkshire, Maidenhead, Boyne Valley Road | 55 |
| England, Berkshire, Maidenhead, Camden Road | 187 |
| England, Berkshire, Maidenhead, Cordwallis Road | 335 |
| England, Berkshire, Maidenhead, Cordwallis Street | 144 |
| England, Berkshire, Maidenhead, Craufurd Lodge | 817 |
| England, Berkshire, Maidenhead, Denmark Street | 857 |
| England, Berkshire, Maidenhead, Depot | 970 |
| England, Berkshire, Maidenhead, Dolman Buildings | 50 |
| England, Berkshire, Maidenhead, Garden Cottages | 50, 509 |
| England, Berkshire, Maidenhead, Grenfell Road | 438, 525 |
| England, Berkshire, Maidenhead, High Street | 404 |
| England, Berkshire, Maidenhead, High Way | 652 |
| England, Berkshire, Maidenhead, Murrin Road | 498 |
| England, Berkshire, Maidenhead, Norfolk Road | 244 |
| England, Berkshire, Maidenhead, Powney Road | 262, 330, 39 |
| England, Berkshire, Maidenhead, Ray Street | 587 |
| England, Berkshire, Maidenhead, Raymond Road | 148 |
| England, Berkshire, Maidenhead, Salters' Almshouses | 345 |
| England, Berkshire, Maidenhead, Sturt Green | 628 |
| England, Berkshire, Maidenhead, Summerlease Road | 714 |
| England, Berkshire, Maidenhead, Technical Institute | 951 |
| England, Berkshire, Maidenhead, Victoria Street | 459, 698 |
| England, Berkshire, Marcham | 310 |
| England, Berkshire, Marcham, Town's End | 512 |
| England, Berkshire, Marsh Benham | 572, 604 |
| England, Berkshire, Midgham | 116, 437, 503, 511, 820 |
| England, Berkshire, Midgham, West Lodge | 350 |
| England, Berkshire, Mortimer | 1002, 143, 148, 164, 233, 280, 432, 511, 673, 692, 722, 773, 823, 824, 829, 832, 870, 90, 912, 917, 979 |
| England, Berkshire, Mortimer Common, Windmill Road | 76 |
| England, Berkshire, Mortimer West End | 420, 437, 78 |
| England, Berkshire, Mortimer West End, Soak Farm | 549 |
| England, Berkshire, Mortimer, Butler's Land Cottages | 438 |
| England, Berkshire, Mortimer, Drury Lane | 472 |
| England, Berkshire, Mortimer, Five Oaken | 652 |
| England, Berkshire, Mortimer, Great Park Cottages | 606, 823 |
| England, Berkshire, Mortimer, Great Park Lodge | 126, 898, 94 |
| England, Berkshire, Mortimer, Green Wood Cottages | 830 |
| England, Berkshire, Mortimer, King Street | 643, 703 |
| England, Berkshire, Mortimer, Linden Villas | 845 |
| England, Berkshire, Mortimer, Mortimer Lane | 215, 458 |
| England, Berkshire, Mortimer, Mortimer Station | 363 |
| England, Berkshire, Mortimer, Oakfield | 409 |
| England, Berkshire, Mortimer, Railway Terrace | 196 |
| England, Berkshire, Mortimer, St John's Road | 239 |
| England, Berkshire, Mortimer, St Mary's Rd | 682 |
| England, Berkshire, Mortimer, Station Road | 453, 62, 839 |
| England, Berkshire, Mortimer, Tan House | 473 |
| England, Berkshire, Mortimer, The Forehead | 144, 632 |
| England, Berkshire, Mortimer, The Grange | 880 |
| England, Berkshire, Mortimer, Turner's Arms | 858 |
| England, Berkshire, Mortimer, Victoria Road | 368, 690 |
| England, Berkshire, Mortimer, Werne Cottage | 888 |
| England, Berkshire, Mortimer, Wheat's Cottage | 205, 881 |
| England, Berkshire, Mortimer, Windmill | 490 |
| England, Berkshire, Mortimer, Windmill Road | 815, 836, 865 |
| England, Berkshire, Mortimer, Wokefield Green | 666, 842, 868 |
| England, Berkshire, Mortimer, Yew Tree Cottage | 394 |
| England, Berkshire, Moss's Island | 450 |
| England, Berkshire, Moulsford, Cranford Cottages | 624 |
| England, Berkshire, Moulsford, High Road | 535 |
| England, Berkshire, Moulsford, Stanwell Farm | 742 |
| England, Berkshire, Moulsford, Star Terrace | 377 |
| England, Berkshire, Mulford, Elm Cottages | 470 |
| England, Berkshire, near Reading, Englefield Street | 168 |
| England, Berkshire, Newbury | 10, 1003, 139, 142, 165, 186, 313, 401, 403, 422, 44, 440, 461, 48, 497, 50, 51, 534, 536, 560, 634, 695, 700, 703, 748, 775, 838, 917, 950, 951, Part1/ads |
| England, Berkshire, Newbury, Albion House VAD Hospital | 882 |
| England, Berkshire, Newbury, Arlington | 262 |
| England, Berkshire, Newbury, Arthur Road | 417 |
| England, Berkshire, Newbury, Ashmore Green | 156 |
| England, Berkshire, Newbury, Ashton Court, Bartholomew Street | 283 |
| England, Berkshire, Newbury, Bartholomew Street | 384, 387, 429 |
| England, Berkshire, Newbury, Bedfield Cottages | 524 |
| England, Berkshire, Newbury, Belridge Terrace, Queen's Road | 273 |
| England, Berkshire, Newbury, Berkeley Road | 247, 774, 841 |
| England, Berkshire, Newbury, Berkeley Terrace | 112 |
| England, Berkshire, Newbury, Cheap Street | 180 |
| England, Berkshire, Newbury, Cold Ash | 50 |
| England, Berkshire, Newbury, Connaught Road | 371 |
| England, Berkshire, Newbury, Coronation Flats | 532 |
| England, Berkshire, Newbury, Craven Road | 339 |
| England, Berkshire, Newbury, Curridge | 118, 33 |
| England, Berkshire, Newbury, Donnington Priory | 236 |
| England, Berkshire, Newbury, Donnington Square | 434 |
| England, Berkshire, Newbury, Enbourne | 215 |
| England, Berkshire, Newbury, Gloucester Road | 372 |
| England, Berkshire, Newbury, Greenham Common | 139 |
| England, Berkshire, Newbury, Greenham Mills | 144 |
| England, Berkshire, Newbury, Hall | 1002 |
| England, Berkshire, Newbury, Hampton Road | 118, 583 |
| England, Berkshire, Newbury, Headley Common | 794 |
| England, Berkshire, Newbury, Heathfield Terrace | 580 |
| England, Berkshire, Newbury, Jack Street | 219, 533, 541 |
| England, Berkshire, Newbury, Kingbridge Road | 674 |
| England, Berkshire, Newbury, King's Road | 730, 760, 88 |
| England, Berkshire, Newbury, Livingstone Road | 426 |
| England, Berkshire, Newbury, London Road | 278, 402, 417, 674 |
| England, Berkshire, Newbury, Market Place | 1002 |
| England, Berkshire, Newbury, Marsh Street | 421 |
| England, Berkshire, Newbury, Mill Lane | 589 |
| England, Berkshire, Newbury, Newbury Camp | 44, 45 |
| England, Berkshire, Newbury, Newton Gardens | 292 |
| England, Berkshire, Newbury, Nichols Road | 652 |
| England, Berkshire, Newbury, North Heath | 220, 460 |
| England, Berkshire, Newbury, Northbrook Street | 148, 160, 349, 842 |
| England, Berkshire, Newbury, Orts Road | 249, 416 |
| England, Berkshire, Newbury, Park Lane | 400, 557 |
| England, Berkshire, Newbury, Peasmore Road | 579 |
| England, Berkshire, Newbury, Pyle Hill | 182 |
| England, Berkshire, Newbury, Queens Road | 561 |
| England, Berkshire, Newbury, Racecourse | 8 |
| England, Berkshire, Newbury, Railway Terrace | 238, 255 |
| England, Berkshire, Newbury, Redfield Cottages | 248, 703 |
| England, Berkshire, Newbury, Russell Road | 554 |
| England, Berkshire, Newbury, Shaw Cresent | 429 |
| England, Berkshire, Newbury, Speen View Terrace | 622 |
| England, Berkshire, Newbury, St Mary's Road | 686 |
| England, Berkshire, Newbury, Stroud Green | 188, 985 |
| England, Berkshire, Newbury, Taylor Cottage | 236 |
| England, Berkshire, Newbury, Taylor's Buildings | 467 |
| England, Berkshire, Newbury, Victoria Park | 1002 |
| England, Berkshire, Newbury, Wellington Terrace | 436 |
| England, Berkshire, Newbury, West Street | 436, 546, 745 |
| England, Berkshire, Newbury, Wickham | 62 |
| England, Berkshire, Newbury, Woolton Hill | 431 |
| England, Berkshire, North Hagbourne, South Street | 46 |
| England, Berkshire, North Moreton | 594 |
| England, Berkshire, Old Windsor | 400 |
| England, Berkshire, on way to Easthampstead Church | 95 |
| England, Berkshire, Owlsmoor, Bell View | 432 |
| England, Berkshire, Owlsmoor, Belmont Cottage | 972 |
| England, Berkshire, Padworth Common | 364, 794 |
| England, Berkshire, Padworth, Mill Road | 427, 581, 778 |
| England, Berkshire, Padworth, Sunnyside | 478 |
| England, Berkshire, Pangbourne | 1001, 143, 145, 182, 191, 239, 245, 319, 338, 369, 52, 596, 663, 735, 770, 801, 803, 827, 900, 989 |
| England, Berkshire, Pangbourne, Ashampstead Green | 696 |
| England, Berkshire, Pangbourne, Bere Court | 542 |
| England, Berkshire, Pangbourne, Bowden Green | 815 |
| England, Berkshire, Pangbourne, Brookside | 321 |
| England, Berkshire, Pangbourne, Constitutional Club | 989 |
| England, Berkshire, Pangbourne, Cross Keys | 465 |
| England, Berkshire, Pangbourne, Heron Farm | 463, 824 |
| England, Berkshire, Pangbourne, Horseshoe Road | 189, 912 |
| England, Berkshire, Pangbourne, Maidenhatch | 331, 677 |
| England, Berkshire, Pangbourne, Maidenhatch Farm | 754 |
| England, Berkshire, Pangbourne, Meadowside Road | 282, 552, 634 |
| England, Berkshire, Pangbourne, Mill House | 370 |
| England, Berkshire, Pangbourne, Parish Church | 53 |
| England, Berkshire, Pangbourne, Purley Forge | 819 |
| England, Berkshire, Pangbourne, Reading Road | 332, 471, 719 |
| England, Berkshire, Pangbourne, Slade Gate | 210, 255, 295, 894 |
| England, Berkshire, Pangbourne, Thames Avenue | 245, 270, 306, 410, 581, 588, 647, 724, 773, 818, 851 |
| England, Berkshire, Pangbourne, Thames Meadow | 1002 |
| England, Berkshire, Pangbourne, The Donaldson | 803 |
| England, Berkshire, Pangbourne, The Moors | 307, 743 |
| England, Berkshire, Pangbourne, The Square | 1002 |
| England, Berkshire, Pangbourne, Tidmarsh Green | 664, 694 |
| England, Berkshire, Pangbourne, Upper Bowden Farm | 872 |
| England, Berkshire, Park Place | 697 |
| England, Berkshire, Peasemore | 552 |
| England, Berkshire, Pell Street | 590 |
| England, Berkshire, Pingewood | 615 |
| England, Berkshire, Pinkney's Green | 157, 374 |
| England, Berkshire, Pinkney's Green, Furzedale Cottages | 366 |
| England, Berkshire, Pinkney's Green, Orchard Cottages | 572 |
| England, Berkshire, Play Hatch, Homestead Cottage | 800 |
| England, Berkshire, Purley | 365, 411 |
| England, Berkshire, Purley, late of Charlton | 562 |
| England, Berkshire, Purley, Lower Farm | 623, 857 |
| England, Berkshire, Purley, The Kennels | 408 |
| England, Berkshire, Purley, Westbury Farm Cottages | 376 |
| England, Berkshire, Purley, Westfield | 280 |
| England, Berkshire, Radley | 283, 559 |
| England, Berkshire, Reading | 10, 1003, 103, 105, 107, 108, 117, 120, 121, 128, 129, 13, 130, 132, 134, 135, 137, 138, 14, 141, 144, 146, 148, 149, 150, 156, 158, 159, 164, 165, 169, 17, 171, 172, 175, 182, 186, 2, 200, 205, 207, 21, 211, 212, 213, 220, 225, 230, 233, 234, 236, 240, 242, 243, 244, 257, 268, 269, 272, 281, 284, 286, 289, 291, 298, 3, 30, 301, 305, 307, 311, 316, 325, 331, 335, 336, 340, 341, 342, 343, 35, 353, 355, 356, 357, 358, 36, 360, 361, 364, 367, 369, 37, 372, 377, 38, 383, 386, 387, 388, 390, 393, 397, 399, 404, 408, 409, 411, 412, 418, 42, 420, 421, 422, 425, 426, 43, 430, 432, 434, 438, 439, 44, 440, 444, 447, 448, 449, 451, 452, 460, 461, 462, 466, 468, 470, 471, 473, 474, 48, 482, 484, 497, 5, 501, 504, 505, 52, 521, 523, 531, 54, 541, 544, 545, 550, 552, 555, 556, 56, 560, 567, 569, 573, 574, 576, 577, 58, 584, 591, 593, 596, 598, 60, 600, 601, 606, 607, 608, 610, 617, 621, 622, 633, 634, 639, 641, 642, 643, 645, 647, 648, 652, 658, 660, 661, 662, 664, 665, 666, 667, 669, 676, 677, 679, 68, 681, 683, 686, 687, 691, 695, 697, 698, 700, 701, 702, 704, 705, 708, 709, 711, 713, 715, 723, 727, 730, 731, 732, 744, 745, 747, 749, 750, 753, 761, 762, 763, 764, 765, 766, 767, 768, 77, 772, 773, 775, 776, 777, 78, 783, 790, 791, 799, 802, 803, 806, 807, 81, 810, 811, 813, 817, |
| England, Berkshire, Reading, Abbey Hall | 360 |
| England, Berkshire, Reading, Abbey Square | 183, 418 |
| England, Berkshire, Reading, Abbey Street | 525 |
| England, Berkshire, Reading, Abbey Walk | 103 |
| England, Berkshire, Reading, Addington Road | 167, 184, 195, 471, 57, 588, 617, 683, 707, 712, 718, 744, 75, 783, 934 |
| England, Berkshire, Reading, Addison Road | 409, 500, 615, 677, 685, 707 |
| England, Berkshire, Reading, Albany Road | 105, 118, 190, 209, 283, 321, 410, 630, 74, 84, 858, 890, 920 |
| England, Berkshire, Reading, Albert Road | 198, 239, 274, 469, 498, 508, 524, 656, 691 |
| England, Berkshire, Reading, Alexandra Road | 444, 447, 476, 589, 74, 828, 839, 943 |
| England, Berkshire, Reading, Alfred Street | 416, 460, 781, 920 |
| England, Berkshire, Reading, Alma Street | 234, 280, 389 |
| England, Berkshire, Reading, Alpha Street | 102, 387 |
| England, Berkshire, Reading, Alpine Street | 180, 227, 234, 235, 236, 263, 458, 498, 508, 531, 602, 615, 72, 734 |
| England, Berkshire, Reading, Amateur Sports Ground | 163 |
| England, Berkshire, Reading, Amity Road | 115, 146, 149, 234, 251, 252, 278, 321, 326, 328, 386, 431, 477, 486, 531, 592, 644, 651, 698, 902 |
| England, Berkshire, Reading, Amity Street | 366, 375, 448, 473, 822 |
| England, Berkshire, Reading, Anstey Road | 124, 168, 542, 835, 862 |
| England, Berkshire, Reading, Arborfield Court | 169 |
| England, Berkshire, Reading, Argyle Road | 554 |
| England, Berkshire, Reading, Argyle Street | 100, 539 |
| England, Berkshire, Reading, Armour Road | 671 |
| England, Berkshire, Reading, Arthur Road | 790 |
| England, Berkshire, Reading, Aubrey House | 543 |
| England, Berkshire, Reading, Aubrey Terrace | 263 |
| England, Berkshire, Reading, Auckland Road | 149, 164, 168, 460, 795, 86, 879 |
| England, Berkshire, Reading, Audley Street | 551, 587, 639, 755, 867 |
| England, Berkshire, Reading, Awbery Place | 857 |
| England, Berkshire, Reading, Baker Street | 495 |
| England, Berkshire, Reading, Balmore Hall | 933 |
| England, Berkshire, Reading, Barnstaple Street | 131, 628, 863 |
| England, Berkshire, Reading, Barracks | 104, 24, 627, 77, 775, 80, 837, 921, 922, 923, 924, 927, 939, 942, 977 |
| England, Berkshire, Reading, Bartholomew's Road | 624 |
| England, Berkshire, Reading, Bartlett's Cottages | 692 |
| England, Berkshire, Reading, Basingstoke Road | 102, 116, 126, 170, 195, 200, 277, 348, 421, 445, 471, 50, 501, 550, 566, 580, 626, 688, 701, 710, 722, 744, 758, 816, 923, 94 |
| England, Berkshire, Reading, Bath Court | 129 |
| England, Berkshire, Reading, Bath Road | 316, 543, 699, 74, 817, 951, 995 |
| England, Berkshire, Reading, Bath Road, Devonshire Lodge | 577 |
| England, Berkshire, Reading, Battle Hospital | 285 |
| England, Berkshire, Reading, Battle Street | 314, 856 |
| England, Berkshire, Reading, Battle Ward | 163 |
| England, Berkshire, Reading, Bedford Road | 136, 248, 455, 484, 532, 555, 650, 720, 727, 788, 791, 854 |
| England, Berkshire, Reading, Beecham Road | 145, 148, 26, 270, 288, 322, 461, 469, 528, 550, 586, 632, 636, 836, 852, 859 |
| England, Berkshire, Reading, Belmont Road | 368, 380, 495, 628, 689, 698, 72, 728, 856, 861, 889, 976 |
| England, Berkshire, Reading, Bembridge Place | 312 |
| England, Berkshire, Reading, Beresford Road | 326, 643, 787 |
| England, Berkshire, Reading, Biscuit Factory | 761, 766, 767, 949 |
| England, Berkshire, Reading, Bishop's Road | 574 |
| England, Berkshire, Reading, Blagrave Buildings | 926 |
| England, Berkshire, Reading, Blagrave Street | 634, 819, 994, Part9/ads |
| England, Berkshire, Reading, Blake's Cottages | 302, 328, 411, 442, 597, 612, 677, 694, 696, 716 |
| England, Berkshire, Reading, Blenheim Gardens | 110, 144, 297, 402, 420, 443, 722, 743, 746, 809, 814, 853 |
| England, Berkshire, Reading, Blenheim Road | 258, 260, 288, 394, 431, 755, 827, 848, 866, 867, 868, 951 |
| England, Berkshire, Reading, Blue Coat School | 817 |
| England, Berkshire, Reading, Boarded Lane | 245, 735 |
| England, Berkshire, Reading, Borough of Reading Steam Laundry | 901 |
| England, Berkshire, Reading, Borough of Reading Steam Laundry Co. Ltd | 601 |
| England, Berkshire, Reading, Boston House, Oxford Road | 444 |
| England, Berkshire, Reading, Boult's Walk | 557 |
| England, Berkshire, Reading, Bourne End | 838 |
| England, Berkshire, Reading, Box Court | 380 |
| England, Berkshire, Reading, Bridge Street | 599, 677, 947 |
| England, Berkshire, Reading, Bridge Street Assembly Rooms | 601 |
| England, Berkshire, Reading, Brigham Road | 152, 499 |
| England, Berkshire, Reading, Bright Street | 511 |
| England, Berkshire, Reading, Brighton Road | 219, 272, 530, 804, 832 |
| England, Berkshire, Reading, Brisbane Road | 826 |
| England, Berkshire, Reading, Broad Street | 137, 211, 212, 213, 4, 411, 539, 542, 593, 641, 697, 746, 821, 870, 926, 938, 975, 981, 992, 994, Part1/ads, Part10/ads, Part11/ads, Part12/ads, Part13/ads, Part14/ads, Part15/ads, Part16/ads, Part17/ads, Part18/ads, Part19/ads, Part2/ads, Part20/ads, Part21/ads, Part22/ads, Part23/ads, Part24/ads, Part25/ads, Part26/ads, Part27/ads, Part28/ads, Part29/ads, Part3/ads, Part30/ads, Part31/ads, Part32/ads, Part33/ads, Part34/ads, Part35/ads, Part36/ads, Part37/ads, Part38/ads, Part39/ads, Part4/ads, Part5/ads, Part6/ads, Part7/ads, Part8/ads, Part9/ads |
| England, Berkshire, Reading, Broad Street Congregational Chapel | 849 |
| England, Berkshire, Reading, Broad Street Congregational Church | 89 |
| England, Berkshire, Reading, Brook Street | 110, 241, 315, 320, 38, 465, 546, 659, 715, 934 |
| England, Berkshire, Reading, Brook Street West | 153, 478 |
| England, Berkshire, Reading, Brunswick Hill | 517 |
| England, Berkshire, Reading, Brunswick Street | 103, 473, 503, 532, 552, 584, 606, 623, 668, 710, 734 |
| England, Berkshire, Reading, Bulmershe Road | 192, 282, 426 |
| England, Berkshire, Reading, Butchers' Arms | 842 |
| England, Berkshire, Reading, Butter Market | 926, 938, 981 |
| England, Berkshire, Reading, Butts | 562, 981, 994 |
| England, Berkshire, Reading, Cambridge Place | 306 |
| England, Berkshire, Reading, Cambridge Street | 149, 206, 209, 287, 358, 600, 604, 615, 806 |
| England, Berkshire, Reading, Cannon Street | 734, 887 |
| England, Berkshire, Reading, Cardiff Road | 501, 691, 780, 832 |
| England, Berkshire, Reading, Cardigan Gardens | 716, 833 |
| England, Berkshire, Reading, Cardigan Road | 282, 327, 332, 510, 562, 653, 716, 734, 739, 758, 774, 810, 816, 829, 888, 890, 896 |
| England, Berkshire, Reading, Carey Baptist Church | 109 |
| England, Berkshire, Reading, Carey Street | 640, 701, 903 |
| England, Berkshire, Reading, Carnarvon Road | 270, 434, 632, 732, 803, 810, 943 |
| England, Berkshire, Reading, Caroline Street | 328 |
| England, Berkshire, Reading, Casa | 786 |
| England, Berkshire, Reading, Castle Crescent | 20, 666, 945 |
| England, Berkshire, Reading, Castle Cresent | 404 |
| England, Berkshire, Reading, Castle Hill | 429, 645, 663, 727, 804 |
| England, Berkshire, Reading, Castle Hill Place | 105, 208, 210, 234 |
| England, Berkshire, Reading, Castle Square | 197, 330 |
| England, Berkshire, Reading, Castle Street | 121, 187, 360, 557, 598, 691, 710, 807, 809, 814, 854, 874, 942, 994 |
| England, Berkshire, Reading, Catherine Street | 198, 219, 270, 313, 324, 394, 456, 477, 485, 502, 550, 597, 611, 648, 72, 751, 795, 806, 816, 831, 86, 968, 977 |
| England, Berkshire, Reading, Caversham Bridge | 777 |
| England, Berkshire, Reading, Caversham Road | 193, 269, 360, 389, 413, 437, 443, 489, 499, 502, 546, 579, 580, 593, 596, 621, 691, 734, 814, 853, 863, 869, 880, 884 |
| England, Berkshire, Reading, Cemetery Gates | 777 |
| England, Berkshire, Reading, Champion Road | 547 |
| England, Berkshire, Reading, Charles Street | 128, 327, 338, 350, 443, 547, 564, 653 |
| England, Berkshire, Reading, Chatham Street | 102, 106, 173, 196, 244, 326, 378, 413, 415, 509, 518, 536, 658, 664, 704, 714, 750, 755, 797, 852, 863, 924 |
| England, Berkshire, Reading, Chester Street | 239, 495, 592, 743 |
| England, Berkshire, Reading, Chesterman Street | 524, 698, 710, 742, 749, 880 |
| England, Berkshire, Reading, Cholmeley Place | 589 |
| England, Berkshire, Reading, Cholmeley Road | 102, 171, 20, 254, 288, 306, 361, 393, 444, 534, 552, 596, 687, 693, 74, 794, 802, 86, 862 |
| England, Berkshire, Reading, Cholmeley Terrace | 424, 669 |
| England, Berkshire, Reading, Christ Church | 769 |
| England, Berkshire, Reading, Christchurch Road | 327, 343, 360, 472, 577, 951 |
| England, Berkshire, Reading, Church Street | 793 |
| England, Berkshire, Reading, Cintra | 232 |
| England, Berkshire, Reading, Cintra Ground | 777 |
| England, Berkshire, Reading, Clappers Terrace | 84 |
| England, Berkshire, Reading, Clarendon Road | 115, 176, 261, 607, 797, 798, 802, 822, 890, 90 |
| England, Berkshire, Reading, Clifton Street | 210, 215, 842 |
| England, Berkshire, Reading, Coley | 136, 693, 706, 716, 743, 911 |
| England, Berkshire, Reading, Coley Avenue | 858 |
| England, Berkshire, Reading, Coley Kiln Cottages | 839 |
| England, Berkshire, Reading, Coley Park | 709 |
| England, Berkshire, Reading, Coley Park Road | 573 |
| England, Berkshire, Reading, Coley Place | 151, 174, 276, 277, 314, 323, 333, 361, 436, 508, 640, 874 |
| England, Berkshire, Reading, Coley Street | 312, 774 |
| England, Berkshire, Reading, Coley Terrace | 209, 40, 482, 571, 64, 72 |
| England, Berkshire, Reading, College Road | 135, 180, 187, 300, 344, 636, 643, 732, 830 |
| England, Berkshire, Reading, Collis Street | 174, 237, 24, 365, 408, 463, 488, 632, 773, 809, 815 |
| England, Berkshire, Reading, Commercial Hall | 103, 145, 174, 234, 241, 362, 379, 473 |
| England, Berkshire, Reading, Connaught Rd | 759 |
| England, Berkshire, Reading, Connaught Road | 216, 227, 402, 476, 52, 531, 543, 560, 588, 72, 758, 780, 802, 836 |
| England, Berkshire, Reading, Corn Exchange | 137, 268, 298, 58, 60, 761, 932, 994 |
| England, Berkshire, Reading, Corn Exhange | 61 |
| England, Berkshire, Reading, Counci Chamber | 939 |
| England, Berkshire, Reading, Council Chamber | 705, 939 |
| England, Berkshire, Reading, Council Chambers | 186 |
| England, Berkshire, Reading, Coventry Road | 209, 575, 798, 901, 918 |
| England, Berkshire, Reading, Covered Market | 104 |
| England, Berkshire, Reading, Craig Avenue | 561 |
| England, Berkshire, Reading, Cranbury Road | 142, 250, 293, 300, 378, 395, 433, 698, 791, 798, 867, 872 |
| England, Berkshire, Reading, Crane Court | 102, 496 |
| England, Berkshire, Reading, Crane Wharf | 512, 55 |
| England, Berkshire, Reading, Craven Road | 828, 856 |
| England, Berkshire, Reading, Cravenhurst | 568 |
| England, Berkshire, Reading, Crescent Road | 105, 280, 725, 748 |
| England, Berkshire, Reading, Cresent Road | 368, 418, 498 |
| England, Berkshire, Reading, Cross Street | 311, 663 |
| England, Berkshire, Reading, Crown Street | 448, 686, 812 |
| England, Berkshire, Reading, Culver Road | 599, 789, 791 |
| England, Berkshire, Reading, Cumberland Road | 105, 139, 238, 266, 377, 525, 530, 571, 59, 598, 622, 680, 739, 74, 744, 758, 790, 812, 852, 892, 899 |
| England, Berkshire, Reading, Curzon Street | 162, 274, 413, 498, 527, 540, 694, 699, 819, 835, 852, 877, 979 |
| England, Berkshire, Reading, De Beauvoir Road | 157, 270, 394, 47, 477, 504, 552, 598, 638, 730, 755, 826, 828, 888 |
| England, Berkshire, Reading, De Montfort Road | 465, 743, 823 |
| England, Berkshire, Reading, Denmark House | 793 |
| England, Berkshire, Reading, Denmark Road | 828 |
| England, Berkshire, Reading, Depot | 967 |
| England, Berkshire, Reading, Derby Street | 197, 222, 300, 336, 429, 493, 542 |
| England, Berkshire, Reading, Devonshire Lodge Auxiliary Hospital | 577 |
| England, Berkshire, Reading, Dixon's Meadow | 7 |
| England, Berkshire, Reading, Donnington Gardens | 223, 267, 324, 325, 331, 340, 462, 464, 491, 674, 72, 727 |
| England, Berkshire, Reading, Donnington Road | 188, 409, 427, 479, 519, 542, 752, 860, 896, 903 |
| England, Berkshire, Reading, Dorothy Street | 409, 685, 792 |
| England, Berkshire, Reading, Dorset Street | 107, 659, 704, 719, 808, 833, 899 |
| England, Berkshire, Reading, Dover Street | 129, 170, 27, 329, 477, 494, 499, 519, 916 |
| England, Berkshire, Reading, Duke Street | 311, 636, 717, 810, 970, 981, Part12/ads, Part14/ads, Part15/ads, Part16/ads, Part17/ads, Part18/ads, Part19/ads, Part20/ads, Part21/ads, Part22/ads, Part23/ads, Part24/ads, Part25/ads, Part27/ads, Part28/ads, Part29/ads, Part30/ads, Part31/ads, Part32/ads, Part33/ads, Part34/ads, Part35/ads, Part36/ads, Part37/ads, Part38/ads, Part39/ads, Part7/ads, Part8/ads |
| England, Berkshire, Reading, Eagle Court | 131 |
| England, Berkshire, Reading, Earley Hill Road | 444 |
| England, Berkshire, Reading, Earley Rise | 671 |
| England, Berkshire, Reading, Early Rise | 343 |
| England, Berkshire, Reading, East Street | 269, 314, 335, 354, 485 |
| England, Berkshire, Reading, Eastern Avenue | 173, 453, 544, 675, 833, 861 |
| England, Berkshire, Reading, Edgehill Street | 131, 185, 229, 26, 624, 682, 690, 696, 703, 706, 733, 866, 879, 893 |
| England, Berkshire, Reading, Edinburgh Road | 154, 173, 381, 494, 561, 739, 819, 947 |
| England, Berkshire, Reading, Eldon Square | 119 |
| England, Berkshire, Reading, Eldon Street | 582 |
| England, Berkshire, Reading, Eldon Terrace | 164, 259, 525, 569, 853 |
| England, Berkshire, Reading, Elgar Road | 129, 131, 235, 274, 32, 351, 480, 491, 516, 522, 528, 602, 668, 672, 694, 696, 700, 708, 732, 756, 782, 792, 796, 807, 852, 859, 860, 885, 896, 898, 899, 903, 99 |
| England, Berkshire, Reading, Elm Court | 354 |
| England, Berkshire, Reading, Elm Lodge Avenue | 448, 541, 910 |
| England, Berkshire, Reading, Elm Park | 145, 230, 231, 319, 681 |
| England, Berkshire, Reading, Elm Park Road | 162, 176, 198, 276, 294, 333, 381, 40, 430, 46, 522, 550, 557, 57, 62, 66, 677, 695, 722, 749, 778, 78, 812, 818, 824, 878 |
| England, Berkshire, Reading, Elmhurst Road | 573 |
| England, Berkshire, Reading, Englefield House | 538 |
| England, Berkshire, Reading, Erleigh Court | 543 |
| England, Berkshire, Reading, Erleigh Road | 149, 168, 187, 302, 361, 418, 423, 688, 707 |
| England, Berkshire, Reading, Erlimount | 713 |
| England, Berkshire, Reading, Essex Street | 123, 20, 278, 328, 385, 496, 571, 74, 792, 796, 833, 917 |
| England, Berkshire, Reading, Fat Stock Market | 591 |
| England, Berkshire, Reading, Fatherson Road | 606 |
| England, Berkshire, Reading, Field Road | 171, 388, 598, 605, 728, 755, 779, 861, 892, 898, 96 |
| England, Berkshire, Reading, Filey Road | 235, 306, 460, 480, 535, 590, 670, 684, 726 |
| England, Berkshire, Reading, Finch's Building | 47 |
| England, Berkshire, Reading, Finch's Buildings | 174, 226 |
| England, Berkshire, Reading, Flint Street | 304, 332, 523, 651, 656, 704, 816 |
| England, Berkshire, Reading, Fobney Street | 500 |
| England, Berkshire, Reading, Forbury Gardens | 62, 926, 938, 939, 992, 997 |
| England, Berkshire, Reading, Forbury Road | 341, 726 |
| England, Berkshire, Reading, Foundry Street | 237, 302, 491, 498, 696 |
| England, Berkshire, Reading, Foxhill Road | 103, 235, 243, 282, 295, 366, 445, 540, 552, 570, 582, 846 |
| England, Berkshire, Reading, Francis Street | 195, 313, 545, 567, 624, 639, 644, 726, 894, 895, 94 |
| England, Berkshire, Reading, Franklin Street | 519 |
| England, Berkshire, Reading, Freshwater Road | 902 |
| England, Berkshire, Reading, Friar Street | 120, 13, 149, 212, 214, 36, 385, 442, 475, 631, 638, 671, 68, 7, 742, 821, 851, 877, 892, 926, 938, 994, Part1/ads, Part11/ads |
| England, Berkshire, Reading, Fulham Road | 652 |
| England, Berkshire, Reading, Garnet Road | 835 |
| England, Berkshire, Reading, Garnet Street | 439, 443, 509, 531, 814 |
| England, Berkshire, Reading, Garrard Square | 420 |
| England, Berkshire, Reading, Garrard Street | 462, 541, 576 |
| England, Berkshire, Reading, George Palmer centre | 305 |
| England, Berkshire, Reading, George Street | 206, 496, 506, 583, 59, 715, 726, 742, 780 |
| England, Berkshire, Reading, George's Road | 388 |
| England, Berkshire, Reading, Glebe Road | 266 |
| England, Berkshire, Reading, Gloucester Road | 480, 758, 793 |
| England, Berkshire, Reading, Goldsmid Road | 676 |
| England, Berkshire, Reading, Gower Street | 133, 47, 569 |
| England, Berkshire, Reading, Granby Gardens | 278, 307, 408, 421, 425, 518, 571, 639, 703, 716, 745, 872, 903 |
| England, Berkshire, Reading, Grange Avenue | 114, 161, 167, 17, 272, 29, 302, 340, 421, 736, 854 |
| England, Berkshire, Reading, Grape Passage | 647 |
| England, Berkshire, Reading, Great Knollys Street | 108, 136, 138, 153, 173, 20, 224, 253, 271, 331, 334, 340, 436, 470, 473, 535, 539, 576, 595, 656, 698, 7, 715, 776, 826, 860, 874, 888, 894, 920, 96 |
| England, Berkshire, Reading, Greyfriars Road | 307, 549, 78, 883 |
| England, Berkshire, Reading, Greyfriars Vicarage | 926 |
| England, Berkshire, Reading, Grovelands Road | 464, 540, 555, 587, 651, 839 |
| England, Berkshire, Reading, GWR Station | 497, 932 |
| England, Berkshire, Reading, H&P Factory Recreation Ground | 452 |
| England, Berkshire, Reading, H.M. Prison | 900 |
| England, Berkshire, Reading, Hagley Road | 209, 791 |
| England, Berkshire, Reading, Hamilton Road | 12, 188, 341, 447, 698 |
| England, Berkshire, Reading, Hart Street | 278, 323, 499, 504 |
| England, Berkshire, Reading, Hartley Court | 932 |
| England, Berkshire, Reading, Hatherley Road | 341, 389, 430, 493, 539, 638, 660, 677, 781, 830, 851 |
| England, Berkshire, Reading, Havelock Road | 796 |
| England, Berkshire, Reading, Henry Street | 478, 507, 725, 832, 858, 864, 887, 94 |
| England, Berkshire, Reading, High Street | 994 |
| England, Berkshire, Reading, Highgrove Street | 146, 184, 319, 397, 613, 624, 652, 728, 732, 737, 801, 819, 848, 857, 872, 881, 916, 945 |
| England, Berkshire, Reading, Highgrove Terrace | 598, 615, 866, 971 |
| England, Berkshire, Reading, Hilcot Road | 124, 155, 396, 446, 807, 910 |
| England, Berkshire, Reading, Hill Street | 328, 533, 610, 880, 94 |
| England, Berkshire, Reading, Hillside | 175, 749 |
| England, Berkshire, Reading, Holmes Road | 453 |
| England, Berkshire, Reading, Holy Trinity | 897 |
| England, Berkshire, Reading, Hope Street | 545, 562 |
| England, Berkshire, Reading, Hosier Street | 201, 26, 40, 403, 517, 547, 590, 605, 634, 638, 643, 668, 788, 811, 814, 819, 982 |
| England, Berkshire, Reading, Hospital | 451 |
| England, Berkshire, Reading, Howard Street | 310, 331, 394, 625, 647, 793, 802, 820, 844 |
| England, Berkshire, Reading, Huntley & Palmers Factory | 948, 949 |
| England, Berkshire, Reading, Inglemere | 384 |
| England, Berkshire, Reading, Inniscarra | 731 |
| England, Berkshire, Reading, Jesse Terrace | 302 |
| England, Berkshire, Reading, John A'Larder's Buildings | 173, 443 |
| England, Berkshire, Reading, Jubilee Square | 257, 65 |
| England, Berkshire, Reading, Junction Road | 270, 314, 32, 394, 770, 823 |
| England, Berkshire, Reading, Katesgrove | 668, 709 |
| England, Berkshire, Reading, Katesgrove Lane | 24, 256, 402, 435, 488, 590, 594, 598, 663, 67, 672, 774, 775, 814, 836, 88, 893 |
| England, Berkshire, Reading, Katesgrove Terrace | 279, 57 |
| England, Berkshire, Reading, Kendrick Girl's School | 617 |
| England, Berkshire, Reading, Kendrick Rise | 467 |
| England, Berkshire, Reading, Kendrick Road | 187, 226, 344, 5, 744, 902 |
| England, Berkshire, Reading, Kendrick School | 482 |
| England, Berkshire, Reading, Kennet Side | 204, 220, 277, 310, 315, 427, 600, 786, 817 |
| England, Berkshire, Reading, Kennet Street | 484, 515, 659, 714 |
| England, Berkshire, Reading, Kensington Road | 18, 241, 593, 629, 673, 742, 88 |
| England, Berkshire, Reading, Kent Road | 421 |
| England, Berkshire, Reading, Kidmore End | 843 |
| England, Berkshire, Reading, King Street | 126, 647, 870, 880, 994, Part1/ads, Part10/ads, Part11/ads, Part12/ads, Part13/ads, Part14/ads, Part15/ads, Part16/ads, Part17/ads, Part18/ads, Part19/ads, Part2/ads, Part20/ads, Part3/ads, Part4/ads, Part5/ads, Part6/ads, Part7/ads, Part8/ads, Part9/ads |
| England, Berkshire, Reading, King's Meadow | 1004, 325 |
| England, Berkshire, Reading, King's Meadow Recreation Ground | 1004 |
| England, Berkshire, Reading, King's Meadow Road | 303, 830 |
| England, Berkshire, Reading, King's Road | 165, 20, 24, 249, 379, 457, 493, 498, 499, 566, 573, 63, 669, 691, 731, 790, 806, 826, 833, 862, 864, 880, 898 |
| England, Berkshire, Reading, King's Road, Royal Seed Establishment Lecture Hall | 63 |
| England, Berkshire, Reading, King's Road/London Road | 4 |
| England, Berkshire, Reading, Kingsgate Street | 18, 724 |
| England, Berkshire, Reading, Lancaster Lodge | 418 |
| England, Berkshire, Reading, Large Town Hall | 412, 497, 765, 766, 777, 9, 950 |
| England, Berkshire, Reading, Lavender Street | 100, 107, 518, 722 |
| England, Berkshire, Reading, Leighton Park School | 861 |
| England, Berkshire, Reading, Lennox Road | 824 |
| England, Berkshire, Reading, Leopold Road | 139, 266, 343, 506, 568, 57, 744, 754, 820, 830, 924 |
| England, Berkshire, Reading, Leopold Street | 622 |
| England, Berkshire, Reading, Letcombe Street | 395, 427, 517, 518, 592, 629, 814, 898, 90 |
| England, Berkshire, Reading, Liebenrood Road | 709 |
| England, Berkshire, Reading, Lime Court | 75 |
| England, Berkshire, Reading, Lincoln Road | 396 |
| England, Berkshire, Reading, Little John's Farm | 577 |
| England, Berkshire, Reading, Little John's Lane | 340 |
| England, Berkshire, Reading, Little Street | 715, 770 |
| England, Berkshire, Reading, Liverpool Road | 113, 126, 291, 297, 324, 33, 39, 397, 456, 496, 564, 581, 643, 679, 718, 744, 746, 748, 774, 779, 80 |
| England, Berkshire, Reading, London Road | 189, 338, 411, 426, 451, 493, 555, 579, 611, 615, 685, 74, 774, 779, 781, 807, 831, 848, 900 |
| England, Berkshire, Reading, London Street | 192, 25, 506, 52, 567, 662, 685, 795, 981 |
| England, Berkshire, Reading, Lorne Street | 168, 568, 578, 695, 723, 813 |
| England, Berkshire, Reading, Lower Brook Street | 174, 349, 425 |
| England, Berkshire, Reading, Lower Thorn Street | 877, 878 |
| England, Berkshire, Reading, Lynmouth Road | 184, 409, 830 |
| England, Berkshire, Reading, Maitland Road Red Cross Hospital | 41 |
| England, Berkshire, Reading, Manchester Road | 241, 269, 280, 323, 750, 783, 863, 899 |
| England, Berkshire, Reading, Market | 51 |
| England, Berkshire, Reading, Market Place | 637, 673, 679, 757, 761, 763, 783, 821, 892, 926, 938, 994, Part1/ads, Part10/ads, Part11/ads, Part12/ads, Part13/ads, Part19/ads, Part2/ads, Part20/ads, Part21/ads, Part22/ads, Part23/ads, Part24/ads, Part25/ads, Part27/ads, Part28/ads, Part29/ads, Part3/ads, Part30/ads, Part31/ads, Part32/ads, Part33/ads, Part34/ads, Part35/ads, Part36/ads, Part37/ads, Part38/ads, Part39/ads, Part4/ads, Part5/ads, Part6/ads, Part7/ads, Part8/ads, Part9/ads |
| England, Berkshire, Reading, Market Square | 761 |
| England, Berkshire, Reading, Marlborough Avenue | 630 |
| England, Berkshire, Reading, Martha Place | 90 |
| England, Berkshire, Reading, Mason Street | 343, 419, 475, 524, 592, 680, 745, 797, 811, 836, 864 |
| England, Berkshire, Reading, Matlock Road | 835 |
| England, Berkshire, Reading, Mayor's Parlour | 834 |
| England, Berkshire, Reading, Maypole | 834 |
| England, Berkshire, Reading, Melrose Avenue | 424 |
| England, Berkshire, Reading, Mill Lane | 376, 532, 651, 696, 862 |
| England, Berkshire, Reading, Milman Road | 199, 493, 708 |
| England, Berkshire, Reading, Milton Road | 699 |
| England, Berkshire, Reading, Minster Street | 30, 809, Part10/ads, Part11/ads, Part12/ads, Part13/ads, Part14/ads, Part15/ads, Part16/ads, Part17/ads, Part18/ads, Part19/ads, Part20/ads, Part21/ads, Part22/ads, Part23/ads, Part24/ads, Part25/ads, Part27/ads, Part28/ads, Part29/ads, Part3/ads, Part30/ads, Part31/ads, Part32/ads, Part33/ads, Part34/ads, Part35/ads, Part36/ads, Part37/ads, Part38/ads, Part39/ads, Part4/ads, Part5/ads, Part6/ads, Part7/ads, Part8/ads, Part9/ads |
| England, Berkshire, Reading, Montague Street | 388 |
| England, Berkshire, Reading, Montague Villa, London Road | 451 |
| England, Berkshire, Reading, Morgan Road | 196, 331, 816 |
| England, Berkshire, Reading, Mount Pleasant | 263, 325, 344, 421, 519, 676, 708, 750, 840, 918, 934 |
| England, Berkshire, Reading, Mount Pleasant Road | 547 |
| England, Berkshire, Reading, Mount Street | 419, 472, 59, 663, 674, 815, 868, 945 |
| England, Berkshire, Reading, Mundesley Street | 103, 110, 153, 173, 427, 549, 743, 822, 866 |
| England, Berkshire, Reading, Municipal Buildings | 243, 51, 924 |
| England, Berkshire, Reading, Newark Street | 422 |
| England, Berkshire, Reading, Newport Road | 235, 442, 466, 471, 499, 545, 684, 704, 755, 850 |
| England, Berkshire, Reading, Newtown | 720, 754 |
| England, Berkshire, Reading, No 1 War Hospital | 768, 986, 987 |
| England, Berkshire, Reading, No 3 War Hospital | 934 |
| England, Berkshire, Reading, No. 1 Reading War Hospital | 284 |
| England, Berkshire, Reading, No. 1 War Hospital | 761, 762, 900 |
| England, Berkshire, Reading, No. 4 Platform | 921 |
| England, Berkshire, Reading, No. 5 War Hospital | 353 |
| England, Berkshire, Reading, Norfolk Road | 150, 188, 336, 532, 622, 653, 829, 856, 972 |
| England, Berkshire, Reading, Norfolk Street | 490, 622, 811 |
| England, Berkshire, Reading, Norris Road | 416 |
| England, Berkshire, Reading, North Street | 162, 340, 658 |
| England, Berkshire, Reading, Northcourt Avenue | 408, 652 |
| England, Berkshire, Reading, Northumberland Avenue | 189, 267, 715, 932, 980 |
| England, Berkshire, Reading, Norton Road | 113, 466, 634, 710, 952 |
| England, Berkshire, Reading, Norwood Road | 72 |
| England, Berkshire, Reading, Nursery Road | 266, 394, 522, 590, 654, 804 |
| England, Berkshire, Reading, Oakland Hall | 446 |
| England, Berkshire, Reading, Ochard Street | 124 |
| England, Berkshire, Reading, Orchard Street | 148, 173, 206, 245, 315, 365, 59, 644, 65, 651, 796, 846 |
| England, Berkshire, Reading, Ormsby Street | 680, 724, 76 |
| England, Berkshire, Reading, Orts Road | 151, 264, 294, 326, 350, 389, 551, 570, 578, 592, 624, 64, 644, 658, 770, 822, 824, 827, 851, 861, 864 |
| England, Berkshire, Reading, outside St Laurence's Church. | 991 |
| England, Berkshire, Reading, Oxford Road | 110, 121, 136, 139, 156, 18, 182, 205, 210, 256, 26, 308, 312, 313, 339, 340, 360, 377, 378, 40, 401, 430, 443, 445, 459, 465, 47, 472, 486, 513, 519, 52, 544, 563, 572, 575, 579, 589, 590, 603, 610, 654, 658, 691, 696, 717, 728, 74, 744, 748, 76, 777, 778, 786, 787, 81, 811, 812, 816, 827, 840, 848, 86, 863, 870, 874, 895, 898, 927, 98, 995, Part2/ads, Part21/ads, Part22/ads, Part23/ads, Part24/ads, Part29/ads, Part3/ads, Part30/ads, Part31/ads, Part32/ads, Part33/ads, Part34/ads, Part35/ads, Part36/ads, Part37/ads, Part38/ads, Part39/ads, Part4/ads, Part5/ads, Part6/ads, Part7/ads, Part8/ads |
| England, Berkshire, Reading, Oxford Road Barracks | 992 |
| England, Berkshire, Reading, Oxford Road, Blacksmiths Shop | 513 |
| England, Berkshire, Reading, Oxford Street | 327, 503, 870, 993, Part25/ads, Part26/ads, Part27/ads, Part28/ads |
| England, Berkshire, Reading, Padworth Common | 94 |
| England, Berkshire, Reading, Palace Theatre | 673, 681 |
| England, Berkshire, Reading, Palmer Park | 681, 772, 995, 996 |
| England, Berkshire, Reading, Palmer Park Avenue | 361 |
| England, Berkshire, Reading, Pangbourne Road | 326 |
| England, Berkshire, Reading, Pangbourne Street | 226, 378, 495, 521, 76, 811, 861, 864 |
| England, Berkshire, Reading, Park Hospital | 894 |
| England, Berkshire, Reading, Park House | 451, 484 |
| England, Berkshire, Reading, Park Institute | 360 |
| England, Berkshire, Reading, Parkside Road | 84 |
| England, Berkshire, Reading, Pell Street | 154, 30, 482, 541, 542, 65, 76, 791, 901, 944 |
| England, Berkshire, Reading, Pierrot Pavilion | 997 |
| England, Berkshire, Reading, Pitcroft Avenue | 100, 110, 174, 343, 348, 407, 420, 423, 477, 483, 580, 59, 595, 707, 712, 791, 852, 888 |
| England, Berkshire, Reading, Police Station | 655 |
| England, Berkshire, Reading, Post Office | 935 |
| England, Berkshire, Reading, Prince of Wales Avenue | 138, 320, 354, 381, 498, 532, 629, 782, 826 |
| England, Berkshire, Reading, Princes Street | 135, 237, 425, 564, 703, 706, 76, 780, 858, 902 |
| England, Berkshire, Reading, Promenade | 992 |
| England, Berkshire, Reading, Prospect Park | 574, 772, 814, 995, 996, 997 |
| England, Berkshire, Reading, Prospect Street | 684, 822 |
| England, Berkshire, Reading, Providence Place | 218, 244, 586 |
| England, Berkshire, Reading, Queen Victoria statue | 757 |
| England, Berkshire, Reading, Queen Victoria Street | 934 |
| England, Berkshire, Reading, Queen's Cottages | 517 |
| England, Berkshire, Reading, Queen's Hotel | 68 |
| England, Berkshire, Reading, Queen's Road | 190, 321, 329, 349, 642, 687, 736, 76, 789, 842, 860, 861, 864 |
| England, Berkshire, Reading, Raddish Farm | 756 |
| England, Berkshire, Reading, Radstock Road | 390, 395, 618, 622, 708 |
| England, Berkshire, Reading, Railway Station | 172, 175 |
| England, Berkshire, Reading, Reading Barracks | 684, 775 |
| England, Berkshire, Reading, Reading Biscuit Factory | 948 |
| England, Berkshire, Reading, Reading Cemetery | 573, 806, 813 |
| England, Berkshire, Reading, Reading Hospitals | 932 |
| England, Berkshire, Reading, Reading School | 43, 761, 817, 861, 876 |
| England, Berkshire, Reading, Reading School Chapel | 194 |
| England, Berkshire, Reading, Reading School playing field | 194 |
| England, Berkshire, Reading, Reading Station | 172, 36, 906 |
| England, Berkshire, Reading, Reading War Hospital | 166, 761 |
| England, Berkshire, Reading, Recreation Ground | 655 |
| England, Berkshire, Reading, Redlands Hospital | 207 |
| England, Berkshire, Reading, Redlands House | 6 |
| England, Berkshire, Reading, Redlands Road | 273, 339, 394 |
| England, Berkshire, Reading, Redlands War Hospital | 207, 463, 686, 900 |
| England, Berkshire, Reading, Regent Street | 28, 640, 934 |
| England, Berkshire, Reading, Richmond Road | 491, 50, 629, 852 |
| England, Berkshire, Reading, River Road | 293, 390, 532, 551, 570, 575, 65 |
| England, Berkshire, Reading, River Thames | 301, 996, 997 |
| England, Berkshire, Reading, Rowley Road | 142 |
| England, Berkshire, Reading, Royal Berks Hospital | 344 |
| England, Berkshire, Reading, Royal Berkshire Hospital | 169, 90, 900 |
| England, Berkshire, Reading, Royal Seed Establishment | 761 |
| England, Berkshire, Reading, Rupert Court | 40, 654 |
| England, Berkshire, Reading, Rupert Street | 105, 146, 281, 500, 52, 708, 779, 842, 874 |
| England, Berkshire, Reading, Russell Street | 127, 555, 993 |
| England, Berkshire, Reading, Rutland Road | 473, 714 |
| England, Berkshire, Reading, Sackville Street | 239, 631 |
| England, Berkshire, Reading, Salisbury Road | 135, 155, 315, 32, 381, 730, 902 |
| England, Berkshire, Reading, Sawinstone Road | 727 |
| England, Berkshire, Reading, School Terrace | 744, 969 |
| England, Berkshire, Reading, Shaftesbury Avenue | 539 |
| England, Berkshire, Reading, Shaftesbury Road | 28, 307, 425, 526, 659, 716, 810, 823 |
| England, Berkshire, Reading, Shenstone Road | 193 |
| England, Berkshire, Reading, Sherman Place | 875 |
| England, Berkshire, Reading, Sherman Road | 115, 271, 362, 448, 454, 535, 696, 782, 788, 818, 831, 840, 924 |
| England, Berkshire, Reading, Sherwood Road | 235 |
| England, Berkshire, Reading, Sherwood Street | 115, 129, 160, 226, 293, 322, 330, 355, 379, 426, 429, 493, 507, 526, 536, 545, 583, 612, 653, 704, 727, 780 |
| England, Berkshire, Reading, Shinfield Road | 162, 459, 474, 707, 802, 867, 910 |
| England, Berkshire, Reading, Shire Hall | 662 |
| England, Berkshire, Reading, Short Street | 811 |
| England, Berkshire, Reading, Sidmouth Street | 415, 707, 858 |
| England, Berkshire, Reading, Silver Street | 292, 410, 590, 631, 743, 801, 814 |
| England, Berkshire, Reading, Sindlesham Mills | 266 |
| England, Berkshire, Reading, Small Town Hall | 450, 9, 939 |
| England, Berkshire, Reading, Soho Street | 344, 426, 519, 540, 620, 658, 671, 796 |
| England, Berkshire, Reading, Somerset Place | 47, 687 |
| England, Berkshire, Reading, South Street | 150, 168, 264, 411, 453, 815, 907 |
| England, Berkshire, Reading, Southampton Park Street | 162 |
| England, Berkshire, Reading, Southampton Road | 524 |
| England, Berkshire, Reading, Southampton Street | 105, 110, 128, 145, 253, 259, 30, 310, 348, 401, 417, 439, 480, 491, 511, 525, 558, 585, 625, 637, 64, 666, 674, 675, 677, 680, 685, 706, 711, 754, 846, 871, 896, 899, 936 |
| England, Berkshire, Reading, Southcote | 228, 515 |
| England, Berkshire, Reading, Southcote Grange Cottages | 410, 652, 666 |
| England, Berkshire, Reading, Southcote Grange Farm | 699, 817 |
| England, Berkshire, Reading, Southcote Lane | 669 |
| England, Berkshire, Reading, Southcote Road | 507, 880 |
| England, Berkshire, Reading, Sports ground | 479, 926 |
| England, Berkshire, Reading, Spring Garden | 167 |
| England, Berkshire, Reading, Spring Gardens | 210, 244, 261, 355, 614, 646, 776, 812, 829, 845, 864, 919, 972 |
| England, Berkshire, Reading, Spring Grove | 431, 463, 475, 638, 802, 845, 869 |
| England, Berkshire, Reading, St Anne's Auxiliary Hospital | 950 |
| England, Berkshire, Reading, St Bartholomew's Road | 297, 35, 719, 823 |
| England, Berkshire, Reading, St Bartholomew's Vicarage | 119 |
| England, Berkshire, Reading, St Edward's Road | 468, 793 |
| England, Berkshire, Reading, St George's Road | 142, 20, 226, 245, 310, 443, 47, 516, 535, 575, 651, 716, 72, 774, 863, 92 |
| England, Berkshire, Reading, St George's Terrace | 455, 536, 613 |
| England, Berkshire, Reading, St Giles' | 816 |
| England, Berkshire, Reading, St Giles Church | 54, 885 |
| England, Berkshire, Reading, St Giles' Church | 307, 475, 704, 753, 885, 891, 900, 987 |
| England, Berkshire, Reading, St Giles' Vicarage | 413 |
| England, Berkshire, Reading, St James Roman Catholic Church | 987 |
| England, Berkshire, Reading, St John Street | 872 |
| England, Berkshire, Reading, St John's | 257 |
| England, Berkshire, Reading, St John's Hill | 726, 892 |
| England, Berkshire, Reading, St John's Lawn | 849 |
| England, Berkshire, Reading, St John's Road | 519, 718 |
| England, Berkshire, Reading, St John's Street | 216, 251, 279, 792, 910 |
| England, Berkshire, Reading, St John's Vicarage | 865 |
| England, Berkshire, Reading, St Laurence's Church | 211, 54, 765, 849, 926, 963, 964, 965, 990, 991 |
| England, Berkshire, Reading, St Laurence's Churchyard | 662 |
| England, Berkshire, Reading, St Luke's Parish Hall | 41 |
| England, Berkshire, Reading, St Lukes V A D Hospital | 285 |
| England, Berkshire, Reading, St Mary Butts | 930 |
| England, Berkshire, Reading, St Mary's Butts | 712, 777, 851, 929, Part1/ads, Part2/ads, Part3/ads, Part5/ads, Part6/ads |
| England, Berkshire, Reading, St Mary's Church | 661, 896, 929, 931, 940, 942 |
| England, Berkshire, Reading, St Peter's Road | 206, 252, 326, 52, 755, 923 |
| England, Berkshire, Reading, St Saviour's Road | 720, 744 |
| England, Berkshire, Reading, St Saviour's Terrace | 162 |
| England, Berkshire, Reading, St Stephen's | 790 |
| England, Berkshire, Reading, St Stephen's Church | 865 |
| England, Berkshire, Reading, St. Giles' Church | 54 |
| England, Berkshire, Reading, Stanley Grove | 192, 538, 576 |
| England, Berkshire, Reading, Stanley Street | 62 |
| England, Berkshire, Reading, Station | 109, 125, 3, 321, 345, 6, 761, 762, 922, 925, 926, 928, 932, 937, 964, 965 |
| England, Berkshire, Reading, Station Road | 120, 58, 596, 926, 937, 938, 994 |
| England, Berkshire, Reading, Station roof | 926 |
| England, Berkshire, Reading, Station Square | 412, 921, 922, 925, 937, 938, 940, 965 |
| England, Berkshire, Reading, Struan House Auxiliary Hospital | 950, 987 |
| England, Berkshire, Reading, Struan House V A D Hospital | 285 |
| England, Berkshire, Reading, Surrey Road | 162, 332 |
| England, Berkshire, Reading, Sutherlands | 21 |
| England, Berkshire, Reading, Swainston Road | 523 |
| England, Berkshire, Reading, Swainstone Road | 135, 266, 376, 608, 755, 828 |
| England, Berkshire, Reading, Swainstone Terrace | 394 |
| England, Berkshire, Reading, Swansea Road | 153, 283, 319, 324, 475, 565, 702, 795, 835 |
| England, Berkshire, Reading, Talfourd Avenue | 223 |
| England, Berkshire, Reading, Thames | 373 |
| England, Berkshire, Reading, Thames Avenue | 124, 388 |
| England, Berkshire, Reading, Thames Side | 992 |
| England, Berkshire, Reading, Thames Side Engineering Works | 884 |
| England, Berkshire, Reading, Thames Side Promenade | 159, 482, 997 |
| England, Berkshire, Reading, The Arcade | 599 |
| England, Berkshire, Reading, The Barracks | 1, 1004, 63, 965, 977, 991, 993 |
| England, Berkshire, Reading, The Forbury | 313 |
| England, Berkshire, Reading, The Forbury Road | 885 |
| England, Berkshire, Reading, The Hollies, London Road | 452 |
| England, Berkshire, Reading, The Lion | 773 |
| England, Berkshire, Reading, The Market Place | Part14/ads, Part15/ads, Part16/ads, Part17/ads, Part18/ads |
| England, Berkshire, Reading, Thorn Lane | 136 |
| England, Berkshire, Reading, Thorn Street | 314, 65 |
| England, Berkshire, Reading, Tidmarsh Street | 490, 514, 562, 578 |
| England, Berkshire, Reading, Tilehurst | 557 |
| England, Berkshire, Reading, Tilehurst Road | 190, 204, 372, 428, 453, 518, 557, 733, 905, 96, 971 |
| England, Berkshire, Reading, Town Hall | 1, 2, 243, 48, 761, 796, 821, 908, 925, 926, 927, 938, 939, 946, 951, 965, 978, 992, 993, 994 |
| England, Berkshire, Reading, TownHall | 978 |
| England, Berkshire, Reading, Trinity Congregational Church | 89 |
| England, Berkshire, Reading, Trinity Place | 174, 255, 728 |
| England, Berkshire, Reading, Trinity School | 360 |
| England, Berkshire, Reading, Tudor Road | 127, 338, 350, 486, 712, 951 |
| England, Berkshire, Reading, Turkish Baths | 550, 589 |
| England, Berkshire, Reading, Union Square | 478 |
| England, Berkshire, Reading, University | 93 |
| England, Berkshire, Reading, University College | 411, 482 |
| England, Berkshire, Reading, University College Hall | 709 |
| England, Berkshire, Reading, Upper Crown Street | 329, 397, 443, 518, 605 |
| England, Berkshire, Reading, Upper Redlands Road | 813, 833, 947 |
| England, Berkshire, Reading, Vachel Road | 328, 86, 910 |
| England, Berkshire, Reading, Valentia Road | 554, 600, 693 |
| England, Berkshire, Reading, Valpy Street | Part1/ads, Part10/ads, Part11/ads, Part12/ads, Part13/ads, Part14/ads, Part15/ads, Part16/ads, Part17/ads, Part18/ads, Part19/ads, Part2/ads, Part20/ads, Part21/ads, Part22/ads, Part23/ads, Part24/ads, Part25/ads, Part26/ads, Part27/ads, Part28/ads, Part29/ads, Part3/ads, Part30/ads, Part31/ads, Part32/ads, Part33/ads, Part34/ads, Part35/ads, Part36/ads, Part37/ads, Part38/ads, Part39/ads, Part4/ads, Part5/ads, Part6/ads, Part7/ads, Part8/ads, Part9/ads |
| England, Berkshire, Reading, Vastern Road | 152, 17, 302, 553, 614, 884 |
| England, Berkshire, Reading, Victoria Road | 174, 397, 444, 500, 743, 822, 850 |
| England, Berkshire, Reading, Victoria Square | 249 |
| England, Berkshire, Reading, Victoria Street | 146, 475 |
| England, Berkshire, Reading, Vincent's Garage | 60, 61 |
| England, Berkshire, Reading, Vine Hotel | 783 |
| England, Berkshire, Reading, Waldeck Street | 12, 138, 17, 465, 540, 566, 582, 611, 701, 702, 733, 734, 748, 787, 892 |
| England, Berkshire, Reading, Wantage Hall | 117, 317, 321, 685, 791, 970 |
| England, Berkshire, Reading, Wantage Road | 574, 797, 888 |
| England, Berkshire, Reading, War Hospital | 121, 123, 217 |
| England, Berkshire, Reading, War Hospital No. 1 | 202, 203 |
| England, Berkshire, Reading, War Hospital Supplies Depot | 311 |
| England, Berkshire, Reading, Warren Place | 136, 28 |
| England, Berkshire, Reading, Wasing Place | 273 |
| England, Berkshire, Reading, Water Road | 618, 701 |
| England, Berkshire, Reading, Waterloo Road | 260, 430, 437, 489, 677, 682, 782, 872, 887 |
| England, Berkshire, Reading, Watlington Road | 945 |
| England, Berkshire, Reading, Watlington Street | 198, 33, 338, 339, 340, 381, 391, 445, 496, 522, 547, 735, 816, 850, 90, 934 |
| England, Berkshire, Reading, Waverley Road | 341, 466, 543, 660, 704, 776, 878 |
| England, Berkshire, Reading, Waylen Street | 167, 300, 863 |
| England, Berkshire, Reading, Weldale | 279 |
| England, Berkshire, Reading, Weldale Place | 47 |
| England, Berkshire, Reading, Weldale Street | 224, 334, 348, 35, 384, 431, 484, 544, 581, 636, 642, 664, 666, 726, 779, 84, 859, 860, 871, 877, 879, 911, 92, 923, 96 |
| England, Berkshire, Reading, Wellington Club | 36 |
| England, Berkshire, Reading, West Street | 185, 821, 834, 926, 938, 981, Part10/ads, Part9/ads |
| England, Berkshire, Reading, Westbourne Terrace | 134, 47, 52, 678 |
| England, Berkshire, Reading, Western Elms Avenue | 168, 352, 397, 582 |
| England, Berkshire, Reading, Western Road | 164, 528, 854, 972 |
| England, Berkshire, Reading, Whiteley Wood Lane | 827 |
| England, Berkshire, Reading, Whitley | 699, 709 |
| England, Berkshire, Reading, Whitley Cottage | 57 |
| England, Berkshire, Reading, Whitley Hall | 360 |
| England, Berkshire, Reading, Whitley Rise | 266, 6 |
| England, Berkshire, Reading, Whitley Road | 592, 650, 782, 835 |
| England, Berkshire, Reading, Whitley Street | 192, 260, 401, 418, 509, 529, 657, 671, 684, 733, 734, 869 |
| England, Berkshire, Reading, Whitley View Road | 407 |
| England, Berkshire, Reading, Whitley Wood | 38, 538 |
| England, Berkshire, Reading, Whitley Wood Lane | 165, 580, 618, 647, 795, 881 |
| England, Berkshire, Reading, Whitley Wood Road | 716 |
| England, Berkshire, Reading, William Street | 170, 264, 668, 72, 812, 881 |
| England, Berkshire, Reading, Willow Street | 165, 20, 489, 636, 760, 815, 822 |
| England, Berkshire, Reading, Wilson Road | 142, 287, 295, 378, 384, 491, 495, 567, 575, 796, 820 |
| England, Berkshire, Reading, Wilton Road | 278, 628, 818, 862 |
| England, Berkshire, Reading, Wingham House | 874 |
| England, Berkshire, Reading, Wiston Terrace | 239, 618, 692 |
| England, Berkshire, Reading, Wokingham Road | 216, 360, 430, 538, 605, 736, 746, 758, 894, 920 |
| England, Berkshire, Reading, Wokingham Road Council Schools | 953 |
| England, Berkshire, Reading, Wolseley | 444 |
| England, Berkshire, Reading, Wolseley Road | 792 |
| England, Berkshire, Reading, Wolseley Street | 105, 135, 277, 32, 342, 483, 496, 556, 570, 779, 840, 881 |
| England, Berkshire, Reading, Woodstock Road | 802 |
| England, Berkshire, Reading, Woodstock Street | 379, 419, 857 |
| England, Berkshire, Reading, Wykeham | 829 |
| England, Berkshire, Reading, Wykeham Road | 119, 142, 173, 260, 282, 376, 548, 569, 669, 71, 760, 776 |
| England, Berkshire, Reading, Y.M.C.A. | 107 |
| England, Berkshire, Reading, Yeomanry House | 2, 953, 993, 994, Part1/ads, Part2/ads |
| England, Berkshire, Reading, Yield Hall Place | 712 |
| England, Berkshire, Reading, York Road | 160, 171, 224, 235, 577, 586, 678, 787, 816, 819, 840, 851, 868, 892 |
| England, Berkshire, Reading, Zinzan Street | 462, 623, 879 |
| England, Berkshire, Riseley | 932 |
| England, Berkshire, River Thames | 875 |
| England, Berkshire, Ruscombe | 297, 669, 683, 936 |
| England, Berkshire, Ruscombe, Castle End | 850, 864 |
| England, Berkshire, Ruscombe, Fern Villa | 874 |
| England, Berkshire, Ruscombe, Ivy Cottages | 273 |
| England, Berkshire, Ruscombe, New Road | 400 |
| England, Berkshire, Ruscombe, Vale Cottage | 727 |
| England, Berkshire, Sandhurst | 18, 204, 209, 220, 231, 344, 350, 378, 422, 546, 568, 619, 786, 794, 937 |
| England, Berkshire, Sandhurst - Lower, Mellons Cottage | 815 |
| England, Berkshire, Sandhurst, Albion Cottage | 160 |
| England, Berkshire, Sandhurst, Albion Road | 271, 300, 752 |
| England, Berkshire, Sandhurst, Ambarrow Lodge | 455 |
| England, Berkshire, Sandhurst, Brind Park Terrace | 368 |
| England, Berkshire, Sandhurst, Brindport Terrace | 880 |
| England, Berkshire, Sandhurst, Bromley Cottages | 267 |
| England, Berkshire, Sandhurst, College Road | 38 |
| England, Berkshire, Sandhurst, Deepnell House | 154, 350 |
| England, Berkshire, Sandhurst, Fern Cottage | 524 |
| England, Berkshire, Sandhurst, Harts Leap | 951 |
| England, Berkshire, Sandhurst, High Street | 640, 642 |
| England, Berkshire, Sandhurst, Laurel Terrace | 133 |
| England, Berkshire, Sandhurst, Longdown Road | 176, 219 |
| England, Berkshire, Sandhurst, Mead Cottage | 378, 448 |
| England, Berkshire, Sandhurst, New Road | 201 |
| England, Berkshire, Sandhurst, Oakfield | 644 |
| England, Berkshire, Sandhurst, Prince of Wales | 782 |
| England, Berkshire, Sandhurst, St John's Road | 435 |
| England, Berkshire, Sandhurst, Sunny Rest Cottage | 918 |
| England, Berkshire, Sandhurst, The Broadway | 318, 776 |
| England, Berkshire, Sandhurst, The White Swan | 171 |
| England, Berkshire, Sandhurst, Wellington Villa | 279 |
| England, Berkshire, Sandhurst, Yorktown Road | 291 |
| England, Berkshire, Shalbourne, Church View Cottages | 46 |
| England, Berkshire, Shaw | 950 |
| England, Berkshire, Shaw, Cromwell Road | 818 |
| England, Berkshire, Shefford Woodlands | 286 |
| England, Berkshire, Shellingford | 619 |
| England, Berkshire, Shillingford | 205, 94 |
| England, Berkshire, Shinfield | 143, 461, 573, 618, 744, 752, 98 |
| England, Berkshire, Shinfield, Brooker's Hill | 887 |
| England, Berkshire, Shinfield, Cut Bush Lane | 726 |
| England, Berkshire, Shinfield, Fairmead Road | 686 |
| England, Berkshire, Shinfield, Hyde End | 326, 642 |
| England, Berkshire, Shinfield, Post Office | 872 |
| England, Berkshire, Shinfield, School Green | 338, 503 |
| England, Berkshire, Shinfield, The Hall | 1002 |
| England, Berkshire, Shinfield, University College Farm | 363 |
| England, Berkshire, Shiplake, Shiplake Meadows | 71 |
| England, Berkshire, Shippon | 378, 464, 514 |
| England, Berkshire, Shippon, Manor Farm | 633 |
| England, Berkshire, Shippon, Spring View | 714 |
| England, Berkshire, Shrivenham, Ashbury | 654 |
| England, Berkshire, Shrivenham, Watchfield | 277 |
| England, Berkshire, Shurlock Row | 571 |
| England, Berkshire, Sindlesham | 257, 364, 467, 472, 485, 581, 680 |
| England, Berkshire, Sindlesham, Mill Lane | 640 |
| England, Berkshire, Somerset, Bristol | 783 |
| England, Berkshire, Sonning | 106, 150, 263, 274, 456, 482, 575, 586, 614, 673, 674, 697, 828, 839 |
| England, Berkshire, Sonning, Farm Cottages | 122 |
| England, Berkshire, Sonning, French Horn | 1002 |
| England, Berkshire, Sonning, Holme Park | 1002 |
| England, Berkshire, Sonning, Home Farm | 702 |
| England, Berkshire, Sonning, The Grove Lodge | 64 |
| England, Berkshire, Sonning, Wistaria Cottage | 413 |
| England, Berkshire, South Ascot | 445, 673 |
| England, Berkshire, South Ascot, Lower Village Road | 585 |
| England, Berkshire, South Ascot, Pine Villa | 215 |
| England, Berkshire, South Moreton | 118, 261, 395 |
| England, Berkshire, Southmoor | 664, 784 |
| England, Berkshire, Sparsholt | 119, 341 |
| England, Berkshire, Sparsholt, Hall Place | 889 |
| England, Berkshire, Sparsholt, Sparsholt | 434 |
| England, Berkshire, Speen, Bath Road | 358 |
| England, Berkshire, Speen, Vicarage Cottage | 370 |
| England, Berkshire, Speen, Woodbine Cottage | 466 |
| England, Berkshire, Speenhamland | 558, 638 |
| England, Berkshire, Spencers Wood | 160, 253, 308, 444, 484, 534, 57, 571, 613, 618, 806, 983 |
| England, Berkshire, Spencers Wood, Loddon Court Cottage | 845 |
| England, Berkshire, Spencers Wood, May's Hill | 349 |
| England, Berkshire, Spencers Wood, Nullis Farm | 525 |
| England, Berkshire, Spencers Wood, Ryeish Green | 881 |
| England, Berkshire, Spencers Wood, Ryeshe Green | 615 |
| England, Berkshire, Spencers Wood, The Nest | 419 |
| England, Berkshire, Spring Hill Road | 862 |
| England, Berkshire, Stanford Dingley | 129, 400, 478, 504 |
| England, Berkshire, Stanford Dingley, Cripps Cottages | 879 |
| England, Berkshire, Stanford Dingley, Jewell's Farm | 404, 596 |
| England, Berkshire, Stanford Dingley, The Gardens | 39 |
| England, Berkshire, Stanford-in-the-Vale | 218, 255, 276, 359 |
| England, Berkshire, Steventon | 176 |
| England, Berkshire, Steventon, Brookside Cottage | 604 |
| England, Berkshire, Steventon, Brookside Cottages | 883 |
| England, Berkshire, Steventon, Longdown Lodge | 636 |
| England, Berkshire, Stockcross | 334, 364, 380, 438, 559 |
| England, Berkshire, Streatley | 162, 278, 530, 603, 703 |
| England, Berkshire, Streatley, Grims Cottage | 247, 889 |
| England, Berkshire, Streatley, High Street | 706 |
| England, Berkshire, Streatley, Hurstbourne Cottages | 464 |
| England, Berkshire, Streatley, Rectory Road | 279 |
| England, Berkshire, Streatley, Southridge | 261 |
| England, Berkshire, Streatley, Westridge | 252 |
| England, Berkshire, Streatley, Westridge Manor | 570 |
| England, Berkshire, Sulham, Nunhide | 32 |
| England, Berkshire, Sulhamstead | 143, 350 |
| England, Berkshire, Sulhamstead, Folly Farm Cottage | 703 |
| England, Berkshire, Sulhamstead, Sulhamstead House | 520 |
| England, Berkshire, Sulhamstead, White House Green | 835 |
| England, Berkshire, Sulhamstead, Whitehouse Green | 250 |
| England, Berkshire, Sunningdale | 461, 520, 700 |
| England, Berkshire, Sunningdale, Station Road | 701 |
| England, Berkshire, Sunningdale, Vicarage Garden | 742 |
| England, Berkshire, Sunninghill | 440, 55 |
| England, Berkshire, Sunninghill, Harewood | 322 |
| England, Berkshire, Sunninghill, Hill View Stores | 700 |
| England, Berkshire, Sunninghill, Livingstone Cottages | 419 |
| England, Berkshire, Sunninghill, York Terrace | 854 |
| England, Berkshire, Sunningwell | 328, 349, 437 |
| England, Berkshire, Sutton Courtenay | 455, 710 |
| England, Berkshire, Sutton Courtenay, Dropshort | 238 |
| England, Berkshire, Swallowfield | 205, 422, 478, 488, 633, 722, 905 |
| England, Berkshire, Swallowfield, Basingstoke Road | 749 |
| England, Berkshire, Swallowfield, Beech Wood Cottage | 633 |
| England, Berkshire, Swallowfield, Farley Castle | 170 |
| England, Berkshire, Swallowfield, Farley Hill | 1003, 253, 256 |
| England, Berkshire, Swallowfield, Handpost Farm | 248 |
| England, Berkshire, Swallowfield, Norkett Cottage | 269 |
| England, Berkshire, Swallowfield, Oak Cottage | 520 |
| England, Berkshire, Swallowfield, Post Office | 18 |
| England, Berkshire, Swallowfield, Swallowfield Park | 1002 |
| England, Berkshire, Swallowfield, Tanner's Farm | 304 |
| England, Berkshire, Thames Valley | 301 |
| England, Berkshire, Thatcham | 1002, 172, 176, 205, 210, 235, 239, 287, 33, 38, 389, 426, 442, 464, 470, 50, 578, 633, 642, 794, 98 |
| England, Berkshire, Thatcham, Avenalls Cottages | 511 |
| England, Berkshire, Thatcham, Chamberhouse Cottage | 893 |
| England, Berkshire, Thatcham, Chapel Street | 105, 149, 223, 275, 668, 924 |
| England, Berkshire, Thatcham, Colthrop Cottages | 295 |
| England, Berkshire, Thatcham, Crookham | 255 |
| England, Berkshire, Thatcham, Green Lane | 595 |
| England, Berkshire, Thatcham, Lower Way | 512 |
| England, Berkshire, Thatcham, Newtown | 280, 98 |
| England, Berkshire, Thatcham, Northfield Road | 675, 845 |
| England, Berkshire, Thatcham, Spring Cottages | 278 |
| England, Berkshire, Thatcham, Station Road | 120, 516 |
| England, Berkshire, Thatcham, Thatcham House | 302 |
| England, Berkshire, Thatcham, Turn Fields | 588 |
| England, Berkshire, Thatcham, Turnfields | 442 |
| England, Berkshire, Thatcham, Wasing Place | 915 |
| England, Berkshire, The Grotto | 697 |
| England, Berkshire, Theale | 1002, 128, 143, 252, 287, 380, 474, 568, 572, 630, 663, 700, 718, 815, 882, 888, 889 |
| England, Berkshire, Theale, Church Terrace | 30, 738, 862 |
| England, Berkshire, Theale, Coolbawn | 646 |
| England, Berkshire, Theale, Crown Lane | 648 |
| England, Berkshire, Theale, Falcon Hotel | 455 |
| England, Berkshire, Theale, Gravel Pit Cottages | 893 |
| England, Berkshire, Theale, High Street | 887 |
| England, Berkshire, Theale, Hose Hill Farm | 980 |
| England, Berkshire, Theale, Mayridge Farm | 416, 489 |
| England, Berkshire, Theale, Mayridge Farm Cottage | 919 |
| England, Berkshire, Theale, Mayridge Hill | 215 |
| England, Berkshire, Theale, North Street | 560, 754 |
| England, Berkshire, Theale, Recreation Ground | 1002 |
| England, Berkshire, Theale, Steventon | 67 |
| England, Berkshire, Theale, Sunnyside | 748 |
| England, Berkshire, Theale, Swing Bridge | 50 |
| England, Berkshire, Theale, The Post Office | 835 |
| England, Berkshire, Theale, White House | 551 |
| England, Berkshire, Theale, Wigmore Lane | 893 |
| England, Berkshire, Three Mile Cross | 114, 269, 291, 832, 983 |
| England, Berkshire, Three Mile Cross, Church Lane | 574 |
| England, Berkshire, Three Mile Cross, Hartley Court Farm Cottage | 580 |
| England, Berkshire, Three Mile Cross, Lea Farm | 718 |
| England, Berkshire, Three Mile Cross, Whitley Wood | 823 |
| England, Berkshire, Tidmarsh | 143, 334, 519, 606, 682, 883, 98 |
| England, Berkshire, Tidworth, Tidworth Military Hospital | 583 |
| England, Berkshire, Tilehurst | 403, 485, 505, 539, 557, 639, 693, 802, 942 |
| England, Berkshire, Tilehurst, Armour Road | 318, 327, 343, 349, 376, 614, 78, 840, 920 |
| England, Berkshire, Tilehurst, Blenheim Cottage | 562 |
| England, Berkshire, Tilehurst, Blundells Road | 324 |
| England, Berkshire, Tilehurst, Blundell's Road | 161 |
| England, Berkshire, Tilehurst, Chapel Hill | 135, 445, 456, 474, 712, 832 |
| England, Berkshire, Tilehurst, Cranleigh | 685 |
| England, Berkshire, Tilehurst, Downing Road | 381, 406, 413, 507, 527, 586, 750, 802 |
| England, Berkshire, Tilehurst, Downing Street | 499 |
| England, Berkshire, Tilehurst, Katoomba | 338 |
| England, Berkshire, Tilehurst, Kentwood Hill | 259, 359, 415 |
| England, Berkshire, Tilehurst, Kentwood View | 603 |
| England, Berkshire, Tilehurst, Kew Terrace | 210 |
| England, Berkshire, Tilehurst, Little Heath | 535 |
| England, Berkshire, Tilehurst, Lower Armour | 39 |
| England, Berkshire, Tilehurst, Lower Armour Cottages | 151 |
| England, Berkshire, Tilehurst, Lower Armour Road | 275, 30, 840 |
| England, Berkshire, Tilehurst, Norcot Rise | 895 |
| England, Berkshire, Tilehurst, Norcot Road | 163, 712, 746, 78, 905 |
| England, Berkshire, Tilehurst, Norcot Terrace | 38 |
| England, Berkshire, Tilehurst, Poplar Cottages | 59 |
| England, Berkshire, Tilehurst, Recreation Road | 358, 459, 532 |
| England, Berkshire, Tilehurst, School Road | 241, 254, 445, 501, 680, 721, 799, 826 |
| England, Berkshire, Tilehurst, Shiplake Lodge | 528 |
| England, Berkshire, Tilehurst, Surrey Villas | 293 |
| England, Berkshire, Tilehurst, Swansea Terrace | 558 |
| England, Berkshire, Tilehurst, Tennis Club | 161 |
| England, Berkshire, Tilehurst, The Brambles | 444 |
| England, Berkshire, Tilehurst, The City | 883 |
| England, Berkshire, Tilehurst, The Laurels | 97 |
| England, Berkshire, Tilehurst, Victoria Road | 902, 912 |
| England, Berkshire, Tilehurst, Waterworks | 199 |
| England, Berkshire, Tilehurst, Westwood | 534 |
| England, Berkshire, Tilehurst, Westwood Road | 153 |
| England, Berkshire, Tilehurst, Westwood Row | 458, 570 |
| England, Berkshire, Twyford | 1002, 217, 22, 323, 327, 334, 367, 522, 560, 592, 730, 772, 813, 869, 895 |
| England, Berkshire, Twyford, Brook Street | 244, 595, 604, 90 |
| England, Berkshire, Twyford, Charville Cottages | 564, 576 |
| England, Berkshire, Twyford, Haines Hill | 287, 290 |
| England, Berkshire, Twyford, Hill View | 584 |
| England, Berkshire, Twyford, Kiln Green | 176 |
| England, Berkshire, Twyford, Lower Green Cottages | 780 |
| England, Berkshire, Twyford, Mill House | 379 |
| England, Berkshire, Twyford, Milly Bridge | 628 |
| England, Berkshire, Twyford, Myrtle Cottage | 200, 684, 87 |
| England, Berkshire, Twyford, Ruscombe | 916 |
| England, Berkshire, Twyford, Ruscombe Lake | 886 |
| England, Berkshire, Twyford, Ruscombe Road | 255 |
| England, Berkshire, Twyford, Shurlock Row | 512, 516, 550, 651 |
| England, Berkshire, Twyford, Sidmouth House | 176 |
| England, Berkshire, Twyford, Station Hotel | 183 |
| England, Berkshire, Twyford, Station Road | 671 |
| England, Berkshire, Twyford, The Grove | 276, 419, 575 |
| England, Berkshire, Twyford, Twyford Fields | 704 |
| England, Berkshire, Twyford, Waltham Road | 244, 59 |
| England, Berkshire, Twyford, Woodside Cottage | 560 |
| England, Berkshire, Uffington | 187, 320, 323, 339, 397, 411, 546, 566, 610, 619, 666, 674, 700 |
| England, Berkshire, Uffington, Craven Cottage | 778 |
| England, Berkshire, Uffington, Stockholm Farm | 191 |
| England, Berkshire, Uffington, The Commons | 610 |
| England, Berkshire, Uffington, Woolstone | 795 |
| England, Berkshire, Ufton | 758 |
| England, Berkshire, Ufton Green | 318, 518 |
| England, Berkshire, Ufton, Fir View | 910 |
| England, Berkshire, Ufton, Island Cottage | 64 |
| England, Berkshire, Ufton, Rose Cottage | 210, 508 |
| England, Berkshire, Ufton, Sulhamstead Road | 512 |
| England, Berkshire, Ufton, The Poplars | 642 |
| England, Berkshire, Upper Basildon | 206, 277, 463, 468, 584, 619, 680, 701, 718 |
| England, Berkshire, Upper Basildon, Beckfield Cottages | 281 |
| England, Berkshire, Upper Basildon, Beckford | 739 |
| England, Berkshire, Upper Basildon, Emery's Farm | 182 |
| England, Berkshire, Upper Basildon, Gardener's Lane | 123 |
| England, Berkshire, Upper Basildon, Kiln Farm | 529, 812 |
| England, Berkshire, Upper Basildon, South View | 646, 904 |
| England, Berkshire, Upton | 281, 648 |
| England, Berkshire, Vernham Dean | 490 |
| England, Berkshire, Vernham Dean, Vine Cottage | 595 |
| England, Berkshire, Wallingford | 164, 388, 396, 404, 454, 460, 472, 474, 517, 520, 541, 571, 598, 744, 775, 827, 918, 944, 960, 978 |
| England, Berkshire, Wallingford, Aston | 195 |
| England, Berkshire, Wallingford, Beansheaf Terrace | 262 |
| England, Berkshire, Wallingford, Croft Road | 910 |
| England, Berkshire, Wallingford, Crowmarsh Battle | 476 |
| England, Berkshire, Wallingford, Crowmarsh Ironworks | 369 |
| England, Berkshire, Wallingford, Egerton Cottages | 685 |
| England, Berkshire, Wallingford, Goldsmith Lane | 228, 282, 894 |
| England, Berkshire, Wallingford, Hither Croft | 433 |
| England, Berkshire, Wallingford, Mackney | 743 |
| England, Berkshire, Wallingford, Mill Lane | 364 |
| England, Berkshire, Wallingford, Moreton - North | 106 |
| England, Berkshire, Wallingford, New Buildings | 492 |
| England, Berkshire, Wallingford, Sinodun | 543 |
| England, Berkshire, Wallingford, Springdale Cottages | 352 |
| England, Berkshire, Wallingford, St John's Road | 683, 827, 895 |
| England, Berkshire, Wallingford, St Leonard's Lane | 422 |
| England, Berkshire, Wallingford, St Mary's Street | 454 |
| England, Berkshire, Wallingford, Union Terrace | 279 |
| England, Berkshire, Wallingford, Winterbrook | 434 |
| England, Berkshire, Wallingford, Wood Street | 287, 726 |
| England, Berkshire, Waltham St Lawrence | 268, 446, 501, 514, 690, 706, 910, 917, 932 |
| England, Berkshire, Waltham St Lawrence, Bear Farm | 445 |
| England, Berkshire, Waltham St Lawrence, Diligent Place | 279 |
| England, Berkshire, Waltham St Lawrence, Milly Road | 659 |
| England, Berkshire, Waltham St Lawrence, Willow Cottage | 568 |
| England, Berkshire, Waltham, Goose Nest | 736 |
| England, Berkshire, Wantage | 126, 16, 168, 170, 183, 189, 192, 193, 261, 281, 291, 334, 422, 436, 44, 502, 508, 531, 548, 584, 587, 619, 67, 775, 781, 953 |
| England, Berkshire, Wantage, Alfred Street | 385 |
| England, Berkshire, Wantage, Ardington Road | 467 |
| England, Berkshire, Wantage, Betterton Cottages | 525 |
| England, Berkshire, Wantage, Brightwalton | 139, 646 |
| England, Berkshire, Wantage, Brookside | 428 |
| England, Berkshire, Wantage, Challow Road | 201 |
| England, Berkshire, Wantage, Falcon Cottages | 923 |
| England, Berkshire, Wantage, Grove | 170, 192 |
| England, Berkshire, Wantage, Grove Street | 142, 145, 335, 35, 427, 492, 603, 687 |
| England, Berkshire, Wantage, Little Lane | 464 |
| England, Berkshire, Wantage, Lock's Lane | 280 |
| England, Berkshire, Wantage, Market Place | 1002 |
| England, Berkshire, Wantage, Mill Street | 384, 556 |
| England, Berkshire, Wantage, Ormond Road | 198, 254, 874 |
| England, Berkshire, Wantage, South View Cottages | 423 |
| England, Berkshire, Wantage, Stirlings Road | 422 |
| England, Berkshire, Wantage, The Bell | 145 |
| England, Berkshire, Wantage, Thicket Farm | 392 |
| England, Berkshire, Wantage, Victoria Cross Gallery | 1002 |
| England, Berkshire, Wantage, Wantage Road Station | 953 |
| England, Berkshire, Wantage, West Lodge | 457 |
| England, Berkshire, Wantage, Wharf Terrace | 154, 368, 422 |
| England, Berkshire, Wantage, Woolley Park | 184, 626 |
| England, Berkshire, Warfield | 1002, 124, 165, 209, 251, 344, 348, 410, 605, 728, 772 |
| England, Berkshire, Warfield, Buckle Lane | 621, 687 |
| England, Berkshire, Warfield, Moss End | 161, 256, 390, 605 |
| England, Berkshire, Warfield, Moss End Farm | 317 |
| England, Berkshire, Warfield, Nuptown | 541 |
| England, Berkshire, Warfield, Nuptown Farm | 490 |
| England, Berkshire, Warfield, Scotland's Farm | 252 |
| England, Berkshire, Warfield, The Lindens | 371, 551 |
| England, Berkshire, Warfield, West End | 829 |
| England, Berkshire, Wargrave | 1002, 560, 71, 950, 951 |
| England, Berkshire, Wargrave, Ardreddio | 447 |
| England, Berkshire, Wargrave, Braybrook Road | 586 |
| England, Berkshire, Wargrave, Cockpole Green | 46 |
| England, Berkshire, Wargrave, High Street | 192 |
| England, Berkshire, Wargrave, The Homestead | 191 |
| England, Berkshire, Wargrave, Victoria Road | 262, 824, 893 |
| England, Berkshire, Wash Common, Roseleigh | 759 |
| England, Berkshire, Wasing | 333 |
| England, Berkshire, Watchfield | 461 |
| England, Berkshire, Wellington College Station, Wokingham Road | 629 |
| England, Berkshire, Wellington College, Heathcote | 980 |
| England, Berkshire, Wellington College, Ravenswood Avenue | 944 |
| England, Berkshire, Wellington College, Red House | 129 |
| England, Berkshire, Wellington College, Trevear | 874 |
| England, Berkshire, West Challow | 156, 468, 514, 57, 695 |
| England, Berkshire, West Challow, Garland's Farm Cottages | 679 |
| England, Berkshire, West Hagbourne | 303 |
| England, Berkshire, West Hanney | 881 |
| England, Berkshire, West Hendred | 281, 504 |
| England, Berkshire, West Hendred, Hare Inn | 477 |
| England, Berkshire, West Lockinge | 295, 322, 516, 562, 595, 614 |
| England, Berkshire, West Shefford | 300 |
| England, Berkshire, West Woodhay | 320, 367, 726 |
| England, Berkshire, Whatcombe | 273 |
| England, Berkshire, Whitchurch, Hardwick Estate | 6 |
| England, Berkshire, Whitchurch, Thames Bank | 373 |
| England, Berkshire, White Waltham | 934 |
| England, Berkshire, White Waltham, Heywood Park | 631 |
| England, Berkshire, White Waltham, Riley Street | 693 |
| England, Berkshire, Whitley | 5 |
| England, Berkshire, Whitley Hill | 311 |
| England, Berkshire, Whitley, Ffoulkes Street | 819 |
| England, Berkshire, Whitley, Milman Road | 790 |
| England, Berkshire, Whitley, Whitley Wood Lane | 773 |
| England, Berkshire, Wickham | 329, 445 |
| England, Berkshire, Windsor | 110, 183, 237, 364, 388, 39, 422, 44, 634, 750, 775, 950 |
| England, Berkshire, Windsor, Bachelor's Acre | 1002 |
| England, Berkshire, Windsor, Beaumont Road | 502 |
| England, Berkshire, Windsor, Bolton Road | 428, 600 |
| England, Berkshire, Windsor, Bridgewater Terrace | 776 |
| England, Berkshire, Windsor, Castle Yard | 435 |
| England, Berkshire, Windsor, Clewer Hill Lodge | 947 |
| England, Berkshire, Windsor, Clewer New Town | 302 |
| England, Berkshire, Windsor, Eton College | 1002 |
| England, Berkshire, Windsor, Foliejon Park | 586 |
| England, Berkshire, Windsor, Great Park | 772 |
| England, Berkshire, Windsor, Grove Road | 554, 794 |
| England, Berkshire, Windsor, Imperial Service College ground | 1002 |
| England, Berkshire, Windsor, Old Windsor | 275 |
| England, Berkshire, Windsor, Sun Passage | 208 |
| England, Berkshire, Windsor, Thames Street | 543 |
| England, Berkshire, Windsor, William Street | 508 |
| England, Berkshire, Winkfield | 362, 562 |
| England, Berkshire, Winkfield Row | 541 |
| England, Berkshire, Winkfield, Brock Hill | 108 |
| England, Berkshire, Winkfield, Maiden's Green | 282, 92 |
| England, Berkshire, Winkfield, North Street | 439 |
| England, Berkshire, Winkfield, The Lodge, Winkfield Manor | 297 |
| England, Berkshire, Winterbourne | 365 |
| England, Berkshire, Winterbourne, Ivy Cottage | 890 |
| England, Berkshire, Wokefield, Lockram Cottages | 684 |
| England, Berkshire, Wokefield, Wokefield Green | 278 |
| England, Berkshire, Wokingham | 100, 103, 128, 151, 191, 195, 20, 262, 304, 316, 329, 339, 371, 379, 384, 399, 424, 487, 520, 539, 555, 630, 659, 673, 700, 701, 714, 725, 775, 787, 79, 809, 95, 950, 96, 990, 999 |
| England, Berkshire, Wokingham, All Saints' Parish | 951 |
| England, Berkshire, Wokingham, Ashbridgewood | 219 |
| England, Berkshire, Wokingham, Ashridge Farm | 896 |
| England, Berkshire, Wokingham, Barkham Road | 122, 148, 166, 281, 308, 319, 327, 339, 348, 390, 46, 807, 831, 98 |
| England, Berkshire, Wokingham, Bill Hill | 701, 856 |
| England, Berkshire, Wokingham, Broad Street | 33, 485, 639, 999 |
| England, Berkshire, Wokingham, Cantley Lodge | 483, 659 |
| England, Berkshire, Wokingham, Carey Road | 100, 483, 501 |
| England, Berkshire, Wokingham, Chapel Green Farm | 695 |
| England, Berkshire, Wokingham, Chetwood | 719 |
| England, Berkshire, Wokingham, Church House of All Saints' | 393 |
| England, Berkshire, Wokingham, Denmark Road | 814 |
| England, Berkshire, Wokingham, Denmark Street | 198, 772, 999 |
| England, Berkshire, Wokingham, Drill Hall | 999 |
| England, Berkshire, Wokingham, East Heath | 110, 319, 439, 839, 885 |
| England, Berkshire, Wokingham, East Heath Bungalow | 455, 459 |
| England, Berkshire, Wokingham, Easthampstead | 409 |
| England, Berkshire, Wokingham, Easthampstead Cottage Laundry | 267, 445 |
| England, Berkshire, Wokingham, Easthampstead Park | 352, 820, 836 |
| England, Berkshire, Wokingham, Easthampstead Road | 277, 334, 384, 480, 487, 500, 686 |
| England, Berkshire, Wokingham, Elm Cottage | 388 |
| England, Berkshire, Wokingham, Embrook | 201, 67 |
| England, Berkshire, Wokingham, Erica | 297 |
| England, Berkshire, Wokingham, Evendons Lane | 425, 435, 878 |
| England, Berkshire, Wokingham, Exchange Cottages | 464 |
| England, Berkshire, Wokingham, Eythorne | 809 |
| England, Berkshire, Wokingham, Fernside Cottages, Forest Road | 269 |
| England, Berkshire, Wokingham, Finchampstead | 325 |
| England, Berkshire, Wokingham, Finchampstead Road | 30, 924 |
| England, Berkshire, Wokingham, Forest Road | 325, 566, 669 |
| England, Berkshire, Wokingham, Froghall Green | 417 |
| England, Berkshire, Wokingham, Gipsy Lane | 502, 719, 809 |
| England, Berkshire, Wokingham, Gladstone Cottages | 499 |
| England, Berkshire, Wokingham, Goodchild Road | 527, 868 |
| England, Berkshire, Wokingham, Havelock | 432, 440 |
| England, Berkshire, Wokingham, Havelock Place | 417 |
| England, Berkshire, Wokingham, Havelock Road | 188, 446, 536, 576, 578, 62, 703, 816, 818, 851 |
| England, Berkshire, Wokingham, Heatherside | 555 |
| England, Berkshire, Wokingham, Honey Hill | 564 |
| England, Berkshire, Wokingham, Howard Road | 400, 760, 773 |
| England, Berkshire, Wokingham, Keep Hatch Farm | 488 |
| England, Berkshire, Wokingham, King Street | 286, 487, 488, 547, 778, 810 |
| England, Berkshire, Wokingham, Langborough Recreation Ground | 999 |
| England, Berkshire, Wokingham, Langborough Road | 218, 271, 304, 540, 668, 801, 831, 874, 999 |
| England, Berkshire, Wokingham, Limmer Hill | 38, 557 |
| England, Berkshire, Wokingham, London Road | 215, 276, 335, 469, 480, 493, 528, 566, 571, 600, 613, 662, 67, 774, 818, 830 |
| England, Berkshire, Wokingham, Luckley Park | 18 |
| England, Berkshire, Wokingham, Luckley Path | 485, 503 |
| England, Berkshire, Wokingham, Market Pace | 999 |
| England, Berkshire, Wokingham, Market Place | 1000, 1002, 999 |
| England, Berkshire, Wokingham, Matthew's Green | 692, 771 |
| England, Berkshire, Wokingham, Merton Cottage | 154 |
| England, Berkshire, Wokingham, Milton Road | 573 |
| England, Berkshire, Wokingham, Mount Pleasant | 22, 480, 544, 632, 687, 798, 901 |
| England, Berkshire, Wokingham, Murrell Green | 358, 678, 76 |
| England, Berkshire, Wokingham, Nine Mile Ride | 362, 526, 736, 782, 798, 862 |
| England, Berkshire, Wokingham, Norton Road | 286, 342, 443 |
| England, Berkshire, Wokingham, Oakfield | 636 |
| England, Berkshire, Wokingham, Osborne Road | 671, 973 |
| England, Berkshire, Wokingham, Oxford Road | 468, 860 |
| England, Berkshire, Wokingham, Peach Street | 223, 26, 312, 457, 480, 508, 579, 678, 719, 999 |
| England, Berkshire, Wokingham, Pebblestone Cottage | 520 |
| England, Berkshire, Wokingham, Plough Farm | 316 |
| England, Berkshire, Wokingham, Plough Lane | 222, 248, 273, 52, 524, 554, 854 |
| England, Berkshire, Wokingham, Polo Farm | 319 |
| England, Berkshire, Wokingham, Portland Place | 678 |
| England, Berkshire, Wokingham, Reading Road | 157 |
| England, Berkshire, Wokingham, Rectory Road | 999 |
| England, Berkshire, Wokingham, Rose Street | 227, 300, 306, 344, 395, 424, 516, 539, 555, 584, 696, 714, 824, 877, 999 |
| England, Berkshire, Wokingham, Sadler's Lane | 344 |
| England, Berkshire, Wokingham, Seaford Road | 138, 424, 479, 523, 551, 579, 607, 872 |
| England, Berkshire, Wokingham, Shute End | 115 |
| England, Berkshire, Wokingham, South Place | 295 |
| England, Berkshire, Wokingham, South Place, Peach Street | 293 |
| England, Berkshire, Wokingham, St Paul's Parish Room | 79 |
| England, Berkshire, Wokingham, Stanley Road | 811 |
| England, Berkshire, Wokingham, Sturges Road | 341 |
| England, Berkshire, Wokingham, The Cedars | 905 |
| England, Berkshire, Wokingham, The Holt Farm | 619 |
| England, Berkshire, Wokingham, The Terrace | 717 |
| England, Berkshire, Wokingham, Toutley | 717 |
| England, Berkshire, Wokingham, Toutley Cottages | 389, 423, 460, 613 |
| England, Berkshire, Wokingham, Town Hall | 79, 999 |
| England, Berkshire, Wokingham, Waterloo Road | 151, 270, 286, 342, 419, 468, 634, 724, 732, 864 |
| England, Berkshire, Wokingham, Wellington Road | 187, 190, 448 |
| England, Berkshire, Wokingham, Wescott Road | 270, 322, 401, 403, 433, 477, 485, 486, 506, 520, 584, 660, 698 |
| England, Berkshire, Wokingham, Westcot Road | 733 |
| England, Berkshire, Wokingham, Westcott Road | 824 |
| England, Berkshire, Wokingham, Westward Ho! | 574 |
| England, Berkshire, Wokingham, Wiltshire Road | 20, 370, 371, 420 |
| England, Berkshire, Wokingham, Winnersh Lodge | 291 |
| England, Berkshire, Wokingham, Wroxton | 499 |
| England, Berkshire, Woodley | 142, 422, 605, 684, 803, 92, 988 |
| England, Berkshire, Woodley, Bulmersh Park | 235 |
| England, Berkshire, Woodley, Bulmershe Park | 316 |
| England, Berkshire, Woodley, Elms | 512, 588 |
| England, Berkshire, Woodley, Fairview | 892 |
| England, Berkshire, Woodley, Headley Cottages | 136, 780 |
| England, Berkshire, Woodley, Land's End | 506 |
| England, Berkshire, Woodley, Sandford Mill Cottages | 586 |
| England, Berkshire, Woodley, South View Terrace | 570 |
| England, Berkshire, Woodley, Stanford Mill Cottage | 533 |
| England, Berkshire, Woodley, The Pitts | 883 |
| England, Berkshire, Woodley, Western Avenue | 39, 706, 748, 862, 988 |
| England, Berkshire, Woolhampton | 100, 446, 527, 529, 568, 653, 702 |
| England, Berkshire, Woolhampton - Upper | 275, 952 |
| England, Berkshire, Woolhampton, Police Station | 756 |
| England, Berkshire, Woolley | 183 |
| England, Berkshire, Woolley, Woolley Park | 648 |
| England, Berkshire, Woolstone | 570, 586, 772, 792 |
| England, Berkshire, Woolstone, Manor Farm | 760 |
| England, Berkshire, Wootton | 326, 410, 522 |
| England, Berkshire, Wyfold, The Cottage | 746 |
| England, Berkshire, Wyfold, Wyfold Court | 658 |
| England, Bristol, Bristol | 397 |
| England, Buckinghamshire, Aylesbury | 821 |
| England, Buckinghamshire, Aylesbury, Buckingham Road | 362 |
| England, Buckinghamshire, Bletchley | 411 |
| England, Buckinghamshire, Bourne End, Spring Gardens | 778 |
| England, Buckinghamshire, Burnham, Hitcham | 2 |
| England, Buckinghamshire, Datchet | 634 |
| England, Buckinghamshire, Datchet, Amesbury | 453 |
| England, Buckinghamshire, High Wycombe | 422, 523, 700 |
| England, Buckinghamshire, High Wycombe, Frogmore Gardens | 322 |
| England, Buckinghamshire, Hitcham, Training Camp | 23, 25 |
| England, Buckinghamshire, Marlow | 663 |
| England, Buckinghamshire, Marlow, Dean Street | 379 |
| England, Buckinghamshire, Marlow, May Green | 171 |
| England, Buckinghamshire, Newport Pagnell, Church Street | 264 |
| England, Buckinghamshire, Slough | 497 |
| England, Buckinghamshire, Slough, Albert Street | 253 |
| England, Buckinghamshire, Slough, Chalvey | 88 |
| England, Buckinghamshire, Slough, Chalvey Grove | 690 |
| England, Buckinghamshire, Slough, Cippenham Court Cottages | 706 |
| England, Buckinghamshire, Slough, Stoke Poges Lane | 779 |
| England, Buckinghamshire, Taplow | 2, 388, 882 |
| England, Buckinghamshire, Taplow, Cliveden Hospital | 701 |
| England, Buckinghamshire, Taplow, Thames Cottage | 749 |
| England, Buckinghamshire, Taplow, Thatched Cottage | 379 |
| England, Buckinghamshire, Wycombe | 461 |
| England, Cambridgeshire, Cambridge | 861 |
| England, Cambridgeshire, Cambridge, Trinity Hall | 861 |
| England, Cheshire, Birkenhead, Higher Tranmerie | 630 |
| England, Cornwall | 225, 243 |
| England, Cornwall, Camborne, Basset Street | 366 |
| England, Derbyshire | 749 |
| England, Derbyshire, Buxton | 563 |
| England, Devon, Axminster | 396 |
| England, Devon, Copplestone | 794 |
| England, Devon, Exeter | 461 |
| England, Devon, Paignton, American Women's Hospital | 36 |
| England, Devon, Widdicombe | 455 |
| England, Dorset, Bovington Camp | 398, 399, 434, 441 |
| England, Dorset, Dorchester | 446 |
| England, Dorset, Shaftesbury | 261, 618 |
| England, Dorset, Swanage | 911 |
| England, Dorset, Wyke Regis | 911 |
| England, East Coast | 7, 908, 953 |
| England, English Channel | 922 |
| England, Essex, Basildon | 821 |
| England, Essex, Buckhurst Hill | 365 |
| England, Essex, Chelmsford | 152, 19, 2, 34, 375, 428, 882 |
| England, Essex, Chelmsford, Chelmsford Cathedral | 19 |
| England, Essex, Colchester | 731 |
| England, Essex, Epping | 375 |
| England, Essex, Haslow, Terlings Park | 665 |
| England, Essex, Leyton, Hibbert Road | 365 |
| England, Essex, Leytonstone | 335 |
| England, Essex, Plaistow, Sedburgh Road | 218 |
| England, Essex, South Woodford | 566 |
| England, Essex, Woodford Green, Globe Road | 376 |
| England, Frome, Holy Trinity | 662 |
| England, Gloucestershire, Cheltenham | 965 |
| England, Gloucestershire, Lechlade, Eastleach | 22 |
| England, Gloucestershire, Tewkesbury | 470 |
| England, Hampshire | 662 |
| England, Hampshire, Aldershot | 27, 690, 965 |
| England, Hampshire, Andover, Chute Standen | 263 |
| England, Hampshire, Basingstoke | 749 |
| England, Hampshire, Basingstoke, May Street | 799 |
| England, Hampshire, Basingstoke, Norn Hill | 432 |
| England, Hampshire, Basingstoke, Ramsdale | 264 |
| England, Hampshire, Basingstoke, Salter's Heath | 267 |
| England, Hampshire, Baughurst | 480, 611, 786 |
| England, Hampshire, Baughurst, Heath End | 490, 536 |
| England, Hampshire, Baughurst, Newbies | 853 |
| England, Hampshire, Baughurst, Upper Farm | 247, 512 |
| England, Hampshire, Beaulieu | 898 |
| England, Hampshire, Bishop's Waltham, Upper Swanmore | 770 |
| England, Hampshire, Blackwater, New Road | 50 |
| England, Hampshire, Bramley | 296 |
| England, Hampshire, Bramley, Rectory Cottage | 611 |
| England, Hampshire, Bramley, The Vicarage | 196 |
| England, Hampshire, Bramshill, Wellhouse Farm | 297 |
| England, Hampshire, Burghclere, Ivory Farm | 208 |
| England, Hampshire, Ecchinswell | 283, 330, 46 |
| England, Hampshire, Ecchinswell, Ratts Cottages | 104 |
| England, Hampshire, Eversley | 10, 146, 220, 267, 268, 490, 513, 597, 736, 846, 932 |
| England, Hampshire, Eversley, Bramshill | 100 |
| England, Hampshire, Eversley, Bramshill Common | 776 |
| England, Hampshire, Eversley, Gaddes Hill | 297 |
| England, Hampshire, Eversley, Marsh Lane | 135 |
| England, Hampshire, Eversley, Up Green | 146, 621 |
| England, Hampshire, Eversley, Warbrook | 344 |
| England, Hampshire, Eversley, Warbrook Road | 640 |
| England, Hampshire, Gosport | 626 |
| England, Hampshire, Hartley Wintney | 423 |
| England, Hampshire, Hayling Island | 222 |
| England, Hampshire, Headley, Headley | 304 |
| England, Hampshire, Heckfield | 176, 80, 812 |
| England, Hampshire, Heckfield, Riseley Lodge | 219 |
| England, Hampshire, Highclere | 329 |
| England, Hampshire, Hook | 419 |
| England, Hampshire, Kingsclere | 139, 492 |
| England, Hampshire, Kingsclere Woodlands | 853 |
| England, Hampshire, Liphook | 541 |
| England, Hampshire, Medstead | 640 |
| England, Hampshire, Micheldever, East Stratton | 920 |
| England, Hampshire, Netley | 479, 841, 875 |
| England, Hampshire, Netley, British Red Cross Hospital | 479 |
| England, Hampshire, Newtown | 215 |
| England, Hampshire, Pamber | 126 |
| England, Hampshire, Pamber Green | 368 |
| England, Hampshire, Portsmouth | 2, 461, 806, 871 |
| England, Hampshire, Rotherwick | 332 |
| England, Hampshire, Sherborne St John | 611 |
| England, Hampshire, Sherborne St John, The Vyne | 490 |
| England, Hampshire, Sherfield-on-Loddon | 206 |
| England, Hampshire, Silchester | 333, 432, 635, 830 |
| England, Hampshire, Silchester Common | 568, 770 |
| England, Hampshire, Silchester, Clematis Cottage | 576 |
| England, Hampshire, Silchester, Hillside | 271 |
| England, Hampshire, Silchester, Manor Farm | 823 |
| England, Hampshire, Silchester, St Mary's Church | 723 |
| England, Hampshire, Silchester, The Pound | 55 |
| England, Hampshire, Southampton | 27, 44, Part1/ads |
| England, Hampshire, Sparsholt, Watery Lane | 350 |
| England, Hampshire, Spithead | 44 |
| England, Hampshire, Stratfield Turgis | 322, 432 |
| England, Hampshire, Stratfield Turgis, Yew Tree Cottage | 263 |
| England, Hampshire, Stratfieldsaye | 290, 336, 36, 368 |
| England, Hampshire, Stratfieldsaye, Milton Lodge | 303 |
| England, Hampshire, Stratfieldsaye, New Street | 454 |
| England, Hampshire, Stratfieldsaye, Swallowfield | 151 |
| England, Hampshire, Stratfieldsaye, Wellington Monument | 849 |
| England, Hampshire, Tadley | 279, 422, 67 |
| England, Hampshire, Tadley, Mount Pleasant | 279 |
| England, Hampshire, Tadley, Rose Cottage | 312 |
| England, Hampshire, Totton | 813 |
| England, Hampshire, Upper Swanmore | 432 |
| England, Hampshire, Winchester | 939 |
| England, Hampshire, Winchfield | 560 |
| England, Hampshire, Winchfield, Spratt Hatch | 823 |
| England, Hampshire, Winchfield, West Green | 512 |
| England, Hampshire, Woolton Hill | 528 |
| England, Hampshire, Yateley | 32, 418, 591, 667, 736 |
| England, Hampshire, Yateley, Eversley Lane | 270 |
| England, Hampshire, Yateley, Manor House Cottage | 798 |
| England, Hampshire, Yateley, Mill Lane | 533, 695, 707 |
| England, Hampshire, Yateley, Moor Place Cottage | 229 |
| England, Hampshire, Yateley, Plough Inn | 685, 754 |
| England, Heligoland, North Sea | 425 |
| England, Hertfordshire, Hertford | 461 |
| England, Hertfordshire, Hitchin, Lancaster Road | 790 |
| England, Hertfordshire, Totteridge | 310 |
| England, Hertfordshire, Watford | 817 |
| England, Huntingdonshire, St Ives | 533 |
| England, Kent, Chatham | 997 |
| England, Kent, Crayford | 642 |
| England, Kent, Deal, Lower Walmer | 800 |
| England, Kent, Dover | 613 |
| England, Kent, Folkestone | 73 |
| England, Kent, Shorncliffe | 965 |
| England, Kent, Sittingbourne, Dully House | 304 |
| England, Kent, Southborough | 749 |
| England, Kent/Dorset, Gillingham, Rock Avenue | 694 |
| England, Lancashire, Liverpool | 554 |
| England, Lancashire, Queenstown | 953 |
| England, Lancashire, Southport | 437 |
| England, Lincolnshire | 846 |
| England, Lincolnshire, Lincoln | 461 |
| England, London | 180, 363, 405, 449, 461, 497, 53, 602, 662, 681, 683, 705, 731, 767, 821, 926, 95, 997 |
| England, London N.E., Homerton, Victoria Park | 416 |
| England, London W, Portland Place, Park Cresent | 282 |
| England, London, Abney Park Cemetery | 662 |
| England, London, Battersea | 521 |
| England, London, Battersea, Sheepscote Lane | 640 |
| England, London, Belvedere | 527 |
| England, London, Blackheath | 304 |
| England, London, Bow | 712 |
| England, London, Buckingham Palace | 633, 731, 764, 767, 768 |
| England, London, Camberwell | 55 |
| England, London, East Ham | 467 |
| England, London, First London General War Hospital | 855 |
| England, London, Golders Green | 900 |
| England, London, Grosvenor Square | 662 |
| England, London, Hackney, Antwerp Street | 365 |
| England, London, Hampstead, New End Military Hospital | 773 |
| England, London, Islington, St Peter's Church | 662 |
| England, London, Islington, Upper Street | 662 |
| England, London, Kennington, Grosvenor Hospital | 507 |
| England, London, Kensal Rise | 417 |
| England, London, Kensington | 311, 542 |
| England, London, Kew | 997 |
| England, London, Lewisham | 671 |
| England, London, London N1, Culford Road | 818 |
| England, London, Muswell Hill | 560 |
| England, London, Old Kent Road | 259 |
| England, London, Paddington | 924 |
| England, London, Plumstead | 292 |
| England, London, Plumstead, High Street | 526 |
| England, London, Richmond | 641 |
| England, London, Royal Albert Hall | 919 |
| England, London, S.W., Eton Place | 417 |
| England, London, South Tottenham, Beconfield Road | 976 |
| England, London, Upper Baker Street | 449 |
| England, London, Victoria | 926 |
| England, London, Walthamstow, Brookscroft | 261 |
| England, London, Walthamstow, Hoe Street | 364 |
| England, London, Wandsworth, Garratt Lane | 578 |
| England, London, Wells Street | 249 |
| England, London, Westminster | 777 |
| England, London, Westminster, House of Commons | 873 |
| England, London, Westminster, St Stephen's House | 645 |
| England, Middlesex, Acton, Church Road | 304 |
| England, Middlesex, Acton, Old Oak Road | 435 |
| England, Middlesex, Acton, Springfield Park | 188 |
| England, Middlesex, Bow, Devons Road | 718 |
| England, Middlesex, Brentwood, Queen's Road | 254 |
| England, Middlesex, Fulham, Furness | 454 |
| England, Middlesex, Harrow | 461 |
| England, Middlesex, Harrow, Oakley Road | 280 |
| England, Middlesex, Hayes End | 486 |
| England, Middlesex, Mill Hill, Barracks | 96 |
| England, Middlesex, Old Oak Common | 302 |
| England, Middlesex, Perivale | 784 |
| England, Middlesex, Southall | 497 |
| England, Middlesex, Southall Green, Featherstone Terrace | 525 |
| England, Middlesex, Staines | 961 |
| England, Middlesex, Staines, Ashford Road | 726 |
| England, Middlesex, Teddington | 884 |
| England, Middlesex, Uxbridge, Ivor Heath | 382 |
| England, Middlesex, Uxbridge, New Mill House | 536 |
| England, Middlesex, West Ealing, Uxbridge Road | 695 |
| England, Midlands | 359 |
| England, Norfolk | 11, 177, 225, 461, 744, 953, 978 |
| England, Norfolk, Broads | 960 |
| England, Norfolk, Corpusty | 953 |
| England, Norfolk, Cromer | 953 |
| England, Norfolk, East Dereham | 953 |
| England, Norfolk, East Dereham, Hindolvestone | 554 |
| England, Norfolk, Fakenham | 11, 943 |
| England, Norfolk, Fakenham, Parish Church | 11 |
| England, Norfolk, Marsham | 953 |
| England, Norfolk, Melton Constable | 953 |
| England, Norfolk, Mundesley-on-Sea | 953 |
| England, Norfolk, Saxthorpe | 953 |
| England, Norfolk, Walsingham | 953 |
| England, Norfolk, Weyburn Bay | 953 |
| England, North Berkshire | 775 |
| England, North London | 662 |
| England, North Sea | 916 |
| England, Northamptonshire, Brackley | 520 |
| England, Northamptonshire, Kettering, VAD Hospital | 482 |
| England, Northamptonshire, Peterborough, Fletton | 603 |
| England, Nottinghamshire, Mansfield, St John's Church | 807 |
| England, Nottinghamshire, Nottingham, St George's Church | 662 |
| England, Nottinghamshire, Notts County War Hospital | 972 |
| England, Oxfordshire, Albury | 542 |
| England, Oxfordshire, Albury, Rectory | 413 |
| England, Oxfordshire, Banbury | 656 |
| England, Oxfordshire, Benson | 160, 523 |
| England, Oxfordshire, Benson, Hall Farm Cottages | 556 |
| England, Oxfordshire, Benson, Roke Marsh | 329 |
| England, Oxfordshire, Bulford, Witney End Holt | 386 |
| England, Oxfordshire, Checkendon | 510 |
| England, Oxfordshire, Checkendon, Beechmead Cottages | 548 |
| England, Oxfordshire, Checkendon, Hook End | 437 |
| England, Oxfordshire, Clanfield, Black Bourton | 180 |
| England, Oxfordshire, Cray's Pond, Blackbird Bottom | 752 |
| England, Oxfordshire, Cray's Pond, Crays Pond | 261 |
| England, Oxfordshire, Crowmarsh | 484, 643 |
| England, Oxfordshire, Crowmarsh, Dormer Cottages | 526 |
| England, Oxfordshire, Cuddesdon | 467 |
| England, Oxfordshire, Culham | 527 |
| England, Oxfordshire, Culham Green, attached Middlesex Regt | 630 |
| England, Oxfordshire, Didcot, Bellevue | 776 |
| England, Oxfordshire, Didcot, Ufton | 575 |
| England, Oxfordshire, Dunsden, Dunsden parish Church | 842 |
| England, Oxfordshire, Ewelme | 823 |
| England, Oxfordshire, Eynsham, Queen Street | 366 |
| England, Oxfordshire, Garsington | 738 |
| England, Oxfordshire, Goring | 349, 411 |
| England, Oxfordshire, Goring Heath | 553, 719, 727 |
| England, Oxfordshire, Goring Heath, Alnut's School | 667 |
| England, Oxfordshire, Goring Heath, Elm Cottage | 287 |
| England, Oxfordshire, Goring Heath, Greenmore Nurseries | 660 |
| England, Oxfordshire, Goring Heath, Kiln Cottage | 734 |
| England, Oxfordshire, Goring Heath, New Cottage | 732 |
| England, Oxfordshire, Goring, Cleeve | 437, 517 |
| England, Oxfordshire, Goring, Cleeve Lock | 456 |
| England, Oxfordshire, Goring, Cleeve Park Cottages | 459 |
| England, Oxfordshire, Goring, Croft Road | 974 |
| England, Oxfordshire, Goring, Elvedon Road | 237 |
| England, Oxfordshire, Goring, High Street | 442, 857 |
| England, Oxfordshire, Goring, Manor Road | 390 |
| England, Oxfordshire, Goring, Milldown Road | 120, 272 |
| England, Oxfordshire, Goring, Railway Cottages | 487 |
| England, Oxfordshire, Goring, Rose Cottage | 840 |
| England, Oxfordshire, Goring, Spring Farm Cottage | 653 |
| England, Oxfordshire, Goring, Station Road | 297, 724 |
| England, Oxfordshire, Goring, The Towers | 702 |
| England, Oxfordshire, Goring, Thrift Cottage | 848 |
| England, Oxfordshire, Hartslock Woods | 697 |
| England, Oxfordshire, Henley | 218, 249, 257, 364, 367, 393, 471, 487, 566, 591, 658, 667, 692, 697, 780, 797, 970 |
| England, Oxfordshire, Henley, Albert Road | 389 |
| England, Oxfordshire, Henley, Aston | 590 |
| England, Oxfordshire, Henley, Badgmoor Lane | 552 |
| England, Oxfordshire, Henley, Bell Lane | 78 |
| England, Oxfordshire, Henley, Church Street | 422 |
| England, Oxfordshire, Henley, Coxlease | 526 |
| England, Oxfordshire, Henley, Crazies Hill | 506, 522, 678 |
| England, Oxfordshire, Henley, Duke Street | 673 |
| England, Oxfordshire, Henley, Duke Streey | 673 |
| England, Oxfordshire, Henley, Greys Road | 315, 602 |
| England, Oxfordshire, Henley, Highmoor Cross | 436 |
| England, Oxfordshire, Henley, Highmoor Farm | 80 |
| England, Oxfordshire, Henley, Hop Gardens | 156 |
| England, Oxfordshire, Henley, Lower Bolney Farm | 822 |
| England, Oxfordshire, Henley, Maiden's Grove | 974 |
| England, Oxfordshire, Henley, Northfield End | 379 |
| England, Oxfordshire, Henley, Queen Street | 859 |
| England, Oxfordshire, Henley, Reading Road | 434, 972 |
| England, Oxfordshire, Henley, Remenham Hill | 114, 758 |
| England, Oxfordshire, Henley, Russell's Water | 310, 703 |
| England, Oxfordshire, Henley, Stoke Row | 856, 883 |
| England, Oxfordshire, Henley, Warren Row | 252, 314, 315 |
| England, Oxfordshire, Henley, Witheridge Hill | 708 |
| England, Oxfordshire, Henley, York Road | 476 |
| England, Oxfordshire, Henley-on-Thames | 461, 567 |
| England, Oxfordshire, Ipsden | 209 |
| England, Oxfordshire, Kidmore End | 224, 409, 679, 843, 860 |
| England, Oxfordshire, Kidmore End, Ivy Cottage | 241 |
| England, Oxfordshire, Kidmore End, Kenney Lands | 514 |
| England, Oxfordshire, Kidmore End, Kidmore End | 144 |
| England, Oxfordshire, Kidmore End, Newney Green | 779 |
| England, Oxfordshire, Kidmore End, St John's Church | 661 |
| England, Oxfordshire, Kidmore, Dyson's Wood | 336 |
| England, Oxfordshire, Kidmore, Gallows Tree Common | 309, 857 |
| England, Oxfordshire, Kidmore, Hermon House | 338 |
| England, Oxfordshire, Kirtlington | 523 |
| England, Oxfordshire, Lewknor | 22 |
| England, Oxfordshire, Mapledurham | 445, 617, 623, 683, 704, 715, 824 |
| England, Oxfordshire, Mapledurham, Blagrave Farm | 606, 636 |
| England, Oxfordshire, Mapledurham, Chasey Heath | 800 |
| England, Oxfordshire, Mapledurham, Chazey Heath | 750 |
| England, Oxfordshire, Mapledurham, Gravel Hill | 831 |
| England, Oxfordshire, Mapledurham, Greendene | 55 |
| England, Oxfordshire, Mapledurham, Lily Farm Cottage | 621 |
| England, Oxfordshire, Mapledurham, New Farm Cottage | 810 |
| England, Oxfordshire, Mapledurham, New Farm Cottages | 732 |
| England, Oxfordshire, Mapledurham, Newney Green | 92, 968 |
| England, Oxfordshire, Mapledurham, Pack Horse Farm | 800 |
| England, Oxfordshire, Mapledurham, Pack Saddle Inn | 810 |
| England, Oxfordshire, Mapledurham, Vicarage Gardens | 827 |
| England, Oxfordshire, Nettlebed | 367 |
| England, Oxfordshire, North Stoke | 310, 438, 602 |
| England, Oxfordshire, North Stoke, White House Cottages | 816 |
| England, Oxfordshire, Oxford | 461, 5, 543, 589, 634, 737, 744, 854, 917 |
| England, Oxfordshire, Oxford, Christ Church | 769 |
| England, Oxfordshire, Oxford, Cowley Road | 972 |
| England, Oxfordshire, Oxford, Headington | 656 |
| England, Oxfordshire, Oxford, Headington Quarry | 251 |
| England, Oxfordshire, Oxford, Highfield | 633 |
| England, Oxfordshire, Oxford, No. 3 Southern General Hospital | 900 |
| England, Oxfordshire, Oxford, Princes Street | 658 |
| England, Oxfordshire, Oxford, St Giles' | 565 |
| England, Oxfordshire, Oxford, Trinity Street | 274 |
| England, Oxfordshire, Oxford, Woodstock Road | 365 |
| England, Oxfordshire, Pangbourne, Reading Road | 567 |
| England, Oxfordshire, Peppard | 818, 835 |
| England, Oxfordshire, Peppard Common | 367 |
| England, Oxfordshire, Shiplake | 35, 697 |
| England, Oxfordshire, Shiplake, Blue Cottage | 278 |
| England, Oxfordshire, Shiplake, Kiln Farm | 536 |
| England, Oxfordshire, Shiplake, Parish Church | 35 |
| England, Oxfordshire, Sonning Common | 189, 526, 528 |
| England, Oxfordshire, Sonning Common, Green Road | 800 |
| England, Oxfordshire, Sonning Common, Orchard View | 755 |
| England, Oxfordshire, Sonning Common, Redriff | 951 |
| England, Oxfordshire, Sonning Eye | 664 |
| England, Oxfordshire, South Stoke | 314, 486, 653, 88 |
| England, Oxfordshire, Stoke Row | 774, 842 |
| England, Oxfordshire, Stoke Row Common | 315, 325 |
| England, Oxfordshire, Stoke Row, Newnham Hill | 851 |
| England, Oxfordshire, Thame | 854 |
| England, Oxfordshire, Warborough | 358 |
| England, Oxfordshire, Watlington, Sherborne | 672 |
| England, Oxfordshire, Whitchurch | 167, 445, 608, 664, 697, 99 |
| England, Oxfordshire, Whitchurch Hill | 154, 423, 476, 624, 797, 902 |
| England, Oxfordshire, Whitchurch Hill, Bridle Road | 660, 898 |
| England, Oxfordshire, Whitchurch Hill, Butler's Farm | 868 |
| England, Oxfordshire, Whitchurch Hill, Linden Cottages | 710 |
| England, Oxfordshire, Whitchurch Hill, Palmer Cottages | 589 |
| England, Oxfordshire, Whitchurch, Beech Wood | 260 |
| England, Oxfordshire, Whitchurch, Bridle Road | 476 |
| England, Oxfordshire, Whitchurch, Coombe End Farm | 582 |
| England, Oxfordshire, Whitchurch, Coombe Side | 445, 848 |
| England, Oxfordshire, Whitchurch, Hill Bottom | 564 |
| England, Oxfordshire, Whitchurch, Holmes Oak | 614 |
| England, Oxfordshire, Whitchurch, Meadow Cottage | 99 |
| England, Oxfordshire, Whitchurch, Path Hill | 435, 656 |
| England, Oxfordshire, Woodcote | 564, 590, 795, 890, 910 |
| England, Oxfordshire, Woodcote, Blenheim Cottage | 752 |
| England, Oxfordshire, Woodcote, Daisy Cottage | 670 |
| England, Oxfordshire, Woodcote, Fulbrook Farm | 798 |
| England, Oxfordshire, Woodcote, Greenhill | 612 |
| England, Oxfordshire, Woodcote, Weston Villa | 670 |
| England, Oxfordshire, Woodcote, Woodcote House Auxilliary Hospital | 795 |
| England, Shropshire, Church Stretton | 543 |
| England, Shropshire, Shrewsbury, Bayston Hill | 700 |
| England, Somerset, Avonmouth | 953 |
| England, Somerset, Bristol | 461, 551 |
| England, Somerset, Bristol Channel, Barry Roads | 953 |
| England, Somerset, Bristol Channel, SS Nitonian | 953 |
| England, Somerset, Castle Cary, Church Street | 438 |
| England, Somerset, Wells | 662 |
| England, Somerset, Wells, St Thomas' | 662 |
| England, Somerset, Weston-Super-Mare | 383, 583 |
| England, South Oxfordshire | 75 |
| England, Staffordshire, Belston, High Street | 878 |
| England, Staffordshire, Tamworth | 328 |
| England, Staffordshire, West Bromwich | 362 |
| England, Staffordshire, West Bromwich, Lower Ault Street | 292 |
| England, Stratfieldsaye | 633 |
| England, Suffolk | 744, 838, 953, 978 |
| England, Suffolk, Bury St. Edmunds | 953 |
| England, Suffolk, Elvedon | 953 |
| England, Suffolk, Felixstowe | 730 |
| England, Suffolk, Gunton Hall | 953 |
| England, Suffolk, Horringer | 953 |
| England, Suffolk, Ipswich | 461, 731 |
| England, Surrey, Blackwater | 205 |
| England, Surrey, Blackwater, Rosewood Place | 456 |
| England, Surrey, Bletchingley, Barfields | 619 |
| England, Surrey, Camberley | 555, 573, 790 |
| England, Surrey, Camberley, College Town | 550, 732 |
| England, Surrey, Camberley, Owlsmoor | 795 |
| England, Surrey, Chipstead | 527 |
| England, Surrey, Croyden, Thornton Heath | 643 |
| England, Surrey, Croydon | 674 |
| England, Surrey, Epsom, Convalescent Home | 499 |
| England, Surrey, Guildford | 318 |
| England, Surrey, Oxted, Broadham Green | 436 |
| England, Surrey, Putney, Ashlone Road | 638 |
| England, Surrey, Redhill, Garlands Road | 595 |
| England, Surrey, Richmond, Ham Common | 875 |
| England, Surrey, Streatham, Dahomey Road | 438 |
| England, Surrey, Windlesham | 449 |
| England, Sussex, Hastings, South Terrace | 254 |
| England, Sussex, St Leonards-on-Sea | 282 |
| England, Tettenhall College | 434 |
| England, The Channel | 4 |
| England, Warwickshire, Birmingham | 461, 899 |
| England, Warwickshire, Birmingham, Aston Road | 378 |
| England, Warwickshire, Birmingham, Barford Road | 256 |
| England, Warwickshire, Birmingham, Brougham Street | 263 |
| England, Warwickshire, Birmingham, Hockley | 333 |
| England, Warwickshire, Birmingham, King's Norton | 724 |
| England, Warwickshire, Birmingham, Small Heath | 576 |
| England, Warwickshire, Birmingham, Sparkbrook | 619 |
| England, Warwickshire, Birmingham, Yardley Road, Small Heath | 281 |
| England, Warwickshire, Coventry | 363, 780 |
| England, Warwickshire, Hinckley | 366 |
| England, Warwickshire, Nuneaton, Church Street | 631 |
| England, Warwickshire, Rugby, Braunston Lodge | 442 |
| England, West Lancashire | 663 |
| England, Wiltshire | 249, 81 |
| England, Wiltshire, Chilton Foliat | 142, 148, 262 |
| England, Wiltshire, Chippenham, Marshfield Road | 366 |
| England, Wiltshire, Chisledon, Demobilisation Camp | 945 |
| England, Wiltshire, Codford | 68 |
| England, Wiltshire, Froxfield | 880 |
| England, Wiltshire, Great Bedwyn, High Street | 164 |
| England, Wiltshire, Salisbury Plain | 335, 466, 495, 744, 75, 800, 841, 978 |
| England, Wiltshire, Salisbury Plain | 495 |
| England, Wiltshire, Swindon, Beatrice St, Gorse Hill | 259 |
| England, Wiltshire, Swindon, Beatrice Street | 439 |
| England, Wiltshire, Tidworth | 414 |
| England, Wiltshire, Trowbridge, Harford Street | 547 |
| England, Wiltshire, Warminster | 252 |
| England, Winchester | 44 |
| England, Worcestershire, Birmingham | 936 |
| England, Worcestershire, Bromsgrove, High Street | 300 |
| England, Worcestershire, Oldbury, Tat Bank Rd | 528 |
| England, Worcestershire, Redditch, Moreton Hall | 447 |
| England, Worcestershire, West Malvern | 366 |
| England, Worcestershire, West Malvern, Laburnum View | 924 |
| England, Yorkshire | 603 |
| England, Yorkshire, Caterick, Caterick Military Hospital | 902 |
| England, Yorkshire, Leeds | 233 |
| England, Yorkshire, Ripon, Masham | 175 |
| England, Yorkshire, Sheffield | 233, 731 |
| Europe, POW Camp | 521 |
| Falkland Islands | 916, 949, 977 |
| France | 1003, 101, 128, 199, 221, 237, 257, 30, 343, 344, 354, 371, 375, 376, 377, 381, 384, 42, 426, 436, 449, 466, 474, 479, 491, 497, 507, 534, 535, 542, 552, 558, 573, 593, 596, 606, 612, 620, 622, 630, 633, 650, 669, 675, 676, 682, 699, 717, 721, 728, 730, 733, 736, 744, 755, 759, 764, 766, 771, 772, 773, 774, 775, 776, 784, 800, 805, 808, 817, 826, 833, 839, 842, 843, 850, 858, 861, 867, 868, 872, 874, 875, 877, 880, 881, 882, 885, 886, 887, 888, 889, 890, 893, 896, 898, 902, 911, 913, 916, 917, 918, 919, 920, 921, 922, 923, 924, 926, 93, 934, 936, 938, 948, 952, 953, 960, 961, 963, 965, 969, 970, 971, 974, 978, 982, 985, 987, 988, 994 |
| France, Aisne | 131 |
| France, Albert | 913 |
| France, Amiens | 913 |
| France, Ancre River | 913 |
| France, Armentieres | 939 |
| France, Armentiers | 17 |
| France, Arras | 717, 786, 924, 966, 978 |
| France, Auchonvillers | 817 |
| France, Base Depot | 875 |
| France, Base Hospitals | 932 |
| France, Beaumont | 633 |
| France, Berry-au-Bac | 881 |
| France, Bois de Biez | 126 |
| France, Bois Grenier | 874 |
| France, Bois Grenier | 940 |
| France, Bonavis Farm | 709 |
| France, Bouffignereux | 881 |
| France, Boulogne | 702 |
| France, Bourlon | 919 |
| France, Bourlon Village | 919 |
| France, Bourlon Wood | 778 |
| France, Bray | 913 |
| France, Cambrai | 709, 778, 816, 845, 919, 924, 966 |
| France, Chemin des Dames | 915 |
| France, Cite St Elie, The Quarries | 415 |
| France, Combles | 913 |
| France, Craonne | 881 |
| France, Cressy | 154 |
| France, Delville Wood | 919 |
| France, Deville Wood | 633 |
| France, Dunkirk | 885 |
| France, Epehy | 913, 924 |
| France, Erre | 924 |
| France, Etaples | 479, 885 |
| France, Festubert | 405, 926 |
| France, Fleurbaix | 966 |
| France, Fransu | 896 |
| France, Fransu, Chateau Fransu | 896 |
| France, Fromelles | 633, 940 |
| France, Germicourt | 881 |
| France, Giencourt | 940 |
| France, Givenchy | 405, 415, 926, 965, 966 |
| France, Gonnelieu | 709, 966 |
| France, Goureaucourt | 709 |
| France, Gueudscourt | 817 |
| France, Hamel | 633 |
| France, Hangard | 799 |
| France, Havre, British Cemetery | 663 |
| France, Hindenburg Line | 913 |
| France, Hohenzollern Craters | 924 |
| France, Hulloch | 633, 926 |
| France, Hulluch | 250, 273, 278, 378, 467, 769 |
| France, La Bassee | 371 |
| France, La Boiselle | 633, 913, 922 |
| France, Landrecies | 902, 913 |
| France, Le Cateau | 816 |
| France, Le Treport | 952 |
| France, Le Vacquerie | 966 |
| France, Lille | 888 |
| France, Loos | 290, 302, 318, 362, 371, 398, 437, 438, 456, 461, 478, 566, 606, 633, 801, 924, 926, 965 |
| France, Manancourt | 817 |
| France, Marcoing | 919 |
| France, Marne | 131 |
| France, Maroilles | 27 |
| France, Merville | 814, 966 |
| France, Mesnieres | 919 |
| France, Messines | 744, 978 |
| France, Metz | 828 |
| France, Military Cemeteries | 764 |
| France, Moeuvres | 919 |
| France, Moevres | 919 |
| France, Monchy | 737, 927, 978 |
| France, Monchy, Hook Trench | 737 |
| France, Monchy-le-Preux | 966 |
| France, Mont Cenis tunnel | 873 |
| France, Mont St Quentin | 913 |
| France, Morlancourt | 913 |
| France, Neuve Chapelle | 126, 371, 376, 405, 508, 633, 841, 856, 938, 940 |
| France, Nice | 393 |
| France, Nivelle | 939 |
| France, Oppy | 633 |
| France, Oppy Wood | 633 |
| France, Ovillers | 633 |
| France, Ovilliers | 940 |
| France, Pallais | 940 |
| France, Paris | 711, 908, 997 |
| France, Paris, Champs Elysees | 846 |
| France, Paris, Notre Dame Cathedral | 934 |
| France, Peronne | 873 |
| France, Pozieres | 769, 966 |
| France, Rheims | 881 |
| France, River Somme | 406 |
| France, Rocquigny | 817 |
| France, Ronnsoy | 769 |
| France, Roucy | 881 |
| France, Royal Garrison Artillery Base Depot | 875 |
| France, Roye | 913 |
| France, Scheldt | 924 |
| France, Selle River | 913 |
| France, Soissons | 881 |
| France, Somewhere | 152, 587, 600, 606, 645 |
| France, Somewhere | 155, 380, 387, 408 |
| France, Somme | 432, 478, 493, 568, 633, 653, 684, 786, 803, 817, 874, 881, 889, 913, 922, 924, 926, 938, 966 |
| France, Somme, Courcelette, Sugar Trench | 609 |
| France, St Eloi | 405 |
| France, St Quentin | 913 |
| France, Tadpole Copse | 919 |
| France, The Somme | 503 |
| France, Trones Wood | 913 |
| France, Vendhuille | 913 |
| France, Verdun | 997 |
| France, Vermelles, Fosse 8 | 302 |
| France, Vermelles, Slag Alley | 302 |
| France, Villers Brettoneux | 940 |
| France, Villers Cotterets | 27 |
| France, Villers Guislanes | 940 |
| France, Villers-Bretonneux | 799, 881 |
| France, Villers-Guislan | 709 |
| France, Vimy Ridge | 940, 966 |
| France, Vimy Ridge | 633 |
| France[?], Dernier | 966 |
| France[?], Fiers | 966 |
| France[?], Merlinscourt, Averluy Wood | 966 |
| France[?], Millancourt | 966 |
| France[?], Somaine | 965 |
| German East Africa | 32, 611, 810, 850, 977 |
| German East Africa, Lake Tanganyika | 425 |
| German South West Africa | 325 |
| German West Africa | 910, 977 |
| Germany | 1004, 213, 289, 305, 382, 394, 395, 417, 427, 505, 558, 573, 590, 603, 619, 689, 712, 726, 776, 779, 788, 794, 801, 809, 815, 816, 823, 830, 831, 839, 853, 855, 857, 866, 871, 874, 881, 894, 914, 918, 920, 926, 948, 969, 985 |
| Germany, Bonn | 970 |
| Germany, Cologne | 926, 927 |
| Germany, Doeberitz | 625 |
| Germany, Doeberitz, Prisoner of War Camp | 585 |
| Germany, Friedrichsfeld, Registration Camp | 914 |
| Germany, Giessen | 569 |
| Germany, Giessen, Prisoner of War Camp | 614 |
| Germany, Gladbach | 982 |
| Germany, Gustrow, Registration Camp | 914 |
| Germany, Hameln | 915 |
| Germany, Limburg, Registration Camp | 914 |
| Germany, Munster | 820, 915 |
| Germany, Munster, Prisoner of War Camp | 789 |
| Germany, Neuberg | 801 |
| Germany, Neuheisach, Fortress Hospital | 894 |
| Germany, Parchim, Registration Camp | 914 |
| Germany, Prisoner of War Camp | 789 |
| Germany, Saltau | 915 |
| Germany, Stendal, Registration Camp | 914 |
| Germany, Stettin | 931 |
| Germany, Wittenburg | 370 |
| Gibraltar | 953 |
| Greece | 948, 977 |
| Greece, Aegean Sea | 267 |
| Greece, Corfu | 465 |
| Greece, Isle of Scarpantos | 980 |
| Greece, Lemnos | 542 |
| Greece, Macedonia | 851 |
| Greece, Macedonia | 828, 833 |
| Greece, Mudres, Harbour | 424 |
| Greece, Salonica | 343, 458, 685, 734, 917 |
| Greece, Salonika | 442, 556, 558, 723, 738, 784, 800, 818, 851, 872, 886, 887, 889, 916, 968 |
| Holland | 288, 839, 914 |
| India | 20, 376, 490, 515, 523, 620, 622, 633, 650, 653, 66, 679, 688, 71, 734, 736, 751, 822, 833, 836, 856, 905, 908, 932, 939, 948, 98 |
| India, Assam | 341 |
| India, Bombay | 590 |
| India, Dagshai, Barracks | 641 |
| India, Risalpur | 888 |
| India, Uttar Pradesh, Allahabad | 622 |
| Ireland | 839 |
| Ireland, Ballyvonan | 574 |
| Ireland, Brandon | 470 |
| Ireland, County Wicklow, Avonmore House | 417 |
| Ireland, Dublin | 361, 874, 982 |
| Ireland, Dublin, Benburg Street | 361 |
| Ireland, Dublin, Portobello Barracks | 973 |
| Italy | 662, 748, 842, 861, 873, 880, 888, 905, 919, 921, 922, 923, 948, 971, 977, 988 |
| Italy, Asiago | 873, 922 |
| Italy, Asiago Plateau | 873 |
| ItalY, Asiago Plateau | 873 |
| Italy, Asiago, Hills | 873 |
| Italy, Caporetto | 873 |
| Italy, Genoa | 858 |
| Italy, Monte Catz | 921, 922 |
| Italy, Monte Katz | 873 |
| Italy, Perguine | 873 |
| Italy, Piave | 919 |
| Italy, River Piave | 873 |
| Italy, Trent | 873 |
| Italy, Turin | 873 |
| Italy, Val d'Assa | 873 |
| Joint Area | 915 |
| Lebanon | 740, 963 |
| Lebanon, Baalbek | 962, 963 |
| Lebanon, Beyrut | 963 |
| Lebanon, Medjel | 960 |
| Lebanon, Mounains of Lebanon | 963 |
| Lebanon, Shtora | 963 |
| Lebanon, Sidon | 740 |
| Malta | 199, 504, 570, 953 |
| Malta, Pieta Cemetery | 661 |
| Mediterranean | 589, 631, 843 |
| Mesopotamia | 378, 483, 530, 535, 623, 715, 747, 835, 842, 854, 878, 884, 887, 905, 907, 948, 970, 972 |
| Mesopotamia, Basra | 813 |
| Mesopotamia, Kut | 397, 409, 549, 564, 590, 715 |
| Mid-air | 730 |
| Netherlands, Groningen | 424 |
| New Zealand | 409, 764 |
| New Zealand, Christchurch | 806 |
| North Russia, Murmansk | 977 |
| North Sea | 539, 720 |
| North Sea, Heligoland Bight | 530 |
| North Sea, Jutland | 530, 539 |
| Northern Africa | 934 |
| Northern India | 622 |
| Northern India, Burhan | 622 |
| Pacific | 200 |
| Pakistan, Scinde Desert | 622 |
| Palestine | 727, 739, 740, 763, 766, 785, 790, 822, 826, 827, 833, 877, 880, 886, 903, 907, 938, 947, 948, 951, 956, 957, 958, 959, 960, 961, 962, 963 |
| Palestine, Abu Shushah | 961 |
| Palestine, Abu Shusheh | 739, 958 |
| Palestine, Abu Shusheh , Abu Shusheh Ridge | 958 |
| Palestine, Abu Shusheh Hill | 739 |
| Palestine, Ain Arik | 785 |
| Palestine, Ain Arik, Judean Hills | 785 |
| Palestine, Akir | 958, 960 |
| Palestine, Arik Wadi | 785 |
| Palestine, Baalbek | 959 |
| Palestine, Beersheba | 739, 740, 785, 956, 957, 958, 960 |
| Palestine, Beersheeba | 958 |
| Palestine, Beisan | 962 |
| Palestine, Beit Jibrin | 740 |
| Palestine, Belah | 960, 961 |
| Palestine, Bethlehem, Church of Nativity | 959 |
| Palestine, Canaan | 962 |
| Palestine, Damascus | 959, 961 |
| Palestine, Damascus, Market Place | 959 |
| Palestine, Deir-el-Belah | 956, 960 |
| Palestine, El Afule | 962 |
| Palestine, El Kubri | 957 |
| Palestine, El Muggar | 958 |
| Palestine, El Shauth | 958 |
| Palestine, Enab | 961 |
| Palestine, Es Salt | 961 |
| Palestine, Gaza | 649, 739, 740, 785, 892, 907, 956, 958, 960 |
| Palestine, Gaza, Alimuntar Ridge | 960 |
| Palestine, Gaza/Beersheba | 957 |
| Palestine, Hebron | 740, 958, 959 |
| Palestine, Huj | 739 |
| Palestine, Jabneel | 739 |
| Palestine, Jaffa | 740, 962 |
| Palestine, Jericho | 741, 959, 961 |
| Palestine, Jerusalem | 739, 740, 741, 785, 833, 865, 892, 938, 959, 961 |
| Palestine, Jerusalem, Golden Gates | 957 |
| Palestine, Jerusalem, Inn of the Good Samaritan | 741 |
| Palestine, Jerusalem, Jaffa Gate | 741, 957, 961 |
| Palestine, Jerusalem, Kaiser's Clock Tower | 961 |
| Palestine, Jerusalem, Mosque of Omar | 959, 961 |
| Palestine, Jerusalem, Mount of Olives | 961 |
| Palestine, Jerusalem, Russian Church | 961 |
| Palestine, Jerusalem, Temple | 961 |
| Palestine, Jerusalem, Temple area | 741 |
| Palestine, Jerusalem, Wailing Wall Place | 959 |
| Palestine, Jordan Valley | 961, 962 |
| Palestine, Jordan Valley | 961 |
| Palestine, Judean Hills | 957, 960, 961 |
| Palestine, Julis | 961 |
| Palestine, Kahm | 958 |
| Palestine, Kewelfieh | 785 |
| Palestine, Khamseen | 739 |
| Palestine, Khan Yunis | 958 |
| Palestine, Latrone | 961 |
| Palestine, Marakeb | 958 |
| Palestine, Mejdel | 961 |
| Palestine, Mughar | 739 |
| Palestine, Nablus | 962 |
| Palestine, Plain of Armageddon | 962 |
| Palestine, Queen's Ridge | 958 |
| Palestine, Rafa | 740, 956 |
| Palestine, Ramleh | 739, 958, 961 |
| Palestine, Ras El Deiran | 961 |
| Palestine, Red Hill | 961 |
| Palestine, Reichon | 961 |
| Palestine, River Jordan | 961 |
| Palestine, Safed | 740 |
| Palestine, Sheria | 740, 958 |
| Palestine, Shillal | 958 |
| Palestine, Sorona | 962 |
| Palestine, Station Junction | 961 |
| Palestine, Sukeriya | 960 |
| Palestine, Talant-el-Dumm | 961 |
| Palestine, Tel el Sheira | 785 |
| Palestine, Tel el Sheira, Railway Bridge | 785 |
| Palestine, Tel-el-Fara | 958 |
| Palestine, Tel-el-Jhemme | 958 |
| Palestine, Tel-el-Sheria | 740, 958 |
| Palestine, Umbrella Hill | 958 |
| Palestine, Valley of the Jordan | 961 |
| Palestine, Wadi Ghuzzeh | 958 |
| Palestine, Wadi-Ghuzzeh | 958 |
| Palestine, Yebnah | 739 |
| Persia | 948 |
| Persia, Persian Gulf | 320 |
| Persian Gulf | 464, 476 |
| Rumania | 948 |
| Russia | 423, 948, 977 |
| Russia, Archangel | 943, 988 |
| Russia, Crimea | 71 |
| Russia, Crimea | 10 |
| Russia, Petrograd, Naval Attache | 971 |
| Salonica | 980 |
| Saudi Arabia[?], Waht | 955 |
| Scotland | 730 |
| Scotland, Orkneys | 423 |
| Scotland, Orkneys, Somewhere | 899 |
| Scotland, Wigtownshire, Wigtown, Coast | 306 |
| Serbia | 268, 948 |
| South Africa | 1, 104, 180, 191, 197, 24, 259, 262, 291, 296, 314, 322, 340, 359, 374, 376, 409, 433, 434, 453, 486, 639, 896, 91, 921, 931, 939, 940, 947, 958, 977, 99 |
| South Africa, Beaurevoir | 898 |
| South Africa, Cape Colony | 898 |
| South Africa, Johannesburg | 325, 898 |
| South Africa, Transvaal | 325 |
| South Atlantic, Falkland Islands | 425 |
| South Pacific | 948 |
| Spain | 934 |
| Spain, Albuera | 939 |
| Spain, Barcelona | 934 |
| Spain, Cape Trafalgar | 560 |
| Spain, Douro | 939 |
| Spain, Talavera | 939 |
| Spain, Vittoria | 939 |
| Sweden, Malmo | 894 |
| Switzerland | 915 |
| Switzerland, Berne | 914, 915 |
| Syria | 948, 963 |
| Syria, Aleppo | 963 |
| Syria, Baalbek | 963 |
| Syria, Baalbek, Temple of Baal | 963 |
| Syria, Baalbek, Temple of Bacchus | 963 |
| Syria, Damascus | 504, 962, 963 |
| Syria, Homs | 963 |
| Syria, Mezerib | 962 |
| The East | 386, 731, 808, 825, 886, 953 |
| The East, Somewhere | 391 |
| Turkey | 135, 179, 564, 728, 948 |
| Turkey, Burnt Hill | 179 |
| Turkey, Chocolate Hill | 179 |
| Turkey, Dardanelles | 102, 257, 258, 368, 542, 557, 630, 633, 771, 841, 947, 977 |
| Turkey, Dardanelles, Mudros Harbour | 306 |
| Turkey, Gallipoli | 179, 187, 281, 344, 369, 392, 452, 497, 555, 561, 581, 633, 833, 890, 938, 946, 949, 953, 969, 977 |
| Turkey, Gallipoli Peninsular | 179 |
| Turkey, Gallipoli Peninsular, Chocolate Hill | 182 |
| Turkey, Gallipoli Peninsular, Hill 70 | 182, 185 |
| Turkey, Gallipoli, Hill 70 | 190, 337, 344 |
| Turkey, Gallipoli, Suvla Bay | 320 |
| Turkey, Hill 100 | 179 |
| Turkey, Hill 70 | 179 |
| Turkey, Imbros | 542 |
| Turkey, Kut | 666 |
| Turkey, Lala Baba | 179, 182 |
| Turkey, Nagara | 102 |
| Turkey, Salt Lake | 179 |
| Turkey, Scimitar Hill | 179 |
| United Kingdom | 662, 766, 884 |
| United States of America | 705 |
| United States of America, District of Columbia, Washington | 705 |
| USA | 841 |
| USA, Ohio, Springfield | 934 |
| Wales, Caernarvonshire, Morfa | 607 |
| Wales, Coal mines | 335 |
| Wales, Glamorgan, Cardiff | 652 |
| Wales, Monmouthshire, Chepstow | 871 |
| Wales, Snowdon | 764 |
| West Africa | 948 |
| Western Front | 294, 354, 817 |
| Yemen, Lahej | 954 |
| Yemen, Sheikh Said | 954 |
| Yemen, Shiekh Othman | 954 |