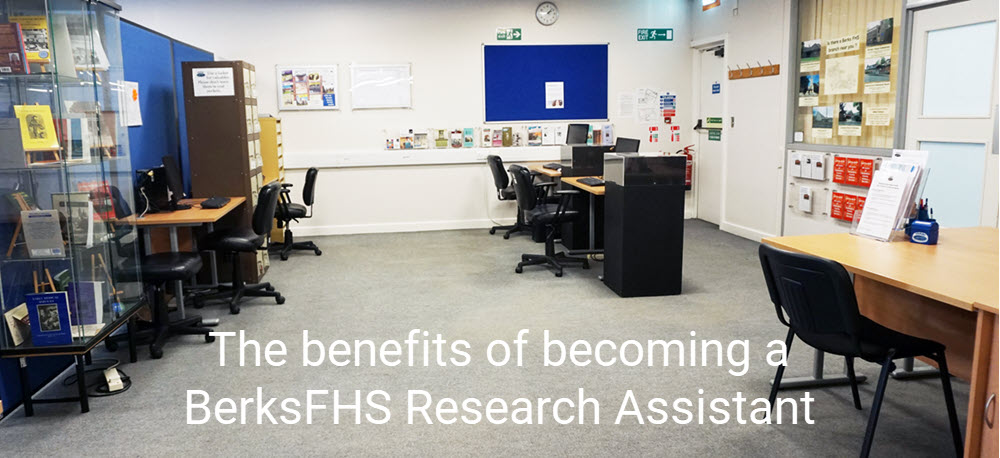 Why not join our team of Research Assistants?
Our small charity is run entirely by part-time volunteers. Research Assistants (RAs) play an important role by meeting, greeting and assisting visitors to our Research Centre in Reading Central Library.
Would you like to become an RA? As well as the buzz from helping a visitor move their research forward, there are positive benefits for your own family history research
Free access to the main subscription worldwide genealogy websites
whenever you are in The Centre: Ancestry (Worldwide), FindMyPast and The Genealogist as well as the British Newspaper Archive
Personal connection
with other members, with a wealth of knowledge to help with any unresolved issues
Free access to the BerksFHS library
for furthering your own research, which includes all the resources available for sale from the Society
Help visitors
to further their own research, using all the tools at your disposal
Get to know
other members with a similar passion for family history
Opportunity
to get involved with Society initiatives to expand the range of services available to members
Satisfaction
of volunteering in a local community organisation
What's involved?
The fully accessible Centre for Heritage & Family History is situated on the second floor of Reading Central Library and opens part-time on the days and times shown on this page
Research Assistants (RAs) volunteer to cover either a half-day or a full day each week or when convenient to them as part of a rota. Most people have a set pattern of work e.g. the same day every week or month. The team also provides cover for each other, if anyone is unavailable.
Ideally you will be familiar with the main family history websites, have an understanding of their key features and experience of how to record search results.
Each new RA will spend their first month working with an experienced volunteer, until they are fully familiar with the Centre's systems and the content on our own website.
If you would like to apply, then please complete the form below