For virtual meetings, events and talks, Berkshire FHS uses Zoom.  Zoom is one of the easiest webconferencing tools to use – for participants it's as simple as click 'n join.
We've put together a few guides on how we use Zoom.
In advance of the meeting
Install Zoom app on your computer
We recommend that you install the Zoom app.  It's a one-time step that will improve your experience during webinar sessions.
You can do this at the beginning of your first webinar but you should allow extra time to complete this task in case you encounter difficulties.  Webinars will start promptly at the scheduled time and the meeting will be opened before the due time to allow you to join but if you want to do it now, go to the zoom download site and look for this item at the top of the list: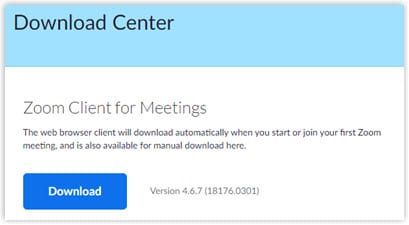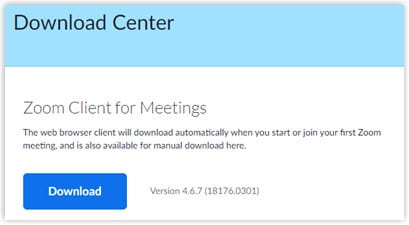 You need to join using your computer to be able to view presentations.  Some meetings are discussion groups only, in which case there is an option to join by phone.
For the best user experience, we recommend you join using a laptop or desktop computer.  If you use a tablet that has no physical keyboard, you will have fewer participant controls.
Join by computer
You will be provided with a link to the meeting.  All you need do is click it.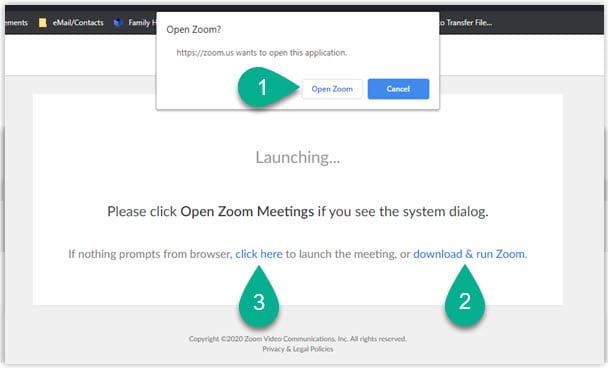 This screen will display.

If you haven't already downloaded the Zoom app, it will happen automatically now. 

Look out for a system prompt (1) and click the Open Zoom button. 

If the system prompt doesn't appear you can try to download it manually (2)
If all else fails you can run the meeting directly from your browser (3) although you won't have all the participant tools that are available in the app.

You may be allowed directly into the meeting or you may be queued until the host enters the meeting. 
Some meetings require a password to gain entry. 

You will find this in your meeting invitation.
Join by phone
The meeting invitation will contain a list of dial-in numbers to call and a meeting number. All you have to do is:
Dial the number
Follow the voice prompt and enter the meeting number on you phone's keypad
Please try to avoid using your phone's speaker option, to minimise distortion on the line.
To get the best out of the webinar, please follow these guidelines.  There is also a video tutorial if you would prefer.
Background noise
Background noise from multiple participants on open microphone is something we need to avoid, using simple steps:
Choose a quiet environment so that if you need to speak, you can be heard by all participants without background noise
On entry to a meeting, your microphone will be muted.  The space bar on your computer keyboard acts as a push-to-talk button.  Hold it down to speak and release it when you're done talking.
If you have one, please use a headset. It increases the quality of the audio for everyone and reduces audio feedback.
If joining by phone please avoid using the speaker setting if you can.
Don't talk over each other
In a face-to-face meeting, multiple conversations can take place simultaneously and we can tune in to the one we want to follow.  That's not possible in a webinar.  Please leave space for others to talk.
Raise your hand
Question?  You can draw the presenter's attention silently by 'raising your hand.'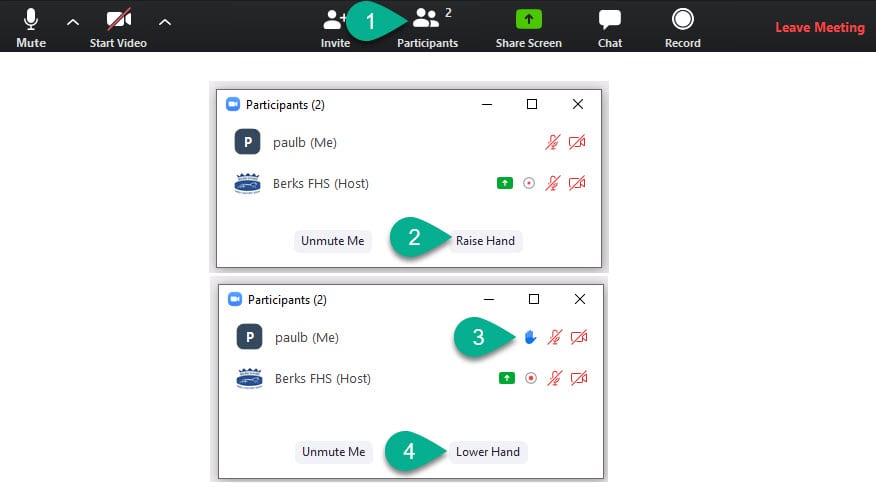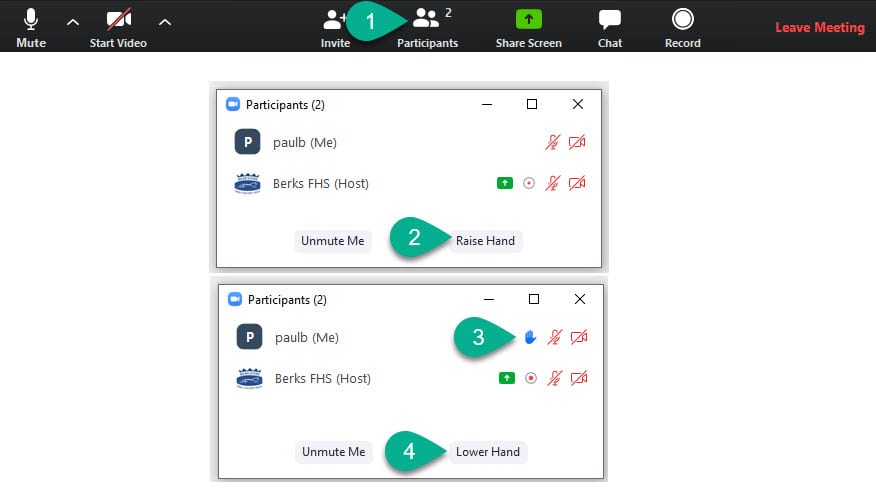 Open a chat
You can chat publicly to everyone on the webinar or privately to another person.  You can also attach files to the chat if you want.
Joining by Phone?
When dialling in, your meeting control options are limited.
Phone controls for participants
The following commands can be entered  using your phone's dial pad:
*6 - Toggle mute/unmute
*9 - Raise hand
Leaving a meeting plus some advanced topics


Leave meeting can be found bottom right of the screen.  You probably won't need it, unless you need to leave early, because the Host will end the meeting for everyone
Unmute lets you toggle your mic on/off.

A permanently open mic will introduce background noise so please don't use this function.
Use the Push-to-talk function (spacebar) instead
The up arrow to the right lets you adjust your audio settings

Start Video lets you toggle your webcam on/off.

There's rarely a need for video and, as it consumes a lot of bandwidth it's best to leave it off unless asked.
The up arrow to the right lets you adjust your video settings

Invite lets you invite others to join the call.

If there is a need to add someone to the call, tell the Host and let them care for it.

This allows you to share your screen with the audience

If someone else is sharing they will have to stop sharing first
You will need to choose which monitor to share (if applicable)
Sharing won't start until you press the confirmation button

Recording a session will require the permission of the Host.

If you're watching a paid-for or copyrighted event, permission won't be given
A presenter will normally be supported by a Host, who takes care of the logistics of the meeting (starting it, monitoring the audience, muting and unmuting, monitoring chat sessions, ending it, and recording [if appropriate]).
Initially the Host role will be performed by Paul Barrett or Dave Osborne but others will be trained.
A separate Host is important for online events.  For simple meetings, the host can be whoever called the meeting or another participant and the host and presenter roles can be performed by the same person.
Please read the Participant Guide
If you are going to display any personal information about living people, make sure you have their permission or you anonymise the data.

Note: If your session is being recorded so that it may be published on our website, we can blur out anything that's inadvertently shown, during editing.

Make sure you have permission to use any copyrighted content
The audience will have a variety of screen resolutions and physical sizes from 13 in notebooks to 30 in desktop monitors.  Our content needs to legible for everyone, especially when you consider our demographic.
The preferred screen resolution for all presenters is 1920 x 108o pixels (full HD).   Please note, screen size and screen resolution are not the same. Resolution refers to the number of individual picture elements (pixels) on the Display, but HD resolution screens can be any physical size - they just have smaller or larger pixels.
Resolutions greater than HD must be avoided because they will produce hard-to-see content on smaller screens.
Resolutions slightly lower than 1920 x 1080 will probably work but they may appear blurry to the majority of users.
To discover your screen resolution (on Windows 10):
Press the Windows key
Type Display
Choose Display Settings
Scroll Down to the section Scale and Layout
Look for the Display Resolution box
Prepare your introductory screen – the one you want users to see when you start the share.

If it's PowerPoint, make sure it's in presentation mode before you share
Make sure that any private information e.g. your email inbox is not on view

See the Participant Guide for how to join, then share your screen
Raised Hand
If a participant raises their hand a notification will appear on your screen: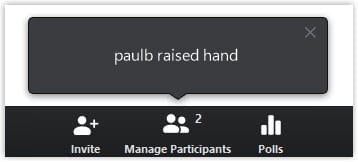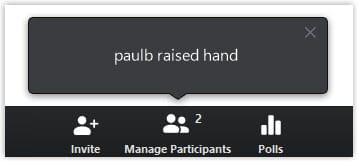 Chat
If a participant sends you a chat message the chat box in the toolbar will be highlighted.  If you open the chat window, this will only be visible to you even if you are sharing your screen (this is true of all pop-up windows such as the participant list.)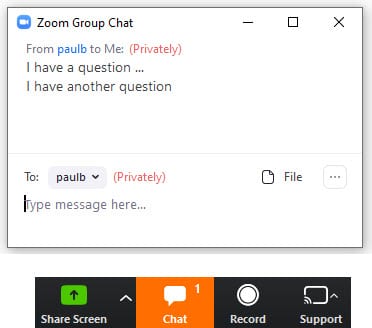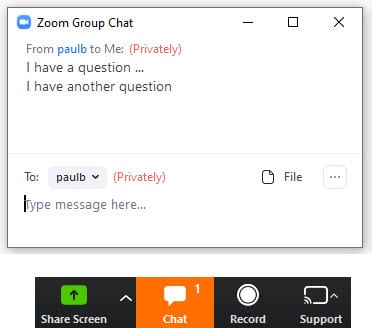 Please make sure you're familiar with the Participant and Presenter Guides
Avoiding meetings that clash
Only one session can be in progress at a time.  To ensure there are no overlaps we need you to observe the following rules:
Check Zoom availability before committing a meeting date / time
All meetings must be scheduled.

Do NOT use the instant meeting option

If your meeting changes or is cancelled, remember to edit / delete the scheduled meeting in Zoom.
Don't book a meeting to follow on immediately after someone else's.

You need leave room for

potential overrun of the earlier meeting
time before your meeting for the audience to join.

A minimum of 1 hour should be allowed between meetings
Go to https://zoom.us/ and sign in.  The credentials are available from the webmasters on request.  Then follow these menu options in the top right of your screen:


The scheduling options are straightforward and need no description.  Most of the meeting settings have been pre-set by the webmasters and should meet most needs, although you can override them on a meeting-by-meeting basis.
Please make sure your meeting's title and description are suitable for an external audience and make clear who the actual host is.
When running a committee meeting or similar
There is one setting that you might need to change, because there is probably no need to record this kind of meeting:

Sending Invitations
Whoever sends the meeting invitations will need to include the Zoom meeting information. You can access that here:


You can start a meeting whenever you want.  As Host it's a good idea to start the meeting early so that joiners can be assured they have completed the process properly and so you can assist anyone who's having issues.  This way, the meeting proper can start on time.
Login as above
Find your meeting in the list
Press the start button (1)


The Hosts' responsibilities are to support the presenter by managing the audience:
Mute/unmute everyone/individuals when needed.
Monitor raised hands
Monitor and respond to chat
End the meeting
Save the recording