Albert James Henry Peever/Cope/Kalvi was the brother of my paternal Grandmother Nellie (nee Cope).
Nellie's family had been split up when her mother – Ellen – re-married bigamously to Frederick Kalvi in 1891. Her first marriage was in 1880 to Charles Peever, Albert and Nellie's natural father. Nellie and her mother had been living in Eastney Road, Portsmouth close to the Royal Marine barracks in the 1891 census, but there was no Albert in the household. Frederick Kalvi (sometimes spelt Calvi) was a Royal Marine artillery gunner at Eastney Portsmouth, and it is thought that this proximity was how they met. Frederick sadly died of enteric fever (typhoid) at just 30 years of age in 1897.
When my father (born 1922) asked "What happened to [uncle] Albert?" all he had been told was that he went on a scheme to the Commonwealth, which might have been Australia or Canada, and it upset his mother Nellie to speak of it. So he never did again.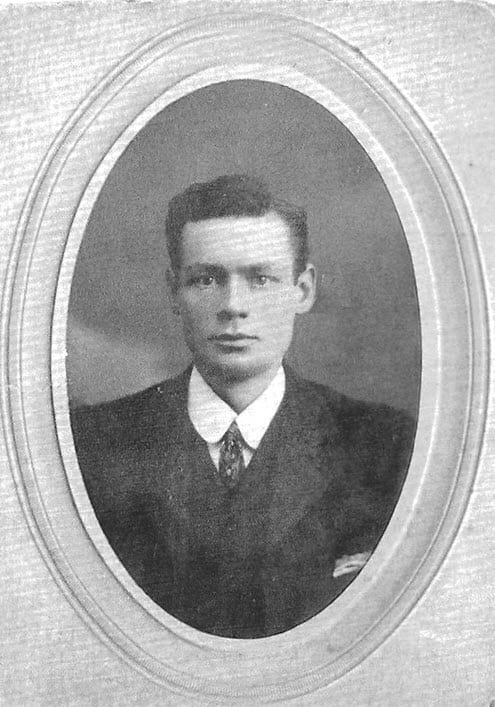 This photo is of Albert in 1905 which I surmised to be taken for his 21st birthday, as he was born in August 1883.
I feel if you have a photo it somehow brings that person alive, as they look out from the camera over 100 years ago, looking straight into your eyes.
Over the years I have subscribed to Ancestry or Findmypast at different times and asked relatives, but was unable to progress in my search for further information on Albert. A marriage registration for Albert Peever and Florence Penny in 1909 showed they married in Portsmouth, but nothing further. On checking birth and death records there did not appear to be any children born to them but it was one of those problems that I kept returning to.
I took advantage of a free newspaper archive one weekend and found a number of notices from his mother (Ellen) and sister (Nellie), in the Portsmouth Evening News. On 26 November 1912 a death notice was printed, reading:
'CALVI-PEEVER – In loving memory of my dear brother, who died Nov. 26th, 1911. To live in the heart is not to die. – Nellie

CALVI-PEEVER – In memory of my dear son, who died Nov. 26th, 1911, at Calgary, Canada.

Darling Bertie how I miss you,

Could you speak what would you say

To your sad and lonely mother

Left to mourn for you day by day?'
This was followed by 'In Memoriams' in 1914, 1915 and 1916. As Peever is a relatively unusual name and I knew the 'bigamous' husband was called Kalvi/Calvi as mentioned in the obituaries, this was very exciting, especially as the region –Calgary, Canada – and a death date – 26 November 1911 – were also included.
After hitting the World Wide Web I found an email address for the Provincial Archives of Alberta, Canada and asked via email the procedure of how to track down a death registration giving the facts I had. The Record office personnel replied next day saying they had found a possible match, told me the price, which was less than £6 and two days later after paying online, I received both a certificate of cause of death from Calgary General Hospital, and a registration of death from the Province of Alberta.
It was very sad reading. He was working as a checker in a freight shed for the Canadian Pacific railway when he developed pneumonia of two weeks duration and died aged only 28 in November 1911. To me it seems impossible that this information would have been found without using the internet. I had visited Portsmouth Record Office looking for other records 20 years ago and presumably the Portsmouth Evening News may have been in the archives. With no idea of Albert's whereabouts after his wedding in 1909 and his witnessing his sister's wedding in 1910, I don't think it would have been possible to check all the papers for all the years, to have found that small nugget of absolutely crucial information.
Albert had only been in the country for five months. His wife Florence had previously been in Canada for a period of 7 months as a servant in 1906, then returned to UK and they emigrated together in June 1911 aboard the Ascania to Quebec. In the original Canadian passenger lists 1881-1922 it states he was to be a farmer and they took £96 7d which in today's money is approximately £11,000, which seems a huge amount as the family weren't wealthy by any stretch of the imagination. He had been a warehouseman at home.
It is a great shame that my father died before I solved the mystery and that he never got to find out "What happened to Albert?"