In the September 2018 edition of the Berkshire Family Historian there was an interesting article on the Civil War and its protagonists. Of course, there were many other side events taking place that are of more interest to the family historian. Take, for example, my 11 times great-grandfather Richard Drake who was born on 21 April 1609 in the parish of Westcheap, London to Roger Drake, a wealthy mercer of Cheapside, London and his wife, Margaret Allyn of Uttoxeter, Staffordshire. Confusingly there are many Richards and Rogers in this story as just about every Drake generation contains a Richard and Roger. Fortunately, many of the Drakes left long and complex Wills that are gold dust for genealogists.
Richard attended Pembroke College, Cambridge and graduated in 1627. In 1638 he became rector of Radwinter, Essex, a living bought by his father. He was also a physician – an odd combination. His elder brother, as you may probably have guessed, was a Roger Drake, who also attended Pembroke College and then went to Leiden University to study medicine while being active in the Presbyterian church.
Richard's main claim to fame came in 1651 when he took part in the so called and ill-fated "Love Plot" that was a conspiracy to bring Charles II to the throne. For his trouble he was imprisoned in the Tower of London. It is surprising that he was not executed since this was an age when heads rolled at the slightest excuse. Christopher Love was convicted of treason and executed at the Tower on 23 August 1651. However, when Charles II took the throne in 1660 Richard was released and the King, no doubt aware of his efforts to get him to the throne, made him his chaplain. He became the Chancellor of Salisbury Cathedral in 1663. Richard died on 24 October 1681 in Salisbury, and is buried under a large black marble slab in the north aisle. The engraving is all but vanished with the passage of many thousands of feet but is recorded as saying "H.S.E The Rev. Richard Drake. D.D. Chancellor of this Church, who died 24 Oct. 1681, aged 72". H.S.E is Hic Situs Est or He Lies Here.
Richard produced an autobiography that is held in the Bodleian Library, Oxford. Unfortunately it is written in Latin and there is no translation. I gave up Latin in my second year at Grammar School having sunk to an exam score of 13% and took woodwork instead, so was unable to translate it myself. He did, however, leave a complicated Will dated 15 October 1681. He had properties in Cheapside, London known as the White Lion and the Golden Key. He also has an entry in the Oxford Dictionary of National Biographies.
His sons, Richard and Roger, were of no great note.
Richard's grandson, Roger Drake 1697 to 1762, was a partner in the firm of Drake and Long (with Beeston Long) who were in the sugar trade in the West Indies. The Company built the docks at Wapping, London. No doubt they were also into the slave trade. Roger married Jane Long, the sister of Beeston Long. You can speculate as to whether he married Jane as a result of being a partner with Beeston or married first as a way into the company. A cousin, Edward Beeston Long, owned the Lucky Valley Estate, Clarendon, Jamaica together with its complement of slaves. I doubt whether it was lucky for the slaves! The Long family is large and intricate and appear to have made their fortunes in the West Indies.
A second grandson, Richard, sired his great-grandson Roger Drake 24 September 1721- 4 April 1765. Roger went to India in May 1737 as a "writer" or civil servant and was made Governor of Calcutta on 8 August 1752. I suspect that he may have got his job through his connections with his uncle Roger of Drake and Long. He married Mary Coals on 10 January 1742/43. Their first daughter Mary was born in 1744 and died in 1748. Their second daughter Charlotte was born in 1747 and also died the same year. Their third daughter Millicent was born in 1749 and survived to return to England. She married into the aristocracy when wedding John Talbot Dillon. Unfortunate Roger's wife Mary died shortly after Millicent was born, presumably of birth complications. Life goes on and it seems Roger married or lived with Mary's sister Martha who bore him three sons – Roger, Richard and Nathaniel – although there are no records of their births. Apparently, it was frowned upon to marry your wife's sister although it often happened in the colonies. The records of births, marriages and deaths in Calcutta are poor as the transcriptions contain numerous errors and the records I seek may be there in some jumbled form.
Roger offended the new Nawab of Bengal, Surraj-ud Daulah, over a plan to strengthen the defences of Calcutta and, in consequence, the Nawab attacked Calcutta in June 1756. Roger fled down the Hooghly river. It seems Roger was a Quaker and so a pacifist and that may account for his action. He was also high up in the Bengal Masons. After the successful attack the Nawab locked numerous residents in a small room where many died – the infamous called 'Black Hole of Calcutta'. One who died was recorded as Nathan Drake who I suspect was Nathaniel. Martha may well have been another casualty as there is no record of her death just as there is no record of her marriage or the births of her three children. However, a John Coals died in the Black Hole and left a small fortune of 52,000 Rupees to Millicent, Roger, Richard and Nathaniel. He was a relation of Mary and Martha although I cannot find the exact connection.
Clive of India (Major-General Robert Clive), who recaptured Calcutta, was none too pleased, and Roger was back in England in 1757. He first rented a house in Hanover Square, London, being very wealthy from successful trading. He at once married Henrietta Mary Baker on 16 October 1759. They rapidly produced a son, George, on 22 August 1760.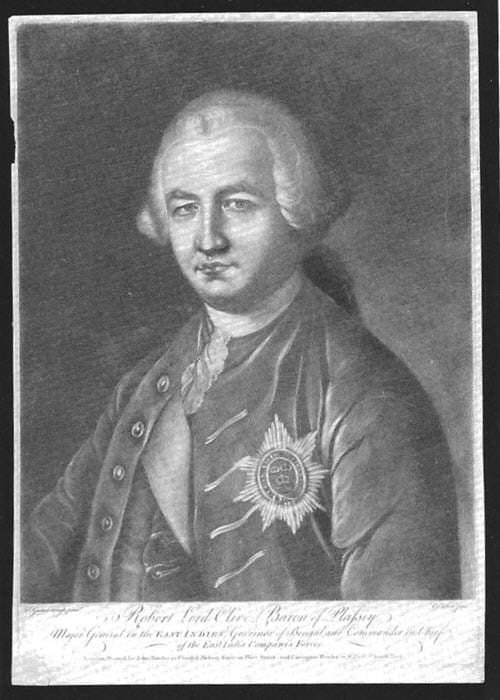 Roger bought the Fern Hill or Farm Hill or Farn Hill estate in Windsor from Elizabeth Clayton in June 1764. He was in the process of adding a substantial extension when he died on 4 April 1765 in London. There was an Act of Parliament involved when the property was sold in 1767, to enable the trustees of his Will to dispose of the property, these being Beeston Long and his brother, another Richard Drake. Curiously the Drake ownership of the estate is not mentioned in the history of the Fern Hill site on the internet. Roger left an extensive and detailed Will and, from the codicil, it would appear he died of a stroke. He was buried in an unmarked vault in the crypt of St. Margaret's, Westminster, London. Incidentally, the estate is now on the market for £48M.
Roger, son of Roger the Governor of Calcutta, went to Italy apprenticed to a large merchant in Turin. George joined the Horse Guards in 1778. He achieved the rank of Major commandant in 1798. That is the last we hear of him, maybe he expired in the Napoleonic wars? Richard also joined the army, but I can find no record of his service apart from a scrap of paper passed down the family. He turns up in Dingestow in Monmouth, Wales in 1800 with a 14 year old daughter Amelia from whom I am descended. After that he vanishes, maybe also a victim of the Napoleonic Wars?
There are about 60 people in the Drake dynasty many of whom left wills. I have hopes but have yet to meet anyone else researching this area.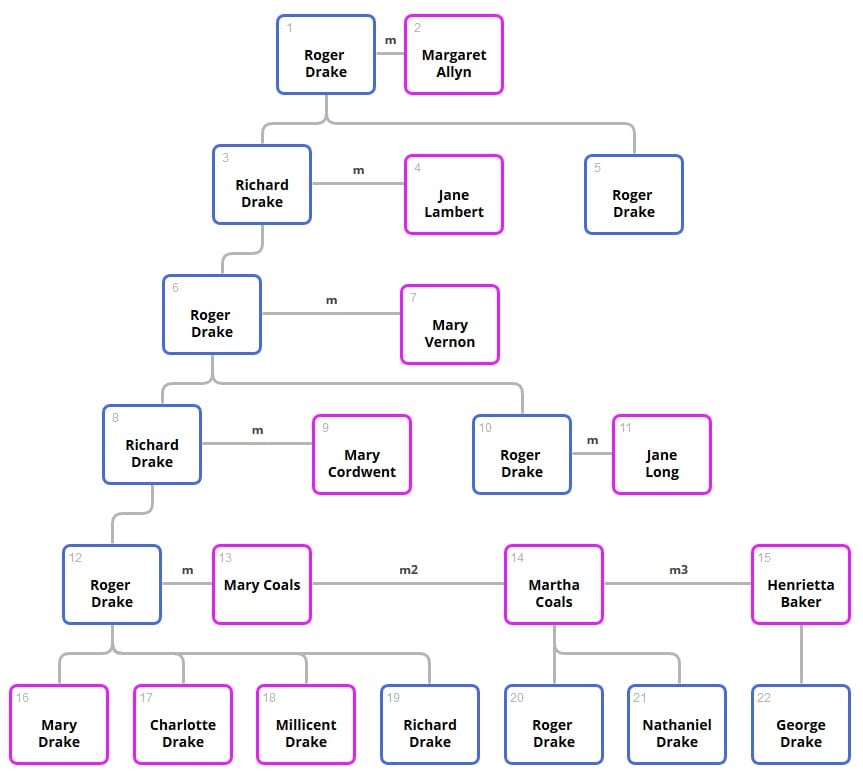 Feedback received to the society from Cherry Ann Knott, Gloucestershire, Oct 2021
"I read Paul Bryant's interesting account of the Drake Family, and in particular noted mentions of Roger Drake (son of Richard Drake, grandson of Roger Drake and Mary Vernon) who was in India in the mid 1750s.

 … there is a very large family group painting of Roger Drake, his third wife with infant George, and children from his two previous marriages in India to sisters Mary and Martha (as mentioned in Bryant's piece). This is readily viewable as it hangs in the Octagon of the Assembly Rooms in Bath…

I hope this may be of interest to Mr Bryant and or some of your other members –"