The parish of Speen, formerly comprising Church Speen, Woodspeen and Speenhamland, lies mainly on the ridge dividing the valleys of the rivers Kennet and Lambourn, to the north-west of Newbury. The road from London to Bath traverses the whole length of the parish from east to west.
The parish consists of several townships or tithings:
Bagnor the only part of Speen north of the river Lambourn, and best known these days as the home of the Watermill Theatre;
Benham or Marsh Benham which, unlike the rest of Speen, lies in the hundred of Kintbury Eagle, and contains Benham Park/Valence;
Speenhamland which links Speen village and the town of Newbury, to which it now belongs;
Woodspeen (formerly Speen Basset, and extending much further east than it does today), a long, narrow strip of land adjoining the River Lambourn;
Stockcross, a village whose growth was largely due to the Sutton estate, and which was partly in the tithing of Church Speen.
Other place names of the parish are Furze Hill and Nalderhill.
In 1878 the Newbury Borough Extension Act took Speenhamland and certain portions of Church Speen and Woodspeen into the borough of Newbury.
(Do not confuse Speen, Berks, with Speen in Bucks.)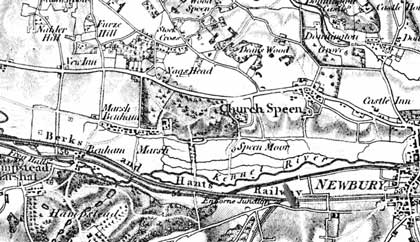 Size:  3,862 acres  (1,564 hectares)
Population: 3,295 in 1851; 5,472 in 2011
Hundred: Faircross and Kintbury Eagle
Poor Law union: Newbury
Registration district: Newbury
Present-day local authority: West Berkshire
Grid reference: SU46 67
Genealogical resources
See Berks FHS Books for coverage of this parish in the society's range of CDs.
See also Berkshire Record Office holdings.
West Berkshire Library has typed transcripts of Speen St Mary and Speenhamland St Mary parish registers (see online catalogue for dates).
 Published local history
Walter Money Collections for the history of the parish of Speen (W J Blacket, 1892)
Roy Tubb Speen… road by road (Henwick Worthy Books, 2002)
Anglican church and parochial organisation
Speen lies within the deanery of Newbury and the archdeaconry of Berkshire, which transferred from Salisbury diocese to that of Oxford in 1836.
Speen St Mary is a medieval church built on Saxon foundations although in 1860 and 1878 it was almost wholly rebuilt, and the appearance is largely Victorian. It has a holy well (the Lady Well) about 50 metres away, suggesting that this was a religious area in pre-Christian times. St Mary's two most egregious monuments are to John Castillion, whose faithful service to Elizabeth I earned him Benham Valence, and the Margrave of Anspach, the retiring spouse of the flamboyant former Lady Craven.
The ecclesiastical parish of Speenhamland St Mary was formed in 1844, based on the church of Speenhamland St Mary, which was built in the London Road in 1829-31 as a chapel of ease. It was demolished in the 1970s.
The ecclesiastical parish of Stockcross, consisting of Marsh Benham and a few acres of Church Speen, was created in 1854, based on the church of Stockcross St John, which was built in 1839 and is still in use. Much of modern Stockcross was built by the Sutton estate after 1860.
From 1987 until 2010 there was an Anglican order of Benedictine monks at Elmore Abbey on Speen Moor.
Other churches
A Wesleyan chapel at Stockcross was part of the Newbury Methodist circuit.
St Joseph's Roman Catholic Church in London Road, Speenhamland, was built in the later nineteenth century, and was Newbury's first Catholic church.
Schools
Parliamentary papers of 1833 record a parochial school founded in 1831 as well as several day and boarding schools and two Sunday schools. The parochial school is thought to have been run from a cottage close to Speen church. The 1851 census finds a schoolmistress here; Hannah Curr, a widow from London with her three children.
Woodspeen Academy opened in the early nineteenth century, first as a school for young gentlemen and ladies under Mr and Mrs Ventris. A few years later it was taken over by James Corbould from Ipswich. He ran it as a school for boys; in 1851 there were 30 of them aged seven to 15 (although Corbould sent his own son to Rugby). The school closed in 1882.
In 1820 Speen Hill Academy was also known as Mrs Blundell's preparatory boarding school for young gentlemen of 3-9 years old, costing 20gns pa.
The 1851 census also found  Bews Commercial School on Speen Hill, with 22 resident boy pupils, some local but many from all over the south of England.
In 1868 there were two parochial schools in Speen, and a free endowed school at Speenhamland.
Cosburn's directory of 1911 notes an address in Speen as School House and, separately, a Ladies' School in Castle Houses.
Berkshire Record Office holds
a bundle of documents relating to a National school at Stockcross in 1830. This was probably the forerunner of today's primary school at Stockcross, which also now serves Speen village. A schoolmaster was resident in Stockcross in 1851.
Speenhamland school trustees' and managers' minutes 1847 – 1931;
minutes of St Mary's Educational Foundation 1934-46;
accounts 1847-97;
deeds (drafts or copies), 1835, 1874;
rules 1837, 1852.
Speen Infants' School reports and correspondence 1891 – 1904.
Speenhamland primary school still operates, in Pelican Lane.
Other local history
"Newburie must acknowledge Speen as its mother", wrote William Camden, the Elizabethan antiquary. Most historians now concede that Speen was almost certainly the Roman post of Spinae known to have been located on the military road from Silchester to Gloucester. However the evidence is circumstantial rather than archaeological; tangible remains of any Roman occupation are scanty.
In the Domesday era Speen consisted of two principal manors: Church Speen (today's Speen village) and Woodspeen. Associated with these were the lesser manors of Speenhamland, Benham Valence and Bagnor. Newbury first appears in slightly later records, and the very name suggests an offshoot of an older settlement – hence William Camden's assertion.
The military advantage of Speen Hill was employed during the Civil War, when the royalist troops of Prince Maurice occupied it, but failed to mount a rearguard against the Parliamentarian generals Waller and Cromwell. The king himself was very nearly captured.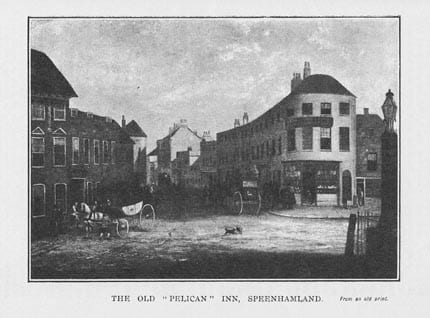 Speen achieved prosperity with the coaching trade after the Bath road was turnpiked. Newbury's gentry built their houses there, particularly on Speen Hill and in Woodpseen. Coaches rolled through at the rate of 70 or more a day, and Speen was the overnight stop for a new class of high-spending pleasure-seekers. The Hare and Hounds, the Castle Inn, the Bear and the Angel catered for this trade, but the most famous was the now long-gone George and Pelican in Speenhamland, where there was stabling for 300 horses. Beside the Pelican was the famous  Newbury  & Sopeenhamland theatre. Speenhamland still boasts three former coaching inns in close proximity: the Chequers, the Bacon Arms and the Cross Keys.
Somewhat off the coaching route was (and still is) the Five Bells at Woodspeen.
The mill at Bagnor (now the Watermill Theatre) goes back many centuries. In Georgian times it was a paper mill, later called the Wawanda. (The 1851 census finds 14 local men whose occupations involved the word paper.) The business foundered under a legal challenge mounted by the owner of Donnington Grove, Marmaduke Head Best, who claimed that the papermaking operations were polluting his stretch of the river Lambourn.
Benham Valence/Benham Place/Benham Park, pictured below, was owned by the Craven family, and was famously the seat of the Margravine of Anspach (formerly Lady Craven) at the turn of the nineteenth century. Sold by her youngest son to Frederick de Villebois in the mid-nineteenth century, the park and house were soon afterwards bought by Richard Sutton, after which for a century or more it was part of the Sutton estate. Former Sutton estate cottages are dotted around Benham, Stockcross and further west, and are distinctively recognisable by their generous proportions and mock-Tudor timbering.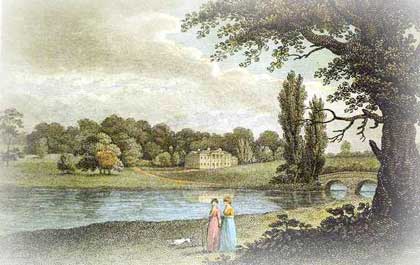 The railway arrived in Speen with the opening of the Lambourn Valley Railway in 1898. The line branched off at West Fields and crossed Speen Moor towards Boxford, with stations at Speen (which still has a Station Road) and Woodspeen. The line closed in the 1960s, having never made a profit.
 Until commercial redevelopment in the second half of the twentieth century, Speen  boasted several fine houses such as the Chestnuts, Speen House and Goldwell House on the Bath road, much favoured by wealthy Newburians of the eighteenth and nineteenth centuries.
Speen has been home to a number of eccentrics, many of whom now rest in the churchyard of St Mary's. Thomas Phillips, landlord of the Bear and a mighty fox-hunter, was buried with a fox's pad in each hand in 1787. Anthony Parsons, though qualified by means and breeding to hunt game with the gentry, preferred to dress in rags and go poaching at night in defiance of the game laws.
Modern Speen is much reduced in size. Benham was transferred to the newly created Victorian parish of Stockcross, and Speenhamland became a parish in its own right (later gobbled up by the borough of Newbury) in 1878. Insult has been added to injury with the building of the bypass, destroying the quieter corners of the parish such as Speen Moor.
The 12-foot stone obelisk at the corner of Speen Lane, often erroneously assumed to be a memorial, is in fact the pillar of Newbury's first gas-light, and this too is maintained as a local curiosity.