Stanford Dingley is a village and parish in the valley of the river Pang, equidistant between Reading and Newbury, in the North Wessex Downs Area of Outstanding Natural Beauty.
Local place names
Cock Lane, Jennetts Hill. Rushcombe Farm, Handford Farm, Field Farm, Coxlands Farm and Dodds Cottage were mentioned in the 1851 census.
Size
927 acres (375 hectares)
Population
209 in 2001; 178 in 1851
Hundred
Faircross
Poor Law union
Bradfield
Registration district
Bradfield
Present-day local authority
West Berkshire
Grid reference
SU 57 71
Adjoining parishes in nineteenth century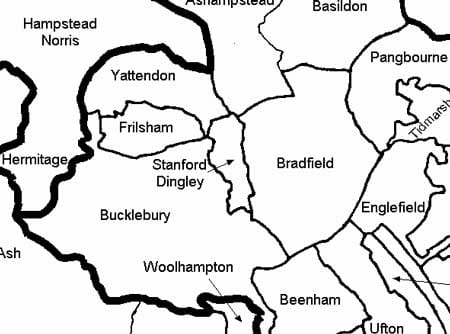 Genealogical resources
See Berks FHS Books for coverage of this parish in the society's range of CDs.
See also Berkshire Record Office holdings.
Published local history
G Timmins Stanford Dingley: a village history (Lola Print, 2012)
Mary Platt and Maureen Park Stanford Dingley: stories of a country village
Anglican church and parochial organisation
The living of Stanford Dingley is a rectory in the archdeaconry of Berkshire, diocese of Oxford. First reference to a church here was in 1252, although the parish church of St Denys is believed to have been built on the site of a pre-Norman church. The building dates from the twelfth century. The white wooden bell tower was built in the fifteenth century.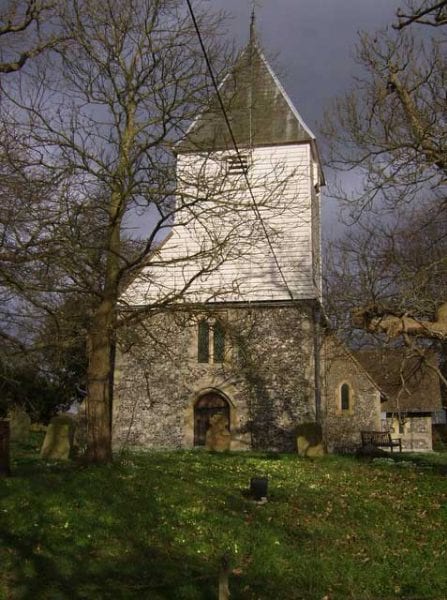 St Denys' Church, Stanford Dingley
Schools
The Parliamentary enquiry into the education of the poor in 1833 found a school in Stanford Dingley educating 12 boys and 13 girls (and a Sunday school).
Pubs
The Bull claims to be fifteenth-century and the Old Boot eighteenth-century.
Other local history
A large tannery thrived here in the middle of the nineteenth century. The 1851 census enumerated a master tanner employing 19 labourers.