Sparsholt, a downland village and civil parish four miles west of Wantage, formerly included the hamlets of Westcot, Kingston Lisle and Fawler, until the creation of civil parishes in the late nineteenth century removed the latter two as one new civil parish.
The Portway and the Ridgeway cross the parish. The Berkshire and Wiltshire Canal and the Great Western Railway both cross the north end of the parish, but there has never been a station.
Other local names include Eastmanton, George's Green Northfield Farm, South Farm, Cross Bargain, Broad Leaze, Coppice Leaze, Garlands, Cranhill.
There is also a Sparsholt in Hampshire.
Size
5,311 acres (2,150 hectares) according to VCH; 3,698 acres according to 1851 census (which probably excludes Kingston Lisle and Fawler)
Population
517 in 1851; 297 in 2011
Hundred
Sparsholt village and Westcot in Wantage; Kingston Lisle and Fawler in Shrivenham
Poor Law union
Wantage
Registration district
Wantage
Present-day local authority
Vale of  the White Horse District, Oxfordshire County Council
Grid reference
SU 34 87
Adjoining parishes in 1851
Balking, Childrey, Goosey, Kingston Lisle, Uffington, West Challow
Genealogical resources
See Berks FHS Books for coverage of this parish in the society's range of CDs.
See also Berkshire Record Office holdings.
Published local history
Violet Mary Howse Sparsholt a parish record Parts 1 & 2 
Anglican church and parochial organisation
Sparsholt lies within the archdeaconry of Berkshire, which transferred from Salisbury diocese to that of Oxford in 1836. The church of the Holy Cross dates from the end of the twelfth century, and is said to have replaced a wooden Saxon church. The living is a vicarage.
Schools
A Baptist school waas founded by deed of endowment in 1788 by Abraham Atkins, to teach the 3Rs to boys and girls. The girls also learned needlework.
Another school known as Edmondson's School, was founded on the proceeds of a lottery win in 1713, for an Anglican clergyman to teach reading to eight boys and girls.
Parliamentary papers of 1833 recorded two daily schools.
Pubs
The 1881 census enumerated an inn called the Star.
Other local history
Sparsholt was acquired by the Craven family in the mid-seventeenth century.
A tannery employing eight men existed in 1851.
Farm names in the 1881 census included Northfield, Rectory, Sout, Sparsholt and Westcot.
Sparsholt has long been a centre for racehorse training.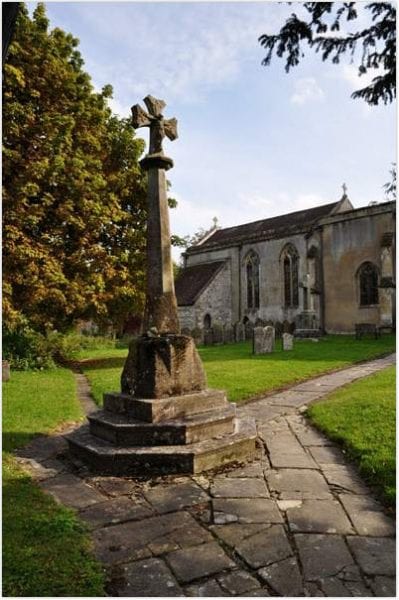 War Memorial
by Margaret Young
A  stone cross standing in the grounds of the Church of the Holy Cross the memorial commemorates those who died in both WW1 and WW2.
OS ref SU346875