South Moreton is a village and civil parish about three miles east of Didcot and four miles west of Wallingford. It lay in north Berkshire until the boundary changes of 1974 reallocated it to Oxfordshire.
The railway passes north of the village, separating it from North Moreton. Didcot is the nearest station.
Local place names
Fulscot, Adresham, Coaches End, Sanderville, Lovet's Manor
Size
1,350 acres (547 hectares)
Population
420 in 2011; 396 in 1851
Hundred
Moreton
Poor law union
Wallingford
Registration district
Wallingford
Present-day local authority
South Oxfordshire
Grid reference
SU 56 88
Adjoining parishes in the nineteenth century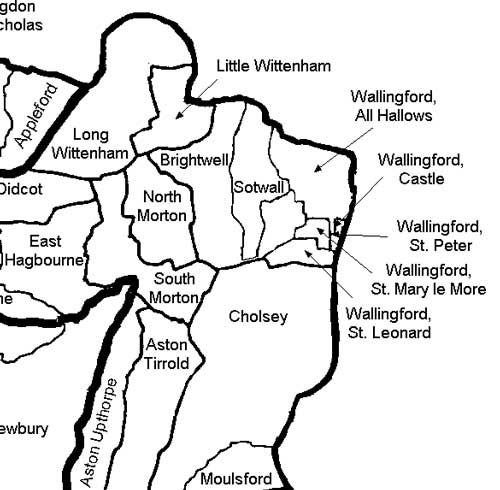 Genealogical sources
See Berks FHS Books for coverage of this parish in the society's range of CDs.
See also Berkshire Record Office holdings.
Links
Anglican church and parochial organisation
The living of South Moreton is a rectory in deanery of Wallingford, archdeacontry of Berkshire, diocese of Oxford (Salisbury prior to 1936). It was formerly in the gift of Magdalen Hall, Oxford. The parish is part of the Churn Benefice, along with the neighbouring parishes of North Moreton, Aston Tirrold, Aston Upthorpe, Blewbury, Hagbourne, and Upton.
The parish church of St John the Baptist, Saxon in origin, underwent radical restoration in 1849.
Other churches
A Congregational chapel was licensed in 1672, and today there is a Baptist chapel with a burial ground, founded in 1832.
Schools
A parish school was built in 1827. A  Parliamentary enquiry  of 1833 found 12 boys and 15 girls attending a daily school paid for by their parents, and 20 boys and 30 girls attending a Sunday school funded by the rector. By 1840 the daily school was on record as a National school.
In 1856 the Rev William James, a former rector, bequeathed to the parish school £100.
A Board school was set up in 1894.
Today there is a South Moreton Primary School.
Pubs
The Anchor Inn and Crown Inn were enumerated in the 1851 census. The Crown survives today.
Other local history
South Moreton's Victorian history is recorded in a book written by the rector during the Edwardian period from memories stretching back to 1845, and now deposited in the Berkshire Record Office as D/P87/28/4 South Moreton Antiquities and Reminiscences.
Two mills which existed in the late seventeenth century later became papermills. The first burnt down in 1838, and the other reverted to corn-grinding.