Shalbourne is a village and parish consisting of Shalbourne or Town, some distance from the other hamlets of Bagshot in the north and Oxenwood in the south; the two latter, which were in Berkshire, are united by a strip of land which forms the east of the parish. Shalbourne Town has always been in Wiltshire.
The Berkshire portions were transferred to Wiltshire in 1895.
The highest point of the parish is 700 ft, the lowest point 390 ft above sea level. The Oxford to Salisbury road passes through the parish. The river Shalbourne flows through the village.
Size
5,564 acres (2,252 hectares)
Population
(both parts): 609 in 2001; 1,015 in 1851
Hundred
partly in Kinwardstone Hundred (Wilts) and partly in Kintbury Eagle Hundred (Berks)
Poor law union
Hungerford
Registration district
split between Hungerford Berks and Wilts 1837 until 1895, when it became entirely Wilts; transferred to Marlborough 1936
Present-day local authority
Wiltshire (unitary)
Grid reference
SU 31 63
Adjoining parishes
Hungerford (both Wilts and Berks parts), Froxfield, Great Bedwyn, Little Bedwyn, Fosbury, Hippenscombe, Tidbury and Ham
Genelogical resources
See Berks FHS Books for coverage of this parish in the society's range of CDs.
See also Berkshire Record Office holdings.
Links
The village website can be found at www.shalbourne.org.
Published local history
Shalbourne to the millennium (Shalbourne History Project, 1999) available in West Berks Library and Wiltshire Libraries
J D T B St Michael and All Angels' Church, Shalbourne: a short historical guide (Kennet Press, 1983)
Evan Jeffries "Village life: Shalbourne : Shalbourne shall be: Evan Jefferies ventures to the eastern border of Wiltshire" in Wiltshire Life, vol 4, no 9, March 1999, p50-53
Norman Hidden "Jethro Tull I, II and III"  Agricultural History Review, vol 37, 1989, part 1
Anglican church and parochial organisation
The church of St Michael & All Angels (pictured below), a vicarage, probably dates from the twelfth century. Cosburns Directory of 1911 mentions also a chapel of ease at Bagshot, served from St Michael's.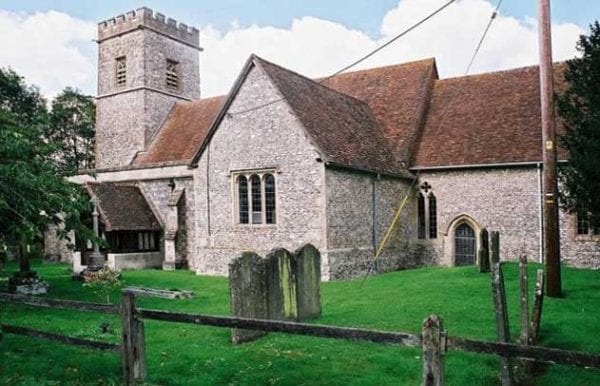 A chapel of St Margaret stood formerly beside the manor house of Shalbourne Westcourt. It is mentioned in deeds relating to the manor as late as 1826, and was pulled down about 1840, when the stones were used for building the church of East Grafton, Wiltshire. When the chantries were dissolved in the time of Edward VI it was stated that "there are divers old records which testify the said chapel to be a parish church."
Other churches
A Primitive Methodist chapel existed in 1851. Cosburn's directory of 1911 mentions both Wesleyan and Primitive Methodist chapels.
Schools
Parliamentary papers of 1833 recorded two daily and one Sunday schools here.
An unaided church school was recorded in Shalbourne in 1867, presumably the foreunner of today's Shalbourne C of E Primary School. Cosburn's directory of 1911 mentions a council school serving Oxenwood, Hippinscombe, Fosbury and Tidcombe.
Other local history
Shalbourne has had many scattered farms. Names from the 1851 census include: Shalbourne Manor Farm; Westcourt Farm (fourteenth-century);  East Court Farm; Noons Farm; Brick House Farm; Slope End Farm; and Prosperous Farm, where Jethro Tull (1674-1741) invented the seed drill. Prosperous Farm still prospers.
The common fields were enclosed under an Act of 1799, the award being dated 6 December 1805. There was also a mill at Bagshot (1851).
The manor house stands at the south end of the village, and is apparently of the late sixteenth-century, much altered and modernised.
The manor was held by John, fourth Duke of Somerset, who died without issue in 1675, when the manor passed to his niece Elizabeth, who married Thomas Bruce, second Earl of Ailesbury. Elizabeth died in 1697, leaving a son Charles, who succeeded to the earldoms of Elgin and Ailesbury in 1741, and died in 1747, leaving no surviving issue. The estates and the barony of Bruce then passed to his nephew Thomas Brudenell, who took the additional surname of Bruce. He was created Earl of Ailesbury in 1776 and died in 1814, when he was succeeded by his son Charles, who appears to have had some interest in the manor in 1796. He was created Marquess of Ailesbury in 1821, and the manor then descended with the title.
The Plough Inn is now the village pub. Pubs called the King's Arms (Oxenwood) and the Royal Oake are recorded in the 1851 census, and both were still in existence in 1911.
In 1911 also there was a home for 20 "motherless girls" under the matron Miss Dagg.