The Reading Mercury of Saturday September 2nd 1911, reported that a party of 80 Boy Scouts had left Charing Cross station the previous Saturday, August 26th, for France, with the two-fold objective of demonstrating the Brotherhood of the movement and extending its influence and operations in France. The week's stay would involve camping with a company of French Scouts at Hardelot near Boulogne. They were instructed that their duty was to encourage the raising of French Scouts by making themselves useful to the neighbours there.  Sir Francis Vane, the President of the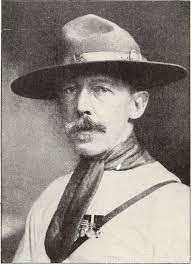 British Boy Scouts, (a breakaway group from Baden-Powell's organisation) accompanied the party, and Captain Walter S. Masterman, a brother of the Under Secretary for Home Affairs, was in command.       
Among the party was a troop of Scouts from the 1st Berkshire Troop under Scoutmaster F. G. Sainsbury, and among that Reading group was a 14 year old Scout, Robert Claude Utley.
Robert's parents, Robert and Elizabeth Utley, had arrived in Reading from Wokingham shortly after the birth of their first child in 1887. Between that date and 1906 a further five children were added to their family in Reading, including Robert Claude who was born  December 31st 1896 at 131 London Road, Reading. 
Robert senior took on a newsagent's shop at 3 Granby Terrace. By 1892 the address appears to have become 131 London Road. He continued to trade there until he was forced to abandon the premises and move to 92 Radstock Road. The family later moved to 17 Merchant's Place about 1905.
Robert Claude Utley had been connected to the 1st Berkshire Troop since its formation. He was an eager and popular member, keen on scouting, and had achieved the rank of lance corporal. From January 1911, he had been employed as a junior clerk by Messrs. Warmsley and co., builders' merchants, of Bangor Wharf, King's Road. This trip to France was not the first time he had experienced camping, though it was his first time abroad.
On arrival at Boulogne the boys were received by the mayor, and afterwards they marched to Hardelot, eight miles away.
Before the scouts went to Hardelot the mayor of Reading had sent out a friendly dispatch to the mayor of Boulogne, and received the following reply, dated August 26th 1911.
My Dear Colleague,

I have had the very greatest pleasure in receiving, on their arrival at Boulogne, the company of Boy Scouts visiting France. I have been most happy on this occasion, to extend to your young citizens the sentiment of brotherly feeling which unite our two nations. It was an especial pleasure to welcome them to our country, and give them every assistance on their tour.

It is with very great pleasure that I have read your kind letter and assure you of the keen sympathy felt by my colleagues and myself. I have hailed with joy this opportunity of binding together still more closely those ties which already exist between us. 

With every good wish C. Peron, mayor.
On the Monday after they arrived, a party of boys went out at noon to bathe. Robert was not a good swimmer, having only recently learnt at the Corporation Baths, in Reading. They had all been warned not to get out of their depth, but shortly after they entered the water, Robert got into difficulties. A companion named Stanton tried to reach him, but was not a sufficiently strong swimmer, and called for help. Two of the adults with the party, Mr. J. Owain Evans and Captain Masterman swam out to rescue him. There was a very strong current which swept Robert about 150 yards out.  Mr. Evans managed to get hold of him but the boy panicked and in the frantic struggle which followed he was forced to let him go. He sank before the other rescuer reached him. Both adults remained at sea, eventually recovering the body. First Aid was administered for over an hour but all effort proved useless, and Robert's body was conveyed to the hotel.
Robert's parents learned the news from newspapers the next day, before the arrival of a telegram, sent by Sir Francis Vane, expressing his deep regret at the terrible accident. They were understandably heartbroken at the news. Sir Francis Vane later wrote to Robert's parents and expressed a desire to visit them.
I believe every human precaution was taken, three officers – all expert swimmers – being in the water and farther out than the boys….. I can only say that never in my life, old soldier that I am, have I felt anything so much: and I beg you to believe that everybody present – scout officers and scouts – did everything possible to save your son, and when he was recovered, to restore life.

John Utley, Robert's eldest brother, travelled to Boulogne to make the necessary
arrangements for the return of the body to Reading. He met with Sir Francis, who deeply sympathised with the bereaved in their irreparable loss. 
A report which came from Boulogne the following Thursday described a ceremony which took place at Hardelot that afternoon, when the body of Robert Utley was prepared for the journey to Reading with full honours.
The coffin was covered with a Union Jack, the boy's hat and wild flowers. It was first placed on a transport cart by four Reading scouts. A procession, accompanied by the entire force of boy scouts, headed by muffled drums and bugles, made its way through the village, while local inhabitants and many others lined the route to the station where the coffin started its journey back to Reading.
The Reading Chronicle of September 2nd reported that the Duke of Argyll, who was present at this ceremony, had received a message from his wife, Princess Louise, expressing regret and conveying her sympathy to Sir Francis and the scouts.
Captain Masterman wrote to emphasise the bravery of Mr. J. Owain Evans, who nearly lost his life in his attempt to save the boy and was brought out of the water unconscious. Mention was also be made of the conduct of Scout Stanton, who, although he had just learned to swim, went to Robert's aid at great risk to himself, but who was unable to save his comrade's life.
The body of the dead scout arrived at Charing Cross on the Thursday evening, and was conveyed to Reading. It was not taken to the deceased's home in Merchant's Place, but directly to the undertaker's premises.
The funeral service was held on September 2nd in St Laurence's Church, and a procession left Robert's home in Merchant's Place at about 11.30 am. Large crowds lined the streets, and the church was filled. The coffin was almost hidden beneath the floral tributes, and was draped in the scarlet of the original 1st Berkshire Troop flag. The hearse was flanked by scouts of Robert's troop and was followed by several eminent persons. Significantly the newspaper report does not include Robert's parents or his five year old brother among the mourners, who were led by his two elder brothers and two sisters.
As the procession proceeded along Friar Street towards the church, the scouts who lined the street fell in behind, and followed in double file. The coffin was met at the door by the Rev. H. H. Cox who conducted the service. After a moving service the coffin left the church, and all along the route to the Reading Cemetery there were crowds of people. Blinds were drawn, flags were lowered to half-mast. Many were moved to tears at the graveside during the ceremony. After the "Last Post" by two buglers of the 8th Company Boys' Brigade, numerous people took their last look at the coffin, before moving slowly away.
This incident was widely reported at the time in the local newspapers, the Berkshire Chronicle the Reading Standard and the Reading Mercury. 
Several columns covered the accident and its aftermath, both in France and England, and the funeral arrangements, with pictures of the funeral cortege and graveside salute. One report concluded that it was understood a suitable headstone would be erected at the grave, and a commemorative plate at St Laurence's Church. 
Some weeks later a Grand Concert was held in the Town Hall in aid of a fund to put in place a memorial headstone. Several other appeals appeared in the press, asking for donations. However, nothing seems to have come of the enterprise and today there is little trace of Robert's grave in Reading Cemetery. It seems no memorial was ever placed there.
Research has shown that later both of Robert's parents were buried in the same grave, his mother in 1933 and his father in 1943. 
Had he not died when he did, Robert Claude Utley would have been approaching his eighteenth birthday when war broke out almost three years later, in August 1914. The chances are that at some time he would quite possibly have returned to France under very different circumstances.
Note: 
I think I have identified the boy Stanton who assisted in the rescue attempt, but have not named him as some of his relatives and descendants may still be living in the Reading area, and I do not wish to cause embarrassment if I am wrong. I believe he was a soldier during the First World War, and he married and died in Reading having lived there all his life. I would be interested to hear from any of his descendants, should they wish to contact me.