Family history research can take you to some wonderful places. Ten years ago, for my birthday treat, I visited St Michael's church in Warfield (from my home in Portsmouth), to see where my 3x great grandparents had been married. Still rather rural and surrounded by fields, it must have looked similar in 1815. It was a very special feeling.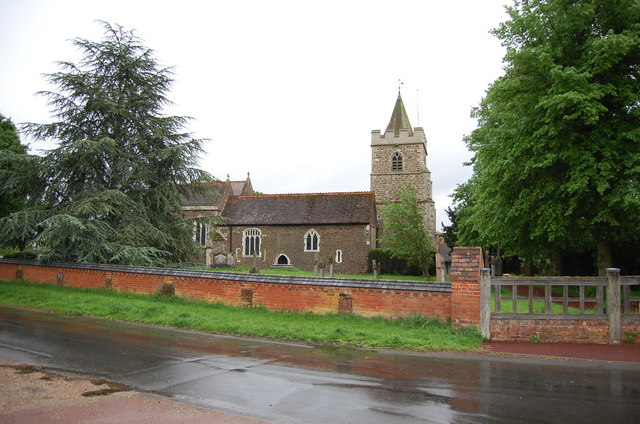 I had started researching my family history in 1999. I was working full time and had a young family at the time, but would sit up late (as you do) searching on the IGI and planning visits (around my business trips) to the Family Records Office in London! One of my first finds, via the IGI, was my 3x great grandfather Richard Seares who married Ann Miller (aged 15) with 'consent of parents' in Warfield in 1815. Both were said to be 'of this parish'.
Following further searches and a trip to the local Church of Jesus Christ of Latter Day Saints (Mormon) to view microfiche, I was able to find baptism records for some of their children at the intriguingly named 'Ebenezer Chapel', Old Street, Shoreditch, London. These records were unusually detailed and gave me an occupation for Richard (tailor) and parents' names for Ann (Robert and Ann). Via the IGI, I then found baptisms for various of Ann's siblings at St Michael's, starting in 1788 (although no marriage).
But nothing for Richard. Then, family life took over, and I had to leave him for a while.
The Ebenezer Chapel was part of the Baptist movement. It was part of the London Circuit of the Arminian Bible Christian Church, which was based on the theology of the Dutch Reformed theologist Jacobus Arminius (1560-1609). FamilySearch have filmed records for this church for 1823-1837. According to an Ecclesiastical Census return for 1851, held by The National Archives, the Chapel was consecrated in 1829 and had estimated attendances of 180 in the morning, 650 in the afternoon and 200 in the evening.
No change!
Fast-forward 20 years, now facing an empty nest, I took up my research again. I had hoped that during this time, more records would be accessible and Richard might be easily found. But, nearly a year later, he remains my brick wall!
Here's what I know. Richard and Ann had at least 4 children. George (my 2x great grandfather) was born in 1822, and baptised at St Leonard's, Shoreditch. There was an address of Leonard Square, and Richard's occupation of tailor. Then came Mary Ann (1824), Joseph (1826) and Esther (1828), who were all baptised at the Ebenezer Chapel. 
Ann must have died around that time, as Richard marries Mary Ann Read (née Kirk) at St Leonard's Shoreditch in 1829, and their daughter Elizabeth is baptised at the Ebenezer Chapel in 1831.
Then the trail goes cold.
No records in Warfield, prior to Richard's marriage to Ann – or, indeed, afterwards. I assume they had more children between 1815-1822, before they appear in London.
No more children for Richard and second wife Mary Ann. Mary Ann died in 1840, address 'Willow Walk', London, but I can find no death record for Richard.
No mention of Richard in any census. Although there's a possible son named Richard, aged 25, in the 1841 census, living at 70 Willow Walk, with Joseph, aged 15, but no other family members.
Deceased?
Richard is listed as the father on the marriage entries for Joseph in 1846 and Elizabeth in 1851, and on both of George's marriages in 1846 and 1868. Although there is no mention of 'deceased', I know I can't assume he's still alive. Not least because he is 'deceased' in 1864 (four years earlier) on George's Freedom of the City of London application.
Recently, I joined the Berkshire Genealogy Facebook page to seek help with my brick wall. A very kind lady helped me find the death of Esther in 1829 (a transcription error, she was cunningly disguised as 'Hester') – which explains why I had found nothing further on her.
But still nothing on Richard!
I am still very much an amateur as far as genealogy goes, so any advice and suggestions on my brick wall would be most gratefully received. And, if it means coming back to visit Warfield, I'd be delighted!