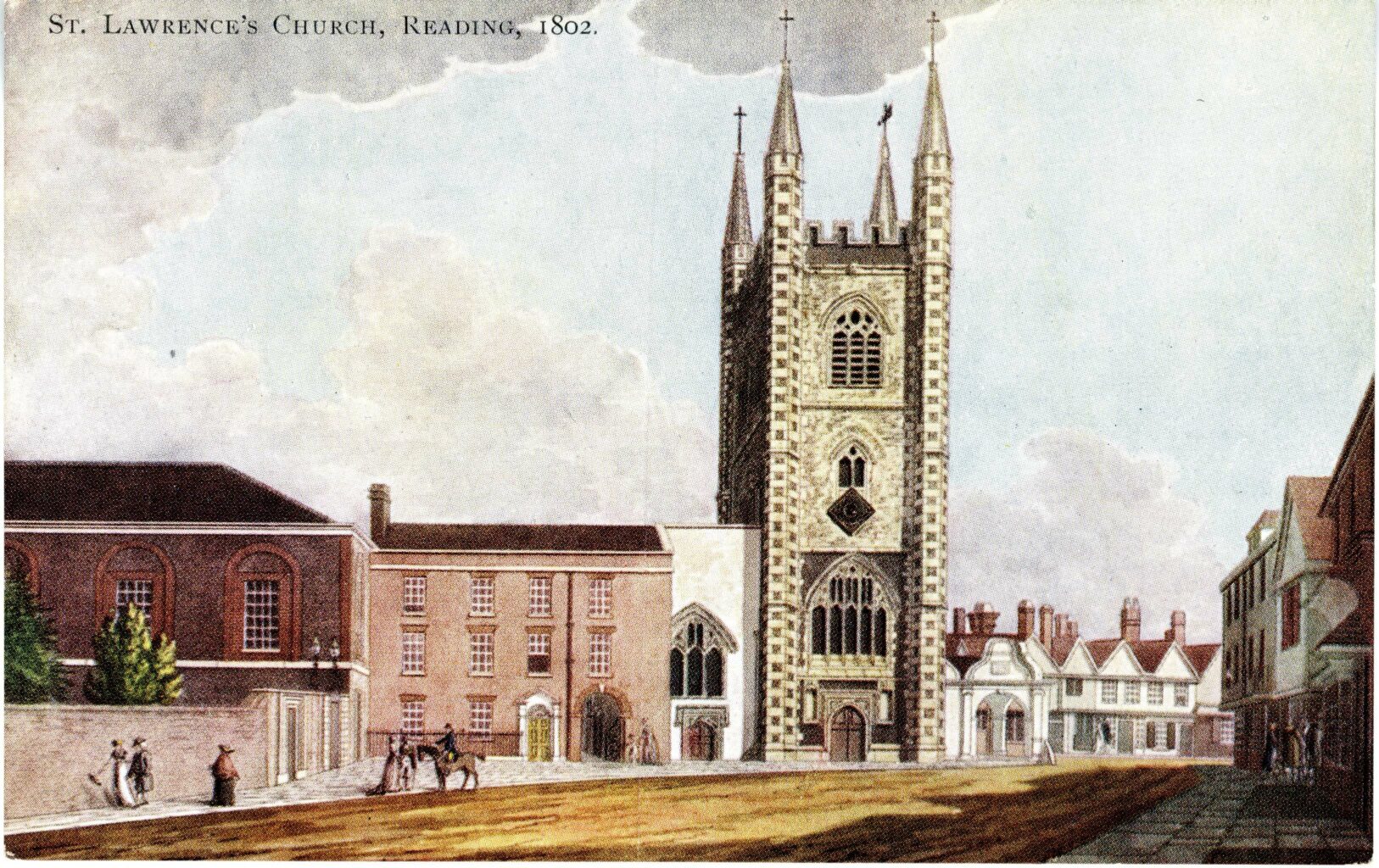 The musical life of Reading in the nineteenth century was dominated by three generations of the remarkable Binfield family. It was in September 1799 that 33 year-old Richard Binfield arrived in the town together with his wife Anne. They were to have no fewer than nine children. In this article I will concentrate particularly on Richard Binfield (1766-1839), his son John Bilson Binfield (1805-1875) and his youngest daughter Hannah Rampton Binfield (1809-1887).
Richard had previously worked in the theatrical profession but now described himself as a music seller and music teacher. Richard soon established the Binfield Music Warehouse at 159 Friar Street. It sold musical instruments (particularly pianos) and sheet music, and provided musical tuition and a library. In 1804 Richard became organist of St Lawrence's church, just a short walk from his business.
Richard became known as an excellent music teacher, but he was also an entrepreneur, and his most striking innovation was to found and direct a major series of what became known as the Berkshire Musical Festivals, from 1809 until his death thirty years later. They were held every three years and lasted from one to three days. The format was a morning performance of sacred choral works with orchestral accompaniment in St Lawrence's church (including Handel's Messiah), and in the evening 'a miscellaneous concert' in the Town Hall including lighter secular vocal and instrumental items followed by a Ball. The majority of the festivals featured choirs from cathedrals or leading parish churches including the Chapel Royal, St Paul's Cathedral, and St George's Chapel, Windsor. Richard organised these events with aplomb. His mantle was passed on to one of his sons, John Bilson Binfield, who organised a further two festivals, but they finally expired in 1846. Securing sufficient financial backing had always been an uphill task which in the end was too onerous.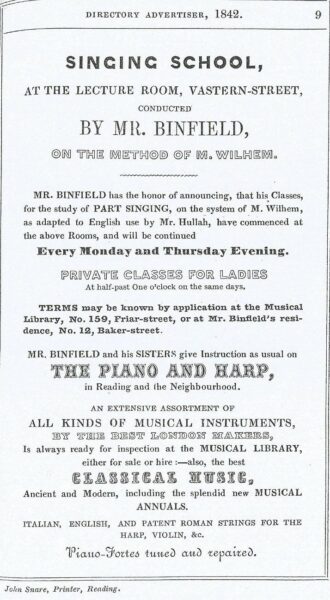 John Bilson Binfield and his wife, Mary, had six children. I shall later mention three of them briefly: Richard Leverton Binfield (1835-1860), Fanny Jane Binfield (1837-1881), and Louisa Donaldson Binfield (1839-1891).
John was a gifted musician who edited a number of important collections of church music, including The Reading Psalmody (1847) and The Choral Service of the Church (1847). But perhaps his most interesting venture was to establish a Singing School for adults and children in 1842. Its purpose was to teach the skill of singing music at sight from notation. This was part of a national mania for sight-singing which swept the country. His first class successfully completed a course of sixty lessons. The response was so encouraging that he developed a further series of classes designed specifically 'for Ladies, for Gentlemen, for the Middle Class, the Working Class, and for young children'. Outposts were established in Henley, Wokingham and Hartford Bridge (near Hartley Wintney).
In March 1844 John Pyke Hullah, the leader of the national sight-singing movement, paid a visit to Reading to see the progress that was being made in the classes. His lecture in the Town Hall was to be illustrated by 171 singers from the singing schools in Reading, Henley and Wokingham. The occasion attracted a capacity audience of 700. It was a great success. John Bilson  Binfield spoke movingly and with great emotion at the end of the evening which had been something of a personal triumph. 
However, by 1846 there appeared to be little evidence of the continuation of this popular rota of classes. John almost disappeared from view apart from his edited collections of church music. I found him unexpectedly listed in the Lunacy Patients Admission Registers from 1849. For over nine years he was incarcerated in a variety of asylums in Alton, London and Devizes. He suffered from what was described as 'mania', and eventually died in the Devizes asylum. Sadly, both John's sister, Mary, and his second son, Richard Leverton Binfield, were admitted to asylums in which they also died. The three tragic losses are poignantly remembered in the inscription on John's grave, 'Then are they glad because they are at rest'.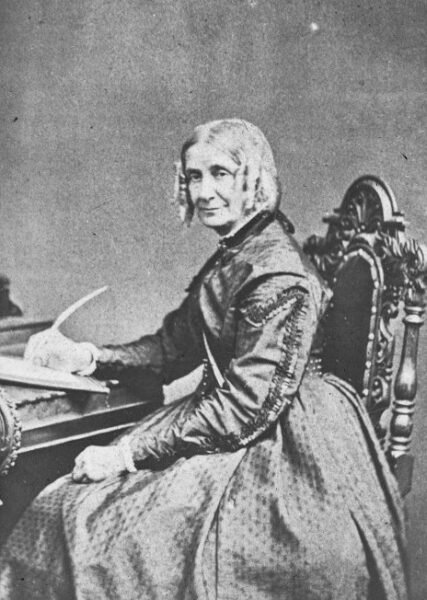 Hannah Rampton Binfield (1809-1887) was Richard's youngest daughter. On her father's death in 1839 she was unanimously elected to succeed him as organist of St Lawrence's church, a post she held for the next forty years. She also established a reputation as a published composer of drawing room ballads and works for the piano. 
Hannah excelled as a business woman and expanded the Binfield Music Warehouse in collaboration with her niece, Susan Havell, Richard's grand-daughter. By 1881 Hannah took the unexpected step of forming a business partnership with a celebrated song composer, Joseph Milton Wellings, and the firm became known as 'Binfield and Wellings'. Under its auspices the Royal Berkshire Academy of Music was set up to provide advanced instruction on the science and art of music.
However the partnership was dissolved at the beginning of 1884, and the business became 'Binfield & Co'. Hannah died in 1887. The Berkshire Chronicle commented on May 7th 1887 that 'Miss Binfield was a member of a family  which has long been connected with the musical profession in Reading. Miss Binfield's father, her brother,   her sister and many of her relatives have taken a prominent part in the history of music in the town'.
It fell to a third generation of the family to guide the company's future, including two of John Bilson's children, Fanny Jane Binfield, a much respected pianist, and Louisa Donaldson Binfield who taught both the piano and the concertina. 
As a postscript, on November 15th 1902 the Berkshire Chronicle reported that an amalgamation had taken place between 'Binfield & Co' and its main competitor, 'Frank Attwell's'. The new name was to be 'Frank Atwell's, Binfield & Co'. The Binfield business moved away from 159 Friar Street to Attwell's more spacious premises at 162-3 Friar Street. Thus ended a century's musical domination of the town by the Binfield family. It had been a remarkable collective achievement.  
The images in this article have taken from my newly published book, Music in Nineteenth Century Reading: A Family History (Scallop Shell Press). It is available from the author for £10 (or by post £11.50). Contact via