In May 1939, recognising that war in Europe was becoming more likely, the Military Training Act was passed by the British Parliament. This required every man aged 20 or 21 to present themselves for 6 months military service. My father, Leonard Sidney Frank Walter was drafted into the Militia on 17th July 1939 – just after his 21st birthday.
He first joined the Royal Artillery in Oswestry 11AA Militia Depot, having travelled by train from Newbury station. In the BFHS magazine of September 2012 I submitted a photo of him and 4 colleagues at Newbury station on the day of reporting for duty.
The original order from the Ministry of Labour Employment Exchange dated 30th June 1939 for his enlistment included a warrant for travel to Oswestry and a postal order for 4 shillings which would be recovered from his pay. Clearly not much notice was given, and he was also told to take his unemployment book and health and pensions insurance contribution card etc. The letter finishes by stating that Len should inform his employer of the date he was required to report for military service. This must have been happening all over the country with employers being given 17 days' notice (i.e. three working weeks) or less of their young employees' departure.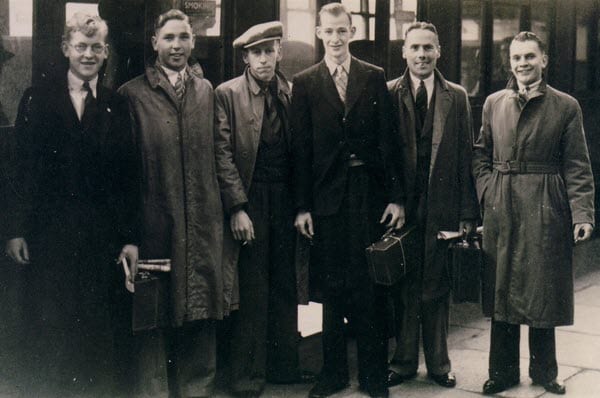 He was to be supplied with a complete outfit consisting of uniform equipment, underwear, socks, washing necessaries, shaving and cleaning kit. He was advised that he could bring a suitcase containing other articles but was told not to bring too much in case it would not fit in the kit box. Judging by the size of the suitcases carried by his companions at Newbury station, the latter warning was taken seriously. Len does not have a case in his hand, so it is possible he left with few possessions.
His sisters tell that he was sent to Benbecula, in the Outer Hebrides, as part of the anti-aircraft defense – and at some point he shot down a Messerschmitt. Apparently, he was in charge of firing. He spent the first few months of his military service as an 'ordinary ranks' soldier but then his potential was noticed. He was discharged from the ranks and was sent to Officer Cadet Training Unit in Shrivenham, Berkshire in November 1939. Thereafter he went to SAAD (School of Anti-Aircraft Defense) in Manorbier, Pembrokeshire, Wales for officer training and gained his commission in April 1940, becoming a 2nd Lieutenant in the Royal Regiment of Artillery (Army number 1497930).
Subsequently he went to Saighton Military Camp in Cheshire. This camp was created between 1938 and 1939 for use as a military training camp. It was established as a basic training facility for light anti-aircraft batteries and subsequently became the primary training centre for the 233 Light Anti-Aircraft Training Regiment of the Royal Artillery. The camp was used by many other branches of the army after the war but finally closed in 1999. It is now a housing estate.
Before long it was discovered that Len had experience with pigeons, having owned a pigeon loft with many pigeons at his home in Enborne before the war. His uncle Sam Purton was a great pigeon fancier and Len learned a lot from him. When he was called up, he had shot all his pigeons at home since he could not otherwise keep them. His younger sister Sybil remembered that day and how sad he was. Len joined the Royal Corps of Signals carrier pigeon section as a 2nd lieutenant in June 1940 and was sent to Dunfermline attached to the 5th Command Signals. Then he was posted to Edinburgh where he remained from June 1940 to July 1942. Here he was promoted to A/Captain in 1941. He was in charge of pigeon lofts in Stranraer and Edinburgh as shown by his photos from that time.
The carrier pigeon service had existed in the British Army in WW1 when trench warfare meant that communications were difficult. It was calculated that over 90% of all messages sent by pigeon were received. After that war and with the development of wireless, the British Army let its pigeon service decline, unlike some other nations. However, in WW2 the value of pigeons was once again recognised. Every fighter pilot carried two pigeons so if shot down they could be released with their coordinates to be rescued. Some but not many of these pigeons were successful in their mission. Others were used to carry messages and vital strategic data from the front line or from occupied France and Belgium back to the UK. Several pigeons were awarded the Dickin medal, the equivalent of the Victoria Cross for animals. It has been calculated that over 250,000 pigeons were deployed in WW2.
My father's war record shows that on 21st July 1942 he was in the Edinburgh Royal Corps of Signals Regular Army Emergency Commissions Central Pigeon Service as a 2nd Lieutenant (Captain). He was given embarkation leave of a few days before leaving for the Middle East to be deployed to the Middle East Pigeon Service. He went home to see his family and that was the last time any of them saw him until 1946.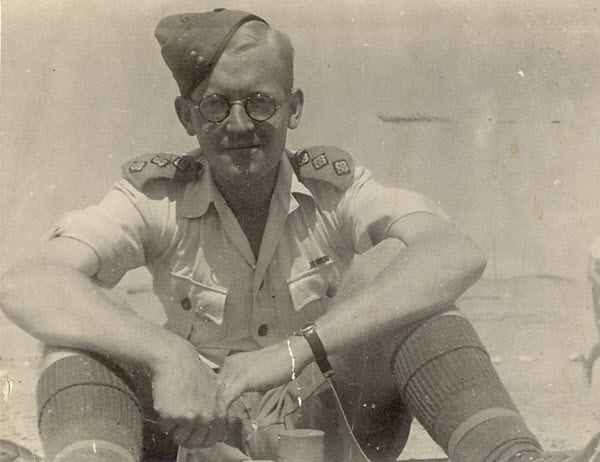 He was given the rank of Captain in charge of 13HQ Sections Carrier Pigeon Service and arrived in Egypt in October 1942. The Middle East Carrier Pigeon Service (MEPS) had been set up in early 1942 with just six birds after the realisation that pigeons were still useful to the war effort despite the new technology of wireless. The commanding officer of MEPS was Lt/Col J.A. Hollingworth, described in Garry McCafferty's book They had no Choice: Racing Pigeons at War published 2002 by Tempus, as a perfect gentleman. Len joined Hollingworth in MEPS on 29th October 1942 and was promoted to acting Major on 31st of that month, aged 24. MEPS was based in the desert at Maadi Degla just outside Cairo and Len was in charge of lofts based in Jerusalem. The MEPS lofts covered an area from the Turkish border into Lebanon, a distance of over 200 miles. The pigeons trained by MEPS were used by the Eighth Army based in Palestine and later Italy and the Ninth Army and RAF.
Len was also a keen photographer and experienced in developing his own prints. A photograph album survives of his time in the Middle East. Although a lot of the pictures are black and white snaps of pigeons, there are also some interesting details such as the documentation of the first pigeon to be released from an aeroplane.
Len's army record shows him in July 1943 aged 25 as being the officer commanding several lofts used for breeding and then training the carrier pigeons. During the course of his tour of duty he was based in Jerusalem but travelled to many places in the Middle East since lofts were distributed over what was then known as Palestine, but were also in places such as Idlib and Aleppo in Syria, Rutbah in Iraq, Beirut in Lebanon, and Nicosia in Cyprus. It had become apparent that there were problems with pigeons returning to their fixed lofts if the theatre of war had moved so a training programme began, known as NOMAD, where pigeons were trained to leave an aircraft at 1000 feet to return to distinctive mobile lofts irrespective of their location. From there they would then be released to fly back to their home loft. According to David Long in his book Animal Heroes: Inspiring True Stories of Courageous Animals (previously published as The Animals' VC) published in 2013 by Arrow, one of the first pigeons to receive the Dickin medal was Tyke MEPS 43 who in June 1943 contributed to the rescue of RAF personnel in the Mediterranean, using this method.
In April 1944 the war diaries of MEPS contain a letter written by Captain Walter describing the tests to compare the relative merits of using pigeons to carry messages written in a conventional manner on paper and those converted into microfilms. The aim was to determine which method was the more effective and faster form of communication. In theory writing directly on paper was faster but micrograms had the virtue of allowing much more information to be carried by each pigeon. The downside was the time to photograph and produce the microgram at the start and then to develop the microgram at the receiving end. According to the letter written by my father these experiments appeared to demonstrate that microgram technique could be useful, but it is not clear whether it was ever used in action. Looking back from the 21st century communications revolution it is difficult to imagine the difficulty of obtaining information three quarters of a century ago. In the desert radio signal was difficult and telephone cable impossible to lay so pigeons played an important role in vital battles such as that of the North African and Italian campaigns.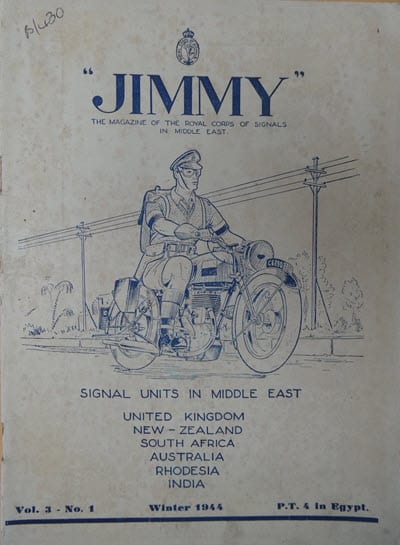 Len remained in the Middle East after the war was over and in February 1946, he was transferred to Maadi BVD (base vehicle depot) and School and appointed Garrison adjutant. In the process of clearing up after the war pigeons played another vital role since other communications had been cut during battle, so the MEPS still had work to do.
In March of that year he was granted leave with HRM (Palestine). HRM means higher rate messing so he was awarded a higher rate of allowances according to the scale in Palestine. Army personnel in the desert often went to Cairo for their leave and a photo of the Sphinx and Pyramids in my father's album would certainly indicate he had been there. The Royal Corps of Signals MEPS published a magazine called "Jimmy" throughout the war and often there were advertisements in this magazine for shops and restaurants in Cairo.
In April 1946 the army record shows that Len was in 63rd General Hospital (X11) hospital in Helmieh, Cairo for 4 days (9-13th April). He returned home soon after this hospital admission. How soldiers were returned home from overseas was determined by a process code named PYTHON. After a period of overseas duty men were eligible for a home posting. The length of overseas duty one had to perform before triggering PYTHON rotation back to the UK changed throughout the war, and it depended on which theatre you were in. PYTHON was originally set at six years, and by the end of the war it had been reduced to four years and nine months in Europe and the Middle East and three years eight months in the Far East. Len's war record shows that he was PYTHON SOS (struck off strength) WEF (with effect from) 24th June 1946 arriving in UK on 25th July 1946. He was finally demobilised from the army on 6th December 1948 at the age of 30 with the honorary rank of Major. He never talked about his army service apart from to recall being the guest of honour at a dinner in the desert where he was offered and had to eat a sheep's eye. To have refused would have caused great offence. My mother said that he would never eat rice at home, saying that he had had enough to last a lifetime whilst in the Middle East. My father thus had a different war from many of his friends, and the role of the MEPS deserves to be remembered for the essential role it played.