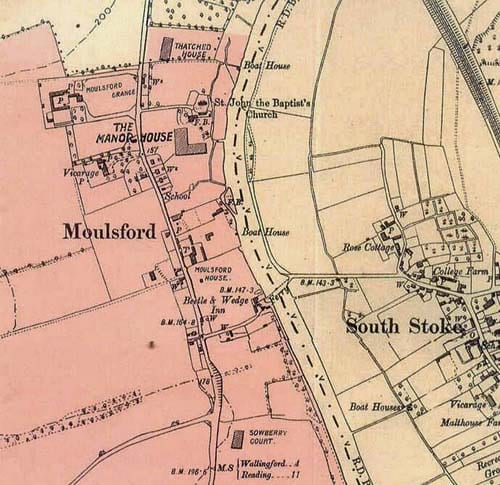 Moulsford is a Thames-side village and parish north of Streatley, formerly the site of a river crossing by ford and ferry to South Stoke on the opposite bank.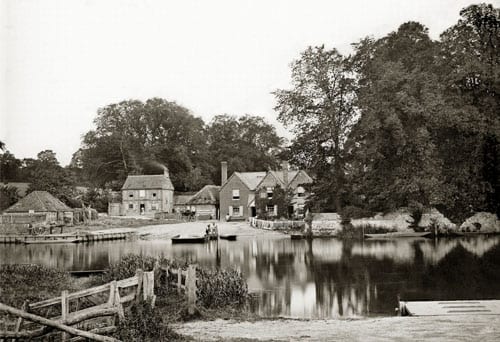 Old Moulsford ferry in 1885 photographed by Henry Taunt
There is now a bridge.
Originally within Berkshire, Moulsford transferred to Oxfordshire in the 1974 boundary changes.
The GWR mainline from London to the West Country arrived in the village 1838-39, forming the northern boundary of the parish. Later, Moulsford Station was renamed Wallingford Road, reverting to Moulsford Station again in the 1870s. In 1892 Moulsford Station closed, and was replaced by a new station in Cholsey.
Local place names
Halfpenny Lane, Mead Corner, Underhill, Glebe Close, Meadow Close and Honey Lane
Size
1,441 acres (583 hectares)
Population
526 in 2001; 168 (?unclear on CD) in 1851
Hundred
Moreton
Poor law union
Wallingford
Registration district
Wallingford
Present-day local authority
South Oxfordshire
Grid reference
SU 58 38
Adjoining parishes in 1851
Aldworth, Aston Tirrold, Cholsey, Streatley, Goring (Oxon), South Stoke (Oxon)
Genealogical records
See Berks FHS Books for coverage of this parish in the society's range of CDs.
See also Berkshire Record Office holdings.
Anglican church and parochial organisation
Moulsford was originally a chapelry of Cholsey, first mentioned between 1220 and 1227. The present-day church of St John the Baptist, designed by Gilbert Scott, was built on the foundations of the medieval chapel in 1846, retaining the west wall of the original church. The living is a rectory in the archdeaconry of Berkshire and the diocese of Oxford.
Schools
A village school founded in 1828 closed in 1970, when pupil numbers fell, and the building is now Clock House, shown below.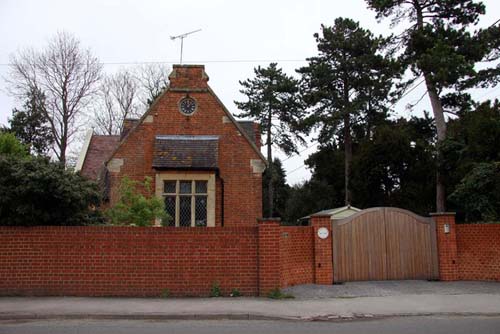 © Copyright Steve Daniels, Creative Commons licence
There are two private schools:
Cranford House School<http://cranfordhouse.net>; was founded in 1931 by Miss W E Laurence in her own home, Cranford House. To accommodate growing numbers the school acquired and moved into Moulsford House (illustrated below), across the road, about 20 years later. Today it has 390 pupils.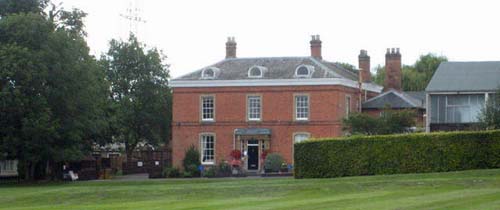 Wikipedia Commons image
Moulsford Preparatory School<www.moulsford.com> was founded in 1961. It is a private school for boys up to 13 years.
Pubs
The Beetle and Wedge on the River Thames <www.beetleandwedge.co.uk> marks the site of the old ferry crossing. The name comes from woodwork, a beetle being a heavy mallet. The pub was enumerated under that name in 1851, and was immortalised in both Kenneth Grahame's The Wind in the Willows and Jerome K Jerome's Three Men in a Boat.
Other local history
The Moulsford Asylum , as it was known from 1867-97 (later
the Berkshire Lunatic Asylum, 1897 – c1915,
Berkshire Mental Hospital, c1915-48;
Fair Mile Hospital, Cholsey, 1948 – 2003)
is described in its the article on Fair Mile Hospital.
A gold torc, a heavy crescent-shaped necklace made from four twisted gold bars and dating from around 1200BC, was found in a local fields in 1960. Forty years later a second torc was found close to the same site. Both are in Reading Museum.
Moulsford has been used in the filming of Midsomer Murders.
A post office opened in the village in 1854, and closed in the 1960s.