Midgham is a village and parish in the Kennet Valley, about 2.5 miles east of Newbury. The A4, the river Kennet, the Kennet and Avon canal and the railway all run through it. The river Kennet forms the southern boundary. Midgham Lock stands on the canal.
Population is scattered between several centres: around the church of St Matthew, the village green, New Road Hill and the A4 Bath Road.
Size
1,436 acres  (581 hectares)
Population
250 in 1851 (an unaccountable drop from 354 in 1841); 334 in 2011
Poor Law union
Newbury
Registration district
Newbury
Present-day local authority
West Berkshire
Grid reference
SU 55 67
Adjoining parishes in 1851
Brimpton, Bucklebury, Thatcham and Woolhampton
Genealogical resources
See Berks FHS Books for coverage of this parish in the society's range of CDs.
See also Berkshire Record Office holdings.
Links
Published local history
John Trigg
As we were 1901-1930 a view of Edwardian and Georgian Woolhampton and Midgham
Austerity to affluence Woolhampton, Midgham, Brimpton and district 1945-1960s
Before the fountain a view of Victorian Woolhampton and Midgham
Anglican church and parochial organisation
Midgham lies within the deanery of Newbury and the archdeaconry of Berkshire, which transferred from Salisbury diocese to that of Oxford in 1836. Until 1857 it was a chapelry of Thatcham.
The chapel of St Margaret (pictured below), believed to date from the fourteenth century, was rebuilt in 1714 by John Hillersdon. The old church stood to the north-east of the present building in the grounds of Midgham House.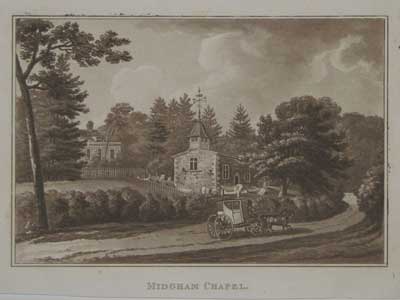 It was replaced by the parish church of St Matthew, built in 1867, 10 years after Midgham became an ecclesiastical parish.
The church is now part of a larger benefice with St. Peter's, Woolhampton and Mary's, Beenham.
Schools
A school existed in Midgham by 1819 for around 30 children, supported by the Poyntz family. By 1833 it educated 30 boys and 26 girls.
The schoolmistress in 1851 was Elizabeth Wallin. This was probably the origin of the present-day Midgham Church of England School, for which managers' minutes 1904-65 and correspondence 1945-66 can be seen at the Berkshire Record Office.
Other local history
Midgham Park and Midgham House (pictured below in 1826 and in the 1960s), a large estate of medieval origin, was acquired around 1735 by the Poyntz family. Stephen Poyntz (1685 – 1750) was governor and steward of the household of William, Duke of Cumberland, second son of George II. The duke spent some years as a boy at Midgham, where two rooms were for centuries known as the Duke's Rooms. Stephen was succeeded by William Poyntz (1734 – 1808), followed by his son William Stephen Poyntz ( 1770 – 1840). The estate was sold in 1946.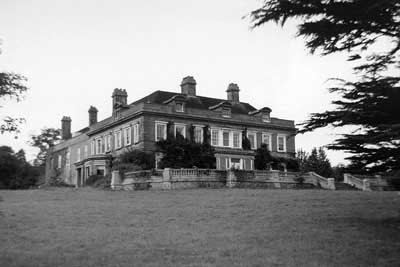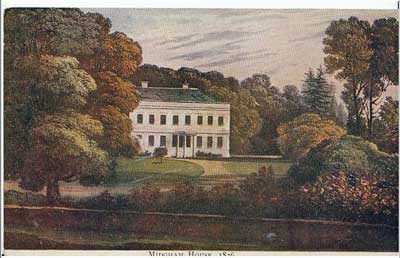 Button Court Farm, formerly belonging to the Tull family, was transferred to the Midgham Park estate in 1775.
John Jeffreys of Midgham was closely associated with John Harrison's invention of the longitude clock in the mid-eighteenth century.
Hall Court House was another of Midgham's big houses. It became Midgham Vicarage in 1869. Hall Court Farm had 170 acres in 1851.
Other farms of 1851 included Bird Farm (333 acres, employing 17 men), Midgham Farm (326 acres, employing 15 men) West End Farn (170 acres 1851, employing seven men) and Park Farm.
Three men were employed in rod growing in 1851.
The railway station at nearby Woolhampton was renamed Midgham in the 1930s, supposedly because of regular confusion with Wolverhampton in the West Midlands.
The village hall was built in 1938.