Long Wittenham is a village and parish on the right bank of the river Thames, between Didcot and Abingdon.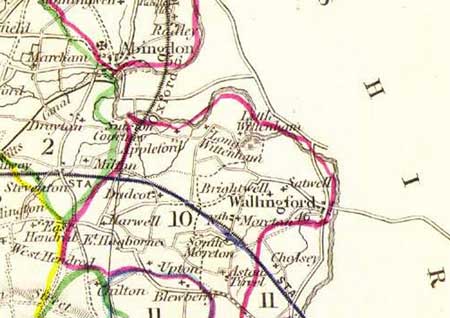 It was in Berkshire until the boundary changes of 1974 moved it into Oxfordshire. In the distant past it has been known as Earl's Wittenham, West Wittenham and Great Wittenham.
Nearby is the beauty spot known as the Wittenham Clumps, also called the Sinodun Hills.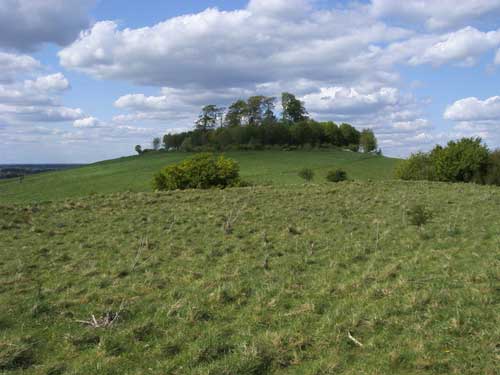 Wittenham Clumps from Castle Hill looking across to Round Hill
 © Copyright Shaun Ferguson and licensed under Creative Commons
Local place names
In the 1851 census: Perith's Farm, Northfield Farm, Clifton Ferry, Marsh Farm.
Size
2,275 acres (1920) (921 hectares)
Population
606 in 1851; 887 in 2011
Hundred
Ock
Poor Law union
Wallingford
Registration district
Wallingford
Present-day local authority
South Oxfordshire
Grid reference
SU 45 93
Adjoining parishes in the nineteenth century
In Berkshire: Appleford, Brightwell-cum-Sotwell, Didcot, Little Wittenham, North Moreton, South Moreton.
In Oxfordshire: Clifton Hampden and Dorchester.
Genealogical resources
See Berks FHS Books for coverage of this parish in the society's range of CDs.
See also Berkshire Record Office holdings.
Oxfordshire Libraries holds Saint Mary the Virgin, Long Wittenham monumental inscriptions transcript, CD published by Oxfordshire Family History Society, 2004
Links
Published local history
Long Wittenham: a walkabout guide (Long Wittenham Local History Group, 1996)
K B Jewess Parish of Long Wittenham 1800 – 1920 (1984)
and a series of "Chronicles" published by Long Wittenham Local History Group
Anglican church and parochial organisation
The living of Long Wittenham is a vicarage in the diocese of Oxford. Today it forms part of the Bridge Group of parishes, which also includes Little Wittenham, Clifton Hampden and  Culham.
Long Wittenham's church of St Mary (sometimes known as St Peter according to VCH) was begun around 1120 on the site of an earlier Saxon church. The Norman font is rare, being made of lead, which was later encased in wood to protect it from Puritan desecration during the Civil War. The church has the smallest monument in England: a stone effigy of Gilbert de Clare, just 26 inches long.
Other churches
The Compton Census of 1676 counted eight Separatists in Long Wittenham.
A Baptist meeting house opened here in 1823.
The Primitive Methodist chapel was built in 1820, rebuilt in 1882 and decommissioned as a place of worship in 2006.
Schools
Long Wittenham had a daily school founded in 1831, to which land was given by the Rev James Clutterbuck in 1856. Its successor today is the Church of England primary school.
Pubs
Past pubs include the Three Poplars, listed in the 1881 census and now a small museum.
Today there is the Plough (also mentioned in the 1881 census), the Vine and Spice, and the Barley Mow (by Clifton Ferry).
Other local history
Numerous remains of early man and Romano-British times have been found. A Saxon cemetery was excavated in the mid-nineteenth century.
In 1868 a fire destroyed many buildings in the village.