Little Wittenham is a village and parish on the right bank of the river Thames, three miles north-east of Didcot. Formerly in north Berkshire, it was transferred to Oxfordshire in the boundary changes of 1974.
South of the village are Wittenham Clumps, beech trees which cap the Sinodun Hills, site of Iron Age occupation and of several local legends. On a beech tree here twenty lines of verse, now illegible, were inscribed by the Victorian poet Joseph Tubb of Warborough Green in praise of the surrounding landscape.
North-east of the village, a footbridge over the Thames leads to Dorchester-on-Thames, and Day's Lock, which is well known locally for the Annual Pooh Sticks World Chamionships.
69 hectares of Little Wittenham form one of only 220 European habitats designated as a Special Area of Conservation. A nature reserve was established in 1982 by the Northmoor Trust, and is part of a of 300-hectare estate, which includes a conservation farm and a new woodland dedicated to forestry research. Earth Trust, a conservation charity based in Little Wittenham, organises regular events to do with gardening, wild food, lambing, bushcraft and ornithology.
Local place names include Trottamere, the landing-place on the river bank in the wood, also known as Trotman's, or Devil's Stairs; east, south, south-west and north-west slopes of Sinodun are known respectively as Buttings Furlong, Pecks Furlong, Port or Putt Furlong, and Warren Pecks.
Other names are Upper and Under Shinnel (where Little Town stood), Old Oxford, Town Furlong, Hop Garden, Hardwells Furlong, Wollens Field, Raw Meadow and Mare Furlong.
Size
888 acres (356 hectares)
Population
128 in 1851; 140 in 2011
Hundred
Ock
Poor Law union
Wallingford
Registration district
Wallingford
Present-day local authority
South Oxfordshire
Grid reference
SU 56 32
Adjoining parishes in nineteenth century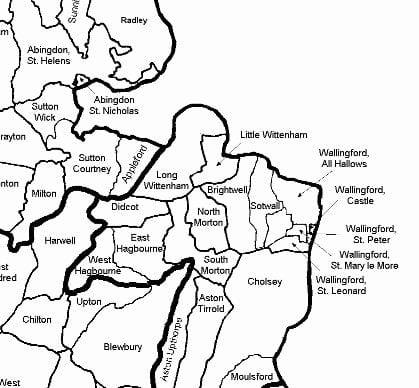 Genealogical resources
See Berks FHS Books for coverage of this parish in the society's range of CDs.
See also Berkshire Record Office holdings.
Anglican church and parochial organisation
Little Wittenham is a rectory in the archdeaconry of Berkshire, diocese of Oxford.
The parish church of St Peter was mostly rebuilt in 1862, although its fourteenth-century tower, pictured in a 1931 drawing below, is original.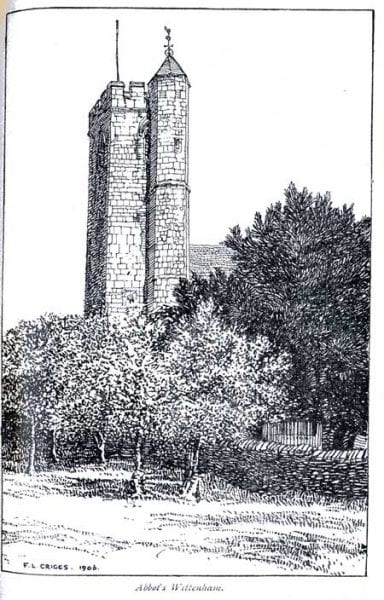 The parish of St Peter's is now part of the Bridge Group (Clifton Hampden, Culham, Long with Little Wittenham).
Schools
Little Wittenham is not known to have had a school, but a Parliamentary enquiry of 1833 noted that the rector's wife instructed a few children on Sundays.
Other local history
The Dunch family occupied Little Wittenham from the end of the sixteenth century until 1837, and they are memorialised in the church. One of their number was Oliver Cromwell's aunt.
Earth Trust, an environmental learning charity, is based in Little Wittenham, where it owns and manages a 500-hectare (1235 acre) estate.