What then happened to Charlie?
Charlie had concluded his letter of 22 October 1915 by informing his parents from Plymouth that "we are going at 12 o'clock this morning". We learn later that his Unit had been posted to
Egypt. He sent to his young brother Jack a Christmas card showing camels and a desert oasis but it is not until 1 March 1916 that we find in the Collection a letter from Charlie in Egypt. He is now 16 and has just heard from his father that his brother Jim has been killed. He replied:
Trpr C. C. Butler, No 2563

Squadron, Berks Yeomanry

Base Post Office, Alexandria. Egypt

March 1st 1916

Dear Father

I received your letter containing such bad news on 27th Feb. You must know how I feel but I try to think as little as possible about it.


It must have been an awful shock to you and Mother but it is the most noble death anyone can die in defence of his country. I expect you wondered why I did not send Well on Saturday I was on camel guard all day and when I finished in the evening we were told that the Squadron (B) had to go on a four days trek. We had to escort a convoy half way back to Daba to meet another one coming from Daba and escort it back to Matruk.


I intended to write a letter on Saturday and get it signed & posted on Sunday but as you see it was impossible.


I expect you wonder what camel guard is. Well five of us had to take about 50 captured camels, mostly young ones, out to graze all day. We were on our horses of course and had to drive them like sheep. Some of the horses are very frightened of camels but I managed to get my horse used to them in the course of the day.


By the way if a week or two goes by with-out you hearing from me don't worry as we never know when we have to go on these trekking jobs.


I must close now hoping you and Mother will bear your grief as bravely as possible.


Your affectionate son, Charlie

This was a brave and adult letter to write. The next letter we have from Charlie is dated 28 March 1916. It starts:
Dear Mother
I hope you are not worrying, because you have not heard from me lately but on the trek it is impossible to get a letter sent.


We have been having a hard time lately although we have been lucky enough not to see any fighting. I say lucky enough to see no fighting, although in a way I should like to have a scrap but I remember that if I get killed that it is not really myself who suffers but the people at home, & of course if we have a fight there is always a risk of not getting through.
This letter is 9 pages long and describes in great detail this "trek" which, it is clear, he enjoyed greatly. He is obviously a proficient horseman and he loves action. There had been much tough fighting against the formidable Senussi (Saharan desert peoples from what is now known as eastern Libya who had been fighting against colonising Italians). The Ottomans and their German allies had succeeded in drawing the Senussi into supporting their ambitions in Egypt and the Middle East1.
Charlie's unit was well prepared to fight but they found that many of the enemy had already been killed and the remainder had fled into the desert. Indeed, the record shows that the Senussi were finally defeated at Agagia on the coast near Sollum on 26 February, a week or so before Charlie arrived at Sollum on his 'trek'2. The timing of Charlie's engagement was fortunate for him. His letter continued:

"We off-saddled, fed, & had our dinner of bully beef & biscuits, & then started to climb "Hell Fire Pass" which took us about an hour as it was so steep, rough & winding.


We had a short rest on top and as no enemy were in sight we had to burn all tents in the district.


After coming down the hills again (it was not nearly so steep) we arrived at Solum about 6 o'clock in the evening, but did not get in bed till after 12 o'clock. About 3 hrs before we arrived at Solum 6 armoured cars in line charged about 200 Senussi, killing about 100, capturing about 9 machine guns & two or three guns, and captured a Turkish officer."

He draws his story to a close:

"After stopping at Solum about a week we trekked back to Matruk (about 9 days trek) arriving a day or two ago.

In the Collection, there are a further four of Charlie's letters home from Egypt. Charlie took no further part in military operations in Egypt. He wrote on 14 April 1916:

"I expect you will be glad to hear that the fighting on the Western Frontier of Egypt is finished and that we are back in Alexandria or at least at Sidi Bishr a camp after the style of Mena, just outside Alex.


Of course when we reached here there was a big mail for us and I had two parcels, two letters, & two papers from you, a paper from Aunt Sara & a parcel from Aunt Sara & a parcel from Aunt Carrie, also a letter from Maurice & a letter from Frank so you see I have enough writing to do to last me a month or two."
He wrote on 25 June about going into hospital at Mineah for he was having a battle with septic sores on his legs and feet. He wrote briefly on 27 July and then again on 18 August. It is clear that he is expecting to return to England soon:

"I arrived at Alexandria today and I am with the Base Details but as I told you in my last letter don't expect me home in a fortnight's time as it may be a couple of months and also don't send any more parcels."

His final letter from Egypt, dated 26 August 1916, tells his mother:

"I am still at the Yeomanry Base Camp at Bishr, but I have no idea when the boat will be going.


I went in to Alexandria the other night and had rather a decent time but there is not nearly as much to see there as there is in Cairo.


I would like to have another decent look round Cairo before I leave but I am afraid I will not have the chance. I don't know if I will get any more of your letters or if they will be sent straight back to Yeomanry House but of course don't send any more money.


I enjoy the sea bathing here but in the middle of the day the sea is so warm you could stop in for hours. I usually bathe in the early morning and evening."

And thus closes Charlie's life in Egypt and his service as a trooper in the Berkshire Yeomanry. We do not know the circumstance of his leaving. He was still only 16 and his father was entitled to apply for his discharge. But we do know that soon after his return to England he was well occupied.
I was aware that Charlie had served in the Royal Naval Air Service as a pilot. I remember as a boy him telling me about flying in the Alps and I knew that he had flown in France. He would have been an officer and I decided to search for his record on the internet: records of commissioned officers were easier to find than records of 'other ranks'. Very quickly, for a small fee, I had his service record from the Royal Air Force (from The National Archive). As well as his RNAS/RAF service, this record mentioned his service in the Berkshire Yeomanry and what he had been doing in between.
I learnt that Charlie had from November 1916 to October 1917 been employed at the Royal Aircraft factory at Farnborough, performing "rigging and engine repair". This, I had known nothing about. Farnborough is only 20 or so miles from Reading and an easy daily motorbike ride away. He had loved horses but he was now fascinated by planes!
I learnt from his service record that Charlie joined the RNAS at Greenwich on 7 October 1917 and that on 6 November he transferred for flying training to Vendôme in central France, about 35 miles north of Tours. On 21 November he reported home that:

"I have done 2½ hours "dual" and I think after another hour I will be able to fly well enough to go "solo". It is jolly fine fun when you can fly as we are allowed to leave the aerodrome and do cross country flying to Tours and all the various places round about."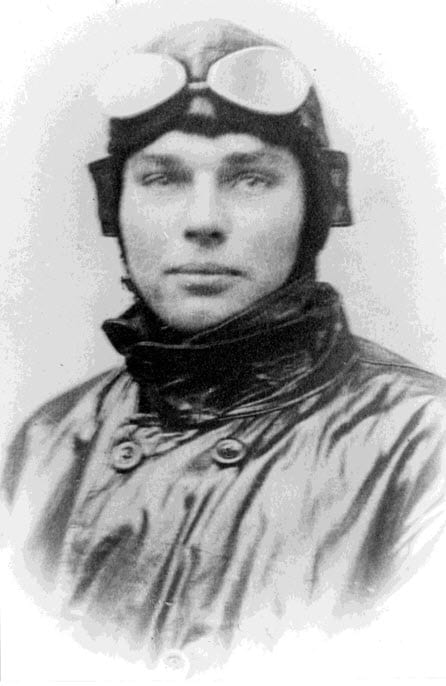 The envelope of this letter was signed over the Censor's chop by PFO (Provisional Flying Officer) CC Butler RN. Charlie is now entitled to censor his own letters! He is 18 years and 14 days old.
The trainee pilots were poorly kitted out. Charlie had had to send home for his own goggles. In his next letter of 25 November he reports:
"I went up the other morning without an overcoat and it came on to rain while I was up so as you can guess I got pretty wet."
Charlie continues:
"We get paid next Saturday and I think we are getting our kit allowance. It is possible to register money but I don't think they guarantee it across the channel so I suppose I shall have to keep it till I get home. I think my pay will come to £20 but as the food is pretty bad we have to buy a good bit so that means rather a big mess bill."

About 3 weeks after arriving at Vendôme, Charlie wrote on 3 December that he went solo and was clearly excited. He did not land well after his second solo flight and had to have further training flying 'dual'. Charlie's final letter from Vendôme was dated 18 December.

"I have only another 4 hours to do so if we have one fine day before next Saturday I will be home by Christmas. Of course don't count on my being home but it is quite possible.

I am flying a different type of machine now and did an hour and a half this morning but it came on to snow just as I got down so I could not go up again."

We cannot tell from the Collection if Charlie got home for Christmas but we do know from his service record that on 5 January 1918 he was posted to RNAS Cranwell for instruction and from there on 28 March to RFC (Royal Flying Corps) Ayr for the completion of his training. On 1 April 1918, the RNAS and the RFC were amalgamated to form the RAF. Charlie joined 66 Squadron (ex-RFC) from Ayr, probably in May or early June 1918 (his service record is unclear).

66 Squadron had been with 14 Wing in Italy since October 1917. It had previously been fighting on the Western Front at Arras in France, flying Sopwith Pups. These were ex-changed for Sopwith Camels when the Squadron was transferred to Italy. The Sopwith Camel

'was a highly-strung animal, difficult and dangerous to fly. Deadly in the hands of a novice, many a student was killed while learning to fly the Camel, but in the hands of a skilled pilot, able to take advantage of its temperamental flying characteristics, it was an extreme dog-fighter that could out-manoeuvre any contemporary airplane with the possible exception of the Fokker DrI Triplane.'2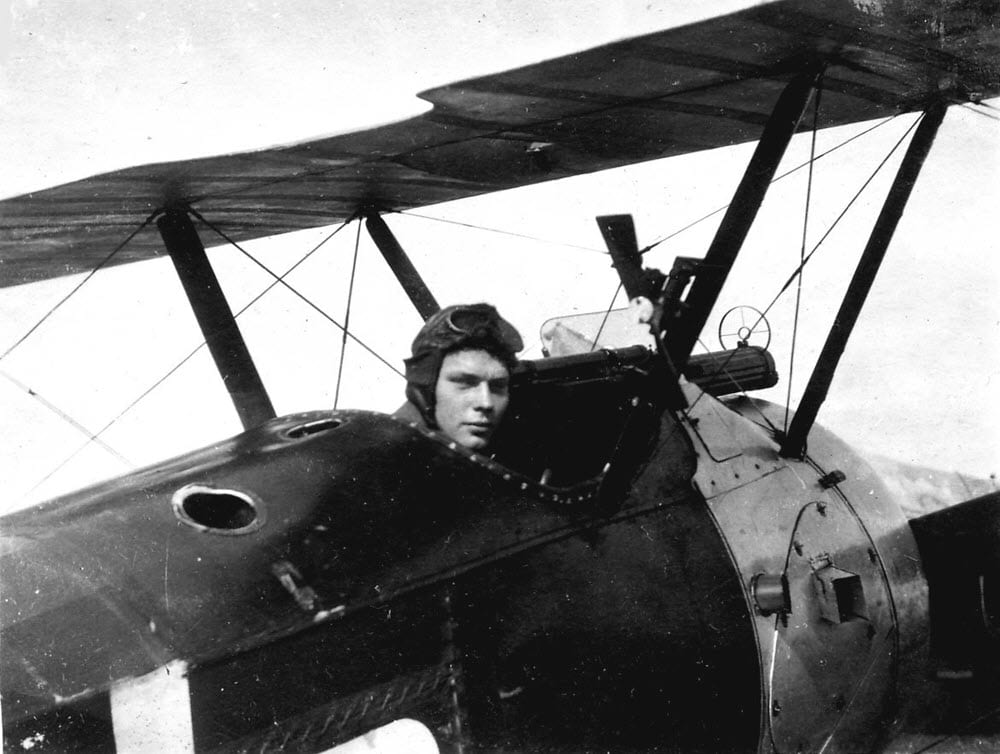 66 Squadron was providing aerial support with-in the Italian Expeditionary Force fighting the Austria-Hungarian Army. The Italians repulsed the Austro-Hungarians at the Second Battle of the Piave River (June 1918) and then effectively destroyed them in the same sector at the Battle of Vittorio Veneto (October-November 1918)3. Charlie, with 66 Squadron, was actively engaged in that final battle.

Charlie wrote on the 5 November of fighting which presumably occurred on or before
4 November.
Dear Mother,
Sorry I have not been able to write for a long time but we have been so busy lately that all our spare time has been spent resting.

I suppose you have heard all about the push out here which has been very successful. My chief job in this push has been low bombing of troops and transport. We go right down to a hundred or fifty feet so that it is almost impossible to miss. We then turn round and fire about 500 ma-chine gun shots at them from the same height.


This is being carried out all day by our squadron, so I think it has done a lot to throw this retreat into confusion on our part of the front. I myself have dropped about 50 bombs during the last few days so that about fifteen men doing the same thing means about 750 bombs by our squadron alone.


I have also had a proper scrap during this push. There were three of us on a bombing patrol when we noticed three huns diving to attack us. We then let our bombs drop on a goods train and went to attack the huns.


One of our three who was a fairly new man was shot down in flames I am very sorry to say at the beginning of the fight.


I then noticed one of the machines which I had been firing at dive down with smoke coming from it but could not wait to see if it crashed as I had to start fighting one of the others. About five minutes later my leader shot one of the others in flames and shortly afterwards the last one also went in flames.


On the whole I think it was about the most exciting quarter of an hour of my life.
I have also had a crash since I last wrote home. I was returning low from one of these bombing raids when a bullet hit my engine. I managed to get over our side of the lines by sheer luck before the engine cut right out and I had to try and land in an orchard.


I think I was very lucky as I was imprisoned upside down in the cockpit of the ma-chine until some Italian soldiers came and lifted it off which luckily was not long.


Well I think I must close now of course I suppose you have heard the peace news out here. We are under canvas but it is not too bad.


I am your affect son, Charlie

The war between Austria-Hungary and Italy ended, the Armistice between them coming into effect late on 4 November 1918. Charlie wrote on 8 November, fighting is over and he now has time to write:

"I don't know what will become of us now. I suppose I must just wait and see. Of course it is nice in a way without any war but after the patrols and bomb raids that we have been doing lately it seems to take all the excitement out of life. However I suppose we will get used to peace just the same as we have done to war."

And, later in the letter, he describes a dangerous incident during some intense fighting on the last day:

"I think I had the nearest shave to going west on the last day. I was just going to drop my bombs when I felt a terrific whack and stinging sensation on my arm. I must own I was rather dazed for the minute but when I looked down I found that a piece of shrapnel had come through my cockpit and gone clean through a Very Light cutting it in two pieces.

A Very Light is a sort of rocket affair which we fire from a large pistol to signal in the air. I think I was extremely lucky as if it had set it alight my machine would have been nothing but ashes."

Charlie wrote his last two letters from Italy in the Collection on 16 November and 11 December 1918. He was now relaxing. Although crowded with released RAF prisoners, they were now living comfortably in their old officers' mess. He and his friends had paid a visit to Venice:

"It is a most wonderful place although very quiet at the present time."
They also went

"for a three hours journey in a car to the other side of the River Piave where the last push took place to put crosses on the graves of the pilots who were killed in the push. It was very interesting to see the places where all the fighting had taken place and to see the trenches and roads etc. which we had bombed and 'shot up'."

His RAF record showed that Charlie had been promoted to Lieutenant on 8 November 1918. He was posted from 14 Wing to 'SE Area' UK on 14 February 1919. He may have been back in England before that and had Christmas in Reading. He was 'dispersed indefinitely' on 24 April and 'transferred to the 'unemployed list' on 24 April 1919.

Charlie had had about four years of war service – one and a half years in the army with the Berk-shire Yeomanry; one year working as a civilian at the Royal Aircraft Factory at Farnborough; half a year pilot training with the Royal Naval Air Service; three days in the Army again with the RFC; and then about a further year with the RAF, in particular with 66 Squadron. His final military service was with the Training Branch of the RAFVR for service with the Air Training Corps in Reading in WW2.
Both Charlie and Jim volunteered for military service when under age. Jim was unfortunate; Charlie was fortunate. Both were brave and served their country when called.
References
Rickard, J. (2007). Senussi Uprising 1915-1917. www.historyofwar.org.
Unknown author (?). Sopwith Camel. www.aviation-history.com
Duffy, Michael. (2013).The Battle of Vittorio Veneto. www.firstworldwar.com