In 1634,
Reading
was a medium sized town well positioned for trade with good water and road transport links. Woollen cloth production employed nearly one third of the town in the early 17th century and some people made a lot of money. There was a decline in this trade over the century with depressions in the 1620s and 1630s. The town population was growing rapidly from the late 16th century, and the housing was crowded. There were tensions between generations of the ruling elite in Reading as the same families had been in charge for many years and new members of the local elite wished to gain political power. The Borough of Reading in 1634
was tense and subject to internal and external pressures.
Edward Bonevant claimed William and Edith Walls had made him ill by witchcraft. This grave accusation was made in a troubled town at a time when witchcraft was believed to be real and causing harm by witchcraft was a capital crime. The local authorities took the accusation seriously and investigated. The accusation was heard at Reading Borough Court on 2 June 1634, in front of the Mayor, Robert Maulthus, Sir Edward Clarke, and John Saunders. The next day, Clemens Bonevant, Edward's wife, testified to the Reading Borough Court. She said Edward first became ill around 22 April 1634 when he started having shaking fits lasting hours during which he sweated a lot, made shrieking noises and knew nobody. Dr. Andrew Bird had been consulted and could not tell the cause of the sickness but found Edward very weak. When not suffering in a fit Edward could talk sensibly and said "in his fittes he feeles as it were a mouse run up and downe within him". Edward had recovered around 13 May. Clemens said that on Saturday 20 May, she met Edith Walls who shouted abuse at her and called her a whore. Later the same day, Edward met Edith and rebuked her for this abuse. Edith then had shouted abuse at him and said he would go no more to his masters. The next day, Edward became ill again with fits worse than before.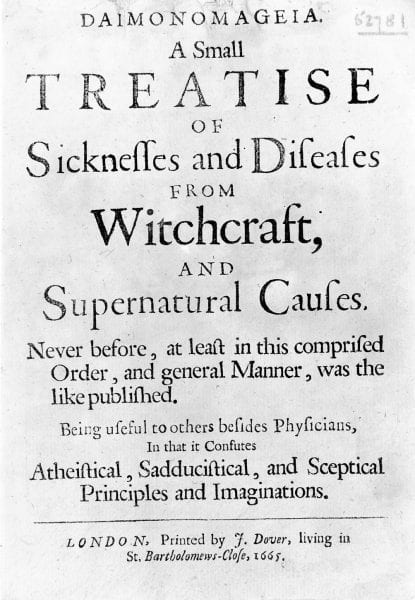 Joan Greene testified to the court she had often been with Edward Bonevant since his illness and he "often said that he thought in his conscience that [he] was troubled with some ill spiritt, and that Walls and his wife were the occasion and meanes of his beinge soe ill". She also claimed that on Saturday May 20 that William Walls said to Edward Bonevant "Thou hast beene pretye well hoysted, but I will hoyst the better yett." William said to the court his wife and him had often been abused and reviled by bad neighbours and denied any use of witchcraft. The court had a group of local respectable women perform an intimate search of Edith Walls' entire body and they found "under her armepitt somethinge like a nipple, but more soft and flaggye, and the like in her hippe, and in her privie partes somethinge like a teate."
On the same day a group of respectable local men performed a similar intimate examination of William Walls. They said he was "a man as other men be, not having teat bigg or small about his bodye, but a blewe spott or ii, whiche they did pricke, and bledd." The court record also states there were other testimonies and complaints against William and Edith Walls on the suspicion of witchcraft but unfortunately they give no details. Edith Walls was committed to Reading Gaol, and William Walls was bailed to appear at the next Assize court.
Serious crimes such as witchcraft were heard at twice yearly Assize courts in front of an independant judge. This accusation was sent on to the Assize Court held at Abingdon on 7 August 1634, Reading Borough spending £3 5s and 5d on the costs of this prosecution at the assizes including the expenses of sending witnesses to the trial. Although the court records have not survived, it appears that William and Edith Walls were found not guilty as they appear in Reading Court records in 1636. This may be due to doubts about the physical evidence found by the searches. If they had been found guilty under the Witchcraft Act of 1604 of causing harm by witchcraft, and the care and feeding of a demonic familiar then they would have been executed by hanging.
There was a witchcraft trial earlier in 1634 in Lancaster. In that case, physical evidence had convinced the jury that the accused were guilty but a new investigation discredited this and exposed a conspiracy. The judge at Abingdon, Sir William Jones, was experienced, independent and unlikely to have the same concerns as the Reading Court.
When Edward Bonevant became ill he could have considered that God was teaching him a lesson because he had been a poor Christian in some way. Instead he chose to accuse William and Edith Walls of cursing him. They may have been chosen because of a previous history of arguments at a time when good neighbourhood was valued. During this time there was an idea of Good Neighbourhood which was the avoidance of strife, and the encouragement of friendship and harmony. Quarrelling was linked with misfortune, and the good will of others was believed essential for success. It was thought the witch is the opposite of a Good Neighbour. Some historians suggest this idea was useful to local authorities in places where they wished to maintain their independence from interference by an external authority. Reading local government was under external scrutiny due to the mismanagement of the Kendrick bequest so may have been keen to be seen to punish bad neighbours. At stressful times, communities look for a scapegoat. Another reason why the Reading court accepted the accusation by Edward Bonevant against William and Edith Walls may be their relative status. The Bonevant family were a well-established family of middling status. Edward was sufficiently well connected to be able to consult the high-status Dr. Bird. There is no sign that William and Edith Walls had any status above the ordinary. A combination of these factors led to this accusation of witchcraft and the willingness of the Reading authorities to accept it.
The Reading Borough court clearly took this accusation seriously; they took witness statements and performed the body searches the day after hearing the accusation. They also spent significant money on dealing with this case. The court followed the latest expert advice by searching the accused. At this time in England, it was believed that witches had demonic assistants or familiars in the form of animals which were provided by the Devil. These familiars could be sent by the witch to do evil, in this case make Edward Bonevant ill. These familiars would be rewarded by the witch by being fed with the witches' own blood sucked from their body. Witches could also have insensible spots on their body left by the Devil's touch.
These beliefs, and the fact that evidence for witchcraft was otherwise hard to obtain, led to the intimate physical searches seen in this case. The result of this type of search may depend on the searchers opinion of the accused. One of the searchers was Joan Greene who had also testified against William and Edith Walls when she and Edith had previously argued. Edward's symptoms fitted the usual pattern of people afflicted by a witches' familiar, and the witness statements mentioned a mouse and an ill spirit. On the other hand, the court may have noted this because it suited their purpose to frame this accusation in a way that fitted the requirements of the 1604 Witchcraft Act, and to show they were treating the accusation seriously.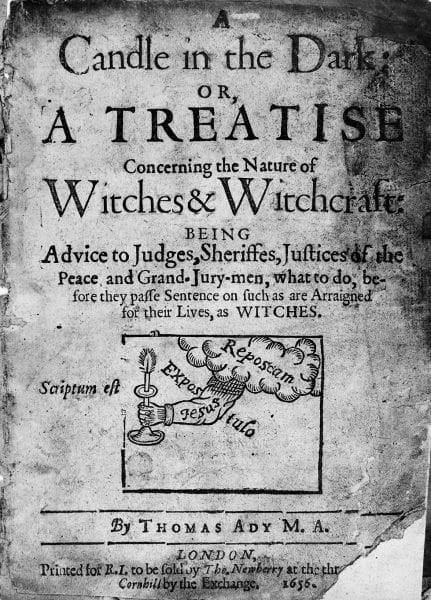 At this time, religion was a larger part of people's lives than it is now, and most attended church regularly. In Reading in 1634, there was division between the strict Protestant views of some, and the local government of the town implementing the changes ordered by the new Archbishop of Canterbury, William Laud. Places
with divisions along religious lines were more likely to have witchcraft accusations.
Puritans were more likely to blame witchcraft for misfortune as they considered it, along with disorder, ungodliness, and conflict, all signs of the devil's work. Two of the three magistrates who heard this accusation had links with Puritanism. The Mayor, Robert Malthus, was father and grandfather of two puritan ministers. Sir
Edward Clarke, the senior magistrate, was a deeply religious man and a known supporter of Godly causes. He also had previous experience of witchcraft accusations. The religious divisions in Reading and the religious opinions of the
magistrates likely influenced how this witchcraft accusation was received.

Those involved in this case:
The searchers of Edith Walls – Jone Pettie, Elizabeth Hickes, Agnes Card, Elizabeth Cheiffe, Ellyn Halpenye, Jone Green, Ellyn Burley and Alice Osborn.
The searchers of William Walls – William Duglace, William Kinge, Henry Mapleton, Izaak Wracke, Thomas Alder, John Mabberley

Two people stood bail for William Walls – Richard Robinson, cordwayner, and George Nethercott, Cardmaker