Ilsley remote amid the Berkshire Downs,
Claims three distinctions o'er her sister towns,
Far famed for sheep and wool, tho' not for spinners,
For sportsmen, doctors, publicans and sinners.
This traditional rhyme summarises the downland parish of East Ilsley, famous since medieval times for its sheep fairs, and in the last three centuries for racehorses. Known also as Market Ilsley or Chipping Ilsley in the past, it lies nine miles due north of Newbury.
The  Ridgeway crosses the parish (at the crest of Gore Hill and east and west therefrom), as do many old wagon tracks, testifying to the village's importance as a commercial hub. Today the parish is bisected by the A34.
Local place names
Windmill Down, the highest point of the parish; Woolners, the smallest of its manors; Northbury and Ashridge – two other ancient manors; Poor's Furze, where the poor of the parish had  the right of gathering furze; Banager Scrubs, the old horse common; Littleworth, Woolvers and Ashridge, all mentioned in the 1851 census.
Size
3,017 acres (1,221 hectares)
Population
750 in 1851, 538 in 2011
Hundred
Compton
Poor Law union
Wantage
Registration district
Wantage
Present-day local authority
West Berkshire
Grid reference
SU 49 81
Adjoining parishes in 1851
Beedon, Blewbury, Catmore, Chilton, Compton, Hampstead Norreys, West Ilsley
Genealogical resources
See Berks FHS Books for coverage of this parish in the society's range of CDs.
See also Berkshire Record Office holdings.
Newbury Library holds:
a typed transcript of St Mary's parish regsisters 1608 – 1884
St Mary's MIs on CD
transcripts of some East Ilsley wills (Eric Saxton)
See also Berkshire Record Office holdings.
Links
East Ilsley Local History Society has undertaken a considerable amount of research and transcription of local records.
Published local history
Bob Moulton East Ilsley parish council: the first 100 years (Sigma Books, 1995)
Jim Wilson East Ilsley photographic memories (1998)
Nigel Wardell Far famed for sheep and wool: a history of East Ilsley's markets and fairs (EILHS, 2006)*
Nigel Wardell Origins of East Ilsley and its name (Sigma Books, 2004)
Wiliam Hewett History and antiquities of the hundred of Compton…(inc East Ilsley) (John Snare, 1844)
Sue Burnay Time gentlemen please: 300 years of pubs and brewing in East and West Ilsley (Sigma Books, 2003)*
Anglican church and parochial organisation
The living of East Ilsley is a rectory in the diocese of Oxford. The parish church of St Mary dates from the twelfth or thirteenth century.
Other churches
A small Baptist chapel was built in 1864, and served the village until Easter 2012, when it closed. There is also a Catholic church.
Schools
Various private schools have existed in East Ilsley, such the boarding school run by Mr and Mrs Burden in the first quarter of the nineteenth century. Other establishment of the same era were run by Mr and Mrs Keys, and by Mr Legge.
A National school opened in 1832. Following the Education Act of 1870 it became a board school (ie, shedding its religious governance), and was the predecessor of today's primary school, which in 1966 incorporated West Ilsley school. 

Pubs
The local history society's website has traced 12 inns and beer houses of the nineteenth century, although the 1851 census names only two: the Swan and the White Hart. Most existed to serve the sheep breeders and traders who crowded into the village for its famous fortnightly sheep fairs. In 1850 the landlord of the Swan, George Drewe, combined inn-keeping with racehorse training. Today East Ilsley has only the Swan.
Other local history
East Ilsley's sheep fairs, granted by charter during the reign of Henry III, were second only to Smithfield in size. The record was 80,000 sheep penned in a single day.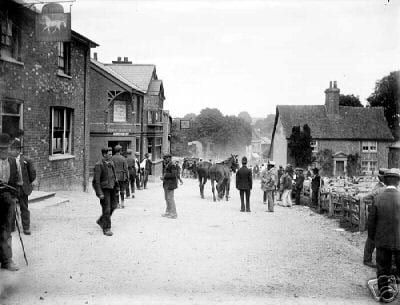 Sheep outside the White Hart
Nearly three centuries ago racehorse training came to the local downland. The Duke of Cumberland, brother to George II, had a stables at Kates Gore (long gone, but close to where the filling station is now on the A34), where the unbeatable Eclipse was bred and trained. Race meetings were held here from 1727 – 1858. Training continues to be a major local industry.