East Hendred is a downland village and civil parish about four miles east of Wantage. Like all of the Vale of the White Horse in which it lies, the parish was part of Berkshire until the local government boundary changes of 1974 moved it into Oxfordshire.
The Hendred brook flows through the village, and the Icknield Way and the Ridgeway pass through.
The parish adjoins its sister village West Hendred, and they were also formerly known as Great and Little Hendred respectively.
Size
3,061 acres (1,239 hectares)
Population
1,092 in 2001; 949 in 1851
Hundred
Wantage
Poor law union
Wantage
Registration district
Wantage
Present-day local authority
Vale of the White Horse district, Oxfordshire
Grid reference
SU 4588
Adjoining parishes in 1851
Chilton, Harwell, Milton, Steventon, West Hendred, West Ilsley
Genealogical records
See Berks FHS Books for coverage of this parish in the society's range of CDs.
See also Berkshire Record Office holdings.
Links
www.hendred.org community site
www.hendredmuseum.co.uk East Hendred Heritage Trust
Published local history
E R Manley Descriptive account of East Hendred (1969) is in Abingdon, Oxford Central, Wantage and Newbury libraries.
Arthur Lee Humphreys East Hendred a Berkshire parish historically treated(Hatchards, 1923) is in Didcot, Wantage, Oxford Central and Newbury libraries.
Donald Gibson A parson in the Vale of the White Horse: George Woodward's letters from East Hendred 1753 – 1761 (Alan Sutton, 1982) is in Oxford Central, Abingdon, Wallingford and Wantage libraries.
Mahala Addenbrooke East Hendred a brief guide (Hendreds Society, 1971) is in Didcot Library.
Anglican church and parochial organisation
The church of St. Augustine of Canterbury dates from the twelfth century, extensively restored in the nineteenth. It has a rare sixteenth-century faceless clock, which chimes, strikes and plays a hymn very three hours.
Other churches
The Roman Catholic church of St. Mary was built in 1865. Next door to the church is the Holy Trinity Monastery, which housed a contemplative community of Benedictine nuns until 2012.
The village also had a Primitive Methodist chapel (VCH, 1924).
Schools
Three schoolmistresses were enumerated in the 1851 census.
East Hendred has two primary schools: the Hendred C of E primary school and St Amand's Roman Catholic school, founded in 1859.
Pubs
The 1851 census enumerated an innkeeper and a beerhouse keeper, but gave no pub names. The Wheatsheaf  www.thewheatsheaf.org.uk, the Eyston Arms and the Plough are in business today.
Other local history
Two miles south of the village centre is Scutchamer or Cuckamsley Knob which, according to legend, marks the seventh-century burial mound of King Cwichelm of Wessex. Other sources consider it an Iron Age long barrow. It was the meeting place for the shire moot in medieval times.
Hendred House, the manor house of Arches manor, has been held by the Eyston family for over 600 years. Permission to build its private St Amand's Chapel was granted by the Pope in 1256. This little Chapel of Jesus of Bethlehem, as it was first known, was built by the Carthusian monks of Sheen when they came to the nearby Kings Manor in the fifteenth century. It became known as Champs Chapel when, in the eighteenth century, it came into the hands of the Champ family, who used it as a pigeon-house, bakehouse and wash-house. Later the building changed hands again, and became derelict for the early years of the twentieth century. Subsequently it was acquired by the Eyston family, who restored and leased it to the parish council as the local museum.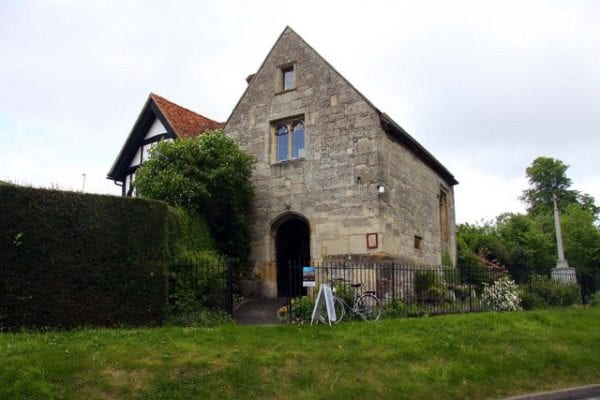 Champs Chapel  © Copyright Steve Daniels and licensed for reuse under this Creative Commons Licence.