East Challow is a downland village and civil parish about one and a half miles west of Wantage.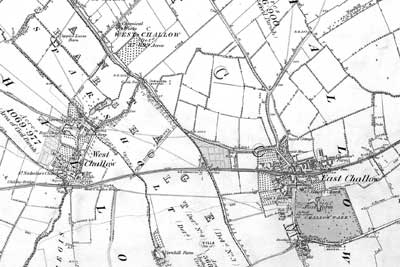 Historically both East and West Challow were part of Letcombe Regis, but in 1852 they split out as one separate ecclesiastical parish. Later, East and West Challow divided into two separate civil parishes. All three were part of Berkshire until the boundary changes of 1974 transferred them to Oxfordshire.
Challow railway station, on the Great Western Railway between Didcot and Swindon, was built on the Wantage-to-Faringdon road, two and a half miles north-west of East Challow. The station closed in 1964.
The Wilts and Berks Canal, from Trowbridge to Abingdon, which opened in 1810, ran through the village. Traffic had virtually ceased by the end of the nineeenth century. It is currently undergoing restoration.
Size
1,657 acres (671 hectares)
Population
1,071 in 2001; 321 in 1851
Hundred
Kintbury Eagle
Poor law union
Wantage
Registration district
Wantage
Present-day local authority
Vale of the White Horse, Oxfordshire
Grid reference
SU 38 88
Adjoining parishes in 1851
Denchworth, Letcombe Regis, Lyford, Wantage, West Challow
Genealogical records
See Berks FHS Books for coverage of this parish in the society's range of CDs.
See also Berkshire Record Office holdings.
Published history (in Oxfordshire Libraries catalogue)
Hazel Brown and others Ceawa's burial mound: a celebration of East Challow(Garden Shed Publications, 2007)
Anglican church and parochial organisation
Directories of the mid-nineteenth century record a chapel of ease at East Challow, which in 1852 became the parish church of St Nicolas (incorrectly named as St James on the Ordnance Survey 6-inch map series updated to the 1880s). This Early English building underwent drastic renovation in 1858.
Schools
In 1851 the wife of the tollgate keeper described herself as a schoolmistress. Today there is a St Nicolas C of E primary school.
Pubs
The Goodlake Arms, named after a nineteenth-century benefactor (who lived in Letcombe Regis) was in existence from at least the 1850s, as was the Coach and Horses. The Goodlake Arms still exists, but the Coach and Horses seems not to have lasted into the twentieth century.
Other local history
A Roman farm site has been identified and excavated at Challow Park.
The Fettiplace charity which funded schooling for 20 poor children in Letcombe Regis derived from land in East Challow.
Most of the occupations listed in the 1851 census were agricultural, but there was a fulling mill in the village. The population included several canal workers, a tin man, maltster, tollgate keeper, coal merchant, tailor, two shoemakers,and several bakers.
From 1857 East Challow had a substantial factory, Nalder and Nalder, making agricultural implements including steam threshing machines and brewery equipment. The Ordnance Survey 6-inch map of the village (updated to 1880s) marks the iron foundry connected with this business, sited close to the canal. According to the Museum of Rural Life, in the later nineteenth century the firm moved into the manufacture and supply of coffee roasters and gold cleaning machines for overseas markets. The building still stands, and photos of it (and the canal) can be seen on http://www.geolocation.ws/v/W/4d859ac887865668ea009e9b/iron-works-by-the-canal-the-former/en.