Didcot (19th C: Dudcott or Dudcote) is a town and civil parish about 10 miles south of Oxford. It was in Berkshire for centuries until the county boundary changes of 1974 moved it into Oxfordshire.
The Great Western Railway reached Didcot in 1839, chiefly because Lord Wantage would not sell land to the railway company, and thus obliged the London-to-Bristol line to take a northerly diversion. A proposed railway link with Oxford was opposed by the university, which thought it would lead undergraduates to debauchery in London. Hence the mainline went through Didcot, offending neither dons nor landowners.
Didcot station (which burnt down in the later nineteenth century) opened in 1840, and a branch line to Oxford was nonetheless laid down in 1844.
In 1882 the Didcot, Newbury and Southampton railway (DNS) was completed (at least as far south as Winchester, beyond which it never progressed), making Didcot an important railway crossroads. On account of this the town achieved strategic importance during the two world wars. Army and RAF ordnance depots were built on the site of what later became the power station.
The DN&S line closed in the 1960s, and the military depots became the power station and Milton Business Park.
Didcot Power Station, a 2,000 megawatt coal-fired station with a 650ft chimney and six 325ft cooling towers (and which is in fact in the parish of Sutton Courtenay) was voted the third worst eyesore in Britain by Country Life magazine. It has now been decommissioned and partly dismantled.
Local place names
Didcot was known as Dudcott or Dudcote until the mid-nineteenth century. Northbourne was also known as North Hagbourne.
Other local names were Copse Lane, Lydall Lane, Parsonage Pen, Tubbeney Cottage, Bowyers, Wights and Ladygrove Farm.
Size
1,120 acres (453 hectares)
Population
241 in 1851; 25,140 in 2011
Hundred
Moreton
Poor law union
Wallingford
Registration district
Wallingford
Present-day local authority
South Oxfordshire (of which Didcot is the principal town)
Grid reference
SU 52 90
Adjoining parishes in nineteenth century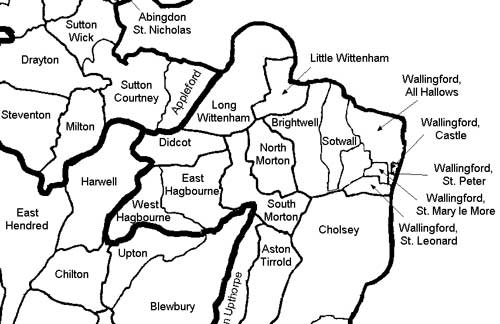 Genealogical resources
Didcot's earliest parish register went missing in the nineteenth century, but was fortunately recovered when it turned up for sale.
No records survive for Didcot St Frideswide.
For Didcot St Peter see East and West Hagbourne.
See Berks FHS Books for coverage of this parish in the society's range of CDs.
See also Berkshire Record Office holdings.
Published local history
 Around Didcot and the Hagbournes (Sutton Publishing)
Changing face Of Didcot a photographic record * (Didcot & District Archaeological & Historical Soc, 1977)
Didcot documents vol 1: wills and inventories 1530 – 1851
Didcot: the long years of obscurity to 1841*
Poor struggling little town: history of Didcot 1918 -45*
The railway comes to Didcot*
Didcot and the Hagbournes in old photographs*
Didcot and villages*
Didcot All Saints monumental inscriptions*
Didcot parish registers
Didcot's heroes remembered 
People of Didcot (Temus Publishing)
Upton monumental inscriptions
Links
Anglican church and parochial organisation
Didcot is a rectory in the archdeaconry of Berkshire and diocese of Oxford. Until 1868 its only church was the twelfth-century church of All Saints.
Building of a new church, St Peter's, began in 1889 and served the newly formed separate parish of St Peter's Northbourne in 1916. Work on a new church nearer to the middle of the parish began in 1976. The old St Peter's Northbourne was deconsecrated, and the new St Peter's Didcot consecrated in 1977.
Other churches
A Wesleyan chapel (on the Wantage circuit) was established by 1854. Primitive Methodists and Baptist followed. There was a Catholic church by 1934.
Churches Together in Didcot and District serves about a dozen local churches of several denominations.
Schools

There was a National school at Didcot by 1847, in the old Rectory Cottages in Lydall's Road, and a new school was built in 1854, as described in the contemporary extract above. This was replaced in 1896 by Manor School, which still exists.
With the rapid increase in population another school was built in 1877 in Church Street, Northbourne, and demolished in the 1970s.
In 1962 a new school was built in Cockcroft Road.
Didcot Senior Mixed school opened in the late 1931 and the Senior Boys' School in Hagbourne Field in 1935.
Didcot is today served by several schools, details of which can be seen here.
Pubs
The Rail Hotel and White Hart were enumerated in the 1851 census.
There are a good many more today, such as the Wheatsheaf, pictured below.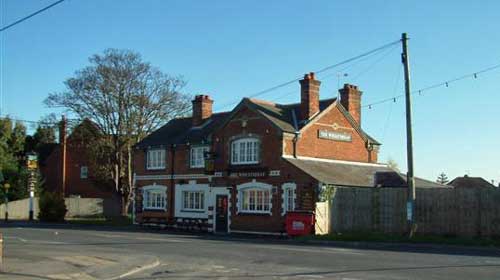 Other local history
13 railway employees were enumerated in the 1851 census, presaging a rapid population increase. Northbourne was built in 1868 for railway workers.
The Didcot Railway Centre houses a collection of Great Western Railway steam engines, coaches, wagons, buildings and small relics, and a recreation of Brunel's broad gauge railway.