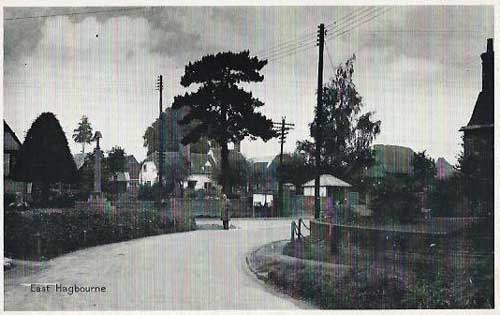 East and West Hagbourne have been separate villages since Saxon times, and were so treated by Domesday, although they were technically two liberties forming one ecclesiastical parish. Today they are two civil parishes, separated by a brook. Formerly in Berkshire, they moved into Oxfordshire as a result of boundary changes in 1974.
According to the East Hagbourne parish council website, the parish used to extend to the north beyond what is now Didcot Broadway. What was known as East Hagbourne Marsh lies east of what is now Abingdon Road, Didcot, and East Hagbourne Field is now the site of Green Close, Didcot. North Hagbourne, with its church of St Peter, has now been absorbed into Didcot as Northbourne.
The Great Western Railway passed to the north of the village, bisected by the Didcot to Southampton railway, which operated from the 1880s until the 1960s, and crossed the parish north-south.
Size
both Hagbournes: 2,815 acres (1,140 hectares)
Population
In 1851 both Hagbournes 905; in 2011 East Hagbourne 1,882, West Hagbourne 259
Hundred
Moreton
Poor law union
Wallingford
Registration district
Wallingford
Present-day local authority
South Oxfordshire
Grid reference
East Hagbourne SU 52 88
West Hagbourne SU 51 87
Adjoining parishes in nineteenth century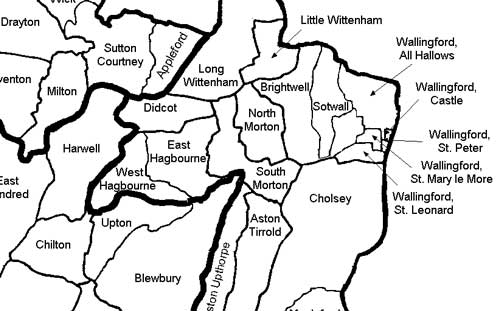 Genealogical resources
See Berks FHS Books for coverage of this parish in the society's range of CDs.
See also Berkshire Record Office holdings.
Other published local history
Windsor Hakebourne: story of West Hagbourne (West Hagbourne History Group, 2000)
Brenda Clare et al East Hagbourne times (East Hagbourne Parish Council, 1995)
Hagbourne: diary of a village school 1873 – 2000
Links
East Hagbourne parish council site
Anglican church and parochial organisation
The ecclesiastical parish of the Hagbournes is a vicarage in the archdeaconry of Berkshire and the diocese of Oxford. The church of St Andrew, the only Grade I listed building in the village, is tenth or eleventh-century in origin, extensively restored in Victorian times. St. Andrew's is now a member of the Churn benefice.
Other churches
A Primitive Methodist chapel was built in East Hagbourne in the nineteenth century. It is now a private house.
Schools
A National school existed by 1851, educating about 120 children from both villages, and with no charitable endowment; it was said to be supported chiefly by the children's pence. This was probably the forerunner of today's Hagbourne Church of England Primary School, which occupies a building built in 1874.
Pubs
In East Hagbourne, in Cassey's Directory of 1868:
the Traveller's Welcome (opposite the Lower Cross);
the Boot at the Upper Cross end of the village;
the Greyhound (now Sundial Cottage);
and the Fleur de Lys.
The parish council website's claim of one-time six public houses includes two more:
the Spread Eagle, now a private house on the Blewbury Road;
and the Happy Dick in Shoe Lane.
Two publicans, an innkeeper and a licensed victualler were all enumerated in the 1851 census, but no inns were named.
Today, East Hagbourne's only pub is the Fleur de Lys, which claims 17th-century origin. West Hagbourne had the Horse and Harrow, said to date from at least 1754.
Other local history
The Village Cross (known as the Upper Cross) is Grade II* listed, and dates from the fifteenth century, with eighteenth-century additions.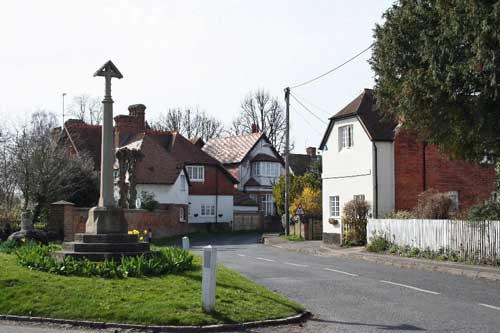 During the Civil War, in 1644, the Earl of Essex billeted 6,000 Parliamentarian troops in East Hagbourne.
In 1659 an extensive fire destroyed many houses in East Hagbourne.
Blotting paper is said to have been invented at East Hagbourne's seventeenth-century mill in the late eighteenth century, although there are various stories of how the invention actually came about. Paper-milling was still carried out in the the 1851 census, employing 10 men and 8 women, but it closed around 1860.
Hop-growing was a local specialism in the nineteenth century, centred on Manor Farm, which had three kilns. 10,013 bushels were harvested in 1868, but the industry had declined by 1900. Fruit was (and still is) another important local crop.
The East Hagbourne Friendly Society had 136 members in 1864.
Local tradition still includes Christmas mummers and an annual Whitsuntide feast.
An episode of Doctor Who was filmed in East Hagbourne (called Devesham Village in the series) in 1975.
East Hagbourne was judged the best-kept village in Oxfordshire in 1996, 1999, 2003 and 2004.
The West Hagbourne Village History Group was established in 1991.