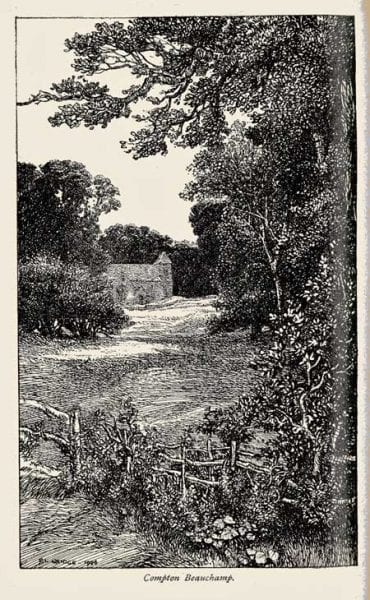 The parish of Compton Beauchamp is, like several of the Berkshire downland parishes, a long strip of land. It is traversed by the Ridgeway, by the Portway or Icknield Street, and by the former Wilts canal. It is close to the well-known downland monuments of the White Horse, Uffington Castle and Wayland's Smithy.
Other local names within the parish are Knighton and Hardwell.
Compton Beauchamp transferred from Berkshire to Oxfordshire in 1974 although, due to its Swindon postcode, it is sometimes erroneously placed in Wiltshire.
The map below shows the parish in the early 1880s.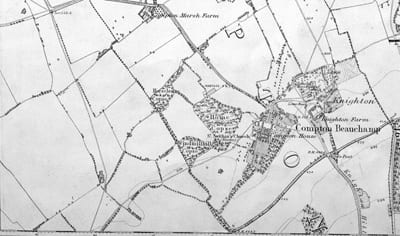 Size
1,466 acres (593 hectares) in 1851 (census)
1,811 acres (733 hectares) in 1924 (VCH)
Population
138 in 1851; 50 in 2001 (2011 n/a)
Hundred
Shrivenham
Poor law union
Faringdon
Registration district
Faringdon
Present-day local authority
Vale of  the White Horse District Council
Grid reference
SU 27 86
Adjoining parishes in 1851
Ashbury, Lambourn, Longcot, Shrivenham, Woolstone
Genealogical resources
See Berks FHS Books for coverage of this parish in the society's range of CDs.
See also Berkshire Record Office holdings.
No local history published, but BRO holds Notes towards a history of Compton Beauchamp D/EX 1303/11/3/1-60  [c1968-1969]
Anglican church and parochial organisation
Compton Beauchamp lies within the rural deanery of the Vale of White Horse, formed in 1860, and is within the diocese of Oxford. The living is a rectory, united in 1921 with Ashbury, and now combined with several other parishes based upon Shrivenham.
The church of St Swithun is thirteenth-century and is built of clunch (chalk blocks).
Schools
A school existed in the mid-nineteenth century. Today the primary school (Church of England) is combined with that of Ashbury.
Other local history
Compton House is a moated grange formerly owned, first by the Fettiplace family, and from 1846 by Lord Craven. The present house was built about 1600, replacing an earlier house. Knighton and Hardwell Farms are also ancient, being mentioned in medieval records.
An act for enclosure of Compton Beauchamp was passed in 1794, and the award enacted the following year.