« Back to Index
Thatcham lies three miles east of Newbury. The Great Bath Road (now the A4), the Great Western railway line, the River Kennet and the Kennet and Avon Canal all cross the parish from east to west. Thatcham railway station lies to the south of the town. The river Lambourn joins the Kennet in the west of the parish near Ham Mill. The river Enborne forms part of the southern border of the parish.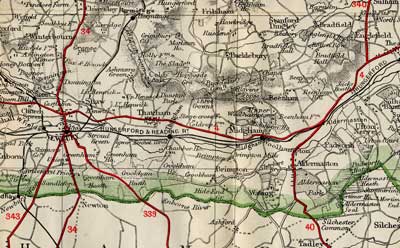 Thatcham area mapped between the wars
The village and parish formerly contained several tithings and hamlets which have now been split out into self-contained ecclesiastical and civil parishes:
Greenham, formerly a chapelry of Thatcham, separated into an ecclesiastical parish in 1857. For civil purposes part of it was detached and transferred to Newbury borough in 1878. The remaining portion now has its own civil parish council (and its own entry in this article series)
Crookham lies in the south of Thatcham, spreading out across Crookham Common. It comprised two manors: Crookham and Chamberhouse. Part (if not all) of it was taken into Newbury, along with part of Greenham, in 1878, and the rest was incorporated into Greenham civil parish.
Midgham was part of Thatcham parish until 1857 when, like Greenham, it became its own ecclesiastical parish. It is now also a civil parish in its own right. The parish website is www.midgham.com.
The ecclesiastical parish of Ashmore Green transferred to Cold Ash in 1865. In 1894 it became a separate civil parish.
Cold Ash, originally consisting of Cold Ash village, Ashmore Green and parts of Manor Park and Manor fields, separated from Thatcham to become a civil parish in 1894. It has its own entry in this series.
The following concerns Thatcham only, as the settlements listed above are treated under their own headings.
Size
in 1851: Thatcham, which then still included Greenham, Midgham, Cold Ash 7,866 acres (3,183 hectares)
after the separation of those settlements: Thatcham 5,936 acres (2,402 hectares)
Population
in 1851: Thatcham and Cold Ash 2,860; Midgham 250
in 2011: Thatcham Central 6,025, Thatcham North 5,810, Thatcham South and Crookham 7,082, Thatcham West 6,364
Hundred
Reading (Greenham was in Faircross)
Poor Law union
Newbury
Registration district
Newbury
Present-day local authority
West Berkshire
Grid reference
SU 51 67
Adjoining parishes
Speen, Shaw-cum-Donnington, Chieveley, Hampstead Norreys, Bucklebury, Midgham, Greenham, and in Hampshire: Brimpton, Ecchinswell, Sydmonton, Burghclere, Kingsclere
Genealogical resources
See Berks FHS Books for coverage of this parish in the society's range of CDs.
See also Berkshire Record Office holdings.
Links
Published local history
Peter Allen Around Thatcham in old photographs (Alan Sutton, 1992)
Lionel Graham Horton-Smith The Baily family of Thatcham (W Thornley & Son, 1951)
Peter Allen Book of Thatcham: record of a changing community (Halsgrove, 2006)
Martin Roberts Brief notes of Thatcham Fruit and Flower Farm School…1906-28 (author, 1996)
Peter Allen Popular history of Thatcham (R B Tubb, 1980 and 1999)
St Mary's Church, Thatcham: an illustrated guide (1985)
Gordon Timmins Thaecham now known as Thatcham
Roy Tubb Thatcham 1885-95 through the eyes of a clerk (author, 1996)
Gordon Timmins Thatcham a village history (2008)
Samuel Barfield Thatcham, Berks and its manors (James Parker & Co, 1901)
William Butler Thatcham churchwardens (Jenny Butler Memorial Publication, 2005)
Ray Ashe and Barry Parker Thatcham over 2000 years (Thatcham Historical Society, 2000
Roy Tubb Thatcham road names (1991)
Butler, William and Jennifer Thatcham then and now (Newbury Weekly News, 1983)
Roy Tubb Thatcham URC200 1804-2004: history of the Independent chapel of Thatcham later known as the Congregational Chapel (Church) and later still as the United Reformed Church (Henwick Worthy Books, 2005)
Anglican church and parochial organisation
Thatcham lies within the deanery of Newbury and the archdeaconry of Berkshire, which transferred from Salisbury diocese to that of Oxford in 1836. The living of St Mary the Virgin, (previously known as St Luke's) is a vicarage.
The earliest detail of the church is the south doorway, dating from the later twelfth century. Some rebuilding took place in later centuries, culminating in a drastic renovation in 1852.
Other churches
There were Congregational, Primitive and Wesleyan Methodist chapels in Thatcham, and a Plymouth Brethren meeting house, well into the twentieth century.
Schools
On the A4 is a small church school, formerly a chapel founded in 1304. It was converted to a Bluecoat School by Lady Frances Winchcomb in 1707, providing free education for 30 poor boys of the parishes of Thatcham, Bucklebury, and Little Shefford, and apprenticing some of them. It discontinued following the attainder of Lord Bolingbroke, who was the landowner and the only surviving trustee. The school re-opened for 40 boys in June 1794, and continued in existence until 1914.
A National school was built in 1826 on Clapper's Green, land donated by William Mount.
There was also a British school attached to the Congregational chapel. Berkshire Record Office holds the minutes for 1900-19, 1952-60.
Today Thatcham's secondary school is Kennet School.
A primary school is named after Francis Baily, the renowned astronomer who was from an old Thatcham family, and who was eventually buried in the family vault under the parish church.
Other local history
Thatcham has been continuously occupied since Mesolithic times. Under the manorial lordship of Reading Abbey in early medieval times the village rivalled Newbury for pre-eminence but lost its position following the Black Death. A degree of resurgence came with the turnpiking of the Bath Road in the early eighteenth century and the consequent trade from coaches which passed through Thatcham.
A large area of Thatcham, including the manors of the borough and Colthrop, was bought by Brigadier-General Waring from James, Duke of Chandos in 1722. Waring subsequently built Dunstan House, to the north of Thatcham village, and enclosed a large park around it, planted with trees arranged in the troop positions in the battles in which he had fought. When his descendants put his estates up for auction in 1798, Dunstan House failed to sell and was pulled down. The land is now a housing estate called Dunstan Park.
Two mills were built at Colthrop in 1472, one for corn and one for fulling. The latter was probably converted after the decline of the cloth trade. These mills were replaced by a paper-mill built on their site by 1799. This Colthrop Mill belonged to the Reed Group in the twentieth century and produced packaging materials.
Pubs
from a directory of 1868: Swan Inn at Ham Bridge; Plough Inn; New Inn
from a directory of 1911: Cricketers' Inn; Swan; King's Head; New Inn; Crown; Black Horse; Chequers; White Hart; Wheatsheaf.
The town is twinned with Nideggen in Germany.
War Memorial
by Margaret Young
Thatcham War Memorial was erected in 1919 and dedicated in 1920. It was restored in 1950 and again in 1990. Originally situated in the centre of Thatcham in The Broadway it was moved to its present location on the A4, Bath Road, sometime after 1955. It lists those who died in both World Wars.
OS ref: SU514675
« Back to Index