« Back to Index
East (also known as Little) Shefford and West (also known as Great) Shefford lie in the Lambourn Valley, just under two miles north of Junction 14 of the M4. They were formerly two ecclesiastical parishes, but now form one civil and one ecclesiastical parish called Great Shefford.
East Shefford was about half the size of West Shefford in acreage, but it supported only a tenth of the population, clustered mainly in the area around the church and manor house (pictured below in the early nineteenth century) beside the river, and also in Shefford Woodlands, a hamlet on the Roman Road known as the Ermin Way, now the B4000 linking Newbury with Swindon.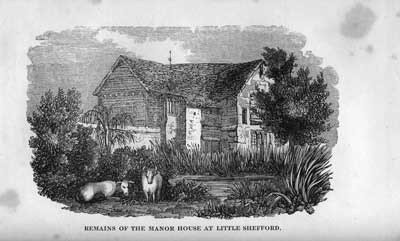 (There is also a Shefford in Bedfordshire.)
Size
East/Little Shefford 1,069 acres (433 hectares)
West/Great Shefford 2,243 acres (908 hectares)
Population
East Shefford: 60 in 1851
West Shefford: 583 in 1851
Great Shefford: 937 in 2011
Hundred
Kintbury Eagle
Poor law union
Registration district
Hungerford
Present-day local authority
West Berkshire (unitary)
Grid reference
SU 38 75
Adjoining parishes
Genealogical resources
See Berks FHS Books for coverage of this parish in the society's range of CDs.
See also Berkshire Record Office holdings.
Links
The village website www.greatshefford.org.uk is almost entirely concerned with the present-day village.
Published local history
East Shefford Church (British Archaeological Association, 1860)
Peake and Hooton Saxon graveyard at East Shefford Berks (Royal Anthropological Institute of Great Britain and Ireland, 1915)
Anglican church and parochial organisation
The former rectories of East and West Shefford, and the present-day rectory of Great Shefford, all fall within the deanery of Newbury and the archdeaconry of Berkshire, which belong to the diocese of Oxford (since 1836; prior to that, the diocese was Salisbury.
East Shefford: The church of St Thomas, standing on the north bank of the River Lambourn, was built around 1100 on a pre-Norman site. The chancel is thirteenth-century, and there is a sixteenth-century chapel. In 1841 and in 1861 the living was held in plurality with that of Avington.
The church of St Thomas was abandoned when a new church dedicated to the Holy Innocents was erected on the hillside above in 1869. This church was demolished in the mid-twentieth century.
The church of St Thomas, pictured below, survives unused and is now cared for by the Churches Conservation Trust.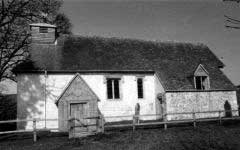 St Mary's Church in West/Great Shefford dates from around 1200, and has a circular tower.
Other churches
There were Wesleyan and Primitive Methodist chapels in West Shefford, and a Wesleyan chapel at Shefford Woodlands up to at least 1900. The Primitive chapel was founded in 1830, and the main Wesleyan chapel was recorded as functioning in 1837. Both William Sampson and William Marriner described themselves in the 1851 census as Primitive Methodist preachers of West Shefford.
East Shefford is recorded as having had a small Independent chapel in 1837.
Schools
The Marquis of Downshire and the rector jointly founded a school in West Shefford in 1820 to serve both villages.
A directory of 1837 found a small day school and a Sunday school in East Shefford. Children from East Shefford were also entitled to places in the school founded by Lady Frances Winchcombe in Thatcham, but it would probably have been impractical for many children to travel the seven miles.
Four daily schools were found in West Shefford in 1851. Casseys Directory of 1869 mentioned a parochial school of 80 children, supported by the rector and the Marquis of Downshire (the principal local landowner).
Berkshire Record Office holds a bundle of documents for Shefford National school on 1872.
Shefford Church of England Primary School is now joined with that of Chaddleworth.
Other local history
East/Little Shefford: A Saxon burial ground was discovered in 1890 when the railway was under construction, and most of the objects found were sent to the British Museum. Since medieval times the village has numbered no more than a few dozen households, together with a rectory and manor house; part of the latter had become a barn by 1843. Wickfield Farm, Hidden Farm and Templars in Shefford Woodlands were and still are the chief farms.
West/Great Shefford: Charles I is believed to have stayed in West Shefford prior to the Second Battle of Newbury in 1644, although in The Monthly Review of 1785 it was written: Concerning this place [Shefford] and Brightwalton…they are so much out of the way, and so hid by woods, that as the tradition goes, they were not visited or molested by anyone, Royalist or Republican, during the whole course of the Civil War. An inscription, however, in the church register, seems a little to oppose this tradition, when it is said: "This was that Thomas Nelson that fought two dragoons in Hangman Stone Lane in the time of the civil war and was never well afterwards".
Hangman Stone Lane marks the border between Leckhampstead and Shefford.
Major houses in the nineteenth century were Woodlands House, the rectory, and the sixteenth-century manor house which stands next to the church. Traditional village activities have been farming and, since the nineteenth century, breeding and training racehorses. Farms listed in 1851 were Henley Farm, Fisher's Farm, Northfield Farm, Lovegrove's Farm and Park Farm. Several other farms are marked on the modern OS Explorer 158 map.
The Great Shefford enclosure award in the Berkshire Record Office is dated 1820.
The village now has several small businesses, including a small brewery, racehorse training yards and some light industry.
Pubs
The Swan has operated as a pub so named on the Hungerford to Wantage road (A338) in the centre of West/Great Shefford since at least 1752. In the later nineteenth century the publican here also ran a substantial racehorse training yard from the premises. As a pub, the Swan still functions today and still has strong racing associations.
There appears also to have been a pub called the Harrow in West/Great Shefford in 1911.
There is a pub called the Pheasant in Shefford Woodlands which claims to date back to the sixteenth century, and which became famous some years ago for having been the local of Pop Idol Will Young.
« Back to Index