Ashampstead is a village and parish six miles west of Pangbourne.
(Ackhampstead in Buckinghamshire is also known as Ashampstead.)
Local place names
Ashampstead Green, Stubbles, Goodmans Hill, Quicks Green, Burnt Hill, Ashampstead Common, Childs Court, Hartridge, Leysfield House, Palmer's Farm and Pyt House.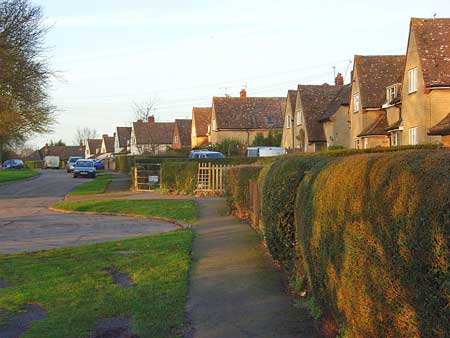 Flowers Piece, Ashampstead
Former council houses to the east of the village's recreation ground.
Size
2,057 acres (833 hectares)
Population
439 in 1851: 392 in 2011
Hundred
Moreton
Poor law union
Bradfield
Registration district
Bradfield
Present-day local authority
West Berkshire Council
Grid reference
SU 56 76
Adjoining parishes in nineteenth century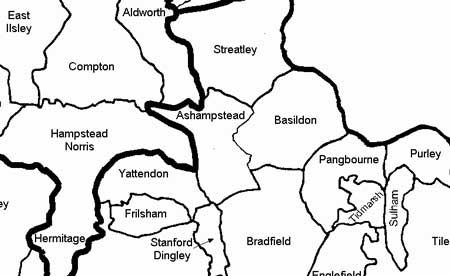 Genealogical resources
See Berks FHS Books for coverage of this parish in the society's range of CDs.
See also Berkshire Record Office holdings.
Published local history
Ashampstead: a Berkshire parish by its parishioners (2nd ed, 2010)
R G Greenaway The commons of Ashampstead parish (Ashampstead Parish Council, 1998)
V H Moylen Notes on the ecclesiastical history of Ashampstead (Blacket, 1895) 9pp
C A Carlisle St Clement's church, Ashampstead (2nd ed, 1965) 3pp
The Museum of English Rural Life in Reading holds a collection of pictures of Ashampstead from WWI up to 1950 (ref P DX333), and pictures of Ashampsptead School.
Anglican church and parochial organisation
The living of Ashampstead was first a perpetual curacy, later a parish, in the deanery of Bradfield, archdeaconry of Berkshire, diocese of Oxford (Sailsbury up to 1836).
The church of Saint Clement dates from the early thirteenth century. In 1895 several eighteenth-century texts painted on the north wall of the nave were revealed as were thirteenth-century paintings under the plaster.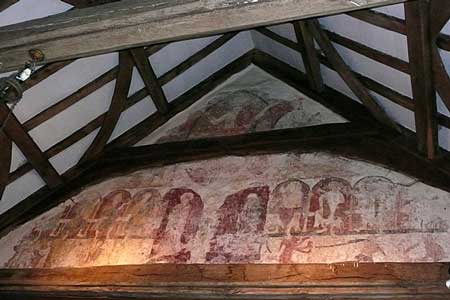 Other churches
A Baptist chapel was built at Ashampstead Green in 1840. The minister in 1851 was also the village baker and grocer.
A Primitive Methodist chapel at Quicks Green was rebuilt in 1872.
The VCH noted another dissenters' chapel at Burnt Hill dating from 1864, the only one still in use in the early twentieth century.
Schools
Ashampstead had a National school educating 60 children in 1819. It was rebuilt about 1875 and enlarged in 1905, but no longer exists. BRO has a log book for the early twentieth century.
Pubs
The parish plan mentions a former pub, known variously as the Fleece and Feathers and the New Inn.