Aldworth is a village, ecclesiastical and civil parish in north Berkshire, about three miles south-west of Goring (the nearest railway station).
Local place names include Westridge Green, Bower Farm, Dumworth Farm, Pibworth Farm, Warren Farm, Beech Farm and Lowbury Hill.
Size
1,806 acres (731 hectares) in 1924
Population
313 in 1851; 296 in 2011
Hundred
Compton
Poor law union
Wantage
Registration district
Wantage
Present-day local authority
West Berkshire Council unitary authority
Grid reference
SU 55 79
Adjoining parishes in 1851
Ashampstead, Aston Tirrold, Blewbury, Cholsey, Compton, Hampstead Norreys, Moulsfordand Streatley
Genealogical sources
See Berks FHS Books for coverage of this parish in the society's range of CDs.
Published local history
G Timmins Aldworth a village history (2010)
Links
Anglican church and parochial organisation
Aldworth is a vicarage in the diocese of Oxford. The parish church of St Mary is mostly early fourteenth-century, restored in the nineteenth century. The design as proposed is shown below.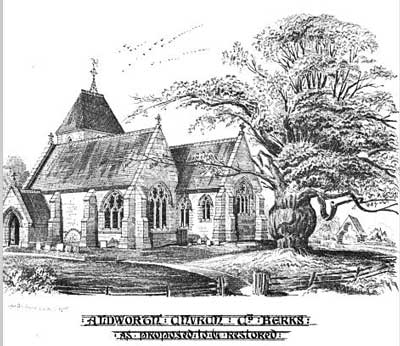 The churchyard has a famously old and large yew tree, recorded with a circumference of nine yards in 1849.
Other churches
Aldworth's Ebenezer Primitive Methodist Chapel was on the Newbury circuit.
Schools
The Parliamentary enquiry of 1819 found two day schools in Aldworth, teaching 35 children. The old school is depicted in the village millennum tapestry. BRO has Aldworth's National school records dating from 1832 to 1961. There is no school today.
Pubs
One innkeeper was enumerated in the 1851 census, but no pub named. Today there are two pubs: the Bell, said to date from the fourteenth century, and the Four Points, which also occupies an ancient thatched building.
Other local history
Aldworth was the main residence of the powerful medieval De La Beche family, whose fourteenth-century monuments — the famous Aldworth Giants, some of which are more than seven feet long — can be seen in St Mary's Church. Beach Farm was the site of their former castle.
The wife of the poet laureate Alfred, Lord Tennyson, lived at Pibworth Manor, and Tennyson must have had some affection for the village, because he named his house near Haslemere Aldworth, and took as his title Baron Tennyson of Freshwater and Aldworth. Another poet, Laurence Binyon, author of the Great War tribute "They shall grow not old, as we that are left grow old…….", moved to Westridge Green in 1934, when he retired from the British Museum; his ashes were interred in Aldworth churchyard in 1943, where there is a memorial to him.
At Westridge Green a pair of semi-detached cottages, Ridgeway House and Lutyens Cottage, were the work of Sir Edwin Lutyens, commissioned in 1920-21 by Major Morrison of Basildon Park.
In 1978 100 villagers paid £100 each to make the first ever chartered flight in Concorde.