When I was reading the March 2018 Berkshire Family Historian, I came to the article 'Ancient Oak?' by David Wooldridge and saw that it was about HMS Foudroyant. I thought "I remember seeing Foudroyant moored in Portsmouth Harbour when sailing there in the 1970s and 80s. It was a dismasted warship of Nelson's era used as
a training ship."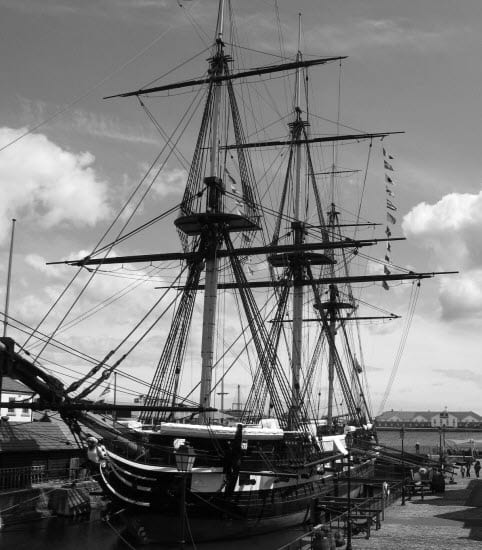 I read on with interest and then astonishment as the article related the end of the ship, wrecked on Blackpool Beach in 1897. Was my memory wrong? Dementia strikes at last? A bit of investigation showed that both David and I were correct. But how?
David's article explained how Geoffrey Wheatley Cobb had bought Foudroyant to use her as a training ship for boys, but she had been wrecked at Blackpool while on a fund-raising tour of British seaside resorts. Geoffrey Wheatley Cobb still wanted to set up the training ship scheme and had sufficient money to stand the loss and buy another vessel. So he bought HMS Trincomalee, a Royal Navy sailing frigate built in India in 1816/17, shortly after the end of the Napoleonic Wars. Trincomalee finished her Royal Navy service as a training ship in 1895 and was put on sale for scrap in 1897, the same year that George Wheatley Cobb needed another ship. He had her restored and renamed Foudroyant in honour of his earlier ship.
As T. S. Foudroyant she was used as an accommodation ship, a training ship, and a holiday ship based in Falmouth then Portsmouth. She remained in service until 1986, after which she was restored and named back to Trincomalee in 1992. She is now on display as the centrepiece of the National Museum of the Royal Navy in Hartlepool.
Trincomalee holds the distinction of being the oldest British warship still afloat.  (HMS Victory, although 52 years older, is in a dry dock).