The village and civil parish of Woolstone is, like several of the Berkshire downland parishes, a long strip of land. It is traversed by the Ridgeway at White Horse Hill, and by the Wilts & Berks canal, which opened in 1810 and closed in 1914. The White Horse lay within Woolstone until it was transferred to Uffington in 1776. Woolstone itself was a chapelry of Uffington until 1846, when it gained its own ecclesiastical parish status. The Victoria County History Berks (1924) treats Woolstone as part of Uffington.
Below is the OS map of the area in the 1880s.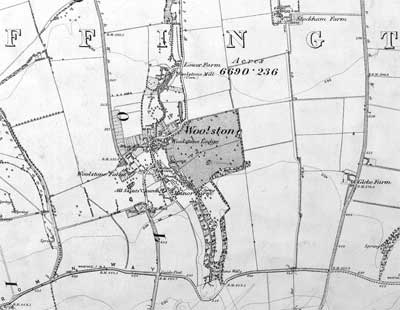 Woolstone transferred from Berkshire to Oxfordshire in 1974.
Woolstone is also the name of the two villages (Great and Little) from which Milton Keynes in Bucks was developed.
Size
2,012 acres (hectares) in 1851
Population
288 in 1851; 201 in 2011
Hundred
Shrivenham
Poor Law union
Faringdon
Registration district
Faringdon
Present-day local authority
Vale of the White Horse District Council
Grid reference
SU 29 87
Adjoining parishes in 1851
Compton Beauchamp, Kingstone Lisle, Lambourn, Longcot, Shrivenham, Uffington (all now in Oxon)
Genealogical resources
Woolstone's parish registers were kept with those of Uffington until 1848.
See Berks FHS Books for coverage of this parish in the society's range of CDs.
See also Berkshire Record Office holdings.
Published local history
John Hadow The village of Woolstone in the Vale of the White Horse (author, 1975)
John E Little Guide to the parish churches of Uffington, Baulking and Woolstone (PCC 1969).
The Bodleian Library holds three transcriptions of information about Woolstone under WOOL/082 NBF 68.
Woolstone's Roman villa was written up by Ann Hamilton in the proceedings of the Berkshire Archaeological Society (Reading) 1959.
Anglican church and parochial organisation
Woolstone was a chapelry of Uffington parish, from which it separated in 1846. Woolstone lies within the rural deanery of the Vale of White Horse, formed in 1860, within the diocese of Oxford. Today the parish is part of a group of four administered from Uffington.
The church is All Saints, said to predate the Norman Conquest, and certainly dating from the twelfth century. It is built of clunch (chalk blocks). Below is a picture of clunch cottages in Woolstone at around 1900.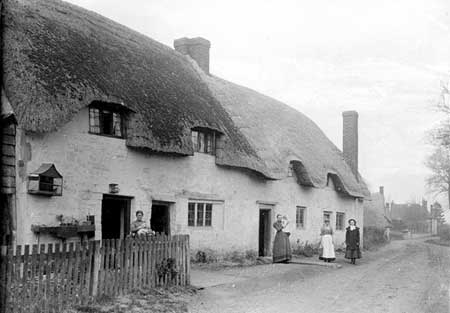 Pubs
The White Horse Inn claims to date from the sixteenth century.
Other local history
In 1798 the manor came into the hands of the Wroughton family, which in 1814 sold it to the Craven family.
In 1851 Woolstone had a boot and shoemaker employing seven men. The 1851 census also found a grocer, miller and a victualler.
The village still has several cottages built of clunch (chalk blocks)