Nothing is known of where the Waite family settled upon their arrival in Victoria in 1863 but in 1868, they were living in Prahran, now a district of Melbourne. An enquiry to the Stonnington History Centre in Prahran generated this reply:
"The 1868 Sands & McDougall Directory noted "Watkin Waite" in both the Alphabetical and Street lists as living in a house in High Street situated between Thomas Street and Chapel Street. At this point no house numbers were recorded. However, from 1875 to 1880 Waite is listed as residing at number 8 High Street, Prahran. The street numbers changed as more buildings were erected along High Street, therefore by 1900 the house listed earlier as number 8 appears to be number 142. The blocks between Thomas and Chapel Streets, where Waite's house originally stood, are now the location of the Victorian and Prahran TAFE [Technical and Further Education] colleges. There are no listings in Alphabetical for Edward, Henry or William Claxton Waite, as the Directory only lists the head of households in residence. The Prahran Rate Book for 1868 records William Watkin Waite, gentleman, as the owner/occupier of a 6-room house in High Street – he is still listed as owner/occupier at this property, noted as a 6 room weatherboard house at 8 High Street in 1878".
It is obvious that the family wanted to continue in the business of teaching. William and his wife Emily were now in their fifties and probably too old, and with no formal qualifications to obtain a post, but the children had no such problems. The first record of a teaching post is for Edward Benham who started as an assistant at the Church of England Grammar School, Geelong on the February 12th 1865. He then transferred to Prahran, where in 1867, he was joined by his brother Henry Watkin in 1869. William Claxton started at South Yarra in 1867 and Ellen Wilson at Yackandandah in 1869. The following list shows the schools at which the family taught:
William Claxton Waite

South Yarra
1867-1870
Narre Warren
1871
Tarrawingee
1872-1873
Carisbrook
1873-1882
Timor
1882-1889
Walhalla
1889-1903
Fenton's Creek
1904-1906
Roseberry
1906-1907

Ellen Wilson Waite

Yackandandah
1869-1870
Beechworth 36
1871-1875
Beechworth 1560
1875-1885
Bright
1875-1891
Casterton
1891-1897
Camberwell
1898-1904

Edward Benham Waite

Geelong
1865-1866
Prahran
1866-1869
Sandridge, Bay St.
1870-1874
Sandridge, Nott St
1874-1876
Emerald Hill
1876-1878

Henry Watkin Waite

Prahran
1867-1869
Ballarat, Erard St.
1869-1871
It is assumed that the children received some formal teacher training as their career records state that they started as assistants and their first appointments were in schools spread around the state. At this time state education was still in its early days. Prior to 1872 religious/denominational schools were maintained separately from government schools. The Denominational School Board provided for denominational schools and the National School Board, later the Board of Education, provided government sponsored secular education.
In 1872, following growing dissatisfaction with state aid to religious schools and the burgeoning cost of funding and administering a dual school system, the government introduced free, compulsory and secular education and established the first Education Department. The Department became the employer of government teachers and Victoria had a Minister for Education. State aid to denominational schools ended in 1874. It appears that this pending takeover by the state did not appeal to Henry Watkin as his teaching career ended abruptly in August 1871 without any indication of his future employment.
Edward Benham's career ended in 1878 when he became seriously ill with a fever and died on March 18th in his parent's house at Prahran. The cause of death is given as "Enteric fever relapse, Exhaustion". He was buried on March 20th 1878 at St. Kilda Cemetery. When requesting a replacement teacher, the headmaster asked for an experienced teacher capable of teaching a class averaging 75!
Ellen Wilson's career record shows that she always taught the infants but must have also taught singing as a report of 1885 states:
"Miss Waite is a good singing teacher. The results of her labours, considering the fact of one lesson per week, are eminently satisfactory."
She always received good reports and praise but by 1889 the class sizes appear to have increased and the effort of teaching 40 plus pupils was revealed by Ellen, in 1890, requiring one month's sick leave for "Nervous Debility" caused by prolonged standing in class. Teaching methods changed and her apparent refusal to accept these is shown in her inspector's comments:
"Has done very satisfactory work with a large class in an over-crowded room." "…is, I believe, teaching to the best of her ability but has been so long accustomed to the old routine that it is difficult for her to adapt newer and brighter methods."
Ellen never fully recovered good health and on June 30th 1904 she was forced to retire due to the strain of working in an overcrowded classroom. She had taught for 34 years and 182 days at an average income of £175 3s [£13,750] and was awarded a pension of £99 5s [£7,800] per annum. Ellen travelled to England and in November 1914, when she made her will, she was living in London at 45 Tavistock Square. She died at Bognor, Sussex, on November 23rd 1918. Her age at death is shown as 61 years but in fact she was 74. Perhaps she only looked 61.
William Claxton had the longest and most chequered career of the four children. On February 6th 1871 he was appointed Head Teacher of Narre Warren School when he was only 19 years old. He resigned in October of that year for an unknown reason. In April 1872 he was asked to furnish a correct summary of accounts for Narre Warren before his re-employment could be allowed. In June 1872 he was appointed as head teacher of Tarrawingee School from where he resigned on May 10th 1873 "in consequence of charges made against him of cruelty to the children but such charges not to be a bar to his employment as an Assistant." Perhaps they were short of teachers. In September 1873 William became a second assistant at Carisbrook School. Carisbrook, originally opened in 1855 as a Church of England school, was being moved to a new building to be built on Victoria Street, opposite the Simson Street Junction. The cost of the new building was £1,397 10s [£87,500]. The completed building measured 80' x 40' and consisted of one large room and three smaller ones, all expected to accommodate 350 children. It was considered to be a very pleasing piece of architecture, the large, plentiful windows being a contrast to the majority of the vested schools built by the old Schools Board. Ventilation was considered to be very adequate and of the latest design. A 14,000-gallon tank ensured a constant water supply. A four-roomed brick teacher's residence was erected at the same time. The old school was closed on June 30th 1874 and the new school was opened. The opening ceremony was performed by Mr Duncan Gillies M.L.A., the then Minister for Railways. In its opening year the school had an average attendance of 156 pupils, although it is possible that as many as 279 children actually enrolled. 
It was during William's time at Carisbrook that the blind authoress Matilda (Tilly) Aston enrolled at the school and it is most certain that William would have taught her. Tilly was born in the town of Carisbrook, Victoria in 1873, the youngest of eight children born to Edward Aston, bootmaker, and his wife, Ann. Vision impaired from birth, she was totally blind by the age of 7. Her father died in 1881. Six months later, through a chance meeting, she met Thomas James, a miner who had lost his sight in an industrial accident and who had become an itinerant blind missionary. He taught her to read braille and soon after, the Rev. W. Moss, who visited Carisbrook with choir of the Victorian Asylum and School for the Blind, persuaded her to attend the school in St. Kilda, Melbourne, to further her education. She enrolled as a boarder on June 29th 1882. After successfully matriculating at the age of 16, Tilly became the first blind Australian to go to a university, enrolling for an Arts Degree from University of Melbourne.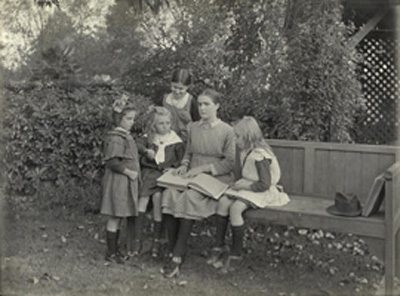 In 1878, following the death of his brother, William requested that he be transferred to Prahran to take over the vacancy so that he could be closer to his parents. He stated:
"That, as my parents are very old and have no means of support, it is necessary that I should be there in Melbourne to take care of them. If I were in Melbourne, the money that I am now paying for my board in Carisbrook would go to help them." 
The authority replied that the vacancy had been filled but they noted his request to be transferred to Melbourne. Little notice was paid to this for in 1882 he was sent even further away to Timor. In 1889 William transferred to Walhalla and in April 1890 he wrote to the Education Department again requesting a transfer to Melbourne. In his letter he says:
"I cannot stop here now without being troubled with a rash that breaks out over my hands and face and swells the eyes to such an extent that I can hardly see. It is called the Mountain Itch and I believe is caused by a shrub which grows everywhere about here."
William was asked to provide a doctor's letter confirming his complaint which was sent together with a note saying that the doctor had recommended "Hot Sea bathing" which could only be had in Melbourne. Further correspondence was exchanged and in July a transfer was offered but not to Melbourne. It would appear that William refused the offer as he stayed at Walhalla until 1903.
Although William was described as a very fair and satisfactory teacher, this appears to have meant that he was below average. Later reports are more critical: "…might show more 'vive'." "A plodding teacher" "A mechanical teacher of slender attainments. Takes little interest in his work." In 1896 William received a caution that "if there is not evidence at my next visit that he has not been making strenuous efforts to rectify the defects in his teaching and management it may be found necessary to resort to more measures."
In 1899 the head teacher had taken William under his wing and there was a marked improvement in his career reports. However, by 1903 William had gone downhill again. His report stated: "Apparently welded to older methods, works hard in school and has teaching ability. Has not displayed any wish to qualify himself to teach new subjects." It seems that William may have become depressed by this constant wave of criticism for in 1904 his report says, "He is not having good health". William changed schools twice in 1904 and was appointed head teacher of Fenton's Creek school in January 1905. However, his fortunes did not change for in May his report stated:
"I was disappointed with his management and teaching. He has stood stock still for the past 20 years or more. He has not read, least of all studied and mastered the new programme, and has paid no heed whatever to circulars of information and the like. His manner is unimpressive. His methods of teaching History, Geography, Science, Nature Study, Dy, Manual training and Composition are weak. Some of these subjects have gone untaught. Arithmetic, Grammar and writing are still good. Management is fair but on down grade".
His report of October 1905 saw a distinct improvement. William again moved in 1906, to Roseberry School but his career had foundered and did not recover. He retired on September 30th 1907 due to ill health. He had taught for 37 years and 252 days. His average salary for the last three years was £204 [£16,000] and he was awarded a pension of £125 16s [£9,900] per annum. William Claxton died on May 17th 1918 in St. Vincent's Hospital, Fitzroy. He had been living at that time at the Hills Hotel, Clarendon Street, South Melbourne. William was buried on May 20th 1918 at Burwood Cemetery.
Henry Watkin, who disappeared from Victoria in 1871, travelled back to New Zealand and took up a position as the second headteacher of Palmerston Public School, the first public school in Palmerston North. Henry must have acquired the adventurer trait from his father as it is said that because Palmerston North is an inland city the journey from the coast was hazardous. At the time Henry came to the town most settlers walked up the coast from Wellington (100 miles) then followed the Manawatu River inland (20 miles) till they came to a clearing in the bush (Palmerston North). The Maori were often "hostile" as were some of the rivers that had to be crossed.
Henry Watkin, who disappeared from Victoria in 1871, travelled back to New Zealand and took up a position as the second headteacher of Palmerston Public School, the first public school in Palmerston North. Henry must have acquired the adventurer trait from his father as it is said that because Palmerston North is an inland city the journey from the coast was hazardous. At the time Henry came to the town most settlers walked up the coast from Wellington (100 miles) then followed the Manawatu River inland (20 miles) till they came to a clearing in the bush (Palmerston North). The Maori were often "hostile" as were some of the rivers that had to be crossed.
The school, which stood on the corner Main and Princess Streets, later became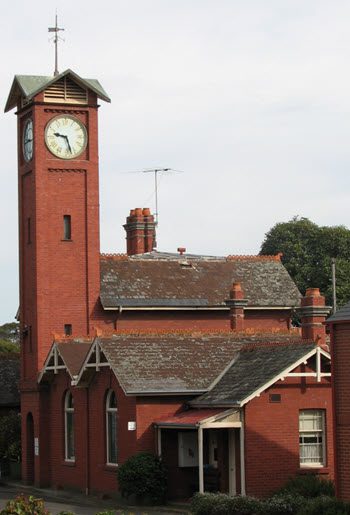 Campbell Street School and is now known as Central Normal School. Henry took up his duties at the beginning of 1876 but sadly died suddenly on November 25th 1877. His cause of death was an intestinal obstruction that he had had for 6 days. He was buried in the Terrace End Cemetery, Palmerston North. His tombstone reads: "Henry Watkin Waite, second son of William and Emily Waite of Victoria, born June 21, 1849, at Fonthill, Niagara District, Canada West." Strangely, his date of death is not given. The cemetery is located within the city boundary in Napier Road in the suburb of Terrace End. In his will, made on his deathbed, Henry states that he owns property in New Zealand and Victoria. His testator, E. J. Collins, was the other teacher at the school.
An obituary in the Manawatu Times newspaper of November 28th 1877 recorded that:
"During the eighteen months that he had been located in Palmerston North, he gained the confidence and respect of all whom he came into contact, and this was not merely on account of his professional ability, which is universally acknowledged. His personal qualities, his amiable and gentlemanly deportment in his social relationships and the integrity of character that distinguished him formed the chief basis upon which friendships were made and confidence established. Yet withal he was of a retiring disposition and perhaps this trait prevented him realising fully the position he occupied. On Monday, at four o'clock his remains were carried to their rest. The chief residents of the place followed to the cemetery and as the mournful cortege passed the schoolhouse the children fell in to see the last of their much loved teacher. Thus has passed away from our midst one of good promise. The green age of 28 was marked upon the coffin lid but was scarcely to be seen amid the flowers that kind hands had plentifully supplied."
On July 8th 1878, William Watkins Waite obtained probate on the estate of his son. At this time William and Emily were living in Prahran, Victoria. Emily Waite died on August 7th 1896 at Henty Street, Casterton. She was 84 years old and the cause of death was acute catarrh of the lungs. She was buried on August 8th at Casterton New Cemetery. William Watkins Waite died on March 31st 1899 at Station Street, Camberwell. He was 87 years old and the cause of death was senile debility and heart failure. He was buried at Boroondara Cemetery. The certificate shows William's mother's maiden name as Williams. This is incorrect, it was Edgington, his stepmother's name was Wilkins.
Both Emily and William died in towns where Ellen was teaching so it can be assumed that they were living with Ellen. None of the children married and therefore there was no issue and the line died.
Warepa School is still in existence and my wife and I made a visit there in 2004. There were still only 30 pupils and two teachers and the whole school and many parents assembled to welcome us. The children sang two songs and I gave a short talk on William's life story. Before we left, I presented the school with a copy of the portrait of William painted by his father. We re-visited the school in October 2008 to join former pupils and staff to celebrate the 150th anniversary. This celebration took place over 3 days and many former pupils were able to attend. On the second day we were entertained by the pupils and a time capsule was sealed into a sun dial. A Reunion Dinner took place at the Town and Country Club in Balclutha and, following a talk on William's life story, I presented the school with a cup inscribed 'William Waite Memorial Cup'.
The nature of the community in Warepa is changing with many of the farms being divided up and sold as homesteads, what would be described in England as a smallholding. This has brought about an increase in the number of families with children. The school currently has a roll of 60 pupils with two classrooms and promised funding for an additional classroom. It has never been better funded or its future more secure.
Whilst in New Zealand we also visited the grave of Henry in Palmerston North and found that it had been vandalised at some time in the past. The headstone was broken and lying flat and the inscription was no longer visible due to the growth of algae. I arranged for a local firm of masons to repair and re-erect the headstone and to add Henry's date of death to the inscription, this has now been done.