A cousin, John Waite, asked if I could research the travels of this family. The only leads were that Ellen Wilson Waite, who had lived in Australia and had subsequently come to England in 1914, said that she was born within the sound of the Niagara Falls in Canada. It has taken about 20 years to put this story together.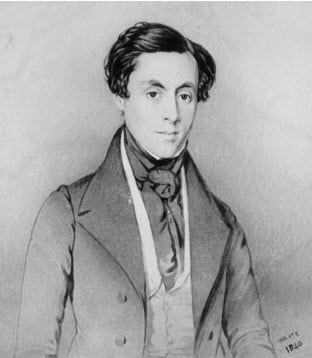 William was born on September 8th 1811 in Abingdon, Berkshire. His parents were William Watkins Waite and Martha Edgington. They were Congregationalists and William's birth was registered at the Meeting House in Kings Road, Reading. William Snr. was an artist and owner of a stationer's shop in Abingdon marketplace.
Nothing is known of William's early life but on June 15th 1841, he married Emily Wilson, the daughter of William Wilson, at The Old Meeting House, Beacondale, Norwich. William describes himself as a bookseller. The witnesses to the marriage included Phillipa and William Colman, members of the well-known family of Mustard manufacturers. Phillipa was Emily's sister. It is not known why William was living in Norwich, if indeed he was. Did he have a shop there or was he a travelling salesman working for his father? In 1843, William's brother Richard married Emily's sister Martha.
Their first child, a daughter Ellen Mary, was born on June 20th 1842 and it must have been shortly after this that the family sailed to Canada. It is not known from which port they left, or which ship they sailed on. Their probable port of entry would have been Quebec, which would have meant a journey averaging 46 days but on occasions this journey could take 70 days. From here they would have transferred onto a steamer that would have taken them along the St. Lawrence River as far as Montreal. This journey of 180 miles was probably completed overnight. The fare from England to Quebec, Cabin Class, in 1847, would have been between £15 and £20 [£1200 – £1600 in modern money] and the transfer to Montreal would have cost 5/0s [25p]. Further progress into Canada was by means of barges towed by steam tugs.
The journey to Kingston took about 6 days and then steamers made further transfers from Kingston to Toronto and then onto Niagara. From there William and his family continued onto Pelham Township where they settled. Despite the obvious hazards of journeying to Canada in those times the number of emigrants was considerable. The numbers arriving at Quebec were: 44,692 in 1842; 21,807 in 1843; and, 20,245 in 1845.
An early settler, Henry Giles, formerly of Norwich, wrote a number of letters to his family and friends at home, one of whom was William. Some of these letters have been published in a book, Mute Words, Living Voices by the Pelham Historical Society. These letters often mention William and his family and it would appear that they were encouraged to emigrate to Canada by Henry's passionate descriptions. In a letter announcing the intention of William to arrive in Pelham in early May, Henry says,
"Although he may, and doubtless will, meet with many things not according with his English feelings and habits. Of one thing I feel assured that he will admire the country in which we live and, I trust will find a 'cottage of content' within the romantic range of the 'short hills'. By walking up the mountain about 1½ miles we can see mostly the spray of the great Falls and it's awful voice is often distinctly audible at our door."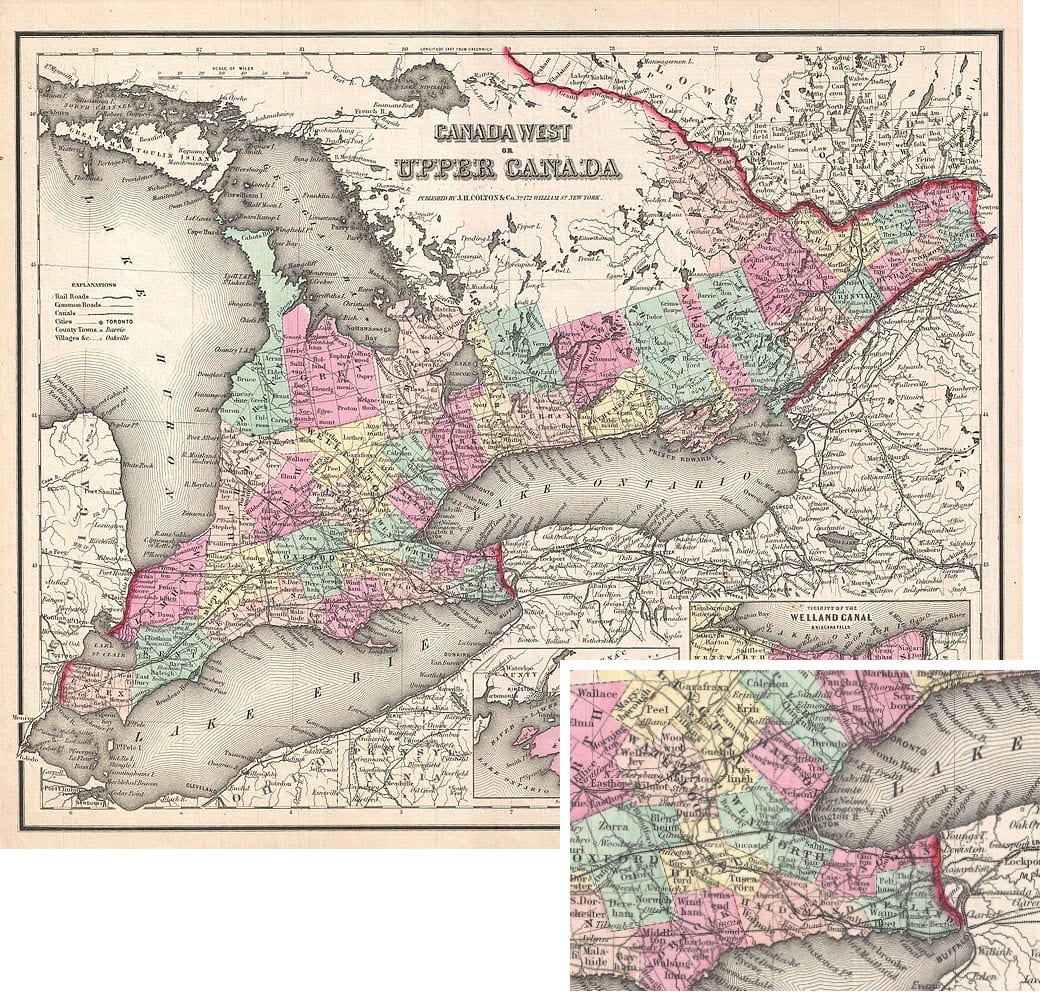 This of course refers to the Niagara Falls. The letters mention William's arrival on May 1st 1843 and later the concern that young Ellen Mary has whooping cough together with teething problems. William had consulted a doctor and, in his absence, had been lancing Ellen's gums himself. It may be that the strenuous journey weakened Ellen for she died soon afterwards on June 7th. Ellen was buried in the cemetery of the North Pelham First Presbyterian Church; she was just under two years old. Her grave is recorded as plot 21-05 in the survey carried out by the Ontario Genealogical Society.
Upon his arrival in Canada, William set out on an exploratory trip to Toronto, which induced Henry to comment,
"The principal (perhaps the only inducement) to settle in the vicinity of Toronto in preference to Pelham would be that of enjoying better society."
William returned, having been "as far west as W. Alger's at Brantford and three times to Toronto."
Henry goes on to say,
"I do hope we shall be able to find them a suitable farm near at hand. After all farming is in this country the most pleasant and independent a life a man can lead to say nothing about its healthfulness. I feel assured that thou wouldst enjoy better health without half the anxiety by just dropping the Starch and purchasing a farm in Canada. For £150 or £200 thou couldst purchase a beautiful little estate quite as much as thou wouldst require."
William must have taken this advice for he is said to have purchased a small farm of 15 acres from a Hicksite preacher (a branch of the Quakers) situated close to the Meeting House.
Nothing more is known of William's life in Canada, but a letter report appears in the Niagara Chronicle of October 5th 1848 is signed W.W.W. Township of Thorold [near Fonthill]. Could this be William? The report is of the First Annual School Celebration of the Niagara District. The letter criticises the editor for failing to attend the meeting and write his own article. The report is very descriptive, as was the manner in those days without recourse to photographs and says that the parade started from Fonthill and included the schools in Pelham. Banners were carried and there was music and verse. The main address was by Rev. Dr Ryerson, Chief Superintendent of Schools for Upper Canada, who spoke on "The System of Free Schools". It is known that William had a keen interest in schooling and there cannot have been many people in that area with the initials W.W.W.
The family are found in the 1851 census living in Stamford Township, Welland County. They are shown to be living in a single-story brick house and their religion is Congregationalist. William is listed as a farmer. Four children were born in Canada – Ellen Wilson on May 29th 1844, Edward Benham in 1846, Henry Watkin on June 21st 1849 and William Claxton on January 15th 1851. Ellen told her family that she was born within the sound of the Niagara Falls. Henry Giles stated that the falls could be heard in Pelham. Henry Watkin Waite, when an adult, recorded that he had been born in Fonthill, Pelham, but unfortunately no record can be found of the children's baptisms. The dates of birth have been taken from employment records.
It is not known when the family left Canada or which route they took but they must have journeyed back to England because on August 14th 1857 they left London Docks on board the Bosworth bound for New Zealand. By now there was a faster route from Ontario to New York via Rochester. This entailed the use of steamers and the railroad. This journey, probably from Port Robinson on the Welland Canal, took 6 to 7 days at a cost of £1 9s 7 ½p [£87].
How long they stayed in England or whether they met their family is not yet known. The Bosworth was a ship of over 600 tons built at Sunderland in 1855 and commanded by Captain Turnbull. An advertisement in The Times for Willis & Co. Lines described it as "A fine full-poop ship of 1,100 tons burden". At the end of a voyage of 102 days, costing £70 to £100 [£4,100 – £5900], they arrived at Port Chalmers, Dunedin, Otago on November 26th. The journey was not uneventful as it is recorded that two of the crew attempted to set fire to the ship in mid-ocean. They were put in irons and stood trial in Dunedin. Three deaths occurred during the voyage, one adult and two children. I have not yet been able to find any report of the trial of the arsonists but a passenger on the Bosworth, Miss Annie Tarlton, some years later wrote an account of the incident:
"The chief events of the voyage were caused partly by the sailors getting to the drink in the hold. There were several Spaniards amongst them; two of them quarrelled and one of them felled the other with a marlin spike. The one who was assaulted out of revenge set the ship on fire, he started his dastardly work late at night by removing the companion ladder, which connected the main deck with the 2nd class cabins and placed tar barrels filled with oakum. That night there were several inches of snow lying on the deck and the passengers had been playing snowballs. The nearest land was Kergulins (sic) Island* in the Southern Ocean and the ship was 1000 miles from that barren island. A sailor said it was the presence of mind of a passenger which saved the ship. He rushed on deck and saw the flames 10 feet high above dense smoke from the tar barrels. The sailors on deck and others appeared petrified but this passenger shouted 'Man the buckets' the sailors sprang into line and in a short time extinguished the fire. The Spaniard was put in chains and lest, he might be liberated by his mates, he was brought down to the 1st class cabins where he was kept to the end of the voyage. He made the remark to some that he did not mind the danger of losing his own life if only he could have his revenge on his enemy. Then there was a mutiny of nearly all the sailors. So, for the 6 weeks before we reached Dunedin the passengers had to assist in the working of the ship. Fortunately, we had two passengers who were Captains so we had 3 nautical capables; other passengers had to take places as watchmen day and night. It can easily be imagined that all were most thankful when early in December to be landed in Dunedin."
Note: The Bosworth landed on the 25th November. * The location of Kerguelen Island is 70 degrees East, 50 degrees South.
To be continued . . . .