Newbury Branch meeting 8th January 2020
Speaker Ellie Thorne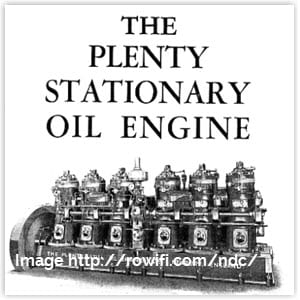 The Plenty business was first set up in Newbury by William Plenty, a Southampton iron founder who arrived around the turn of the nineteenth century. His reason for coming is not known, nor indeed the exact date, because the Plenty archives at the Berkshire Record Office date mainly from the 1890s. There is, however, earlier evidence from other sources.
Around 1790 he is thought to have been in Newbury, although a patent for a pump and a plough, taken out in his name in 1800, suggest he was also still operating from Southampton. His next patent, taken out for a plough in 1815, originated from Newbury.
William Plenty married Jane Haslock in Southampton in 1781, and they had six children, but in Joseph Toomer's Newbury census of 1815, he was living in West Mills with Mary Plenty, apparently his second wife (and by whom he had five more children, all baptised in Newbury). His will of 1824, however, revealed that he and Mary (née Shergold) had been cohabiting. The will refers to his "late wife" although no trace of Jane (Haslock) Plenty's death can be found.
In 1816 Plenty's launched an innovative lifeboat, the Experiment, on the river Kennet, whence it sailed to London and gained the approval of Trinity House. When the forerunner of the RNLI was founded in 1824, some 78 percent of Britain's lifeboats were of this model. It later won awards and was exhibited at the Crystal Palace in 1851. The last one was built in 1870, but many remained in service much longer.
The family moved to Cheap Street in 1822, where William established the business that bore his family's name for over a century. He also accumulated property in Newbury. Sadly, some of his children predeceased him, and three were deemed "weakminded".
When William died in 1824 the business passed to his son Edward Pellew Plenty (the middle name honouring Admiral Pellew of Trinity House). By 1851 Plenty's employed 12 men, rising to 45 (and six boys) in 1861, and 90 by 1871, capitalising on increasing industrialisation. The company produced marine steam engines which were sold as far afield as Russia, India and Australia. Boilers for locomotives were in rising demand. A plan of the Eagle Ironworks in Cheap Street shows every square foot of space occupied in production, and in 1876 Plenty's bought another foundry in Bartholomew Street.
In 1878 the Newbury Weekly News described a mammoth operation to transport a 36-ton engine from Newbury to Bristol, for which bridges en route had to be strengthened in advance. Many other engines were sold in component form to be assembled when they arrived on site.
Increasing prosperity had enabled Edward Pellew Plenty to move his residence away from the town centre works to a farm in Burghclere in 1868. He was already on the town council, and in 1865 served as mayor. Like all civic figures, he was fulsomely eulogised on his death, after which the company passed to his son of the same name.
Few employee records have survived, but the 1881 census indicates that 90 men and boys were employed, most locally born and living in Newbury and Greenham. The company appears to have been a good employer: few accidents were reported, and many employees spent their entire working lives in company service. There was a company cricket team, and an annual works outing to Bristol. In 1871 a dinner was given by employees to thank the management for reducing working hours (although Edward Pellew Plenty's speech indicated that output must be nonetheless maintained). In 1876 two apprentices were sentenced to 14 days' in prison for stealing fruit, but both were allowed to resume on their release. A day's holiday was given for Queen Victoria's diamond jubilee in 1897.
Innovation went as far as a design for a steam-powered submarine for the Turkish government in the 1880s. The company built several local iron bridges, and gas equipment for the Rev John Bacon's hot-air balloons.
Meanwhile, all was not well within the family. Mrs Plenty suffered from depression and was taken to Brighton to aid her recovery, but she went missing and was later found drowned. Edward Pellew Plenty (II) remarried and had two more children. He then ran off with a substantial portion of the company's assets and a local chambermaid. Thereafter they lived abroad, although kept in contact with the family. Edward Pellew Plenty III had to take up the company reins, whilst maintaining his step-mother-in-law Bessie and his step-siblings.
In 1890 the Eagle Ironworks suffered a serious fire in which many patterns of marine engines were destroyed.
At around this time, Earl Russell (son of the former prime minister, and brother of Bertrand) chaired the board. He was later convicted of bigamy but retained his post nonetheless.
The company struggled but recovered with the introduction of diesel engines in 1910, and contracts during the First World War. In 1916 Plenty's produced 3,000 engines and boilers. Edward Pellew Plenty III diversified with a partnership with James Stradling to sell Daimler Benz cars, and also launched the Newbury van, a 15cwt delivery vehicle costing £225. Prospective customers might have a week's free trial, with a driver.
Further diversification followed in the 1930s with pumps and filters, but Plenty's ceased to be a family business on the death of Edward Pellew Plenty III. In the late twentieth century, the company was taken over by SP Equities.
The audience contained many former Plenty employees who contributed comments and memories, revealing (inter alia) the onetime existence of an electric lighting department, and a company museum which contained the chassis from a Newbury van. It was widely agreed that such valuable personal memories should be systematically collected and recorded.