My interest in family history was sparked by the stories my Grandma told me of the forest of masts she could see over the roofs when she grew up in Rotherhithe in the 1890s. She was very proud of her father and brothers who built barges and lighters (flat bottomed barges used to transfer goods and passengers to and from moored ships) but she also told me more about how the family first started this occupation in Berkshire in the 18th century.
Every descendent of Robert Talbot has been told the story of how he and his brothers brought the family barge building business up to London from Berkshire on a stagecoach. Certainly, there was a stagecoach route from Thatcham to London along the Bath Road and some time before 1799 Robert and his brother, Richard, moved to London, as they were both married there in 1799. There is no evidence of any other living brother accompanying them. As Richard and his wife Elizabeth Jenkins do not appear to have had any children, Robert Talbot is seen as the founder of the barge building dynasty.
Robert and Richard were born in the beautiful village of Pangbourne, on the river Thames in Berkshire, the sons of John Talbot and Mary Ivey. Their only other brother, Edward, died in 1792 and their sisters married in Pangbourne.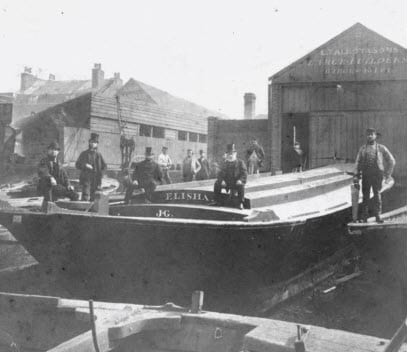 Although there is no proof that John Talbot was a barge builder, there were other Talbots who built barges in Pangbourne at that time. As yet no family connection to these other Talbots has been made. After the death of Mary Ivey in 1795, John Talbot married Mary Kirton and had seven more children before his death in 1837 at the age of 92.
Robert Talbot married Ann Proud at St Andrew by the Wardrobe, near St Paul's Cathedral in 1799. At first, they lived in Shadwell, a crowded dock area between Limehouse and Wapping, but by the time of the birth of their second child, Thomas Talbot in 1804, they were living by the Thames in Fore Street, Lambeth. Fore Street, as its name signifies, lay on the foreshore of the River Thames. It was a very busy area of boat builders, whiting works and potteries including Doulton's, later Royal Doutlon.
By 1839 Robert had moved his barge building business to the up and coming boat building area of Rotherhithe Street. It is probable that they rented all their premises. Leaving Fore Street was wise, as by 1866 it was disappearing beneath the Albert Embankment.
Robert and Ann Proud had 8 children, before Ann's death in 1830. Robert married again twice; to Ann Richards, a widow, in 1833 and to Cricey Finley in 1848, the year before his death of Asiatic cholera. Robert Talbot was buried in a graveyard on Lambeth High Street, near St Mary at Lambeth (The Garden Museum). The stones were moved against the walls by 1950 and have since eroded but it is a peaceful park with a children's playground.
Four of Robert's sons, Thomas, Robert, Richard and Edward followed their father, becoming barge builders while Charles became a stationer and printer, with premises in Tooley Street.
The barge building sons undertook 7-year apprenticeships with the Worshipful Company of Watermen and Lightermen, and 16 members of the extended family became important officials of the Shipwrights Company, including Edward James who was a liveryman of the Shipwrights Company and a Freeman of the river Thames. His uncle Edward L. Talbot was Master of the Shipwrights Company in 1869, as was John William Talbot in 1880.
Rotherhithe in Victorian times was a vibrant part of the Pool of London, teeming with Irish labourers, boat builders and sea captains. The "Fighting Temeraire" (as made famous in the painting by J.M.W. Turner) sailed into port to be broken up here in 1838 and the Mayflower had set sail from Rotherhithe in 1620. There were rope makers, sail makers and oar makers like George Henry Leggett. Large quantities of timber were unloaded here. Grain was unloaded into the flat-bottomed lighters made by the Talbots and other barge builders. The wife of Edward James Talbot, Elizabeth Palmer Hopkins, came from several generations of lightermen.
In 1854 Richard Talbot (b. 1813) moved his barge building business to Caversham in Reading, returning to Berkshire where his wife had been born. It was said that this was because so many of his children died in the unhealthy atmosphere of Rotherhithe. By 1861 he was a timber merchant at Bridge House and three of his sons worked in the business. Some of this branch of the family later emigrated to America but others including Richard are buried at St Peter's churchyard, Caversham.