The Museum is open to the public on the first and third Sundays in the month from 2.00pm to 4.30pm. It is open at other times by arrangement for group bookings (please phone 0118 9549371). See below for specific archival enquiries.
Most of the collection dates from the second half of the nineteenth century and first half of the twentieth century. A range of medical, surgical, dental, nursing and pharmaceutical topics are covered.
Particular attractions include an iron lung and live leeches.
The Museum is run entirely by volunteers many of whom are retired members of the hospital staff. They can offer to identify medical artifacts but do not undertake valuations.
For directions and further information please see
https://www.royalberkshire.nhs.uk/get-involved/medical-museum.htm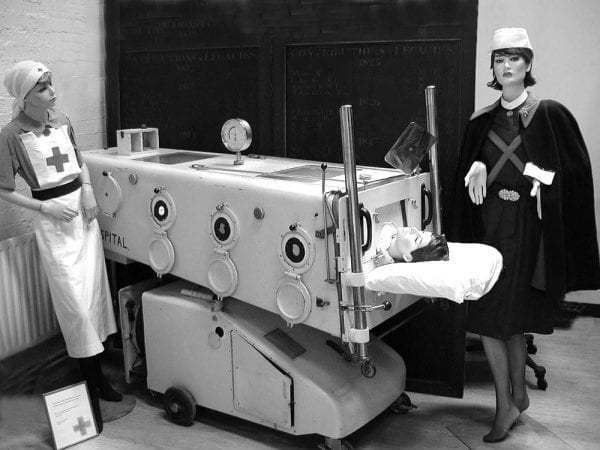 The Royal Berkshire Hospital (RBH) Archive
The RBH Archive is located at the back of the Berkshire Medical Museum.
They have a large number of records relating to the history of the RBH, along with records of a number of other local county hospitals. These include:
Berks and Bucks Joint Sanatorium, which later became Peppard Chest Hospital (includes financial and legal records, minutes, inpatient records, annual reports, journals and published history)
Battle Hospital (a small number of records, but a large number of plans and some nurses records up to the 1950s)
Blagrave Hospital (no staff or patient records, but they have written reminiscences, plans, buildings works papers and correspondence, and a few photos)
Cold Ash Children's Hospital (they have no staff or patient records, but do have minutes and annual reports)
Henley and Wallingford Joint Smallpox Hospital, later Whitelands (no staff or patient records, but they have financial records and minutes)
Henley War Memorial Hospital (includes financial records, minutes, written reminiscences and photos)
King Edward VII Hospital, Windsor (rules and annual reports)
Prospect Park Hospital (a small number of photos and some written reminiscences
Smith Isolation Hospital (financial records, minutes, admissions book, letter books and inventories)
Wallingford Isolation Hospital (large set of records including accounts, deeds, contracts, tenancy agreements, rules, minutes, admissions records, job applications, annual reports, plans and correspondence and papers relating to building works)
Wallingford Cottage Hospital (includes financial and legal records, minutes and annual reports).
The biggest collection, however, is that of the Royal Berkshire Hospital. They have records going back to the establishment of the RBH in 1839 right up to the early 1990s.
These cover a vast range of categories including financial records (accounts, appeals, legacies), legal records (deeds, contracts), publications (annual reports, press cuttings, journals), photographs, building works correspondence and plans, records of societies, lecture notes, events and anniversaries, minutes of various committees, patient records (admissions and discharges, anæsthetics journals, statistics, correspondence), staff records (registers of nurses, certificates and prizes, job applications and registers of non medical staff).
The size of the collection is estimated to be around 2,000 produceable units (i.e. documents, bundles, rolls or volumes).
A large number of these records have now been catalogued. Whilst there is still much work to do, they are happy to arrange visits to the archive to view records under supervision (usually on a Monday). Access to the records is free of charge.
They also offer an email enquiry service. Enquiries mostly come from family and local historians. Queries can be sent to:
Betty Messer
1 Roundhead road
RG7 5DL

They aim to make all our records accessible for consultation and research, unless access is prevented by statutory exemption (such as the Freedom of Information or Data Protection Acts) or likely to cause damage to an already fragile item.
Patient and staff records are subject to a 100 year closure, but do get in touch with them if you have a query about staff or patient records and they can advise you.
There is so much to discover within the collections and they are happy to answer your questions!