An odd title to choose for an article, but it does produce a connection between two families from West Berkshire who came from very different backgrounds, but both resided in the Newbury area at the end of the nineteenth century.
First, the Waldrons, an extensive family, who originally came from near Ramsbury in Wiltshire, but one member moved to Lambourn Woodlands and then to Peasemore. Second, the Payne family, who lived in various locations around the Newbury area.
Patagonia occupies nearly the whole of southern Argentina, stretching from the Andes in the west to the Atlantic Ocean in the east. Even today it is mostly savannah grasslands, but in the nineteenth century, it is difficult to convey just how wild this area was. The border between Argentina and Chile was ill-defined, and this led to border disputes. Transport was on dirt roads, there were no railways and no river transport. In spite of these difficulties, the area became attractive to overseas investors because it could be used for sheep farming. Many of these investors came from England and Scotland, and one such family were the Waldrons, in particular, Walter Brind Waldron and his brother Thomas.
Walter was born at Eastridge House, near Ramsbury in 1840. His father was a farmer on a large scale, and he sent Walter to attend Bews Commercial School at Speen near Newbury where he is to be found in 1851. In 1867 Walter married Marian Wood in Cuxton, Kent and they had a total of eight children together but only one son, Walter George. By 1871 the family had moved to Poughley Park in Lambourn Woodlands, and by 1891 to Peasemore House.
There was a second marriage between the Waldron and Wood families, when Walter's sister Elizabeth married Henry Pye Wood in 1873. Henry also came from Kent, but in 1881 he was farming at Manor Farm, Eastbury in the Lambourn valley.
A third marriage between the two families was between Walter's brother Thomas and Frances Wood, which further strengthened the bond between the two families.
Walter and Thomas are believed to have first visited Patagonia in about 1883, arriving via the Falkland Islands, which was a route used by many immigrants. Entry would have been via the port of Punta Arenas (now in Chile), the town having a large English population.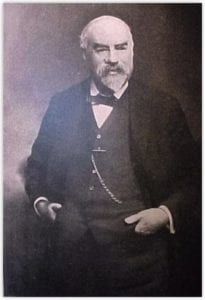 By 1895 Walter and Thomas were renting large tracts of land in Tierra del Fuego although they were mostly registered in the names of Walter's wife and daughters. These were estancias, or ranches, of about 10,000 hectares. To manage them the Waldron family, together with the Wood family, set up the Patagonian Sheep Farming Company Ltd which was registered in London in 1886. The legal side of the company was run by Walter's son, Walter George, and he also acted as a shipping agent to transport, initially wool, but once refrigeration became available, sheep carcasses, to England. The company was relatively short-lived and was wound up in 1909.
In the meantime, Messrs Waldron and Wood had purchased an estancia called El Condor which was close to the Straits of Magellan in Chile, but was actually just over the now established border, in the Argentinian province of Santa Cruz. In about 1896 they recruited members of the Payne family to work at this estancia; in particular they employed Charlotte Payne as a cook. They are thought to have employed several families from West Berkshire and Wiltshire to work for them in Patagonia. Estancia El Condor can still be visited, as it is now run as a holiday destination close to the Andes.
By 1911 Walter Brind Waldron had virtually retired from the company leaving his son Walter George, and eventually his grandsons, to look after his interests in Argentina. He died in 1913 at Leamington Spa, Warwickshire and was buried at Peasemore. His life, and that of his brother Thomas, are commemorated by memorial plaques in the parish church at Ramsbury.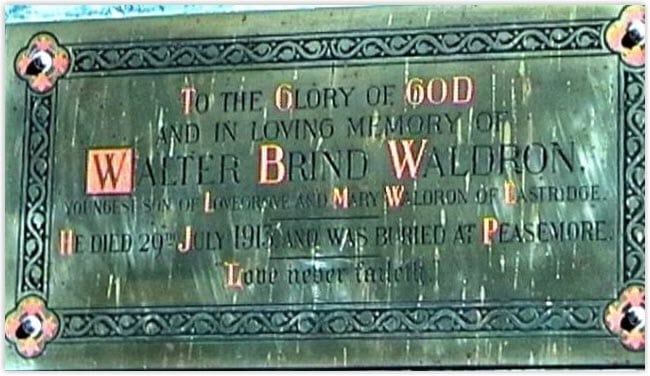 The Payne family's relocation from Newbury to Patagonia must have been a huge undertaking. Charlotte Payne's husband was Henry, and his employment as a groom in Newbury hardly equipped him for the life that he must have experienced at Estancia El Condor. He was born at East Woodhay in 1848, married his wife Charlotte at Woolton Hill in 1873, and had always lived and worked in the Newbury area. Charlotte was born at Burghclere in 1852, and was perhaps slightly better qualified, as in 1891 she served as a cook for the Beale family at Waltham St Lawrence before being engaged by the Waldron family. By 1896 five of their six children were grown-up enough to look after themselves, and they remained in England in various employments. However, their youngest son William, who had been born in Leckhampstead in 1885, accompanied his parents to Patagonia. His steps to adulthood must have been very rapid of necessity because, not many years after their arrival at Estancia El Condor, his father left for the stated purpose of returning to England but he was never heard from again.
By dint of his own efforts, and as a result of entering into a partnership with John Atkinson in 1905, William and John were able to purchase a small estancia called Lago Roca which is near Lago Argentino and is cradled by the peaks of the Andes mountains. To give some idea of the remoteness, the first step in the shipment of wool to England involved a journey of 200 miles by bullock cart, the round trip to Rio Gallegos, the nearest port, taking about a month. The winters could be bitterly cold, with the sheep flock at risk from attacks by pumas. Most of the farming activity took place during the summer. There were no doctors or dentists, and the local school operated only during the summer when a teacher arrived from Chile. In spite of this, when World War One broke out William volunteered to serve in the British Army. He was not alone because the English-speaking community which was centred on Punta Arenas in Chile raised funds to pay for the passage to England of 120 fellow volunteers.
William signed on as a private in the Royal Horse Guards in 1915 and served in France and Flanders. He would have been an expert horseman. He had no previous military experience, but in 1917 he gained a commission as a second lieutenant, serving in the Worcestershire Regiment and later in the Hampshire Regiment. He also found time to marry Gertrude Talbot in 1917 at Mortimer, near Reading. He did not return to Argentina immediately after the war; in fact the first two of his children were born in England. His war medals were sent to a bank in Rio Gallegos.
When he did eventually return he found that the business at Lago Roca had prospered in his absence and was able to purchase a second estancia at Lago Cardiel, but this was four days' journey by car to the north. By this time the family had acquired an American Chevrolet for transport, and also five more children in the post-war years. These were lawless times, and in 1922 William had to be rescued by the police when strikers invaded his estancia.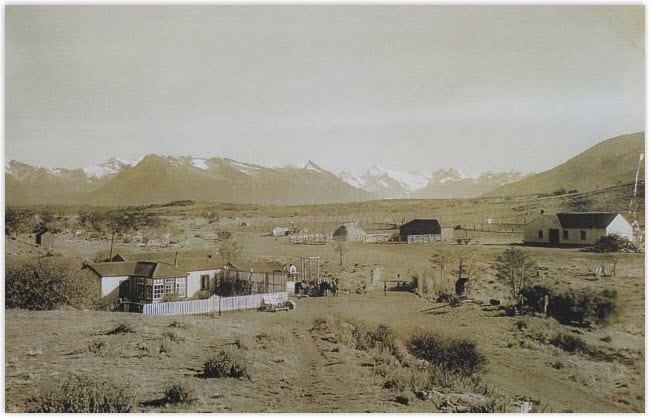 The lack of schooling in Patagonia persuaded the family to return to England in 1925. The whole family consisted of William, his wife, his mother Charlotte, and seven children. In England, he farmed at Bockhampton Farm, just to the south of Lambourn and a further five children arrived making 12 in total.
No doubt farming in England was a very different matter to sheep ranching in Argentina, and in 1933 the Paynes sold up and all the family returned to Patagonia for good, except for William's mother Charlotte, who had died during this period in England. We now have a detailed account of their life in Patagonia because William's wife Gertrude was a prolific letter writer, and over a period of 20 she corresponded with her relatives in England recounting every detail of her life at Lago Roca.
Life for a woman in a man's world must have been really tough. For instance, she was required to cook meals for the family, and in the summer months, this was augmented by up to eight itinerant farm workers who were required to help in the handling of 6,000 sheep. This could require the slaughtering, butchering and cooking of numerous sheep per week.
William died in 1959 and Gertrude in 1980. Towards the end of her life, she left Lago Roca for the relative comfort of estancias nearer the Atlantic coast, but the ownership of Lago Roca stayed in the family until the 1950s. The remainder of their children were scattered all over Argentina, although one or two did return to England to settle.
The passenger lists of ships sailing between England and Patagonia, principally to Punta Arenas, reveal that the Waldrons were regular travellers up to the 1950s. Many passengers gave their profession as shepherds, revealing just how close the contacts were between the two countries when it came to sheep farming.
Walter Brind Waldron's grandsons did much to expand the families' interests. In 1931 Arthur Waldron was a vice-president of a society based in Rio Gallagos whose aim was to promote animal husbandry in Patagonia. Arthur was the son of Stephen Waldron, a second cousin of Walter Brind, and had married Walter's sister, Mary, making him the nephew of Walter Brind and cousin to Walter George. Stephen had farmed at nearby West Shefford, and of his 12 children at least three of his sons emigrated to Patagonia, as witnessed by the fact that they were married in Punta Arenas between 1907 and 1911.
Several members of the family retired to the Newbury area towards the end of their lives, and George Harry Wood, son of Henry Pye Wood, lived at Tydehams in 1939.
Unfortunately, there appears to be very little in the way of paper records still existing in this country which might reveal a little more of the activities of the Patagonian Sheep Farming Company and the opportunities that it gave to employees from West Berkshire. Early records from Patagonia are very fragmented, but much can be learned from the website "British Settlers in the far South of Argentina".