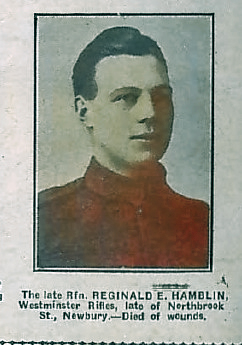 Recently I have found a missing relative who served in WW1 and died in the trenches in August 1918. The person in question was Reginald Edward Hamblin, who was my great great grandfather's brother's son. 
Reginald had been born in Newbury in 1897 to Isaac Ballard Hamblin and Keturah, née Hamblin, the third of four children. Isaac was a tailor, like his father, Isaac Edward, and they ran a shop in Northbrook Street, Newbury. By the time Isaac Ballard took over the business the family had moved away from living over the shop and were residing in Shaw.
In 1916 Reginald enlisted with the 1st/16th Battalion London Regiment – the Queen's Westminster Rifles (a Territorial unit). Reginald's original regimental number was 6112, but this changed in 1917 when the entire battalion was renumbered as part of the renumbering of the Territorial Force. Reginald became Private 552862 Hamblin.
Reginald died of wounds 25th August 1918, his body was never recovered. He is remembered on Panel 10 of the Vis-en-Artois Memorial in northern France, Tablet 10 of the Newbury Town War Memorial, and on both the memorial cross and roll of honour in Brightwalton. As his family had a strong link to Brightwalton and his grandparents were still living there, they were able to make sure Reginald was added to the list of fallen commemorated in the village.
Whilst doing the research, I found his service medals being sold on a well-known auction site. Here's the fascinating story on how the seller obtained them. I received a notification from the auction site in response to a saved search I had set up. The saved search was anything that came up for sale with the family name "Hamblin" and to my surprise the notification was for a set of framed WW1 medals and history that belonged to Reginald. I purchased them immediately because I did not want the item to be lost to a collector.
After receiving the medals, I contacted the seller and asked how they came to have them. It was conveyed to me that they had been purchased many years ago from a house clearance. The owner of the shop who purchased the medals hung them in his shop, where they hung for twenty plus years. When the shop owner died, the medals were packed away along with the shop stock and were then stored in a garage for a few more years. When the garage was cleared the medals were listed on the auction site and they came online close to the day that I was researching Reginald. 
The family line had ended with nobody to pass the medals onto. So it felt like fate had led them back to the family, and to me. 
The medals now hang proudly on a wall in my family home.
The moral of the story is, always keep your eyes open, as you never know what you will find.