In July 2016 I was fortunate to be sent to Warsaw on a business trip. I was beside myself with excitement, and it was hard to focus on work, as I just wanted to rent a car and explore my ancestral shtetlach (settlements).
I took the first flight out of Heathrow on the Sunday, which meant a 5am start, and despite my taxi not showing up, I managed to arrive in Warsaw on time at 11am. This time was significant because it was exactly the same time as a memorial service was taking place in Jedwabne to commemorate the 75th anniversary of the Jedwabne atrocity (or pogrom) in 1941, when hundreds of Jews were herded into a barn soaked in kerosene and set alight by Polish locals, encouraged by the Nazis. This sadly included Moishe Gryngras, the second husband of my great-grandmother's sister (Sophie Jelen) – as I learned from a page of testimony from Yad Vashem (The World Holocaust Remembrance Centre in Israel).
Poor planning on my part, as I could not get to Jedwabne in time; I only found out about the memorial service after my flights had been booked, and Jedwabne is a good two and a half hours North-East of Warsaw in the Lomza (pronounced 'Womja') district of my ancestors.
Warsaw is a beautiful city, and although I imagined I would be greeted by Tevye (Fiddler on the Roof) with fresh milk from the cow, I had to put up with being greeted by champagne at the Hilton instead.
Within walking distance of my hotel, I visited the old Warsaw cemetery on Okopowa Street, to try to find my Berkowicz ancestors. My great grandparents lived and married in Warsaw, before coming to the UK, but their parents stayed behind in the old country. So, I was looking for Abraham and "Lo'se" Berkowicz in a graveyard of over 200,000 tombstones almost entirely in Hebrew with some Polish if I was lucky. My strategy was to attempt to trip over them by wandering about randomly using the genealogical force and my shared DNA to guide me. Needless to say, I was not exactly successful. That being said, I did find a "Jelen". I also found an Adolph Bernhardt – the namesake of my wife's great uncle who died in the Great War.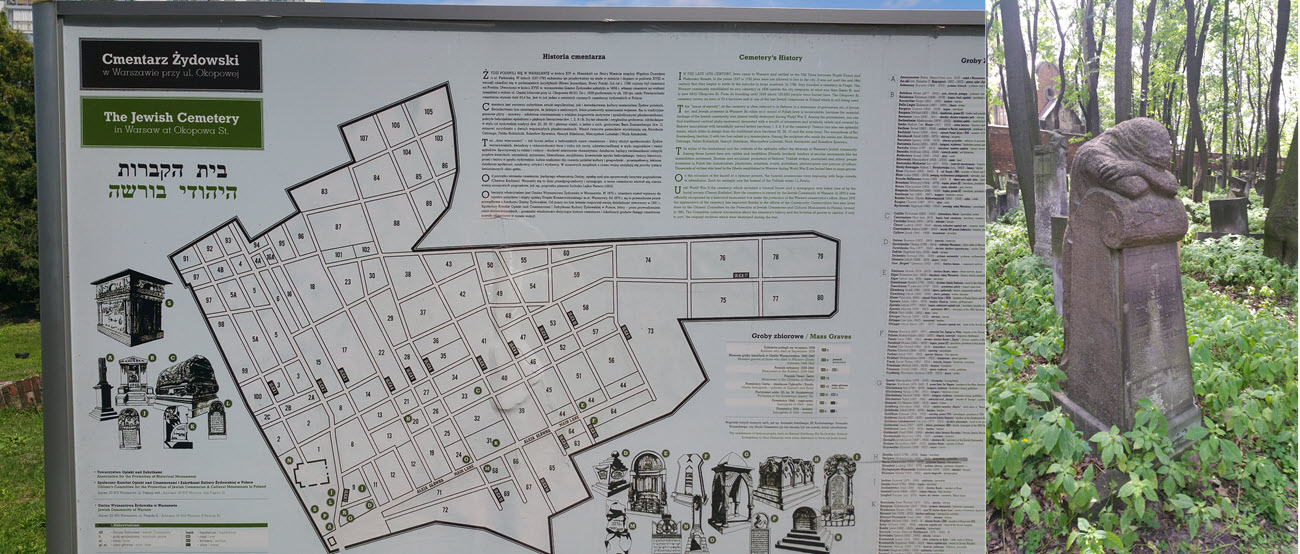 That evening I discovered a better strategy in the search engine of the website of The Foundation for Documentation of Jewish Cemeteries in Poland at http://cemetery.jewish.org.pl/lang_en/. This has a database of 80,000 of the graves including at least 5 Abraham/Avram Berkowicz's. Again, bad planning on my part, but I will visit these specific graves next time I am in Warsaw. Until then, I have the pictures of the stones from the database in high resolution, so I have 5 possibilities with 5 different names for possible triple great grandfathers. Sadly, I have no knowledge of which is the right one (if any) and there was no mention of wife "Lo'se" to confirm I had the right Abraham.
My afternoon was spent in POLIN, the Museum of the History of Polish Jews. This was huge and amazing. I spent 5 hours going round reading every plaque, interacting with every display, and listening to every section of the audio guide. Even so, I felt that I rather rushed the First and Second World War sections when hunger got the better of me and I wolfed down a late lunch at the Museum café at 7pm. So, I plan to return and redo those important sections. Outside is a large memorial to the Warsaw Ghetto Uprising, which had been augmented with some Jedwabne extras.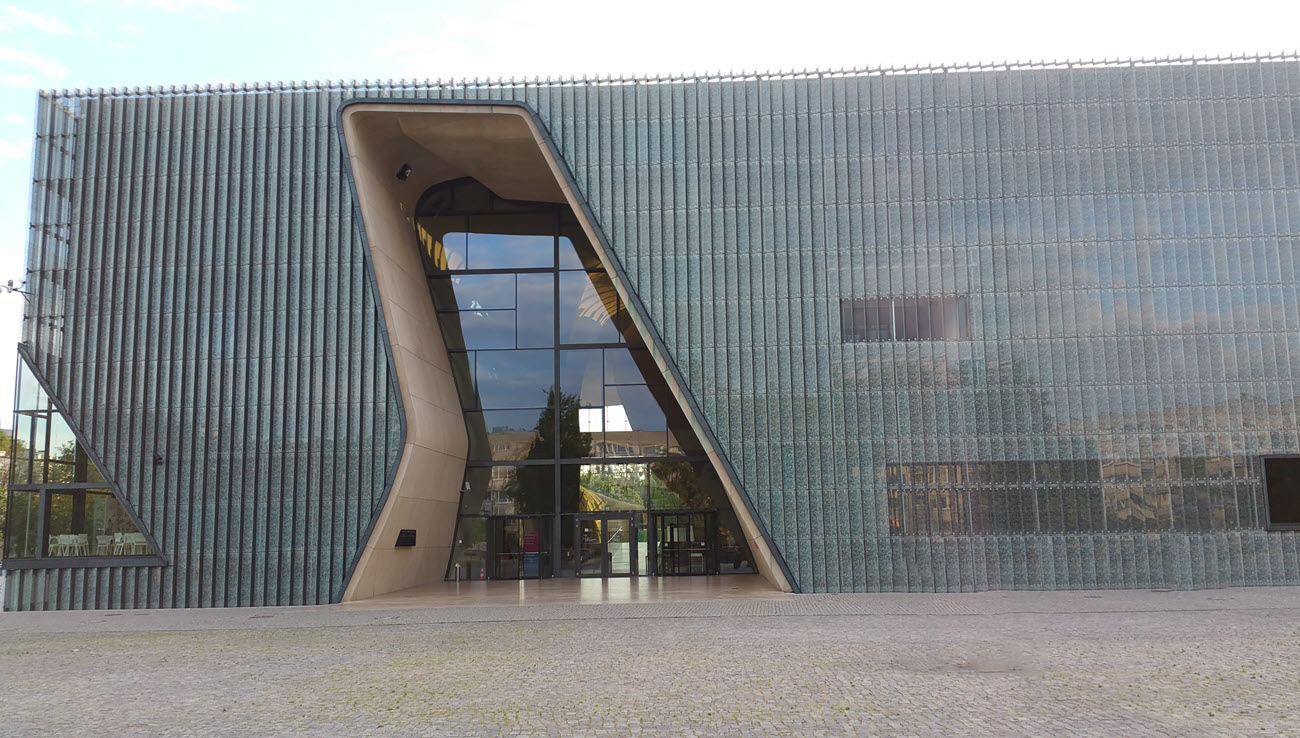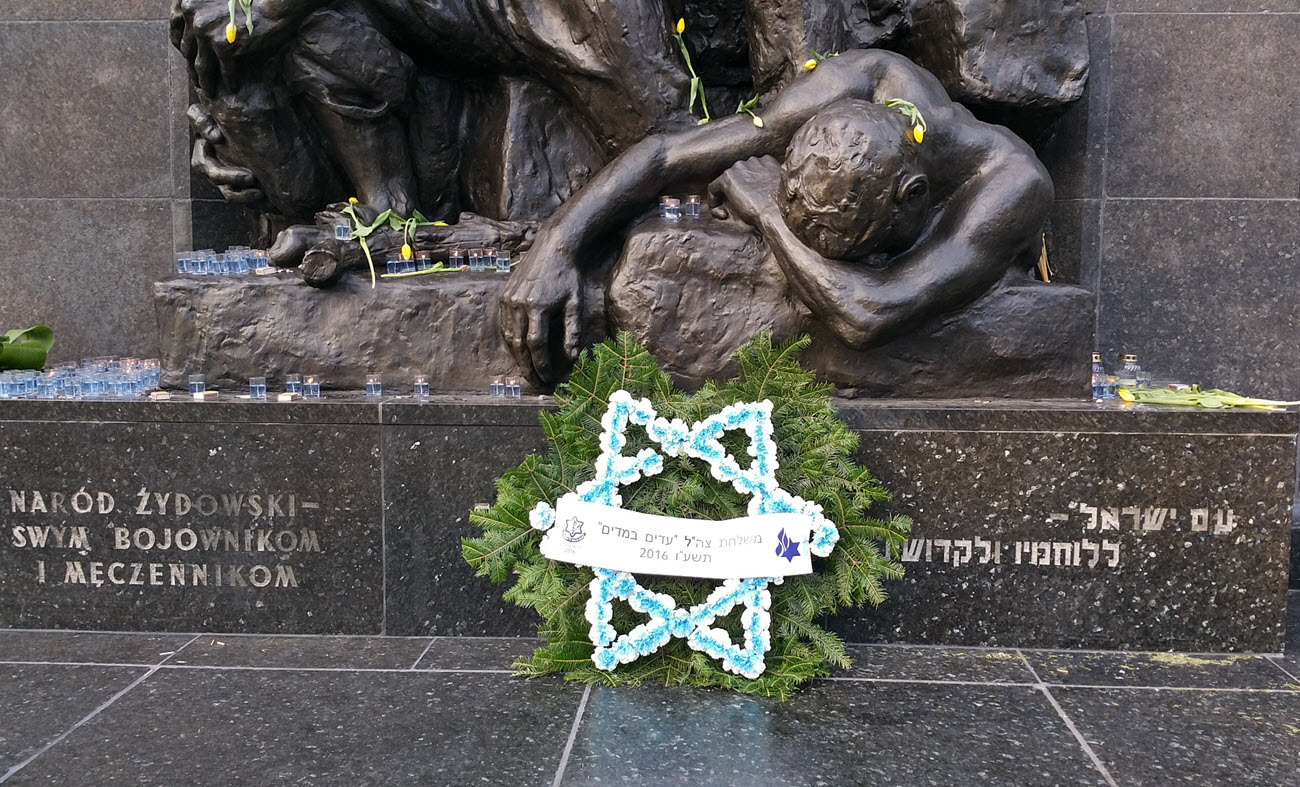 I walked back to the hotel via the Nożyk Orthodox Synagogue, which is the only synagogue in Warsaw to have survived the Second World War. It was only built in 1898 so may be a little late for my people. Sadly, the great synagogue of Warsaw, once the largest in the world at the time, did not survive. On my next trip I will visit the former when it is still open (oops!) and the site of the latter.
I won't bore you with the details of my work, but the highlight was dinner with a couple of Polish friends of a colleague who taught me that Grushka – a family surname – means "pear". The vodka cocktail tapas bar afterwards was also quite interesting if not genealogically so.
With work out of the way I rented a car and set off for Zambrow where my Jelen's were from, particularly my great-grandmother Leah, her sister Sophie and their parents Aria and Malka. Zambrow means something like home of the bison (Zbr in Polish) and also seems to be the name of the local beer.
Driving in Poland is not for the faint hearted. There were precious few dual carriageways and so mostly people were driving at each other at over 60 mph. It would have been better if this had been in consecutive lanes, but there is a lot of dangerous overtaking and it is quite common to be staring at a huge truck trundling towards you, just hoping that they complete the manoeuvre in time.
You may think that I'm exaggerating, but I wondered why there were so many Christian shrines on the roads. I guessed it was due to being in a religious country, and then suddenly it dawned on me that each represented a failed overtaking attempt.
Somehow, I dodged the juggernauts, and made it to Zambrow. I was literally greeted by a cow (but no Tevye) as I drove into town – a fair substitute for a bison. Nobody spoke English. It was wonderful. 
After checking into my hostel, I decided to find the Zambrow Jewish cemetery. This time I had done my research and knew the street it was on. However, there was no street address. I spent over an hour trying to find the place wading through random fields and forests that looked promising. I even spoke to a few locals in my fluent Polish, which involved saying the word for 'Jew' (Zydow) and miming dead people, but to no avail. Luckily, I wasn't reported! As I started to drive out of town and back to the hotel in a state of dejection, I caught sight of a large stone with a plaque and a Magan Dovid (Star of David) on it, and realised I was only a quarter of a mile out with my muddy field, but that now I had found the cemetery.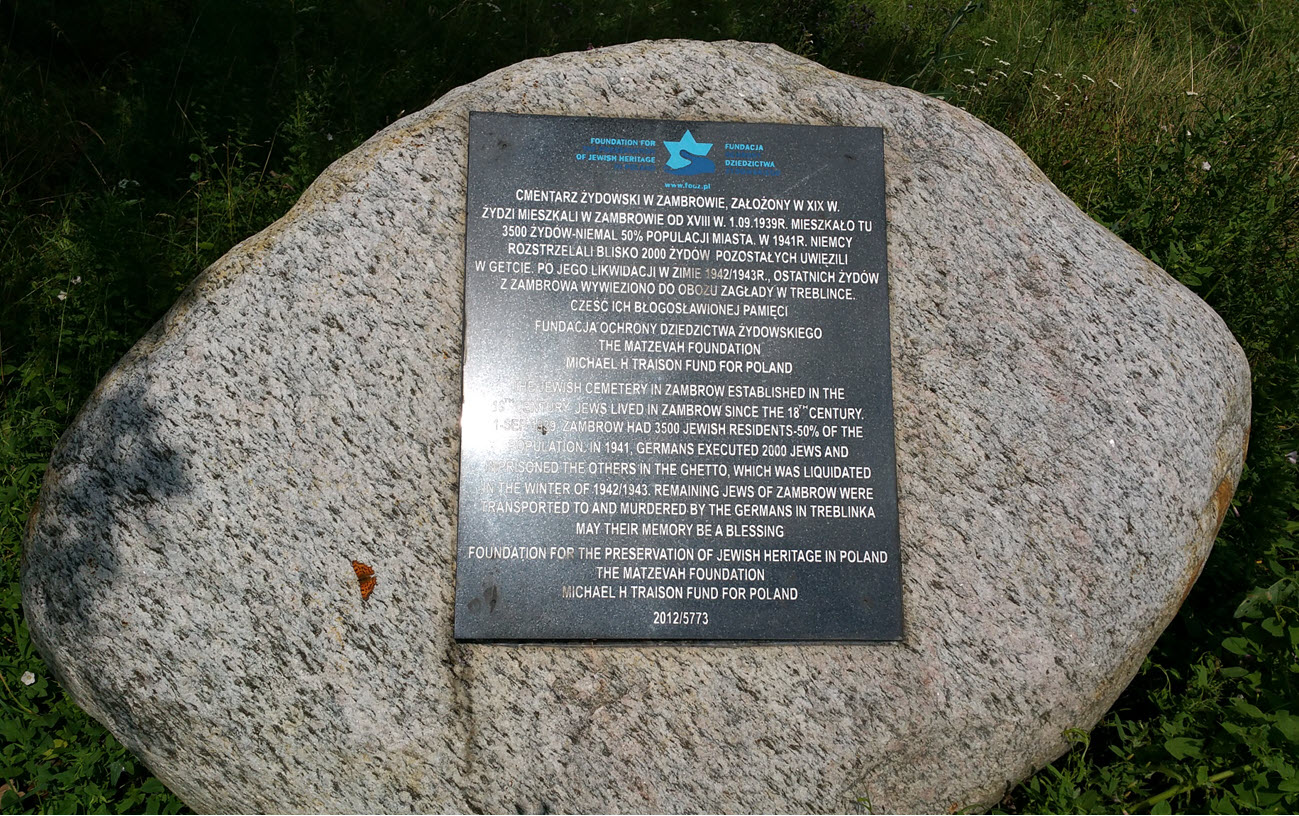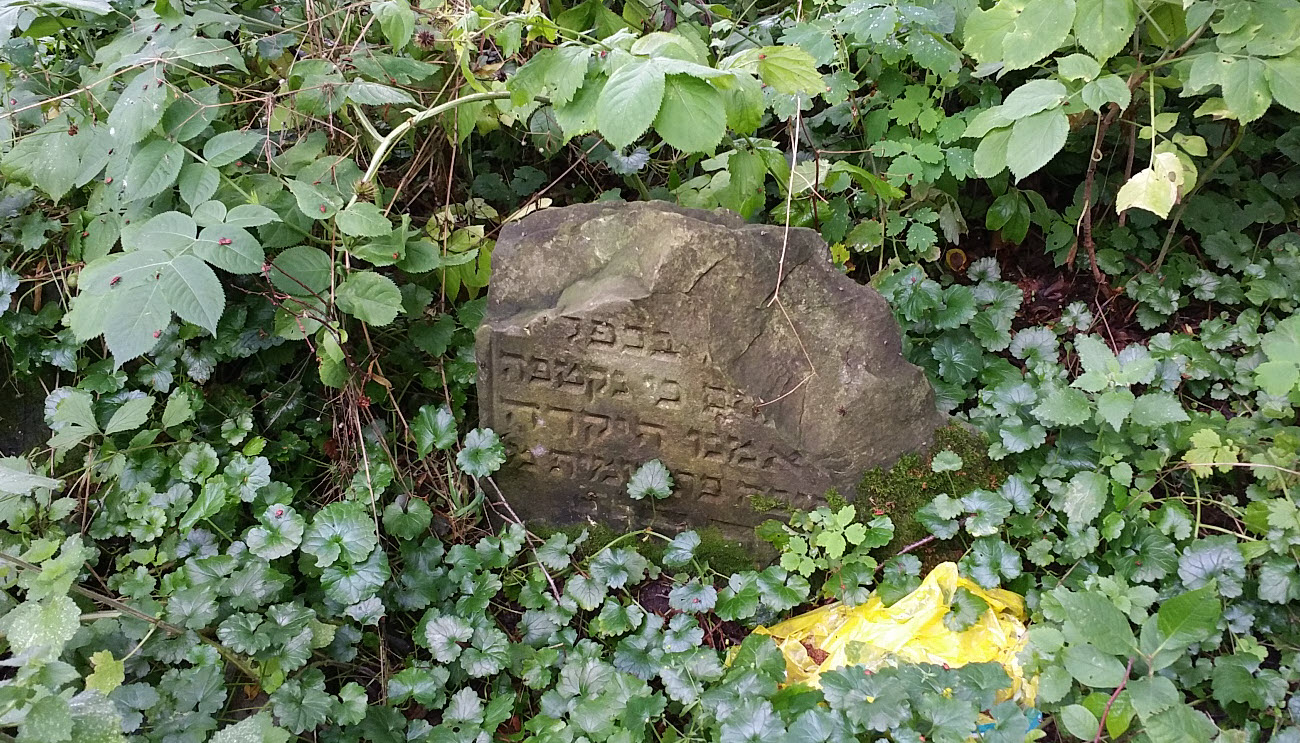 This turned out to be a bittersweet experience. It was great that something had survived, where in most places the Jewish cemeteries and synagogues have all gone. However, the cemetery is in a terrible state of repair. I photographed every stone I could find, and there are over 100. But almost all are fallen over, broken, covered in moss with some Hebrew writing still legible, but not much. Sadly, the site was also strewn with empty beer cans where the local youth have been using the stones to sit on. The cemetery has been taken over by the forest. I'm not sure that I would recommend doing this as although I am meant to be young and fit, I was constantly in fear of missing a step and rolling down the steep hill where I had perched to take a photo. In a sombre mood, I headed back to my hostel with a great set of photos. Luckily, all of the stones have already been photographed and indexed on the site above, but that was before the forest had taken over and had won.
At one point I noticed that a very colourful mosquito was making a meal out of me and then remembered that I am allergic. What followed was a tricky negotiation for some antihistamine gel at a shop in Zambrow which was either a chemist or a vet. Having failed to establish which, I put in a masterful performance miming a mosquito and managed to secure the right medication with a picture of a mozzie on the tube.
That evening I successfully managed to mime "vegetarian pizza and a beer please" at a non-English speaking pizzeria, and then I wandered around Zambrow getting a feel of the place where quite a few of my ancestors were born. There were churches and a town square with an impressive bison, but absolutely nothing Jewish was preserved.
To be continued…