Kintbury is an ecclesiastical and civil parish in West Berkshire, between Newbury and Hungerford. It is crossed by the river Kennet, the Kennet and Avon Canal, the railway line to Exeter and Penzance, and the A4 (Bath Road). The parish lies within the North Wessex Downs Area of Outstanding Natural Beauty. The main settlement of the village lies a mile or so south of the Bath Road, and the main street, called Station Road (and pictured above around 1905) runs northwards from the river.
Before the creation of civil parishes Kintbury comprised the parish proper and two detached portions, Anvilles (now in Inkpen parish) and Denford (now part of Hungerford ecclesiastical parish). Avington (formerly a separate parish) was taken into Kintbury civil parish in 1894.
Other place names within the parish are Clapton, Elcot, Wallington, Wawcott (Walcot) and Wormestall, Templeton, Titcombe & Inglewood.
Hundred
Kintbury Eagle
Poor Law union
Hungerford
Registration district
Hungerford (subsumed into Newbury in 1937)
Present-day local authority
West Berkshire
Grid reference
SU 38 66
Adjoining parishes in 1851
Avington, East Shefford, Hamstead Marshall, Hungerford, Inkpen, Welford, West (now Great) Shefford and West Woodhay
Population
1,887 in 1851: 2,534 in 2011
Size
7,778 acres (3,150 hectares), with Avington adding another 1,185 acres (480 hectares)
Genealogical resources
See Berks FHS Books for coverage of this parish in the society's range of CDs.
See also Berkshire Record Office holdings.
Avington parish registers before 1725 were destroyed in a fire.
For the censuses 1841-91 Avington was a place in its own right.
West Berks Library holds a typescript of St Mary's BTs.
Primitive Methodist chapel baptisms 1810-54 are filed at TNA.
Wesleyan Methodist chapel baptisms 1838 – 1969 are filed with records of the Newbury Circuit.
Published local history
Kintbury a century remembered 1900-1999 (Kintbury Volunteer Group, nd)
Kintbury through the ages (Kintbury Volunteer Group, nd)
Parochial organisation and churches
Today the vicarage of Kintbury (including Avington, but no longer including Denford) is joined with the united benefice of Enborne, Hamstead Marshall, Inkpen, Combe and West Woodhay under one rector. This Walbury Beacon benefice lies within the deanery of Newbury and the archdeaconry of Berkshire, which transferred from Salisbury diocese to that of Oxford in 1836.
St Mary's Church (pictured below), in the centre of Kintbury village, was heavily restored in 1859, obliterating most of its ancient features, some of which were Norman. It has a churchyard.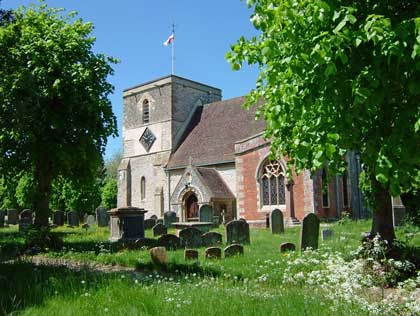 Christ Church was built in 1867 at Kintbury Crossways, on the Inkpen Road, as a chapel of ease to the parish church. It was demolished in the mid-twentieth century, but its churchyard survives and is still used.
Avington's church of St Mark and St Luke is very small, ancient and almost wholly unspoiled. It is still used for services, but only rarely. To visit, enquire at the nearby cottages for a key.
Denford's Church of the Holy Trinity was built as a private chapel in the grounds of Denford Park in 1832. The township was formed into an ecclesiastical parish in 1833, often served from Hungerford, which was nearer than Kintbury, and to which Denford later was joined. The Denford chapel was demolished in the 1950s.
Other churches
Kintbury's Primitive Methodist chapel belonged to the Hungerford Circuit.
The Wesleyan Chapel belonged to the Newbury Circuit.
Local history
In the sixteenth century Kintbury outclassed its neighbour Hungerford in commercial significance. The parish and its outlying townships used to have several mills, and the village was once a centre of the silk industry. The village also prospered from its position on, first, the Kennet and Avon Canal and, later, the Great Western Railway.
Kintbury today has several pubs (such as the Dundas Arms, the Blue Ball and the Halfway Inn, a late-eighteenth-century toll house on the Bath Road), a few shops, a surgery and a school. There are two village halls: the Coronation Hall and the Jubilee Centre, both in Inkpen Road.
Schools
The Parliamentary survey of 1833 found a daily school (founded 1831) in Kintbury, the forerunner of today's St Mary's Primary School.
There were also two fee-paying boarding schools, and both Anglican and Wesleyan Methodist Sunday schools.
Later in the nineteenth century another (possibly National) school was set up near Christ Church, but this closed some decades ago, becoming first a restaurant, and now a private house.
Houses
The large houses of the parish are:
Barton Court: built 1772, Gothic, still privately occupied;
Wallingtons: early seventeenth-century, now a Roman Catholic retreat centre called St Cassian's;
Elcot Park: now a hotel;
Inglewood: a one-time training centre for the lay Catholic order of the De La Salle Brothers, later a health hydro, now converted into flats for the elderly;
Denford Park: home to the Norland College 1967 – 2003, now redeveloped.
Families
Prominent Kintbury families included the names of Bacon, Cherry, Dundas, Dunn and Walmesley.