by Mark Stevens of the Berkshire Records Office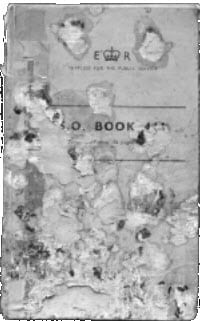 In April 2007 a conservation project to repackage, repair and stabilise the archives of Broadmoor Hospital, formerly Broadmoor Criminal Lunatic Asylum, was begun at the Berkshire Record Office (BRO). The archive includes a wide range of material covering the administration and personnel, and comprised approximately 125 boxes, 387 volumes and 110 other items. A further 239 boxes of patient medical records are also included. This project was made possible by the receipt of a grant from the Wellcome Trust's Research Resources in Medical History funding scheme. 
The archive consists of both loose-leaf and bound material as well as photographs of patients and the hospital site covering the period since the hospital opened in 1863 to 2004. Prior to removal to the BRO the material had been stored in a variety of locations at Broadmoor Hospital, from the superintendent's office to the former bakery and even, at one point, the mortuary. Hence much of the material was in a poor condition. Many items were partially covered in bird droppings, and a number of items were mouldy throughout.
Preliminary preservation work, such as repackaging and removal of staples, was undertaken by the project archivist during cataloguing, and a database was established, identifying items in need of further conservation treatment. This database was then used to survey the collection, identifying specific treatment to be undertaken.
Having established the conservation requirements of the collection, the project archivist was asked to indicate the priority and expected use of each item so that conservation work could be concentrated on the most important documents. A total of 29 volumes were identified to be re-bound as original, and 46 volumes to be case-bound in a simpler, more cost-effective style, whilst still enabling the material to be accessed by searchers. Dry cleaning, paper repairs and re-sewing were carried out on all volumes as required, and volumes were then outsourced for re-binding in the original style, or case-bound within the conservation department.
A further grant has now been awarded by the Wellcome Trust to enable 20 boxes of patient records to be washed and repaired. On arrival at the BRO these records were found to be in such a fragile condition that researchers could not handle them safely. It is estimated that this part of the project will take a further three years to complete.