Brimpton is a parish and village east of Newbury, on the rivers Enborne and Kennet, on the Hampshire border. The village adjoins the 4,000-acre Wasing estate.
Place names within the parish include Blacknest, Lane End, Hyde End, Brimpton Common, Boston, Late Arundells, Marsh Gate, Able Bridge Lane, Paul's Hole, West End and Shalford, a manor formerly distinct from Brimpton.
There is another Brimpton in Somerset.
Size
1,705 acres  (690 hectares)
Population
514 in 1851; 616 in 2011
Poor law union
Newbury
Registration district
Newbury
Present-day local authority
West Berkshire
Grid reference
SU 59 64
Adjoining parishes
Midgham, Thatcham, Wasing, Woolhampton and in Hants: Baughurst and Kingsclere
Genealogical resources
See Berks FHS Books for coverage of this parish in the society's range of CDs.
See also Berkshire Record Office holdings.
Newbury Library holds a 1988 transcription of Brimpton parish registers.
Published local history
John Trigg Austerity to affluence: Woolhampton, Midgham, Brimpton and district 1945 – 1960s (author, 2004)
John Trigg Village collection: more old tales of Woolhampton, Midgham, Brimpton and Wasing (author, 2000)
The Brimpton story (Brimpton Parish Research Association, 1999)
J S Smallwood Visitor's guide to Brimpton church
Anglican church and parochial organisation
Brimpton lies within the deanery of Newbury and the archdeaconry of Berkshire, which transferred from Salisbury diocese to that of Oxford in 1836. The living is a vicarage.
Two churches were recorded at Brimpton in Norman times, when the parish was served by the minster church at Thatcham. One of them used to stand at Brimpton Farm: the chapel of St Leonard, the Domesday church of Shalford Manor, was secularised in 1614. It is currently listed by English Heritage as "at risk".
The present-day church of St Peter was built in 1859 in fourteenth-century style.
Other churches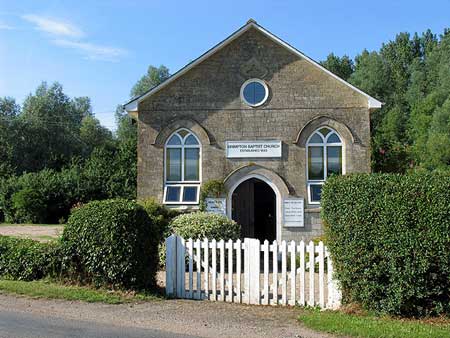 Copyright Pam Brophy and licensed for reuse under Creative Commons Licence
Brimpton's Baptist chapel, pictured above, was established in 1843.
Schools
Parliamentary papers of 1819 record a school for about 40 children, which may have been a Sunday school. A school was founded by the Earl of Falmouth in 1844, and still serves the village today as Brimpton Primary School.
Berkshire Record Office holds plans of proposed alterations to Brimpton School, c1860, 1888; foundation deed 1844; cash book 1898 – 1934; and admission registers from 1860.
Pubs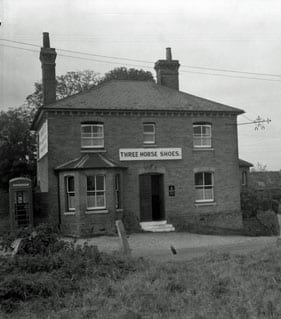 The Three Horse Shoes Inn was enumerated in the 1851 census, and still stands today, although looking somewhat different.
The Pineapple on Brimpton Common is now closed.
Other local history
Borson Barrows, five Bronze Age round barrows, were referenced as boundary markers in a Saxon charter of AD 944.
Brimpton featured in the Swing Riots of 1830.
Seven almshouses were built and endowed in 1854 by the Countess of Falmouth, and called St Peter's Almshouses.
Brimpton was enclosed in 1811.
Farm names in 1851 were: Brimpton, Common, Boot, Shalford, Warren and Holdways.Shalford Manor Farm House is a brick building dating from the seventeenth century. Brimpton House is a Grade II-listed Georgian farmhouse built c1812 by Joseph Arendel, a wealthy farmer.
In 1851 Brimpton had a post office (under Reading) run by a cordwainer who employed five men. (The village still has a post office today.)
1851 also enumerated an address described as gravel pits.
Two mills existed in 1851: Brimpton and Hyde End. Hyde End was converted into a trout hatchery in the late nineteenth/early twentieth century.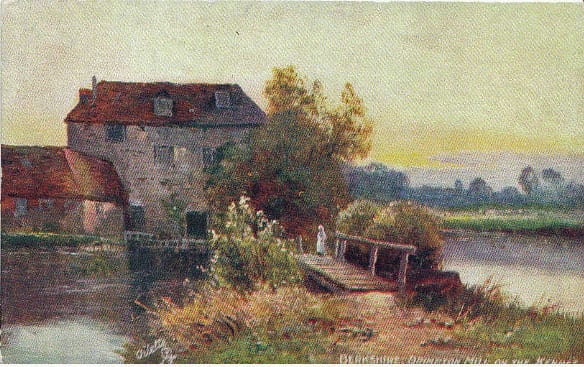 In the early twentieth century the greater portion of the Brimpton estate was bought by William Mount of Wasing Place. Brimpton airstrip, a 500-metre grass runway, was laid out in the 1950s by Sir William Mount. It is located one mile east of the village, and is the base for a few light aircraft and a flying club of 50 members. www.brimpton-airfield.co.uk.