Readers with some experience of researching 18th century and earlier ancestors will be familiar with the experience of discovering little more about an individual than a name and the dates and places of his or her baptism, marriage and burial – and perhaps not all of them. Whilst wills and inventories may add information about familial relationships and a person's occupation, wealth and material possessions, their level of detail is very variable and, for many people, such documents simply don't exist. There are, however, many obscurer documents which, if discovered through a name search in archival catalogues, can reveal remarkable details of a person's character and life, and perhaps assist in breaking through a brick wall in the parish and probate records. This was my experience when seeking to ascertain the parentage of one of my 8x great grandfathers, Richard Pinnell of Upper Lambourn (Uplambourn in many early records).
His identity emerged from my research into the origins of my mother's maternal grandmother, Sarah Ann Berry, nee Wilkins (1845-1926), who was born in Leamington but whose parents had married in Milton, Berkshire. The ancestors of her mother Frances (Fanny), nee Godfrey (1803-81), had for several generations been mostly associated with East or West Hanney. Her Godfrey line, working backwards, being Joseph (1762-1849), George (1734/35-1822), Robert (1697/98-1786) and Robert (c.1655-1744/45); their longevity is remarkable. Two further Godfrey ancestors are identifiable – William (1610-1696) and William (c.1580-1633/34), but it is through Robert's wife, Katherine Pinnell, that I was led to a number of intriguing records about her ancestors. She and Robert married at Ashbury in 1695, and she was to end her days at Grove, being buried at Wantage in October 1755.  My discovery of her baptism, at Lambourn in March 1674/75, hinged on the existence of a licence for her marriage, which described her as 'of the parish of Lambourn'. 
Katherine was the fifth of eleven children of Nicholas and Elizabeth Pinnell, nee Brookeman. Her precise identity is established by 1675 will of her father Thomas, which includes her married name. Few records relate to Nicholas and Elizabeth, but he was from Uplambourn and she from Highworth, their baptisms being in April 1634 and March 1647/48. They married at Compton Beauchamp in December 1665, and their respective burials were at Lambourn in 1691 and 1718. 
Whilst Nicholas' baptismal record establishes that his father was named Richard, and Richard's burial was evidently on 23 December 1641 at Lambourn, his baptism and marriage seem not to be on record and, despite his having written a lengthy and informative will, his origin and his wife's maiden name eluded me. The will did name his wife as Margery, and a brother-in-law as Henry Curtis, but it established neither that she was the mother of his children, nor that Henry was her brother (rather than the husband of a sister of Richard). It was more promising in recording that Richard had brothers named Thomas and Edward and a 'cousin' Jeffery Pynnell of Hannington (Wiltshire), but nothing in the parish records for Lambourn, Hannington or elsewhere provided a robust clue as to Richard's parentage. Whilst it seemed possible that Richard's brother Edward was the Edward, son of Thomas Pennell, baptised at Lambourn in 1592, and that the boy's father was the Thomas Pinell who married Elizabeth Waldron at Lambourn in 1577, a proposition that they were Richard's parents was inherently speculative. 
There the matter would have rested but for the providential existence of a 1622 'Deed of Gift' at the BRO (D/A1/16). Whilst the three parties to the Deed were Thomas Pynnell the elder, his wife Elizabeth and their son Thomas Pynnell the younger, all of Uplambourn, it is evident from the Deed's text that the elder Thomas also had sons named Edward, William and Richard. Since Edward is identified as the fourth son, and his baptism can be placed in 1592, it is likely that my ancestor Richard, and his other two siblings, were born in the 1580s, when three years with implausibly few Lambourn baptisms are followed by a five-year gap in the register. As to the Deed, it sought to address a £500 debt of Thomas the elder, whilst gifting property to the value of £400 to Edward and the remainder of Thomas' property and effects to Thomas the younger, whilst also making arrangements for Thomas and his wife to be cared for in their declining years. Richard's name appears in the document only as that of a witness. 
Richard's burial was, as previously noted, in 1641, bizarrely on the same day, 23 December, as his brother Edward's burial in Witney. Their brother William had died in 1635. Richard's estate comprised several interests in property, notably his home ('Moremans') in Uplambourn; the inventory of his possessions, which divides the farmhouse into eleven parts, values his effects at £313 and, amongst other livestock, notably lists 230 sheep and 11 horses. One might infer from the latter number that he was a breeder. Chancery Court documents at TNA (C3/457/13, C7/80/50, C7/86/116 and C6/110/42) reveal that Margery, Richard's widow and executor, was within a few years to be saddled with several financial claims against his estate, arising because he had agreed to be guarantor of his brother Thomas' debts. The documents are by no means easy to read and understand, but they leave little doubt as to the enormity of those debts; which are recorded in one place as £1,200 and in another as £1,400, Thomas' estate being worth £140 when he died in 1648.  Margery, in her responses to the claims, refers to payments of almost £422 already made from Richard's estate 'and with her own money' and, by judgement of the court of common pleas at Westminster, of £100 paid to Alice Pynnell, widow of Hannington. Margery doesn't, generally, deny the claims, but she was clearly struggling with a situation not of her making, stating in one document that she 'would be very willing and glad to be eased of the greate trouble'. 
I have not discerned the outcome, but Margery outlived her husband by over 50 years, and was probably aged over 85 when she died; her burial was on 25 March 1693/94. One genealogical benefit of the Chancery cases is that they reveal her maiden name – one of her responses having been made jointly with a brother Nicholas Curtis. The surname didn't lead me to a baptism, but the 1609 will of a widow Katherine Curtis of Castle Eaton, Wiltshire, includes a bequest to her son Henry's daughter Margerie, to be paid on her attainment of the age of 15. That places the girl's birth in the period 1595-1609, and it seems reasonably likely that it was she who married Richard Pynnell prior to his first child's birth in 1628.
To return to Richard's father Thomas, the mention in Richard's will of a cousin Jeffery Pynnell of Hannington, and the involvement of a Nicholas Pynnell in the compilation of the inventory of Richard's possessions, raises doubt as to Thomas' origin. Was it perhaps in Wiltshire rather than Berkshire? To look first at Berkshire, one characteristic of the records so far mentioned is that they all associate Thomas with the parish of Lambourn, as also, in Uplambourn, do three early 17th century records relating to land ownership – documents EX51/E2 and E3 at the BRO and C8/25/38 at TNA. None of those documents mentions other Pinnell men, from which I infer that, if Thomas had any male siblings, they were by the early 1600s either living in some other parish, or deceased. Stepping back in time, there is firm evidence of a Pynnell/Pennell presence in Uplambourn early in the 16th century, with men named Rychyd and William recorded by tax assessments in 1523 and 1543, followed by William alone in 1549 and (at Lambourn) in 1563 (TNA documents E179/74/192, E179/73/161, E179/74/195 and E179/74/222). There are wills for Richard Pynnell in 1550 and 1551, and for William Pynnell of Uplambourn in 1567/68, with sons named Thomas being beneficiaries in 1551 and 1567/68 (in the latter case with a sister and younger brother, William).  The 1567/68 will is of significance because it indicates that the son Thomas was a young unmarried man; it consequently seems distinctly likely that it is that son, probably born by about 1550, who fits into my lineage as my 9x great-grandfather Thomas, who married in 1576/77 and whose death was in December 1624.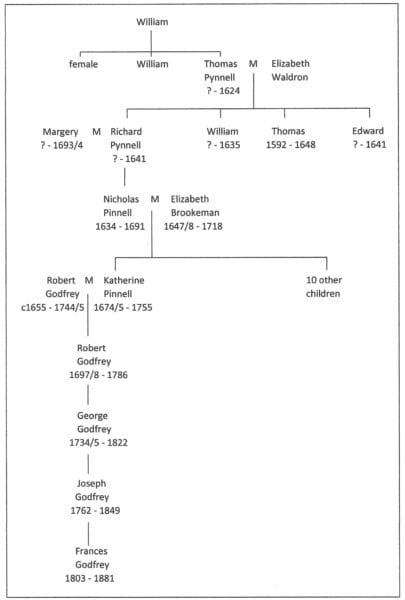 If correct, my identification of William of Lambourn as Thomas' father (and Richard's grandfather) begs questions as to how Richard came to have a cousin Jeffery in Hannington, some 15 miles to the northwest of Lambourn. If Richard and Jeffery were first cousins, in the same generation, one can infer from the 1567/68 William Pynnell will that there is only one man, William's younger son William, who could be Jeffery's father. But is there any evidence of his presence in Hannington?  There certainly was a William Pynnell in Hannington, recorded as marrying Margaret [Gweelines] in September 1584, but there is a strong possibility that he was the 'Willm Piniell my brother' who was a beneficiary of the 1632 will of Jeffery Piniell of Hannington, who had married there in January 1577/78. William's marriage (unless he married twice) may, however, have been one in the nearby Gloucestershire parish of Meysey Hampton in 1574, and it is also apparent that Jeffery and William may have been sons of John Pynell of that parish, whose 1558 will names children William, Geffrey, Edy and Jane. The children were in that year probably comparatively young, as John's widow was his sole executor and long outlived him – her burial was in April 1589.  My suspicion that the two men moved to Hannington is bolstered by the fact that their sister Edy is likely to have been the Edithe Pynnell who married there in 1575. There is separate evidence of the presence of a Nicholas Pynnell in Hannington prior to the aforementioned marriages; he, implicitly somewhat older than Jeffery, was in 1565 a defendant in a Chancery court case relating to property in Meysey Hampton (C2/Eliz/S8/26 at TNA), as well as being named in a Hannington tax assessment in 1576, and probably being buried there in 1593. 
These various records, and ones that follow in the Hannington parish register, provide scant evidence of a familial connection between the Pynnells of Lambourn and Hannington. The description 'cousin' can, however, be a distant or very loose one (I have an Oxfordshire ancestor who was described as a cousin in his step-mother's will) and one hypothesis, if there was a genuine blood relationship between Richard and his 'cousin Jeffery', is that their grandfathers, probably born around the 1520s, were brothers. 
Looking to Richard's contemporaries in Hannington, the parish register, which commences in 1571, records nine Pinell baptisms in the period 1578/79-1590, albeit with no indication of parental names. Five of the children were boys, and it is fortuitous that bequests in Jeffery Piniell's 1632 will establish that two (Nicholas and Thomas) were certainly his, as probably was John, who long predeceased him. The will also benefits the children of an Andrew Piniell, for whom there is a 1584 baptismal record, but he is neither a beneficiary, nor identified as a deceased son, and I suspect that he may have been a son of the William Pinnell who married just two months before the baptism. The only other boy in the records is a Gefferie, baptised in August 1589 but for whom there is a possible burial record in February 1601/02.  If he did survive it is unlikely that he was Jeffery's son, since he is unmentioned in the will, and it is probable that his father was another man – eg Jeffery's brother William or Thomas' brother William from Uplambourn, if he had moved from there to Hannington. In the latter case Jeffery would have been Richard Pynnell's first cousin. 
There is one demonstrable connection between the Hannington and Uplambourn families – the elder Jeffery's son Nicholas (born 1580/81) obviously being the man of that name who was a compiler of the inventory of Richard's possessions. Nicholas died in 1643/44 leaving a widow Alice, who I have previously mentioned as the Alice Pynnell, widow of Hannington, to whom Richard's widow Margery paid £100 in settlement of a debt.  Nicholas and Alice's eldest son, born in 1619, was named Jeffery, and he is clearly a contender to be Richard's 'cousin Jeffery', albeit a generation junior to Richard and lacking a close blood relationship. One might however question whether, aged only 22 when Richard died, Jeffery is actually likely to have been the man described as a yeoman and chosen as a supervisor of the will.
I feel bound to conclude that evidence of Pynnell families' presence in Lambourn and Hannington in the early/mid 16th century is too patchy to establish the precise relationship between Richard Pynnell, born in the 1580s in Lambourn, and his 'cousin Jeffery' of Hannington, perhaps baptised there in 1589 or 1619. Whilst my initial investigations certainly broke down the brick wall that concealed Richard's Lambourn origins, the Hannington connection has yet to emerge from a heap of rubble!
Tim Lockwood