The parish of Boxford, sometimes known as Boxford-cum-Westbrook, lies on the river Lambourn, a few miles north-west of Newbury. The village centre is on the east side of the river, and Westbrook is on the west.
Boxford is part of the North Wessex Downs Area of Outstanding Natural Beauty, and its water meadows are a Site of Special Scientific Interest.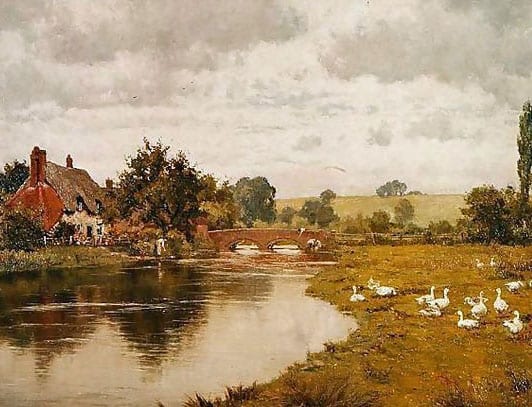 Boxford and the river Lambourn painted in the mid-nineteenth century by Edward White
The Newbury-to-Lambourn road runs through the parish just outside the village centre.
Boxford used to have a station on the Lambourn Valley Railway (which closed in the 1960s).
Other place names within the parish are: Ownham, Hunt's Green, Cold Blow, Coombesbury, Rowbury Hill, Court Oak, Iremonger's Hill and Wickham Heath, which developed after enclosure in 1819.
(There is also a Boxford in Suffolk.)
Size
2,819 acres (1,141 hectares)
Population
582 in 1851; 463 in 2011
Hundred
Boxford itself is in Faircross, but Westbrook is in Kintbury Eagle.
Poor law union
Newbury
Registration district
Newbury
Present-day local authority
West Berkshire
Grid reference
SU 42 71
Adjoining parishes
Leckhampstead, Peasemore, Speen, Welford, Winterbourne
Genealogical resources
See Berks FHS Books for coverage of this parish in the society's range of CDs.
See also Berkshire Record Office holdings.
West Berks Library holds an index to Boxford parish registers vol 1 1558 – 1812, and vol 2 1813 – 1981.
Published local history
Elsie Huntley Boxford barleycorn (Abbey Press, 1970)
G Timmins Boxford a village history (author, 2010)
Boxford war memorial (men listed): research project by Stockcross Primary School (2002) (ringbinder in West Berks Library)
Thomas Ellwood (ed) Life of Oliver Sansom (C Gilpin, 1848)
Anglican church and parochial organisation
Boxford is a rectory within the deanery of Newbury and the archdeaconry of Berkshire, which transferred from Salisbury diocese to that of Oxford in 1836. Boxford is is now part of the East Downlands benefice, which comprises nine churches centred on St Mary's at Chieveley.
The parish church of St Andrew may have been preceded by a church built by the abbey of Abingdon before the Conquest. The tower is believed to have had Saxon origins.  According to Oliver Sansom, the Quaker who lived next to the church, this tower collapsed in 1667 and was rebuilt 25 years later, but it is now thought to have perhaps incorporated some of the Saxon structure. Most of the church is Victorian but it still has earlier features.
A chapel of ease existed at Ownham, but had gone by the mid-nineteenth century.
Other churches
In 1924 there was a Wesleyan Methodist chapel at Westbrook, and the Berkshire Record Office holds some of its records (excluding registers) for 1935-77.
A Primitive Methodist chapel at Wickham Heath.
Oliver Sansom (1667/68-1710), a Quaker, lived next door to the church (his house is still called Oliver's Cottage). He engaged in long-term opposition to the rector until the latter informed against him, as a result of which Sansom was sent to Reading gaol.
Schools
In 1819 Boxford was recorded in parliamentary papers as having Sunday, evening and dame schools.
Berkshire Record Office holds admission records for a parochial/National school in Boxford 1872 – 1904, and other documents.
The 1881 census shows an addresss "Old School" occupied by a shepherd and his family.
Boxford has not had any school in recent decades.
Other local history
Boxford saw action in the second battle of Newbury (1644) when generals Skippon and Cromwell made a night march around the north of Newbury, crossing the river at Boxford, where they skirmished with a Royalist outpost before surprising Prince Maurice's troops on Speen Moor.
Farms: Rowbury, Basing's, Wyfield (where the foundations of a Roman villa were excavated in 1871), Bradley Wood, Court Oak, Coomsbury, Boxford House, Hunts Green, Ownham Bottom, Knapp's Farm
Boxford mill stands on the river Lambourn, now converted to a private house.
Rowbury Hill is a Neolithic barrow.
Boxford House is believed to date from 1825, and was formerly the rectory.
Westbrook House was built on land redeemed from the manor of Benham Valence early in the eighteenth century, and was occupied in the late nineteenth century by the antiquarian Harold Peake.
Boxford's pub, the Bell, stands on the Wantage Road. It was named in the 1881 census.
Boxford is known for the Boxford Masques, an outdoor entertainment first created by Charlotte Peake of Westbrook House. The tradition lapsed after the First World War, and was revived in 2000.