Blewbury is a village and parish on the Ridgeway, about 2.5 miles south of Didcot. The ecclesiastical parish contained the chapelry of Upton until 1862, and the liberty of Aston Upthorpe.
Blewbury was part of Berkshire until the boundary changes of 1974 transferred it to Oxfordshire.
The highest point of the parish is Churn Hill or Churn Knob (540 feet), on which are two barrows.
Springs pass through the older part of the village, and feed a small lake known as the Watercress Beds. The Icknield Way passes through the parish.
The Didcot-to-Southampton railway line passed through the village from the 1880s until it closed in 1964. The local station called Blewbury and Upton was in fact in Upton.
Local place names: Churn, Nottingham Fee (Upton), Sheen Croft, Woodway Farm, Parsonage Farm, Fullers Barn, Upper and Lower Chance.
Size in 1851
4,246 acres (1,718 hectares)
Population
623 in 1851; 1,581 in 2011
Hundred
Moreton and Reading
Poor Law union
Wantage
Registration district
Wantage
Present-day local authority
Vale of the White Horse, Oxfordshire County Council
Grid reference
SU 53 85
Adjoining parishes in 1851
Aldworth, Aston Tirrold, Chilton, Compton, East Hagbourne, East Ilsley, South Moreton, Upton and West Ilsley
Genealogical resources
See Berks FHS Books for coverage of this parish in the society's range of CDs.
See also Berkshire Record Office holdings.
Blewbury Local History Society www.blewburyhistory.org.uk has a file of all registered births and deaths in the parish. The society has been researching the men and women connected with the village who did war service from 1939-45.
Published local history
Derek Smith Blewbury life (2008)
Peter Cockrell and Shirley Kay A view from the hill (2006)
Roger Cambray Blewbury: a hundred years of photographs (1979)
Ron Freeborn and Robert Long Blewbury in one year and out the other (2010)
A Fortnam and R Freeborn Blewbury self-portrait (1967)
Nosey Parker Over the fence (2006)
Margaret Gallop The Blewbury artists 1880 – 1999 2nd ed (2000)
Steve Russell and Julian Gallop The story of Blewbury Brass Band (2010)
Mark Palethorpe and Audrey Long Treading the path of duty: Blewbury war dead World War One (2008)
Mark Palethorpe and Karen Brookes Blewbury remembers: reminiscences of the war years (2009)
Peter Northeast The story of Blewbury Charity School 3rd ed (2007)
Peter Northeast This venerable village 5th ed (2007)
Links
www.blewbury.co.uk run by the Blewbury Bulletin newsletter
www.sustainable-blewbury.org.uk
Anglican church and parochial organisation
Blewbury living is a vicarage, formerly in the diocese of Salisbury (now Oxford), and fell within the probate jurisdiction of the Peculiar of Dean of Salisbury.
The church of St Michael's is eleventh-century, but said to be of Saxon origin. www.churnchurches.co.uk
Other churches
A Methodist chapel stands in Chapel Lane. In 2010 Blewbury and Upton Methodist churches combined to become the Spring Line Methodist Church, with a centre in each village.
There was an active group of Quakers in the village in the seventeenth century.
Schools
A school house was built in 1709 from the bequest of William Malthus, funded by land at Noke, in Oxfordshire. It educated and clothes around 60 boys and girls. The endowment was still yielding over £1,000 pa in 1868.
A new primary school www.blewbury.oxon.sch.uk was built in the 1960s, and the old school building is now used by a playgroup.
Pubs
The 1851 census mentions no pub names, and enumerates only one publican, but Blewbury is said to have had six pubs for 550 inhabitants in 1908. 
Other local history
Blewbury was called "this venerable village" in a Saxon charter. In 634AD St Birinus preached to and converted the local tribespeople from Churn Knob.
Blewbury Mill is said to be where blotting paper was invented.
From the time of the Napoleonic wars the open areas around Churn were used for military manoeuvres.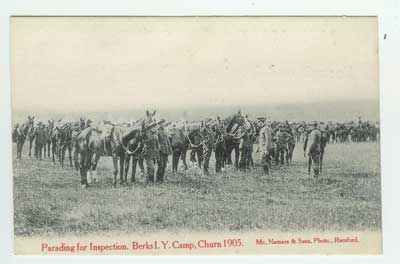 Until about 1970 there were several racing stables in the village, and several gallops on Blewbury's Downs are still used. The village also has a strong artistic tradition, having been the home of (among others) William Nicholson.