« Back to Index
The civil and ecclesiastical parish of West Woodhay lies in the south west of Berkshire, on the northern slope of the Hampshire downs.
Hundred
Kintbury Eagle
Poor Law union
Registration district
Hungerford
Present-day local authority
West Berkshire
Grid reference
SU 39 63
Adjoining parishes
Buttermere (Wilts), Inkpen, and in Hants: East Woodhay, Ashmansworth, Faccombe, Vernham Dean and Linkenholt
Size
1,432 acres (580 hectares)
Population
115 in 1851; 122 in 2011 (including Combe)
Genealogical resources
The earliest register begins in 1653 and has mixed entries to 1688, after which there is a gap of four years, the entries being resumed in 1692.
See Berks FHS Books for coverage of this parish in the society's range of CDs.
See also Berkshire Record Office holdings.
Published local history
Ancient and modern: a celebration of the second millennium (Informally published by the churchwardens of the United Benefice of West Woodhay with Enborne, Hamstead Marshall, Inkpen and Combe, 2000)
Parochial organisation and churches
The rectory of West Woodhay joined the united benefice of Enborne, Hamstead Marshall, Inkpen and Combe under one rector in 1981. The united benefice lies within the deanery of Newbury and the archdeaconry of Berkshire, which transferred from Salisbury diocese to that of Oxford in 1836.
The original parish church, said to have been designed by Inigo Jones, burned down in 1715-16. Its replacement, a copy of the Inigo Jones design brick-built on the same site, was pulled down in 1882, and the present-day church of St Laurence (sometimes spelt Lawrence) was built in the Early English Revival style a few hundred yards down the road. The original graveyard is now included in the grounds of West Woodhay House, and the present-day church (pictured below) has its own churchyard.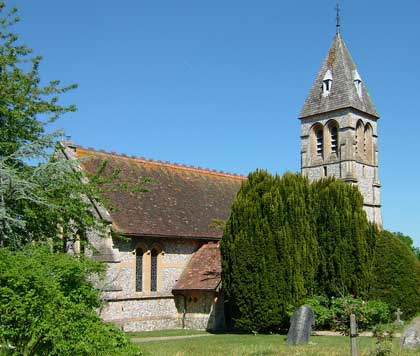 There appear to have been no nonconformist chapels in West Woodhay.
Other local history
West Woodhay House, the largest house in the village was built in 1635 and, like the first church, is attributed to Inigo Jones. It has had a number of unconventional occupants, including William Sloper, who lived there for many years in the mid-eighteenth century with the soprano Susannah Cibber. The liaison (they were never free to marry) gave rise to a daughter, a lawsuit and two trials. The house was frequently visited by artistic luminaries of the time, such as Handel and David Garrick. 150 years later the occupant was Horace de Vere Cole, a famous practical joker and spendthrift, who in 1912 had to sell West Woodhay House to his uncle Sir Alfred Cole.
Through Cole family landownership West Woodhay is closely associated with the next-door parish of Combe, formerly in Hampshire but brought into Berkshire at the request of the Cole family.
A village school survived until the mid-1950s; the building no longer exists.
West Woodhay Village Hall was built in 1899.
« Back to Index