« Back to Index
Uffington is large village and civil parish in the Vale of the White Horse and on the Berkshire Downs. The name comes from Uffa/Offa, king of Mercia and Wessex.
Like its neighbours, it is long and thin in shape. It is crossed by the Ridgeway and the Portway or Icknield Street. The parish formerly included Woolstone (which separated in 1846) and Balking, sometimes spelt Baulking. The village has many cottages built of clunch (chalk blocks).
Uffington contained the chapelries of Balking, a medieval market town, whose church is dedicated to St Nicolas, and Woolstone, which separated in 1846.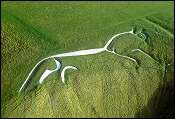 Uffington also contains the famous ancient monuments of the White Horse, the Manger, Dragon Hill and the Bronze Age Uffington Castle. Wayland Smithy is close by.
The GWR was built through the parish in 1840 and, with addition of the Faringdon line in 1864, Uffington gained a station at the junction, only to lose it a century later.
Uffington was transferred from Berkshire to Oxfordshire in 1974.
There are also Uffingtons in Shropshire and Lincolnshire.
Size
6,451 acres (2,612 hectares) according to VCH Berks (1924), ie, including Balking and Woolstone; it was measured as 3,205 acres according to 1851 census, probably without these chapelries.
Population
672 in 1851; 783 in 2011
Hundred
Shrivenham
Poor law union
Faringdon
Registration district
Faringdon
Present-day local authority
Vale of the White Horse District Council
Grid reference
SU 30 89
Adjoining parishes
Balking, Kingston Lisle, Longcot, Sparsholt, Woolstone
Genealogical resources
See Berks FHS Books for coverage of this parish in the society's range of CDs.
See also Berkshire Record Office holdings.
Links
Published local history
John E Little Guide to the parish churches of Uffington, Baulking and Woolstone (PCC 1969)
Thomas Hughes Scouring of the White Horse
The Bodleian Library holds 16 items about Uffington under shelfmark UFFI/082 NBF 61
Anglican church and parochial organisation
The thirteenth-century church of St Mary (illustrated below) is built in stone and clunch (chalk blocks). It is known as the Catherdral of the Vale. Uffington is now the base for four parishes.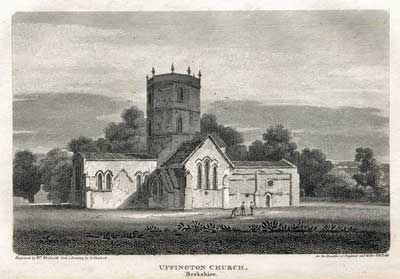 Other churches
The National Gazetteer of 1868 notes a Baptist chapel.
In 1909 Charles Henry Price bequeathed £100 for the minister of the Congregational chapel.
Schools
A school was founded for poor children and endowed by Thomas Saunders in 1617. Its fortunes are detailed on http://www.museum.uffington.net. The income was later transferred to support the National school, for which a new school house was built in 1872.
Cassell's Directory of 1868 referred to a girls' National school.
Uffington Church of England primary school, probably the successor to the girls' and boys' National schools, is on the site of what used to be known as The Hall, where several generations of Thomas Hughes' family lived as vicars of Uffington.
Parliamentary papers of 1833 recorded that Uffington also had a school run by Baptists.
Berkshire Record Office holds papers relating to an Uffington Girls School which was in existence 1612 to 1851.
Balking village school was built in 1877.
Pubs
Other local history
The Craven family were lords of the manor of Uffington from the seventeenth until the twentieth centuries, and the heir to the earldom is traditionally titled Viscount Uffington.
The 1851 census names Britchomb Farmhouse, Moor Mill Farm and Cottage, Malt House, Hardwell Farm and the address of one labourer as "in a shed".
Uffington's famous literary connection is with Thomas Hughes, author of Tom Brown's school days, who was born at Uffington vicarage. Several of his books feature village people and places. Uffington Museum is dedicated to his memory, and is housed in the 390-year-old schoolroom that featured in Tom Brown's schooldays. It also contains wider local history material.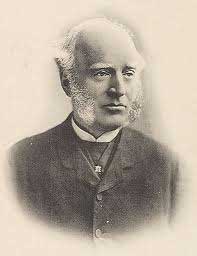 John Betjeman, Poet Laureate, also lived in Uffington from 1934 to 1945.
The ritual scouring of the White Horse (described in another book by Thomas Hughes) took place at irregular intervals in the eighteenth and nineteenth centuries, and was attended with great festivity.
Uffington's village hall is also named in honour of Thomas Hughes.
War Memorial
by Margaret Young
A tall monument surmounted by a cross stands in the churchyard of St Mary's Church, Uffington, listing the names of those who died in WW1, WW2 and Korea.
OS ref SU302893
see also
« Back to Index