« Back to Index
Location
Brightwell and Sotwell are twin villages between Wallingford and Didcot, lying in a hollow below the Wittenham Clumps. Brightwell was formerly included in Sotwell, which is a small parish crossing Brightwell from north to south, and dividing it into two separate portions. The villages were brought together as Brightwell-cum-Sotwell, one civil parish, in 1948, and in 1974 this joint civil parish was transferred from Berkshire to Oxfordshire by boundary change legislation.
In the western portion is the principal village and the hamlet of Mackney is south of it. The portion east of Sotwell is Slade End, at the end of the valley. The four hamlets of Brightwell, Mackney, Sotwell, and Slade End form practically one large village in the middle.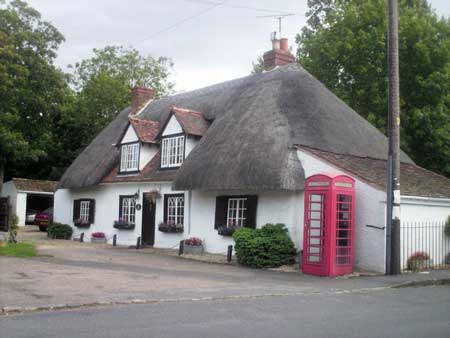 Copyright Andrew Blades and licensed for reuse under Creative Commons Licence
Other local place names: Old Nursery Lane, the Old Priory, Little Lane, Middle Farm, Abbots House, Church Lane (formerly Great Lane), Stonor Hayes or Stonhouses and Smalls House (Mackney)
Part of Sotwell is known as Little London.
Field names are Gore Furlong, Slat Furlong, Town Furlong, Bustard Piece (where the last bustard is said to have been killed) Coticroft and the Evils, Smellmoor and Gaudicroft. Kedging meadow (partly in Brightwell) is on the Thames, and near it are Pedmoor, the Sideling and the Butts. Morelynch, Stonore Elm, Bishop field, Mett lands, Portfurlong in the seventeenth century.
Brightwell: Fields near the village are Dews Close, Kates Close, Tittlings Piece and Pisshe (otherwise Priests) Meadow.
Size
Brightwell: 2,064 acres (837 hectares)
Sotwell: 708 acres (287 hectares)
Population
1851 Brightwell 678, Sotwell 133; 2011 both villages 1,538
Hundred
Moreton
Poor Law union
Wallingford
Registration district
Wallingford
Present-day local authority
South Oxfordshire
Grid reference
SU 58 90
Adjoining parishes in the nineteenth century
Little Wittenham, North Moreton, South Moreton, Cholsey,Wallingford
Genealogical resources
See Berks FHS Books for coverage of this parish in the society's range of CDs.
See also Berkshire Record Office holdings.
In Oxfordshire Libraries:
Oxfordshire parish register transcripts CD: Wallingford registration district vol 1 includes Brightwell, Cholsey, Long Wittenham, North Moreton, Sotwell, Wallingford St Leonard, Wallingford St Mary, Wallingford St Peter, Wallingford Baptist Chapel, Independent & Primitive Methodist churches
Links
Brightwell-cum-Sotwell village website
Published local history
L B Smith et al Photographs of Brightwell cum Sotwell: a millennium book of pictures (Brightwell-cum-Sotwell Village History Group, 1999)
Rosemary Greasby Farming in Brightwell-cum-Sotwell: then and now (Brightwell-cum-Sotwell Village History Group, 1998)
F V Heyworth Brightwell-cum-Sotwell: some aspects of its history (1981)
Anglican church and parochial organisation
Brightwell-cum-Sotwell is in the archdeaconry of Berkshire and the diocese of Oxford.
Brightwell, originally a rectory, has the twelfth-century church of St Agatha.
The chapelry of Sotwell, with its church of St James, was first named in 1158 as a dependency of the church of St Lucian inWallingford. In 1868 it was annexed to Brightwell, and the eastern portion of Slade End in Brightwell was transferred ecclesiastically to the parish of St Leonard in Wallingford.
St James was almost entirely rebuilt in 1884 on the old foundations, retaining a small twelfth-century window.
Other churches
There was a meeting-house for dissenters in Brightwell in 1840.
A Primitive Methodist chapel was erected in 1882.
There was thought to have been a nonconformist chapel formerly in Chapel Close.
Schools
In 1785 a Sunday school was set up by the Rev Mr Wintle.
A Mrs Riggins bequeathed £100 for schooling and bread prior to 1819, and around 40 children attended a day and Sunday schools in Brightwell in 1819. A National school existed in 1846, and was rebuilt in 1870. A National schoolteacher was enumerated in the 1851 census.
Sotwell had no school of its own, but the children attended Brightwell, where the C of E school still operates today.
Pubs
A publican was enumerated in the 1851 census in Brightwell, but no pub was named.
Today there is the Red Lion.
Other local history
Brightwell had a tradition of Maundy Thursday dole, whereby from time immemorial the rector made gifts to the poor.
There was a windmill in Brightwell in the eighteenth century.
Brightwell House had a moat (which formerly enclosed the church), with a large mound at one corner, thought to be the site of the Norman castle which was delivered up by King Stephen to Duke Henry after the medieval civil war, and probably was then demolished. The moat was supplied by the clear spring which gave the name to the village.
Brightwell common was enclosed in 1813.
Mount Vernon in Sotwell is the home of the celebrated Bach Flower Remedies. Wild flowers grown in the garden of Mount Vernon are still used to make the mother tincture of these homeopathic treatments, and their creator, Dr Edward Bach, is buried in St James' churchyard.
War Memorial
by Chad Hanna
Brightwell war memorial stands at the juction of Brightwell Street, Church Lane and West End in the centre of the village and commemorates those who died in both World Wars. The churchlike building in the background was built originally as a school and is now Brightwell-cum-Sotwell Village Hall.
OS ref SU 579908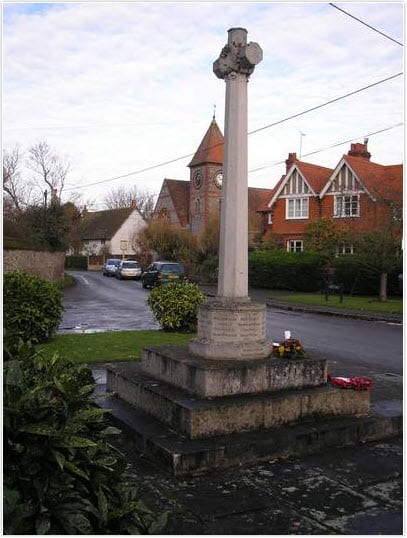 « Back to Index