« Back to Index
Basildon is a village and parish on the south-west bank of the Thames, seven miles from Reading.
There is a larger Basildon in Essex.
Local place names
Hare Green, Wood Green, Bowling Alley, Blandys Lane, Bethesda Lane, Kiln Bottom, Sots Hole, Hill Corner, Nobse's Tomb, Park Lodge, Chalk Pit, Hook End Farm
Size
3,139 acres (1,271 hectares)
Population
798 in 1851; 1,747 in 2011
Hundred
Moreton
Poor law union
Registration district
Bradfield
Present-day local authority
West Berkshire Council
Grid reference
SU 59 77
Adjoining parishes in nineteenth century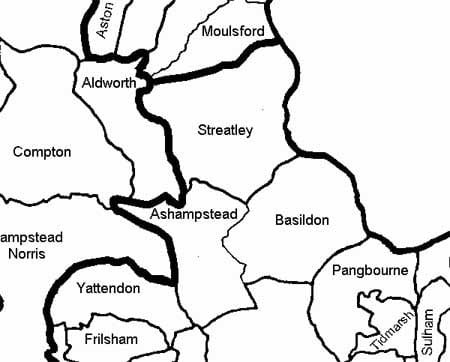 Genealogical records
See Berks FHS Books for coverage of this parish in the society's range of CDs.
See also Berkshire Record Office holdings.
Published local history
Clive Williams Basildon, Berkshire: an illustrated history of a Thames-side parish (1994)
Walter Money Notes on Basildon taken from transaction of Newbury and District Field Club
Stray notes on the parish of Basildon in the county of Berks 16pp
M M Swadling Our village: a little history of Basildon, Berkshire 20pp illus
Links
Anglican church and parochial organisation
The living is a vicarage in the archdeaconry of Berkshire, diocese of Salisbury, with the curacy of Ashampstead.
The parish has two churches:
1. The Grade I listed St Bartholomew's Church in Lower Basildon dates from the thirteenth century, and is now owned and maintained by the Churches Conservation Trust.
The churchyard contains a marble statue of two young brothers who drowned in the Thames in 1886.
2. St. Stephen's in Upper Basildon was built in 1965. This replaced a temporary place of worship, located on the corner of Bethesda Street and Blandy's Lane, which was built in 1895.
Schools
In 1720 William Allen willed an allowance to the dame of the village school. By 1811 this was supporting a National school educating 10 children for free, and some more on subscription.
Berkshire Record Office has the log book from 1877 of the National school in Lower Basildon, and other documents, and a photo of 1952.
There was also a C of E school in Upper Basildon from 1877, for which the Record Office also has the logbook and other documents. This is probably the origin of today's Basildon Primary School in Upper Basildon, which provides education for about 140 children.
Pubs
The 1851 census notes but does not name a beer house at Hare Green, and a licensed victualler in Green Road.
The parish has three pubs today: the Red Lion and the Beehive in Upper Basildon, and the Tamarind Tree in Lower Basildon, which specialises in Indian and Bangladeshi cuisine.
Other local history
Basildon Park was built between 1777 and 1783 for Sir Francis Sykes, one of the East India nabobs, between Lower and Upper Basildon.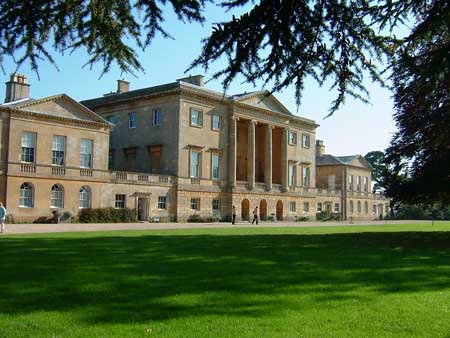 J M W Turner is known to have stayed at there, and in 1844 he painted Rain, steam and speed, showing the Great Western Railway and Basildon Railway Bridge. The house is now owned by the National Trust, and has been used for filming Jane Austen novels.
The eighteenth-century inventor of the seed drill, Jethro Tull, was born and buried in Basildon, although he lived and worked elsewhere.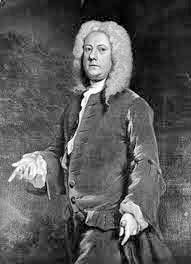 The famous Basildon Bond stationery brand, founded in 1911, was named after Basildon when some of the directors were staying at Basildon Park.
Beale Park Wildlife Park and gardens lies between Basildon Park and the River Thames.
« Back to Index